I was recently inspired by reading a post over at a blog I love called Little Worlds. It's all about creating small worlds for children and gives some great tips for beginners. A small world is exactly that – a tiny version of something in the world. It might be a zoo, a beach, a shop, complete with figures and objects for children to explore and play with in any way that their imagination might take them.
At 2 and a half, Little M has recently shown signs of imaginative play. He often will even pretend that kitchen things are actually trucks! I thought it would be fun to make our very first small world. Since this was our first try, I decided to set up the world for him – another time I'll look forward to involving him in the process of making the small world.
Since Little M's favourite thing EVER is construction, I decided to make a construction small world for him.  I wanted to keep it very simple, so as to not overwhelm him, but with the option of being able to add elements to it later if we wanted to.
Disclosure: Post contains affiliate links for your convenience.
I started by making a tray out of an old cardboard box – or you could use a plastic tray if you had one. I used a large cardboard box, as although it is a 'small world', I decided to make it on the larger side to give plenty of space for the roads. I lined the tray with paper and drew out a few simple roads using a black marker pen. I left some space for 'construction work'! I decided to leave the road map black and white so that we could colour it in and add to it another day.
I dug out out some toys and things from around the house to fill the small world. Little M's small construction vehicles were the perfect size. I positioned them in various places on the roads and in the construction areas. I found some stones that we had collected from the park, which were perfect for some heavy lifting!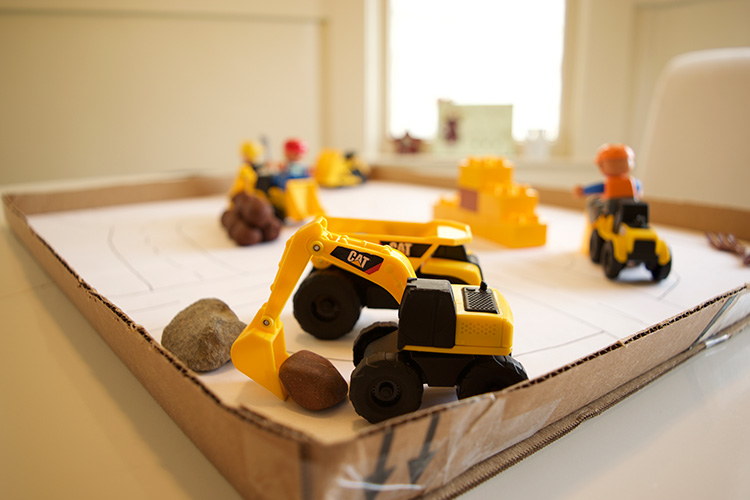 I used some duplo people from the duplo construction set and made some different size pieces of rubble from play-doh. I also added a few duplo bricks.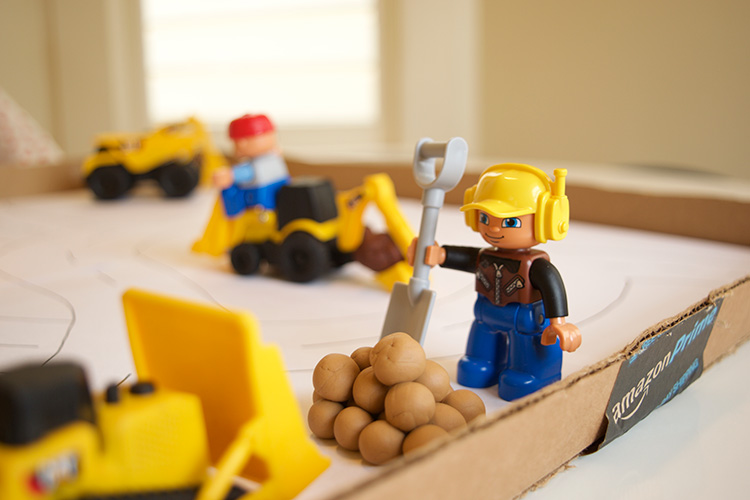 Little M woke up from his nap just as I was putting the finishing touches on. He loved it and got stuck in straight away!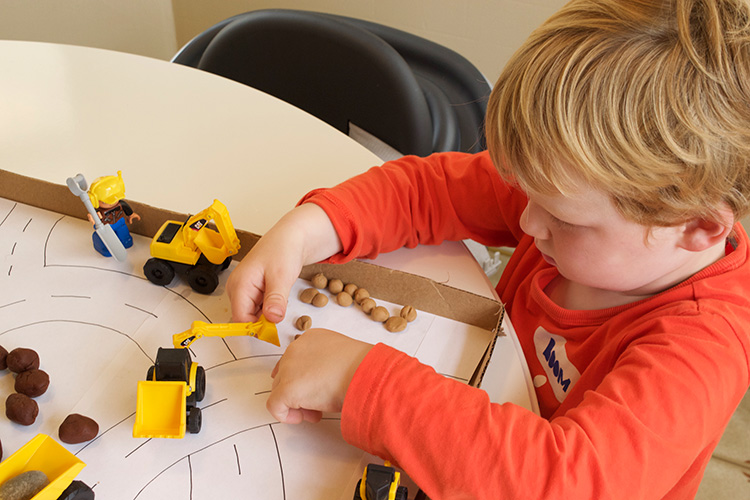 I am so pleased that my first effort at a small world went so well and I'm looking forward to making more with Little M in the future. I love that we can add and adapt this one over time too, by drawing and colouring the map, or by adding different vehicles and things to the small world.
Do go ahead and check out the blog Little Worlds, which was my inspiration for this. And if you have a construction obsessed toddler too, you might also like my post on Toys for Toddlers (Who Love Trucks!)
Have you made a small world for your little one before? What did you make? Please share!
You might also like
»
How to be a Sociable Stay-at-Home-Mum
»
Toys for Toddlers (Who Love Trucks!)
»
20 Best Board Books for Babies and Toddlers
»
18/52 Pretzel in the Park
»
Tips on Running with a Stroller