I was tagged by the fabulous Alex over at That Butterfly Effect to take part in the #RockingMotherhood tag – thank you so much Alex! The tag was started by Pat over at White Camellias as a way for us to reflect on all the amazing things we do every day as mamas.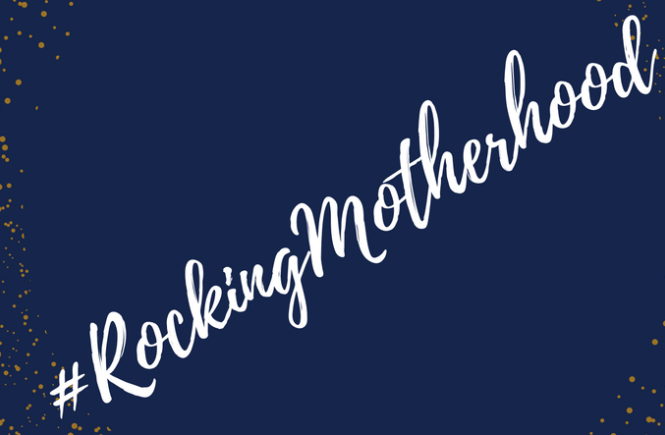 It's so easy to beat ourselves up as mothers and I think this is a fantastic idea! Although I try hard to be kind to myself, sometimes, like all mamas, I'm too hard on myself. This is the perfect excuse to reflect on all the things I ROCK at as a mama and give myself a massive hug!
So here we go… Here are 11 Ways I'm Rocking Motherhood!
1. I empathise with my kids
I'm naturally a sensitive person and was painfully shy as a child. I think I carry these memories with me and so try even harder to empathise with my kids when they are frustrated or upset. Above all I want them to feel that I understand and will always listen to them. I'm a big fan of the positive parenting site AHA Parenting and read on there a phrase that has stuck with me "Connect before you Correct." I don't always manage it, but always, always try!
2. I put my kids first
Ultimately my kids always come first. I am a stay at home mum with both of them, so we literally spend all our days together – going to the park, playing, crafting, reading (and yes some tv too, I'm not supermum!) I absolutely love it, although it can be exhausting too. I'm trying to get better at making time for myself and looking after myself too. My children are my world though and I try really hard to give them opportunities for a balanced and fun day.
3. I like to surprise them
I love surprising my children with little things. Being creative is a passion and I would go mad if I didn't have some kind of creative outlet. I especially love making and setting up creative play projects for Little M – he loves playing with them and I love seeing the look on his face when I have made something for him.
4. I follow routines
Our day has routine so the children always know what to expect. I really feel that regular routines, especially for meals and bedtimes, help to keep them so happy and balanced. Of course we have meltdowns like any family (!) but I do find that routines and early bedtimes really help bring out the best in my children.
5. I read to them
Since Little M was a baby we have read books at bedtime. He LOVES his books and it sounds cheesy, but it's such a joy to see him enjoying his stories so much. It breaks my heart that some children do not have that experience. I think reading and a love of books is so important for all ages. We have read stories every night of Little M's life – that makes me proud! We are now starting the same routine with LP too!
6. I play and have fun with them
I play and have fun with my children every day. I especially like to chase them and dance with them! Those are the things I want them to remember, because they honestly won't remember if the dishes were done or not! That being said I'm a firm believer in making house jobs fun too, so my kids will want to join in and help. It doesn't always work of course – but Little M does love vacuuming and using his trucks to 'tidy up'!
7. I think of fun projects to do
I know many people cringe at the idea of doing crafts and creative projects with their kids – but I actually love it! It's probably the primary school teacher in me! Don't worry, I cringe at the mess like most of us, but I love seeing their faces when we do baking and arty things together.
Family traditions are important to me too – those are the things that I really remember from childhood. It's always the simple little things – I always remember having a little present at the table at our Christmas Dinner. I'm enjoying continuing some of my childhood traditions and starting some of our own too.
8. I put myself out there
I had Little M just over a year after moving to a new country. Without many friends and with a new job, I just really had to put myself out there – for myself and for him. I felt myself getting into a slump after he was born and knew I had to just make the effort to make friends, so that he had a happy mama. It took a while, but I got there!
Now I have lots of friends and we are both happy and sociable! I've got a new confidence that I think only comes from having moved to a new place and having to start over. I'm proud of myself!
9. I say "I love you" ALL the time
I probably say it too much, but I'd rather they heard it too much than not enough! I love being affectionate with my kids. It's so sweet when I hear Little M say "I love you" to LP now. It reminds me that he watches and learns everything from me and others around him.
10. I let them be messy
I think this is part and parcel of having a boisterous boy! Little M has always loved to play in the mud and do any kind of  'messy play' – I have learned to embrace it! My creative side loves to let him go wild with the sand and play doh, but my perfectionist side is still cringing at the mess! I try to squash this in me and encourage him to get messy, because he is so creative in his play and comes up with some weird and wonderful ideas. Plus honestly, I just think kids should be allowed to get messy from time to time!
I do find it helps to have some rules for messy play – for example in our home play doh and kinetic sand stay in the kitchen. It is definitely easier to let kids be messy when the mess is contained to one area!
11. I try to be the person I want them to be
When you become a parent I think it makes you try harder to be the best "you" that you can be. When I feel like I'm being rubbish, not getting things done, or not handling things well, I always think the best thing I can do is to try and be the person I want them to be. That includes being kind to myself and sometimes letting things go. Because that is what I would want my children to do.
I really think we all have to work at being the best versions of ourselves. It doesn't come naturally. I want my children to see me as being patient, kind and caring, as well as good fun and ambitious with my own dreams. I have bad days like all of us, but I hope by striving to be my best self I will set a good example to my children.
That's it! I feel much better now about all the ways I'm rocking motherhood!
How do you rock motherhood? Come and join in the tag!
I'm also tagging 3 fantastic mamas to join in…
Anne at Just Only Home
Natalie at Surviving Life's Hurdles
Claire at The Ladybirds' Adventures
The Rules
Thank the blogger that tagged you and link to their blog.
List 10 things you believe make you a good mother (this is just a guideline. It can be more or less than 10)
Tag 3 – 5 bloggers to join in the #RockingMotherhood Tag.
Grab the #RockingMotherhood badge and add it to your post or sidebar.
Do share your post on Twitter with me @littlefishblog and Pat @whitecamillias. We would love to read them and are happy to retweet!