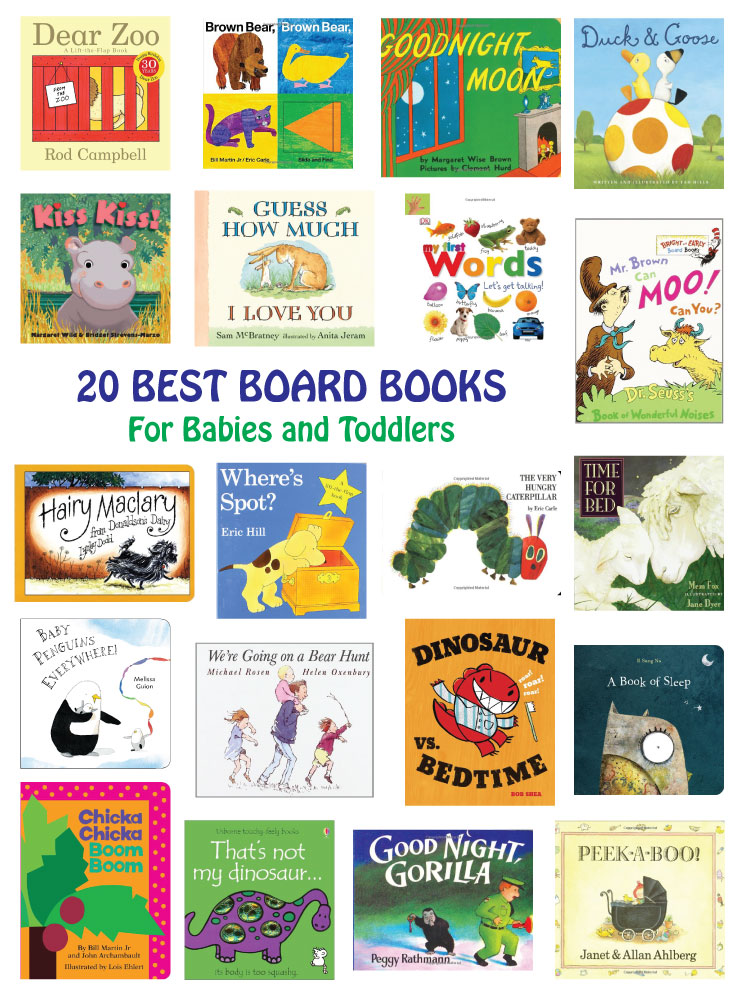 Okay, so this is a slightly subjective list… but these are MY 20 best board books for babies and toddlers! (Although I could easily have added more!)
I LOVE board books. Babies can enjoy them, whilst simultaneously chewing on them and toddlers can look at them independently, without destroying them… and ALL of these are excellent for sharing, whilst snuggled up with your little one at naptime, bedtime or anytime. Some of these were originally published as board books, while others are classic reads now widely available in board book format. They are all perfect for around the 0-3 age range and many of them will continue to be enjoyed well into childhood too. So take your pick and add some of these fantastic board books to your little one's book shelf!
Dear Zoo
A child writes to the zoo looking for the perfect pet and is sent all sorts of interesting zoo animals! But none of them are the perfect pet, until the final package arrives… With its bold, colorful illustrations and fun flaps to lift, this classic from my own childhood is now a firm favorite with Little M.
Brown Bear, Brown Bear, What Do You See?
Eric Carle's illustrations light up this well loved book, with different animals displayed on each page, along with sing song rhyming words. In this 'sliding door' version of the book, little ones will enjoy revealing which animal is on each page.
Goodnight Moon
An American classic which, as a Brit, I hadn't heard of until given to Little M as a gift. In a great green room, a little bunny is snuggled up in bed. He gradually says good night to everything in the room, from the clocks and the mittens to the moon that he sees out of the window. The soothing poetry and illustrations combine to make this a perfect bedtime read – again and again.
Duck & Goose
Little M loves all of the 'Duck & Goose' series of books. In this first of the series Duck and Goose squabble over an egg, but after discovering that their 'egg' is actually a ball, they realise their foolishness and become friends. A simple book, that gently brings across the theme of sharing. Your children will love following Duck and Goose's adventures through the subsequent books
too. Little M loves What's Up, Duck?: A Book of Opposites
Kiss Kiss!
A bedtime favorite with Little M. Baby Hippo goes off to play in the jungle, forgetting to give his mama a kiss! On his way he sees all the other baby animals giving their mamas and daddies a kiss. Suddenly, Baby Hippo remembers what he has to do…
Guess How Much I Love You
Little Nutbrown Hare shows Big Nutbrown Hare how much he loves him – as wide as he can reach, as high as he can hop. But Little Nutbrown Hare is amazed by how much Big Nutbrown Hare loves him back – "all the way to the moon and back", as Little Nutbrown Hare drifts off to sleep. Gentle, earth toned illustrations complete this beautiful bedtime book. Little M didn't have the patience for this one as a baby, as there are quite a lot of words, but now at nearly 2, it is a bedtime staple!
DK My First Words
You can't go wrong with any of the DK board books for introducing new ideas and words in a fun and clear way. All of the books are choc full of photos, facts and labels, so there is plenty to maintain your little one's interest. Babies will enjoy spotting things they recognise before they can even talk – and later to name or count the different things they can see. This first words book has a little bit of everything, from vehicles to colors and makes a super first vocabulary book.
Mr. Brown Can Moo, Can You : Dr. Seuss's Book of Wonderful Noises
The Dr Seuss 'Bright and Early Board Books'
 are a great introduction to the wacky and wonderful world of Dr Seuss. They are abridged versions of the original stories – perfect for the tiniest of readers. In this book of noises, babies and toddlers will love listening to owls hooing and eggs sizzling and joining in with the "Boom Boom" of thunder.
Hairy Maclary From Donaldson's Dairy
Hairy Maclary and all his pals all go for a walk into town, tails in the air, until they run into "Scarface claw, the toughest tom in town!"… Little ones will love the sing song rhymes and repetitions in this book, along with the fun, eye catching illustrations.
Where's Spot?
A great first 'lift the flap' book for your baby or toddler. The simple theme of hide and seek is done so well in this classic book, along with its bold, simple illustrations. Children will enjoy looking for Spot under the bed and in the basket, finding all of Spot's animal friends along the way. But where is Spot hiding?…
The Very Hungry Caterpillar
This classic book tells the story of a hungry caterpillar, who literally eats his way through the book, leaving delightful caterpillar shaped holes in the pages. He eats one apple on Sunday, two pears on Tuesday… until he is really full and fat. And you can guess what happens next! Familiar Eric Carle illustrations and endearing repetition little ones will love. Also introduces days of the week and counting.
Time for Bed
A beautiful, soothing read, especially last thing before bed. Darkness is falling and all of the animals are going to sleep, "It's time for bed, little mouse little mouse."  Your baby or toddler will love the gentle illustrations and lulling rhyming words whilst watching all of the animals go to bed – until it is finally their turn…
Baby Penguins Everywhere!
A lonely penguin discovers a hat drifting in the ice. From the hat appears a baby penguin and then another and another, until there are "baby penguins everywhere!" The penguin is no longer lonely, but very tired! A sweet book with a gentle theme of balancing time by yourself and fun with others. Gorgeous watercolour and pencil illustrations depict the icy backdrop, along with the color and fun of playing together.
We're Going on a Bear Hunt
A funny and gripping board book of the traditional chanting rhyme. "We're going on a bear hunt / We're not scared." An adventurous family hike merrily through changing landscapes on their hunt to find a bear. Toddlers will love joining in with the sound effects – "swishy swashy", through the long grass and "splash splosh" through the deep river. But what happens when they find the bear? Great with actions for a dramatic touch!
Dinosaur vs. Bedtime
Your little ones will love roaring along to this fun bedtime read from the 'Dinosaur vs.'
series of books. A dinosaur competes against everything from a pile of leaves, to a bowl of spaghetti. But can he win against bedtime? Little M loved this book from the first time it was read to him and still takes great delight in every roar, all the way to the final snore! You can read a more detailed review of this book here.
A Book of Sleep
One of Little M's favorite bedtime books. Enchanting illustrations create a magical sense of night time, pulling you into the dreamy world of the animals as they sleep. More attentive audiences will notice the figure of the owl on each page and will enjoy spotting him swooping over the ocean, or perched on a tree. You can read a full review of this book here.
Chicka Chicka Boom Boom
I never thought a book about the alphabet could be fun – but this one rocks! Little M loves the bright, simple pictures and funky rhyming words. Also – this book is even more fun when you add your own actions. I have Little M on my knee and we sway back and forth, jig up and down and tumble in a big heap at the end!
That's Not My Dinosaur
We love the 'That's Not My…' series of board books. There's a whole bunch of them and all with bright and bold 'touch and feel' illustrations – 'That's Not My Dinosaur' is a favorite in our home. But really just take your pick
 based on what your child is in to, they are all lovely – especially for even the teeniest audiences, who will love touching the different textured pictures.
Good Night, Gorilla
A zookeeper is saying goodnight to all of the animals at the zoo. "Good Night Gorilla / Good Night Elephant." But unbeknown to him the cheeky gorilla has nabbed his keys and is creeping behind him releasing all of the animals! Toddlers in particular will love being 'in' on the joke of this one and all ages will become enraptured with the fun and descriptive illustrations. A fun read with a surprise ending! What will happen when the parade of animals reach the zookeeper's house?
Peek-a-Boo
Otherwise known as Peepo! in the UK, this is a classic book from Janet and Allan Ahlberg, complete with their endearing illustrations and rhyming verse. A little baby looks around at what he can see from his crib – his parent's sleeping, his teddy and his ball. Your babies will love peeping through the holes in the book to see what they can spy next!
What are your best board books for babies and toddlers? Do you have any more to recommend?
Disclosure: This post contains some affiliate links, however all opinions are entirely my own. 
[plinker]