Are you looking for the best baby gear for small spaces? Babies are only small and don't take up a lot of space. But all that baby gear? It's easy to end up with a lot of stuff that takes up a lot of space!
Do you have a small home? Or a small room for baby? (Or no room for baby?!)
Lets think small. Think portable, think folding, think sleek and check out my best baby gear for small spaces.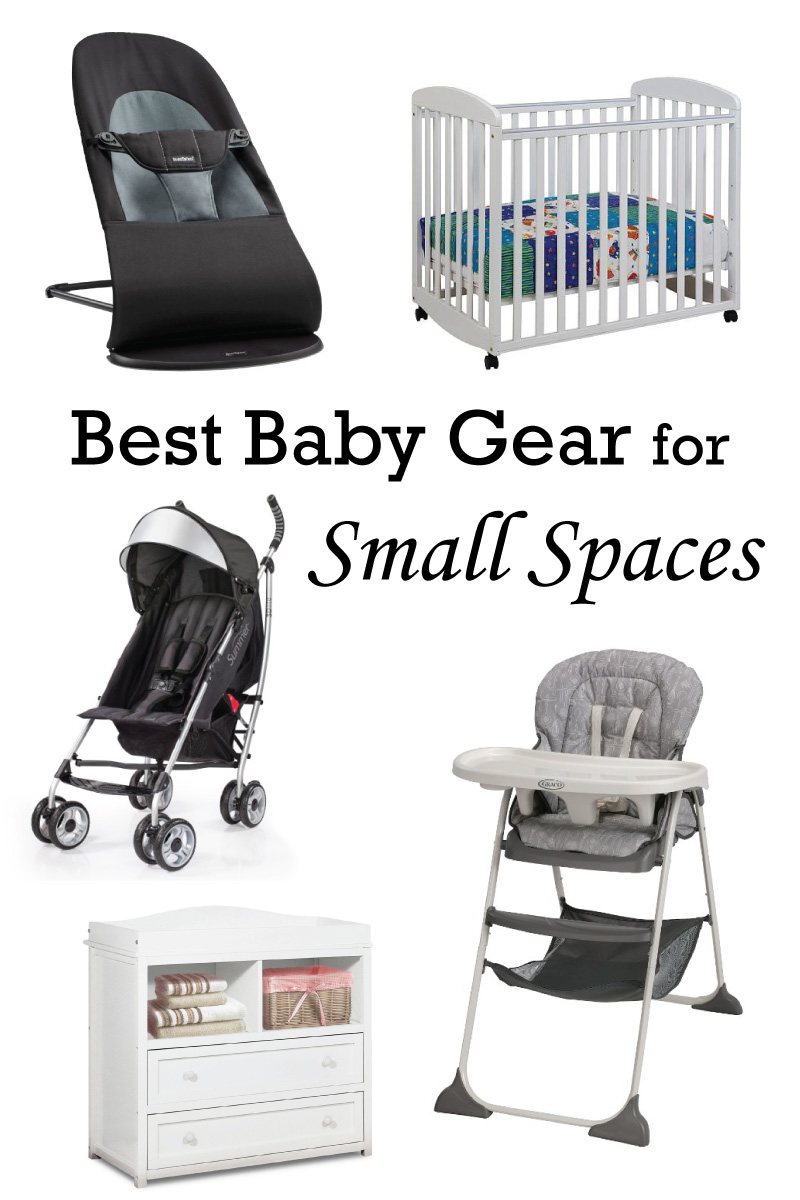 We are a family of four living in a one and a half bedroom apartment – so we know something about living in a small space with kids!
Here are my top picks on baby gear for small spaces…
Mini Crib
Mini cribs are an amazing space saver – smaller than regular cribs, but larger than bassinets, so will last baby a decent time. We love this mini crib from Davinci, as it's got a smaller footprint than a regular crib, but is just as sophisticated.
The DaVinci Alpha has wheels and is narrow enough to fit through standard doorways – so baby can sleep anywhere in your home. This crib takes a standard mini crib mattress and also has a handy rocking feature. We have this crib for LP and she loves it! Read more on choosing a mini crib for your small space.
Folding Bouncer
The BabyBjorn bouncer is not only the best baby bouncer I have used for a baby, but also easily folds – which is great in a small space, as you can store it out of the way when not in use. This bouncer is also the best bouncer for tall babies, as it's nice and tall, so will last baby much longer than most bouncer chairs.
Changing Dresser
A changing dresser, is great for a small space – you can change baby on the top and have plenty of storage for baby clothes and things underneath. You could use a regular dresser and secure a changing pad on top or buy a changing dresser. Most of them enable you to remove the changer from the top, so when baby is all grown up you can just use it as a regular dresser.
Folding Highchair
A folding highchair is the perfect solution for a small kitchen – when baby's done eating you can just fold it away out of sight. I've got my eye on this folding highchair from Graco for LP.
You could also consider skipping the highchair altogether and using a feeding booster seat that attaches to one of your dining chairs. Just as comfy for baby, and saves space!
Folding Umbrella Stroller
A folding umbrella stroller saves a ton of space in a small home – and is a great option when travelling as well. If you need something more robust, we love the Thule Urban Glide for running, hiking and general every day use. It's lightweight, great to push and folds compactly too.
There are benefits to living in a small space with children. With the right planning and the right gear you can enjoy living in your small space with baby!
Do you recommend any other baby gear for small spaces? I'd love to hear your recommendations. Please share!
Disclosure: This post contains affiliate links, which means if you choose to buy through one of my links, I will receive a small commission. The price is the same, I will just get a helping hand towards keeping the blog running. All opinions are, as always, my own. Thanks for your support!