Dinosaur vs. Bedtime by Bob Shea
Publisher: Disney-Hyperion
Series: A Dinosaur vs. Book
Age range: 2-5 Years
Your little ones will love roaring along to this fun bedtime read from the 'Dinosaur vs.' series of books. Little M loved this book from the first time it was read to him and still takes great delight in every roar, all the way to the final snore!
What's it about?…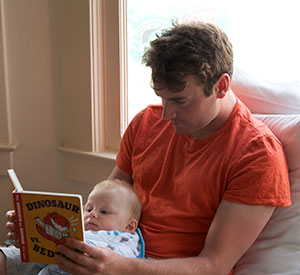 The book opens with Dinosaur roaring, before he launches off through the book competing against everything from 'a big slide!' to 'a bowl of spaghetti!' and finishing with his final challenge of 'Bedtime!' 
Dinosaur roars at every challenge that he is faced with, before celebrating his win.
'Dinosaur versus… / a pile of leaves! / Roar! / Dinosaur wins!'
As it approaches bedtime he easily defeats 'Bath time and toothbrushing! / roar! brush! brush! brush! roar! / Dinosaur wins again!' but is eventually defeated by his 'biggest challenge' of bedtime.
On the final page we see Dinosaur fast asleep – no longer roaring, but snoring.
'Bedtime wins. Snore, snore, snore. Good night, Dinosaur.'
What makes it great?…
Simple cartoon illustrations show Dinosaur is as friendly as he is ferocious. Dinosaur is cleverly layered over pictures, patterns and even photos, while playful use of text makes each illustration pop out of the page. Your little ones will love the roaring and repetition throughout the book, whilst you will be thankful that even Dinosaur goes to sleep by the end!
Who would love it?…
Kids from 2-5, especially dinosaur fans. Slightly younger or older children may love this too – Little M loved it at 6 months!
A roaringly fun bedtime read for your little ones, that also calms even your raucous roarers by the final page.
Disclosure: This post contains some affiliate links, however all opinions are entirely my own. 
[plinker]