The last few weeks seem to have gone by in a big flurry of preparations, filling the freezer and going to doctor's appointments, as we get ready for baby girl's arrival. However, it has been very much on my mind that preparing Little M for the new baby is even more important than any other preparations that we may do.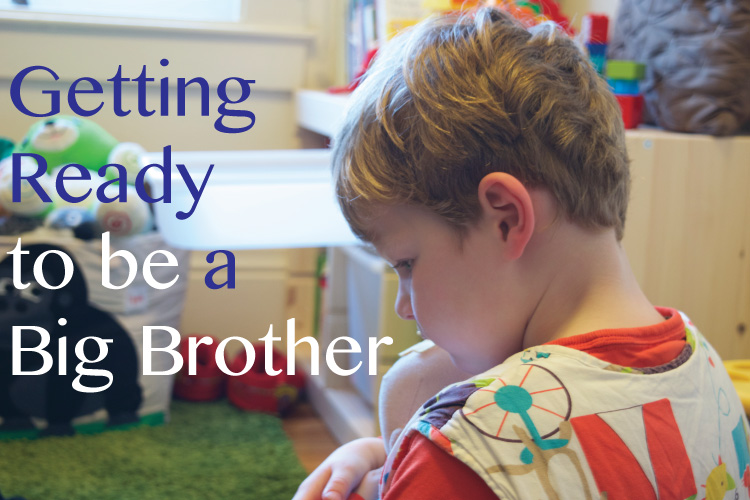 Of course I know whatever I do, it will still be a big change and adjustment when his little sister actually arrives. But I have been determined to reassure Little M and prepare him the best that I can, on the basis that it can only help!
I've been doing a few things over the last few months and weeks, I hope some of them might help you if you are in the same boat.
Here are some of the things that I have done to help Little M get ready to be a big brother…
Talked about the baby
We have talked about the baby a lot with Little M – how amazing and fun it is going to be to have another member of the family, but also some of the frustrations that might come along with that – she won't be able to play with him at first and might cry a lot.
Encouraged expressing feelings
We generally encourage Little M to use his words to express his feelings and have focused on that a bit more recently. We have praised him for telling us when he is angry or sad and why, rather than throwing things (which is what he used to do!) We have talked about how it's ok to feel frustrated with the baby sometimes and to always use his words with mummy and daddy.
Read about being a big brother
I bought a book called I'm a Big Brother in the hope it might help! I've actually been very surprised that he has enjoyed reading it together. He wasn't keen at first (as he mostly enjoys stories featuring trucks!) but I just started reading it one day and then he asked for it again. It's a nice simple little book that focuses on the important role of being a big brother.
Gave him a baby doll
It's a bit simplistic to think that giving a boy a doll will automatically make him good with the baby…! BUT we thought it couldn't hurt! As it happened Little M had been showing great interest in other little girl's dolls when he saw them at the playground and had started showing affection towards his own stuffed animals too. So at Christmas we gave him this soft baby doll and he loves it! 'Baby' goes to bed with him every night and he is really tickled by the fact that the baby has his own pacifier and diaper!
Talked about fun things he'll do when baby arrives
We've talked to Little M about lots of the fun things HE will get to do when the baby arrives – going on some fun outings with Daddy, spending time with his grandparents who will be coming to visit. We are hoping this will help him to feel that we are thinking about him as much as about the baby and that he'll look forward to the fun things he'll do – like getting ice cream with Granny and Grandpa
Talked about what will happen when we go to the hospital
Little M's biggest worry at the moment is what will happen to him when Mummy and Daddy go to the hospital to have his little sister. He spends most of his time with me and isn't often looked after by other people very often, so this is a real worry for him.
We told him a month or so ago about what would happen in the hope that he would feel reassured and prepared. A friend of mine who knows him very well and has looked after him before is going to come and look after him. We told him that after the baby is born his daddy will come and look after him and bring him to see his mummy and little sister. Then we will all come home together! We tried to not make too big a deal of it, but just explained in a reassuring way that it was nothing to worry about.
I sometimes wonder if we should have waited a little bit to explain this to him, so that he wouldn't worry. But the last thing I wanted was something to happen suddenly and for him to feel scared that he didn't know what was going on. He is still worrying about 'mummy going to the hospital' and is very clingy with me – but at least he knows exactly what will happen and that we will be coming back again!
Prepared a 'Surprise Box'
To help Little M be excited rathe than worried about me 'going to hospital', I have prepared him a 'Surprise Box'.
Now Little M LOVES any kind of surprise box or package – he just loves opening things, especially surprise eggs!!! So I have wrapped up some toys, books, play-doh, surprise eggs and a few other bits I know he will love and put them in a special box for him. I have hidden it away, but have told him that when Mummy goes to have his little sister he will get to open a 'Surprise Box'!!! He already seems very excited and is talking about making a video of himself opening the box!
Present from the baby
This is a fairly common idea and is more for after the baby is born, but thought I would add it in anyway! We've bought Little M a present from the baby – again to put the focus back on him and make him feel special.
Carried on as normal
Finally, despite all of the doctor's appointments and preparations I have been doing, I have been trying to ensure that life has carried on as normal for Little M recently. We've been doing all of the same activities and outings as normal and if anything I've been trying to have some extra special time with him – baking, reading and just cuddling together. It will be hard when the baby comes, but I want to make sure that we have lots of special time together then too, so that he doesn't feel left out.
I know that becoming a big brother is going to be a big change for Little M (let's face it, it's going to be a big change for me and The Hubster too!!) But I am hoping that some of these ideas will help him feel ready to be a big brother.
Do you have any other ideas to share? I'd love to here from you! How did you prepare an older sibling for baby's arrival?
If you are also having a baby soon, you might like to read my posts on essentials for baby and on things to buy for a second baby.