I've been living abroad in the USA for nearly 4 years now and many moons ago also lived in Africa for a while. Amongst the highs and thrills of living abroad, I've also experienced the lows – the homesickness, the feeling of despair when things feel so unfamiliar and the pit in your stomach when you just want to be back in a familiar place.
If not at first, the highs and lows will balance out, so that life feels less like a roller coaster and more like mostly smooth sailing. But how to cope when the going gets tough? I have found that as an expat (in fact in life in general) the best tool to get you feeling yourself again, is simply a positive attitude.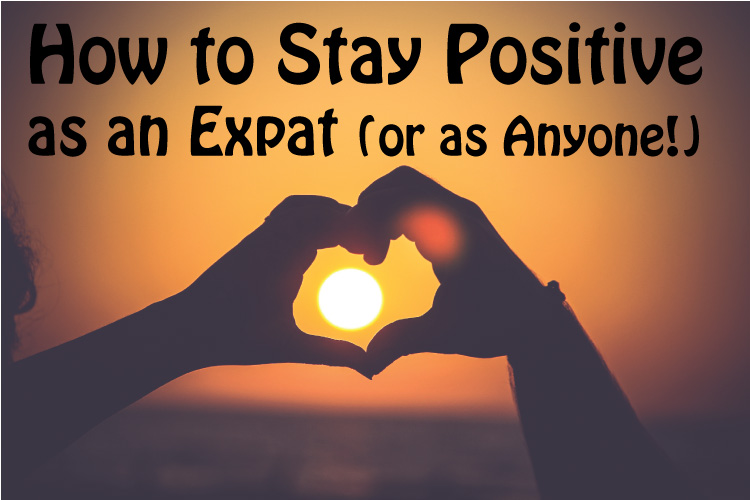 But how to get yourself feeling positive again when you are feeling blue?
Here are a few simple tips for expats (and for everyone really!) that have helped me – and I hope will help you stay positive during those tough times.
Smile at others
When I was a teacher I used to have a poster up in my classroom that said "Smile and the World Smiles with You." For some reason that quote has always stuck with me. It is so true that if you smile at others, then they will be more likely to smile and be more friendly towards you too. Scientists have found that by smiling more you can kid yourself into actually feeling happy. Of course a genuine smile is even better – as the saying goes, "laughter really is the best medicine." Becoming an expat is one of those rare opportunities in life where you get to reinvent yourself. So be the person you want to be – and choose to be happy.
Spend time around others
Spending quality time with friends or family is a sure fire way to help you have fun, laugh more and get that positive vibe going again. But what if, like many expats, you don't have family nearby? Make time to meet up with new friends or spend quality time with a partner. If you've just moved to a new country and are still making friends, then get yourself out there, embrace new opportunities and places to meet people. You didn't move across the world to sit in a room by yourself! It sounds scary, but getting out and meeting new people is the best way to feel at home in a new place, to make new friends and to start to feel happy and at home. New expat mums might like to read my post on how to be a sociable stay-at-home-mum.
Keep in touch with family
If you are missing family or friends back home, you might be tempted to avoid contact with them, because it can be painful to do so. But I have found that keeping in regular touch with family – especially through the wonder of Skype, is really helpful in maintaining a closeness with home. You will still want and need the support of family and friends back home, even though it may be over the phone, rather than face to face. It may be difficult at first, but keeping staying in close touch with loved ones will help you to keep a connection with home and help you to feel more at ease in a new country.
Watch something funny
Watching a funny movie, tv show or even better a live comedy show is a quick and easy way to get some laughs into your day and boost your mood. If you can, watch something funny with others – things are always funnier when other people are laughing around you too. This is also a good way to get out and explore new places to go in your new home town – such as theatre and live shows.
Do the things you love
Find the time to do the things that you love – whether it's a hobby, a sport, or just going to a favourite cafe. Many people move abroad for an improved lifestyle, so make sure you do just that by making time to do the things you love. It's always hard to find time in the busyness of daily life to pursue hobbies and interests, but even a small amount of time each day, or each week can make a real difference to your wellbeing and attitude.
I struggle to find time for myself, with a toddler to chase after, a part time job and no family around to help. But I try to make time to blog, to read and to hang out with my book club girls whenever I can – because I know doing those things, even just a little bit makes me feel happier (and therefore a better mummy too!) Whether you live abroad or in your home country you can make positive changes to your lifestyle by finding some time to do your favourite things.
Keep a Gratitude List
I love the weekly process of writing a gratitude list, as it really helps me to focus on all the positive things that have been going on in my life. It's normal to feel down when you are going through a rough time, or feeling down, but writing a gratitude list can really help to put things into perspective.
Don't take life too seriously
This one is often easier said than done, but I have often found that the times when I am getting vexed and worried about the little things, I realise I am also taking life far too seriously. I am not saying that everything in life should be a song and a dance – it is normal and natural to have ups and downs in life and to express those moments through your emotions.
However, if like me, you sometimes find yourself worrying about the silly little things in life – a minor test you have coming up, whether or not you're going to find a good pre-school for your toddler, anxious about a new job… If you're worrying about little things like that then you might sometimes be taking life too seriously. This is particularly easy to do as a new expat, when everything feels new and scary.
In those moments I find that it always helps to think – well what's the worst that can happen? And often the worst case scenario is actually not that bad! If the worst does happen – so you fail your driving test in a new country for example – you really have to just laugh about it. Think to yourself, what will I think when I'm 90 years old and look back on this day? Will I smile about it then?!
Are you an expat? How do you cope during difficult times? Do you have any other tips to share on staying positive?
[plinker]