You would think the search for something as simple as a sippy cup would be, well, simple. However, I have found that it is more complicated than you would think! There are so many types of cup on the market, all claiming to be 'non-spill' and best for your child. But which are best? I put to the test a selection of both 'spout' and 'straw' sippy cups to save you the trouble!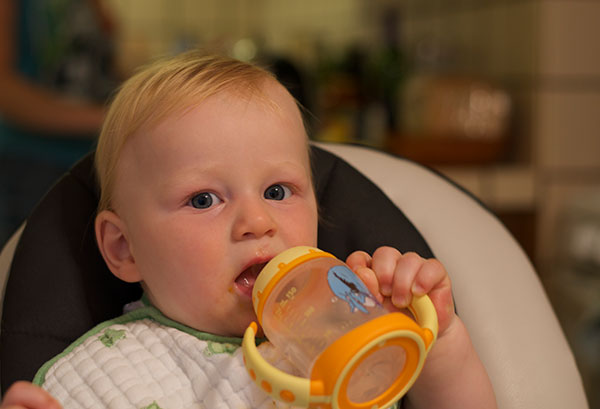 What is the difference between a 'spout' and a 'straw' sippy cup?
'Spout' cups are usually used when transitioning baby from bottle or breast to a cup. Baby has to tip the cup and suck the spout to get liquid out. They usually have a valve to prevent spills. Since baby sucks on these in a similar way to a bottle, this type of cup should only be used for a short time, before moving onto a straw or regular cup. Read more about starting and stopping sippy cups in this great blog post.
'Straw' cups are usually the next step, some babies may even use straw cups as a first cup – especially if they are struggling with the idea of 'tipping.' Baby sucks up the straw. Most have a valve to prevent spills, but some don't. Straw cups can be used when transitioning to a regular cup, or your toddler might just use them when out and about. Here's the lowdown…
Nuk Learner Cup with Silicone Spout
This Nuk cup is a super first cup for baby. It's only 5 ounces, so nice and small, with grippy handles that make it easy to hold. The spout is made from soft silicone, making the transition from breast or bottle easier. Cheap, cute designs and the whole cup comes apart easily for cleaning.
The downsides? When baby's teeth come in they may bite on the silicone spout, which can easily tear, resulting in leakages and need for a replacement spout. Little M loved his at 6 months, but we ditched it when the spout tore for the second time.
Best for: A first cup for baby, or for bottle weaning.
Playtex Insulator Spout Cup
These insulated cups from Playtex are as good it gets for for a robust, leak proof cup. They are sturdy, keep drinks insulated and are easy to grip. Little M's have survived many a hurling across the room. Cheap, especially in a twin pack. Since they have a hard spout, no handles and a 9 oz capacity, these cups are better for a slightly older baby. Designs are behind plastic, so don't wear off.
Best for: Babies who throw their cups about lots (that's all babies then!) For about 9-12 months up and toddlers.
Playtex Insulator Straw Cup
These Playtex straw cups are the same as the spout version, but with… well a straw. Same applies as for the spout version. Super sturdy and leak proof. Be careful not to over fill though, as this sometimes forces liquid up the straw. Great for boisterous toddlers – plus come in lots of fun designs.
Best for: Everyone – babies and toddlers – whenever ready for a straw cup.
Lollaland Lollacup
This straw cup is valve free – good for babies who are just learning to drink from a straw, as they don't have to suck too hard. Lack of valve means that this cup is not leak proof – so this is not your best stroller cup option. Bulkier than others, although handles can be removed and all comes to bits for cleaning. Nice and wide, 9 oz capacity, plus comes with a straw cleaner. Cute chick design, although features wear off quickly.
My biggest gripe with this cup – it's made of thin plastic and very flimsy. On being thrown from the high chair, Little M's cup came to bits, spilling his drink everywhere – fun for Mama! At more than twice the price of others in this post, you'd expect more from this cup.
Best for: A valve free first straw cup. But not worth the extra money for most.
Skip Hop Zoo Straw Bottle
These cute straw bottles from Skip Hop are a fantastic on the go water bottle. Sturdy, though not as robust as the Playtex Insulator. Features a flip top cap, which prevents leaks effectively. Range of sweet animal designs, plus each comes with a spare straw which is a bonus. 12oz capacity and features a carry strap, so better as a toddler water bottle, or for older babies.
Not so good for meal times, as the carry strap can get gunky. Designs wear off eventually, but as the cheapest cup here you can afford to have a couple spare! Little M loves his when out and about and so does Mama!
Best for: An on the go water bottle for toddlers or older babies.
That's all folks! Any other sippy cups you would recommend to others? Or cups you advise to avoid?!
Disclosure: This post contains some affiliate links, however all opinions are entirely my own. 
[plinker]