Does your child love to cook and be creative in the kitchen? Are you looking for a simple idea that they can make by themselves?
This is a super easy and fun idea – to set up an invitation to make no bake energy bites using construction vehicles!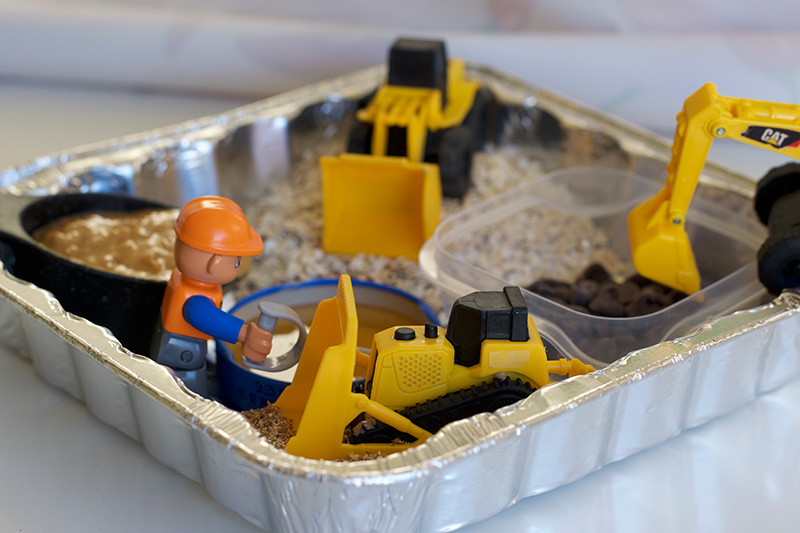 Little M LOVES to make and bake in the kitchen. Putting all the ingredients in the bowl and stirring them in one by one is his favourite bit! He likes to talk through each step as he does it – perhaps he'll have his own cooking channel one day!
I love to make things with him in the kitchen whenever I can, but it's got to the point where he wants to 'do cooking' every day! Although I am so happy that he is enthusiastic about cooking, sometimes at 9am there are just other things that need to be done!
So I came up with this invitation to make no bake energy bites, using construction vehicles. It's a great activity that he can do by himself, no baking needed, just mixing! The added element of the construction vehicles makes it fun too – and occupies him for a while, so I can put his sister down for a nap, or any of those other things we have to do as mamas.
Why not give it a try?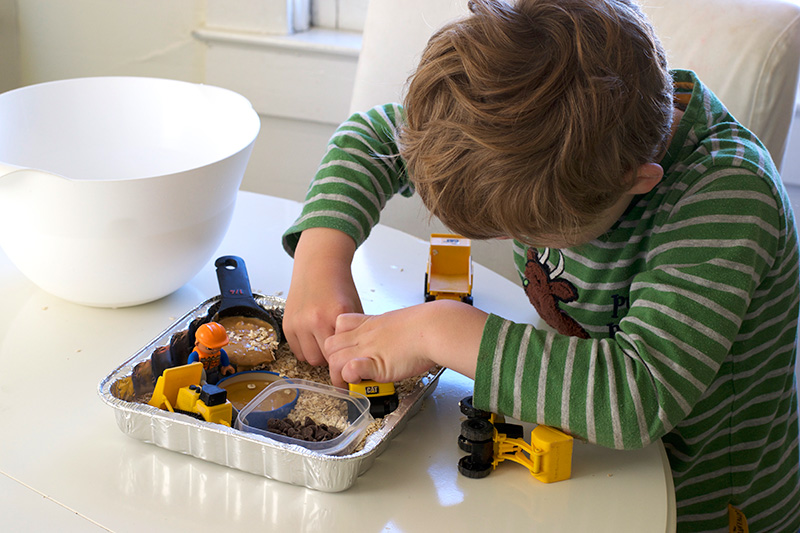 It literally takes seconds to set out all the ingredients – no weighing needed. Your child can then get on and scoop and mix to their heart's content. The best thing is these energy bites are full of healthy stuff (apart from the chocolate chips!) and they taste amazing!!!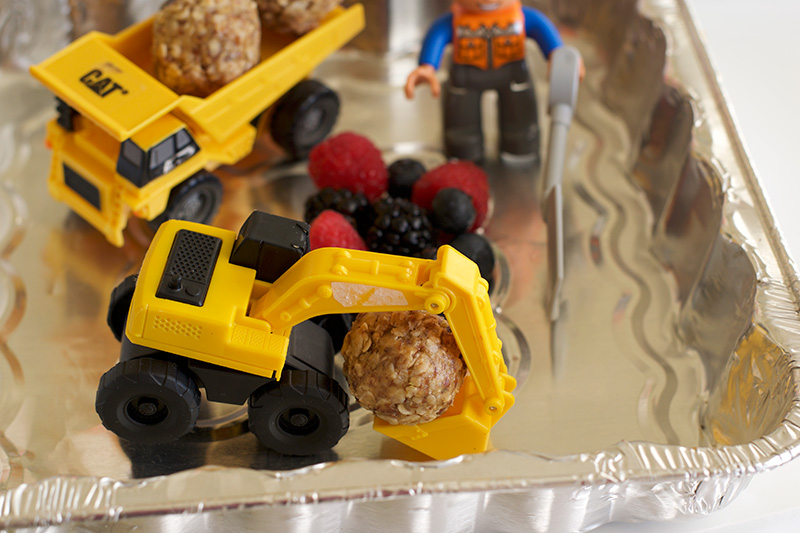 The energy bites are based on a recipe from Gimme Some Oven which we love! I have reduced the quantities to make it more manageable for a child to make and adapted it slightly. But the great thing is you can adapt this recipe yourself, however you would like. You can mix and match any of the ingredients.
Perhaps try almond butter instead of peanut butter, or replace some of the oats with some toasted coconut. You could replace the chocolate chips with raisins or chopped dates (especially if you don't trust your child to be left alone with chocolate chips…) You can adapt this to be dairy free with dairy free chocolate chips. It's also gluten free if you use gluten free oats. So long as the quantities of wet and dry ingredients are the same, you can't really go wrong!
Little M loves to use construction vehicles – so we used these small construction vehicles for this project (affiliate link).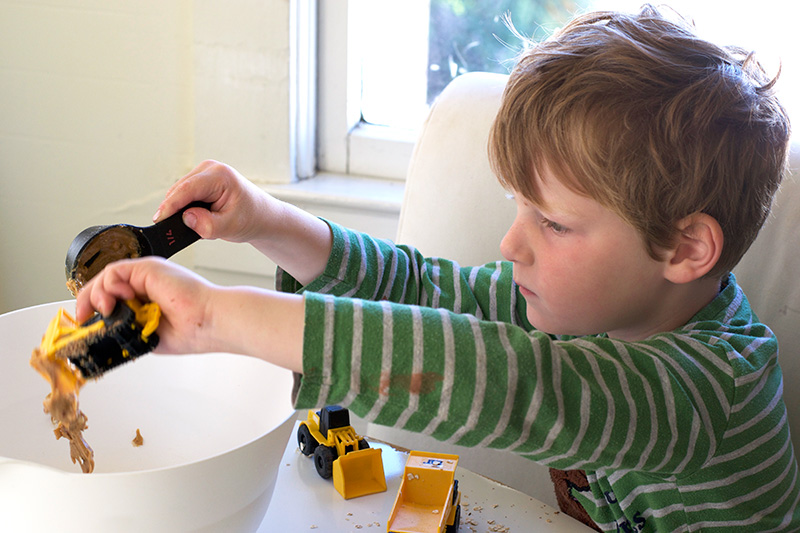 Give the vehicles a thorough wash, then disinfect and rinse again before using to dig food, especially if they have been played with before. If your vehicles are really dirty or muddy, I'd buy some new ones and keep them for indoor use. You can of course make this recipe without construction vehicles too!
Invitation to Make: No Bake Energy Bites (Using Construction Vehicles!)
You'll need:
3/4 cup rolled oats
1/4 cup ground flax seed
1/4 cup dark chocolate chips
1/4 cup peanut butter (I used the no salt, no sugar variety)
2 tablespoons of honey
1/2 teaspoon vanilla essence
You'll also need:
A variety of small construction vehicles – thoroughly washed and disinfected
A baking tray (I used a foil cake tray)
A mixing bowl and spoon
A few small containers or lids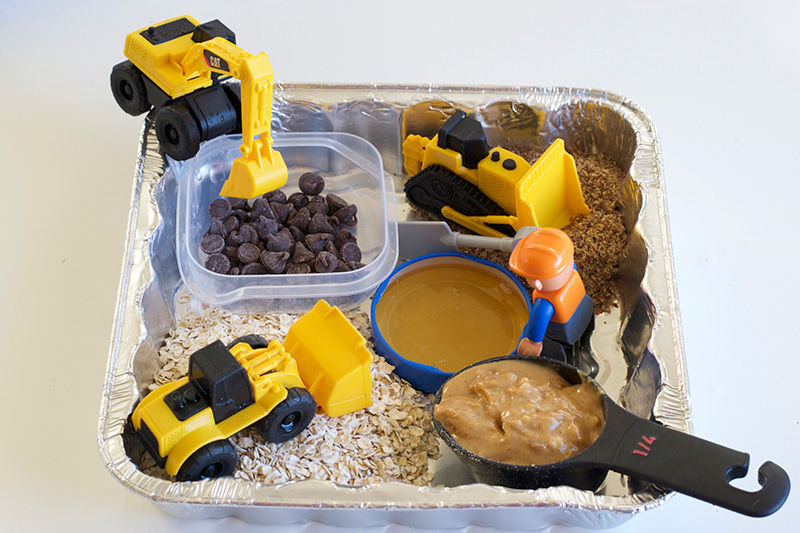 To set up:
1. Simply set out all of the ingredients on the tray. Try putting the wet ingredients in small containers or lids within the tray, to keep them separate. I left out the vanilla essence and added this for Little M when he was done mixing – it's a bit more fiddly.
2. Place the tray on the work surface, along with the clean construction vehicles, mixing bowl and spoon. (If you are a very cool parent you could wash and disinfect a play shovel instead!)
3. Let your child get on with digging, shovelling and mixing!
4. Add the vanilla essence if you haven't already!
5. When your child is done mixing you'll need to put the mixture in the fridge for 10-20 minutes before rolling into 'bite size' balls. This hardens the mixture and makes it easier to roll. Little M is usually fairly desperate to eat an energy bite by this stage. We'll usually roll up one as it is, then put the rest of the mixture in the fridge!
6. When the mixture has chilled, you or your child can roll them into around 1 inch balls (you can also make them bigger or smaller.) If the mixture is too dry, just add some more peanut butter or honey to help them stick.
Yum! Enjoy as an energy boosting snack, or with some fruit as a quick breakfast. Serve with the cleaned construction vehicles for extra fun!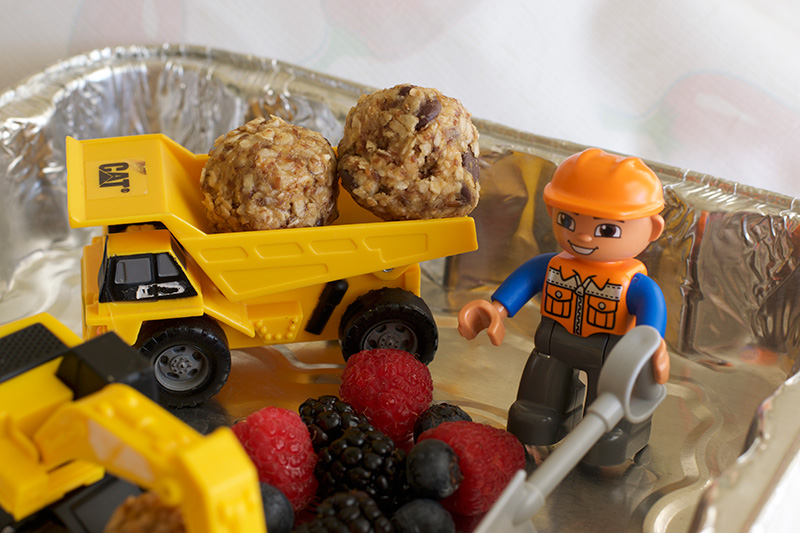 Little M loved mixing up his energy bites! He excavated and shovelled the ingredients into the bowl and mixed away! I helped him to roll them into little 'boulders.' He ate a couple with his excavator (!) then we put the rest away for another day.
I hope your kids love this activity as much as we did! Do your kids love to make things in the kitchen? Will you give this a try?
Like this post? Pin me!