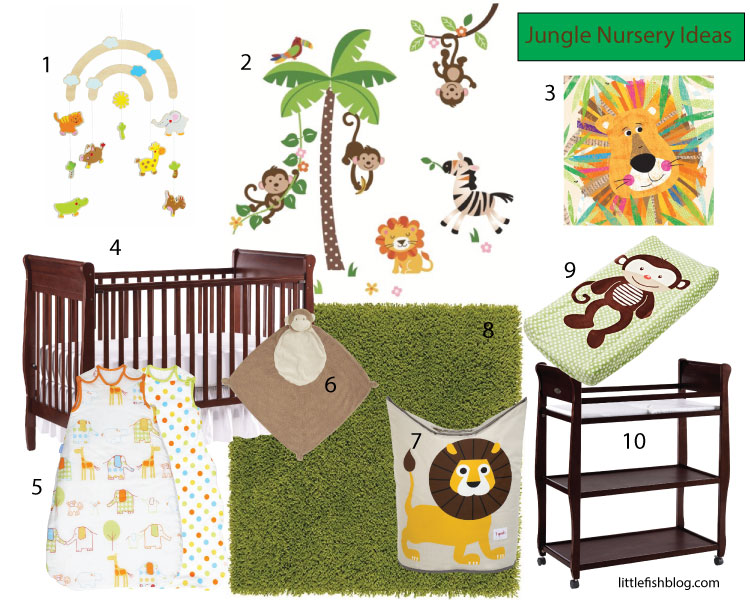 Create a fun, yet calming jungle theme in baby's nursery using these inspiring and affordable ideas. A blend of greens and browns gives a tranquil aura and works well with a range of wall colors. Bold wall stickers add a splash of vibrance, while a bright canvas picture and wooden mobile give a personal touch to the room.
This is a fun room for a girl or a boy that they will be sure to love into toddlerhood and beyond. Mix and match with your own jungle themed ideas and accessories. Little M has a jungle room similar to this and loves it!
Baby will love looking up at the animals on this cute wooden mobile. Gentle colors that will complement any nursery design.
2. Jungle Monkeys Giant Wall Stickers
Create baby's own jungle with these fun stickers. They stick easily to walls and can be repositioned and removed just as easily.
3. Peeking Lion Canvas Wall Art
This wall canvas, with stunning art work by Liza Lewis, will add a bold splash of color and fun to any room.
A classic crib that also converts to a toddler bed, day bed and full size headboard.
5. Hippo Hop and Spot Baby Sleeping Bags
These quilted baby sleeping bags from Grobag are the best I have used. Superb quality, with 100 percent cotton shell and lining and polyester filling. Come in tons of designs and this twin pack gives double the value too!
Your little one will love cuddling up with this soft monkey blankie. Super soft and machine washable, he makes the perfect sleep time buddy.
These adorable hampers from 3 Sprouts come in a range of animal designs, but the lion is just perfect for a jungle themed room. They are a good size, have carry handles and are wipeable. I love how they have just the right balance of classy and kiddy.
The perfect rug for creating a grassy jungle floor. Affordable and easy to care for polyester.
A great change pad cover for any jungle or monkey themed nursery. Lovely soft fabric and also washes well.
A simple yet stylish changing table, with plenty of space for your supplies and four rollers for easy mobility.
Do you have any other ideas for a jungle themed room? Do share below, or on our Facebook or Twitter page.
Disclosure: This post contains some affiliate links, however all opinions are my own. 
[plinker]