As parents, all we want for our little ones is for them to be safe and happy.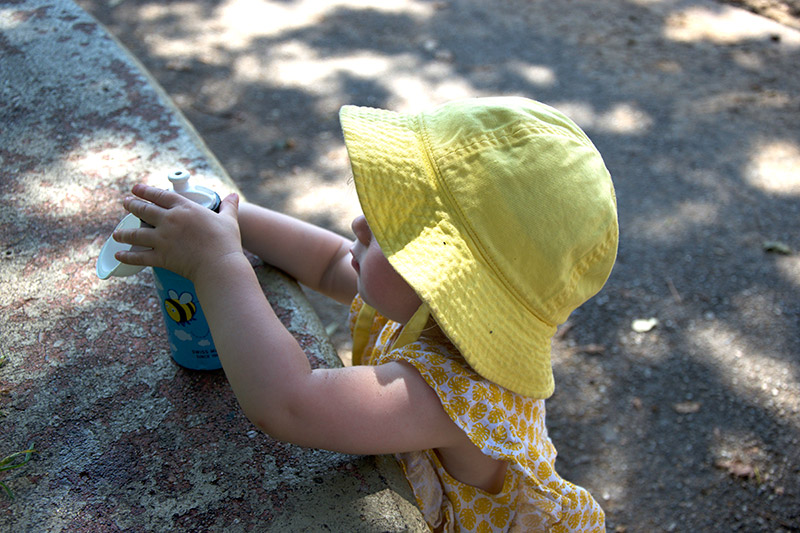 Now summer is here, we're all starting to get out and about more – finally! It's been a long winter full of rainy days. But now the sun is here, we all want to make the most of the warm weather, don't we?
Perhaps you are planning some fun days out, or a picnic in the park? A trip to the beach, or maybe even a holiday abroad? There are so many fun things to do in the summer!
Whatever you do, and wherever you go, make sure that your child is properly protected from the sun. The sun is beautiful and lifts our moods. But spending too much time under the sun's exposure can cause harm. Relax during your holiday with these tips to keep your little ones safe during the summer:
A bottle of water
Always pack a bottle of water! Little ones need to drink plenty to avoid dehydration. You'll have to remind them to drink more throughout the day. All that running about, plus the hot weather can dehydrate kids easily. Ideally use a reusable bottle that you can pack for every trip out. We love these kids resuable water bottles. Remember to pack some water for yourself too!
A funky sun hat
Sun hats are a brilliant way to ensure the most important area of your child's body is kept shaded – their head. A hat will stop your little one from overheating by keeping their head cool and covered. Remember that too much sun can sometimes lead to sunstroke. You can find some fun and funky sun hats over at https://mylittleduckling.co.uk/ There's something for every child's personality, so do have a look and see what you can find.
A factor fifty
Believe it or not, sun cream should actually be used every day regardless of the weather. Harmful UV rays can damage skin even on a cloudy day, so it's important to protect kids whatever the weather. Sun protection is even more important when going out on hot sunny days. Make sure you cover everywhere, especially where children's skin is exposed to direct sunlight – such as the face, neck, arms, legs, etc. Keep a spare bottle in your handbag to top up throughout the day.
What other tips do you have to keep your little ones safe during the summer? Do you have any holidays or days out planned?
Disclosure: This is a collaborative post. Please see my disclosure policy for more information.