It's time to take a look back at my Moments of Gratitude.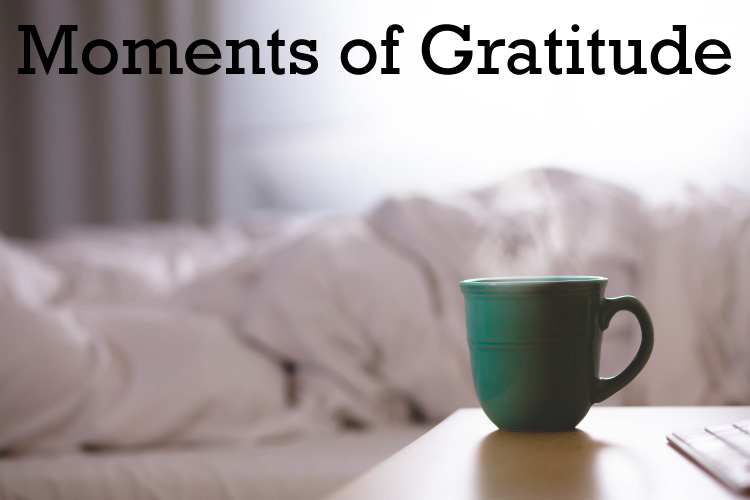 Each week I try to reflect back on little moments that I have been grateful for, or that have made me feel happy and inspired. I find that making a little list of these moments helps me to find the good in every day. It's all too easy to get caught up in the busyness of day to day life – especially as a full time mum – and it's good to take time to reflect on and appreciate the little things.
I haven't been blogging about my Moments of Gratitude much lately, as I have been caught up in day to day life. So I'm looking forward to this opportunity to sit back and reflect. I hope it inspires you to do the same.
Here are the moments I have been grateful for over the last week or two…
• LP being a champion sleeper!!! Thankfully she sleeps through the night and is starting to take long naps in the crib too. Now I say this not to brag, but because Little M has not been sleeping well lately! He's been dropping his nap, but getting over tired as a result. But every time I catch myself complaining I have to remind myself I am lucky that at least ONE of them is sleeping through the night… (And hopefully we all will be again soon!)
• Discovering a yummy cooking blog – Gimme Some Oven. I often get stuck making the same old things, but have had a surge of enthusiasm after discovering this blog. I especially love Ali's No Bake Energy Bites – a scrummy and healthy quick breakfast or snack.
• Having a photo featured on What the Redhead Said. I've been really enjoying my photography lately and working hard to improve it, so it was lovely to have some love from a fellow blogger!
• Cuddles with Little M. Poor little man hasn't been sleeping well and has had a cold too – to top it off. But the upside is, we've been having more snuggles! There's nothing like the feeling of being a wanted mummy.
• Watching LP grow from a newborn to a busy baby. This girl is determined to MOVE! She kicks her legs all the time, loves to splash in the bath and can't wait to roll! I can't believe how quickly she's growing and am trying to hold onto every moment.
• Seeing Little M willingly share his toys at the playground. Of course, this doesn't happen every time! But it makes my mummy heart feel so proud when I see his kindness shine through.
• Finishing maternity leave – and then not going back to work! Such a good feeling! For various reasons I am not going back to work at the moment. It feels so good to know that my main focus right now is my family and I feel less stressed about fitting too many things into my life. Although life is still busy, things feel simpler – and it is wonderful to have our weekends together again as a family.
• Sunny weather! I know I take the weather for granted here. So it's time to step back and appreciate those sunny days and outdoor adventures. I'm also loving recording lots of our little adventures on Instagram at the moment. It's such a friendly and positive space and my favourite social media channel at the moment.
What about you? What moments have you been grateful for lately?
I'm linking this post up with Katy and Sian and their #HappyDaysLinky.