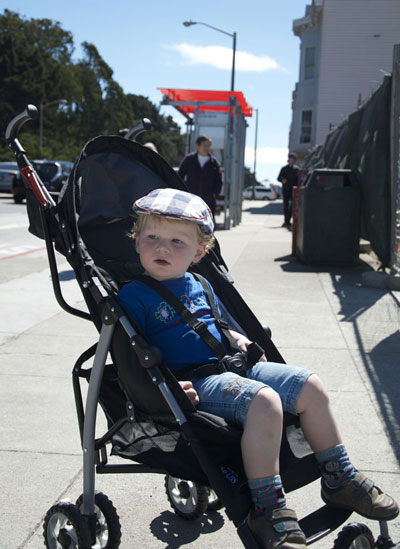 With an upcoming flight to the UK, The Hubster and I recently had the 'great pushchair debate.' Should we take one or should we not? If so, should we take our big full-size stroller, or should we buy an itsy bitsy travel stroller especially for the trip? The upshot was – yes we needed a compact pushchair for travel, but one that would also be practical to use at our destination. The problem? We wanted to spend as little as possible! Enter: The First Years Ignite.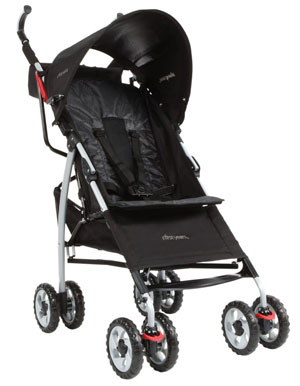 When it comes to buying new things I am a complete perfectionist. I pore over reviews and details until I am sure I am making the best choice, at the best price. Which is why I thought finding a folding umbrella stroller that fit all of my criteria would be impossible! I wanted a lightweight, easy fold stroller with tall handlebars, a tall seat, a sun canopy, adjustable seat, reasonable quality and for less than $100 (though preferably closer to $50!) The First Years Ignite repeatedly came up in my research as a top choice – so we gave it whirl and I'm so glad we did! Here's the lowdown…
The First Years Ignite is an affordable lightweight stroller that has some great features, which go beyond your typical cheapo umbrella stroller. Yes, you can pick up a basic umbrella stroller for next to nothing at your local bargain basement store. But if you want something that offers that little bit extra, yet still at a low price, then read on!
PROS:
Lightweight – At 14lbs it is half the weight of a standard stroller. It's not the VERY lightest out there, but it's light enough to make life much easier!
Sturdy – Feels much sturdier than many umbrella strollers. Some of the extremely lightweight strollers can tend to feel rather flimsy. This one offers a good balance between being lightweight, yet sturdy.

One handed fold – Folds and unfolds quickly and easily. Folds long and thin, like an umbrella – with a hook to secure it. Unfolds just as quickly, with a second hook to lock in place.
Tall handlebars – A HUGE plus, especially if you are tall – like The Hubster and I. Most umbrella strollers appear to be designed for Hobbits – but at 40 inches high, the Ignite is comfortable for most humans to push!
Tall seat back – Another plus if kiddo is tall or older. Seat back is just over 19 inches high, taller than your average umbrella stroller. Seat to canopy height is around 25 inches. Little M has more headroom in here than in his Bugaboo! Seat width is 14 inches and seat depth 10 inches. The stroller also has a footrest.
50lb weight limit – Higher than many other umbrella strollers.
Seat recline – Pull string allows you to recline the seat as much or little as you wish. Does NOT recline all the way back, only to around 120 degrees – but still a plus over no recline at all!
5 point harness – A must for your wriggly little one. There are also 3 height options for the harness.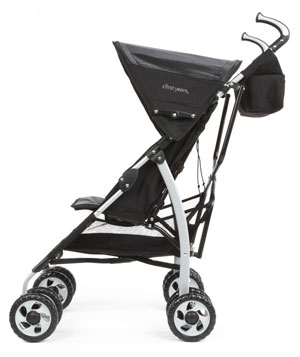 6" wheels – larger than most umbrella strollers, makes for a smoother ride – pushes nicely. There is also the option to fix the front swivel wheels, which is a nice feature. Brakes on both back wheels.
Storage – There is a nice little parent pouch across the handlebars – with drinks holder and zippered pocket for keys and bits. Also a small under basket – you won't get much in it, but useful for bits and pieces.
Sun canopy – A plus over your basic umbrella stroller.
Decent quality materials – For the price, I was expecting something that looked, well, tacky. Far from it – I was pleasantly surprised to find decent quality fabrics and a well-made stroller. Looks more expensive than it was!
Price – At around $60 this is great value for money – this is the cheapest umbrella stroller you'll get that also offers those important extras.
CONS:
Small sun canopy – The sun shade is not huge and unfortunately is not adjustable. You could add a sun canopy extender if this was an issue.
Access to under basket – Basket is small, to be expected for an umbrella stroller – yet difficult to access the small space that is available.

Overall, The First Years Ignite is a fantastic umbrella stroller for the price. If you are looking for a cheap umbrella stroller, but also want something that offers that little bit extra (who doesn't?!) – then this is the stroller for you!
Anyone else used The First Years Ignite? Any other words of wisdom to offer?
Disclosure: This post contains some affiliate links, however all opinions are entirely my own. 
[plinker]