Are you looking for a stroller that you can run and hike with, but also use for every day?
Look no further! We recently purchased the Thule Urban Glide after reading rave reviews and and have been happy to discover that this is honestly the stroller that does it all!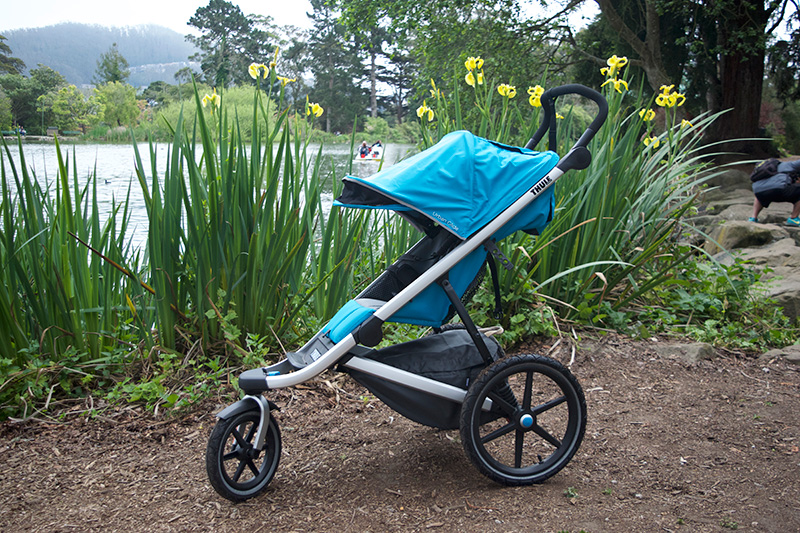 With a new baby and limited space we were looking to trade in our regular stroller and our fixed wheel jogger for a single stroller that we could run with, but also use for every day walking and errands.
If you have run with a stroller before you'll know that there are important features to look for in a running stroller. It can therefore be difficult to find a stroller that is great to run with, but is also sleek and practical for every day use. We also needed something that would work for super tall kiddos and last a decent amount of time – not asking for much then!
Looking for a stroller that did everything felt like looking for the pot of gold at the end of the rainbow! I honestly thought we wouldn't find a stroller that would be good for all purposes and assumed that something would be compromised along the way. We looked at a lot of different strollers and they were either too heavy or bulky for every day use, or had terrible reviews for actually running with. Then we found the Thule Urban Glide and the hunt was over! This stroller ticks all of the boxes and we couldn't be happier with it.
Read on for my list of key features of the Thule Urban Glide…
Disclosure: Affiliate links included, however all opinions, as always, are my own.
Thule Urban Glide Review
Key Features for Running:
Lightweight
At 23 lbs the Thule Urban Glide is one of the lightest joggers out there. This makes it a breeze to push whether walking or running – even pushing a 45 lb Little M feels easy!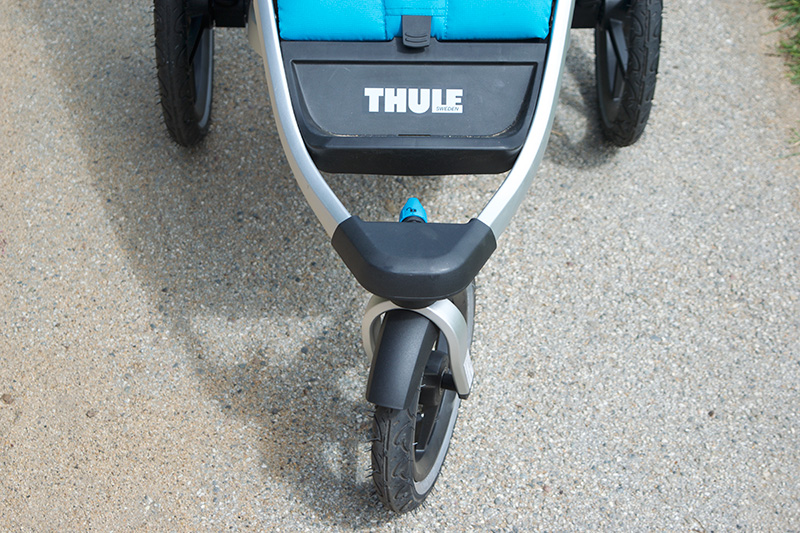 Hybrid Fixed/Swivel Front Wheel
The Urban Glide features a hybrid front wheel which swivels for every day walking, but easily fixes in place for running or hiking. The fixed front wheel is an important feature in a running stroller, as it enables the stroller to run smoothly and safely over bumpy ground. You can easily switch between the swivel and fixed wheel option by turning the knob on the front of the stroller.
Rear Suspension
Shock absorbers on the rear of the stroller make for a really smooth ride. I have noticed the difference between the quality of the shocks on the Urban Glide compared with our previous running stroller – the budget Schwinn Arrow.
Adjustable Handlebar
This is an important feature of a running stroller in order to adjust to individual height people. This one adjusts easily by pressing the two blue buttons and clicking to the desired height. The stroller can tip if too much weight is put on the handlebar, so it's not advised to hang heavy bags from the handles. I have found there is plenty of space in the under basket storage though.
Tracking Wheel
Awesome feature! With a simple turn of a wheel you can ensure the stroller tracks perfectly straight. I have only had to adjust it once when I first used it for jogging.
Key Features for Every Day:
Swivel Wheel
The front wheel easily switches between fixed and swivel mode. Front wheel is smaller than on fixed wheel joggers, making the stroller just as effective for every day as for running.
Large Sun Canopy
The Urban Glide has the most amazing sun canopy I have ever seen on a stroller! It is large, with broad coverage and can be pulled down to follow the sun. It also has two handy 'peekaboo' windows – on the top and back of the canopy. The canopy and all of the fabrics are of super high quality.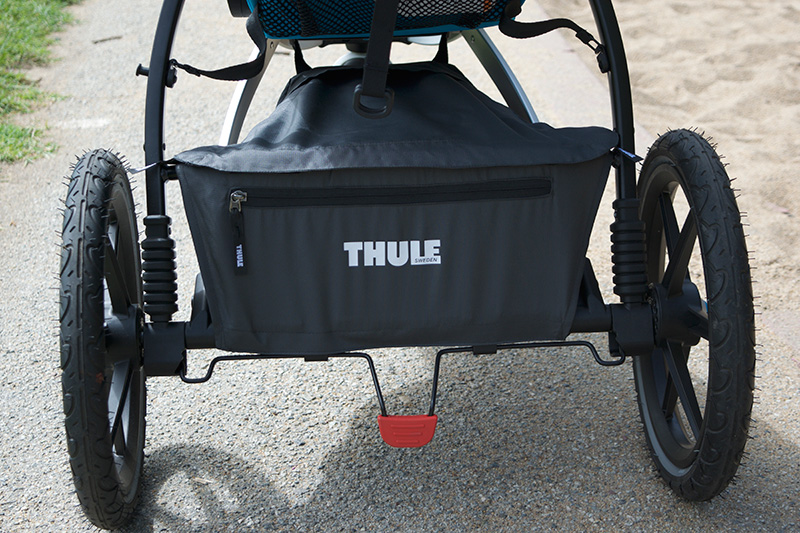 Large Covered Storage Basket
Plenty of space for groceries and toys, with a handy zip up cover that keeps everything clean and dry, plus a zip pocket for keys or accessories. There is also a handy storage pocket on the back of the seat and two cup holders on either side of the seat.
Five Point Harness
Harness is easily adjustable and with comfortable shoulder straps. There is no feature to adjust the height of the straps, but the length of the shoulder straps and of the crotch strap adjust easily. You do have hold down two red buttons and press the latch at the same time to open the harness, which is a little fiddly, although at the same time makes the harness feel very secure.
Reclining Seat
A simple squeeze button adjusts the seat from the back. It reclines from nearly upright to almost horizontal – great for a younger baby or for sleeping. The seat is roomy, with a high seat back and canopy. Little M fits comfortably in the stroller – he is 3 years old, but around the height of a 5 year old!
Foot Brake
The foot brake is easy to use although a little on the clunky side. There is no hand brake, which is a feature found more commonly on the fixed wheel running strollers. I thought this would bother me, but actually it hasn't at all. It might be an issue if you plan to run in very hilly areas a lot.
Car Seat Adapter Available
A car seat adapter is available to purchase separately. Babies 0-6 months can ride in the stroller in the car seat, while babies older than 6 months can safely ride in the stroller seat. There are other stroller accessories available, such as a parent console and a rain cover.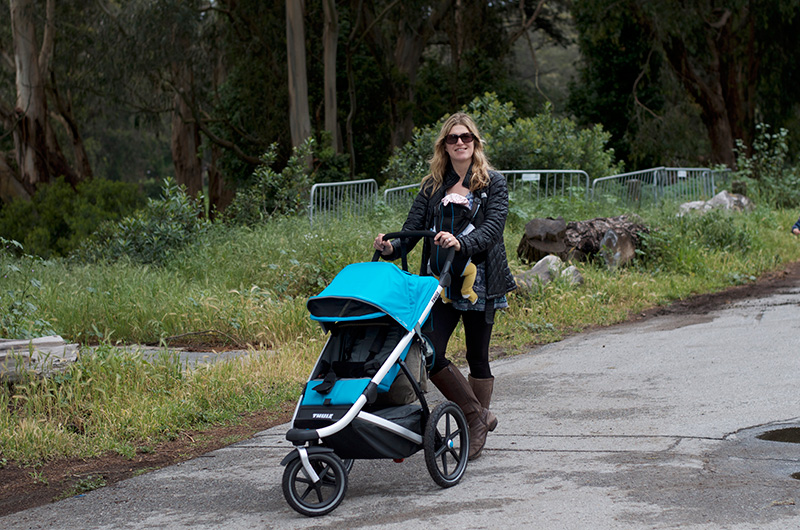 Overall Verdict?
The Thule Urban Glide is a fantastic stroller for running and for every day use. It runs so smoothly, even with a heavy load, yet effortlessly adapts for every day use with the swivel wheel and lots of handy storage space.
Plus, let's not forget the cool factor! The Glide is just so sleek and elegant looking compared with other joggers (it comes in three colours too by the way…)
We love this stroller and I honestly can't think of anything negative to say about it! Little M loves riding in the Thule Urban Glide and I can't wait for LP to have her first run in it!
The only thing I would say is – if you are just looking for an every day stroller, then you might find the urban glide quite long. Like all joggers, it's longer than a regular stroller making it well suited for running or hiking. So if you are looking for a stroller that you can run with – even only occasionally – as well as easily use every day, then this is the stroller for you. The Thule Urban Glide is a real gem! Highly recommended!
Any questions about the Thule Urban Glide? Ask away in the comments and I'll do my very best to answer!
Update: In the interests of creating a thorough review I thought I'd add this update. After 18 months of owning the stroller, we noticed some of the stitching coming apart in the seat. This could have been down to over loading on our part. Thule were fantastic however and simply replaced the stroller! Another 18 months and an international move later – the new stroller is still going strong and we love it just the same!