Does your toddler LOVE trucks? Little M has always loved trucks – loading them, unloading them, pushing them through the sand, reading about them, watching them, some even go in the bath with him…!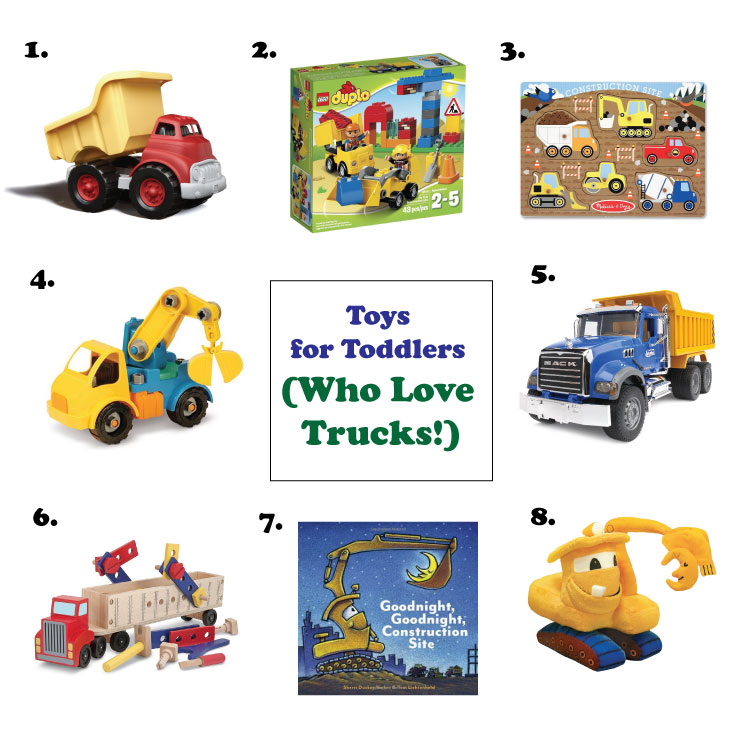 If you have a little construction fanatic on your hands, then here are some great truck themed gift ideas. All of these have been tested and approved by Little M!
Disclosure: This post contains some affiliate links, however all opinions are entirely my own. Thank you for your support!
1. You can't go wrong with any of the Green Toys for simple, fun toys that also rest easy on your environmental conscience – they are made from 100 percent recycled milk cartons! Little M loves playing with the Dump Truck at the dentists of all places. Manufacturer recommended for 1-5 years.
2. 2-5 years is the perfect age to get into DUPLO – the pre-school version of LEGO. Little M loves this Construction Site set for building with and creating play scenes. Set includes: DUPLO truck, crane and front loader, 2 workmen figures, road sign, cone, small building plates and assorted DUPLO bricks.
3. We love all the Melissa & Doug wooden puzzles – great quality and so many different themes to choose from. This Melissa & Doug Construction Site Peg Puzzle is perfect for little construction fans. For age 2 and up.
4. This Take-A-Part Crane is fantastic! A crane that little engineers can take apart and rebuild – complete with power drill! For age 3 and up.
5. If you want to splurge on a birthday or Christmas present – the Bruder Mack Granite Dump Truck is THE toy for truck lovers! Excellent quality and very realistic features, including a cab that opens to reveal the engine. Pretty huge at scale of 1:16 – great for playing in the sand or indoors. The Hubster spoiled Little M with one of these a while back and he adores it. Recommended 3-10 years.
6. For a while I was looking for a toy featuring 'toddler tools' that can actually be used to construct something. Little M loves 'helping' Daddy build with his tools! This Melissa & Doug Big Rig Building Set is just what I was looking for – a truck, plus tools, that you can also construct with. Toddlers can also load up the truck with supplies!
7. Oh my goodness, Goodnight, Goodnight Construction Site is THE bedtime book for truck lovers! We originally discovered this in the local library and it quickly became Little M's favourite EVER book – so of course I had to buy it! It's great for shared reading with toddlers (hardback with paper pages) and I think will be a favourite for years to come. The book features gorgeous rhyming text and endearing illustrations. It's all about the construction trucks finishing their days work and getting ready to sleep.
8. Does your toddler ask to take their trucks to bed?! With this Goodnight, Goodnight, Construction Site Plush Doll they finally can! Little M snuggles up with his at night! This makes a nice accompaniment for fans of the book.
I hope these ideas give you some gift inspiration for your little truck lover!
Do you have a truck lover at home? What toys do they like playing with best?
Like this post? Pin me!