A couple of weeks ago we went on our first little road trip as a family of four – down the coast a short way from San Francisco to the state beaches of Half Moon Bay and San Gregorio.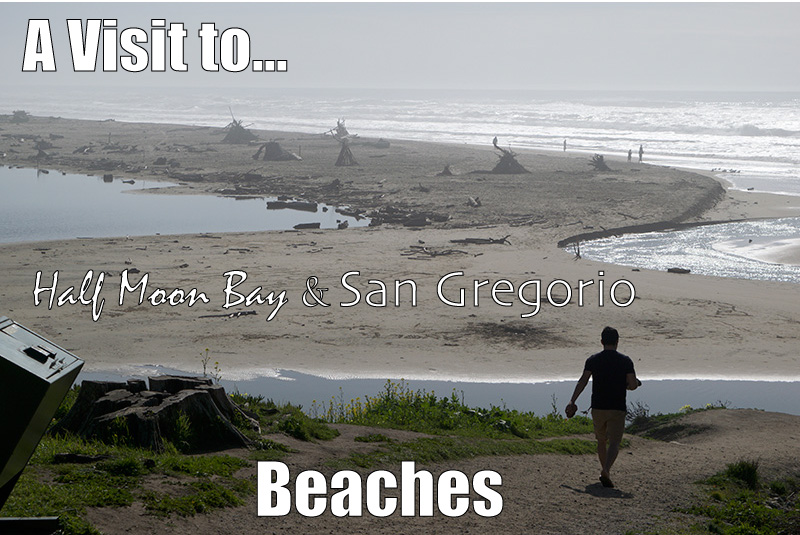 Half Moon Bay and San Gregorio state beaches are both beautiful and well worth a visit, either as a day trip from San Francisco or as a stop off on a longer road trip down the California coast.
Our first stop was Half Moon Bay State Beach which is around 30 miles south of San Francisco and around a 50 minute leisurely drive down Highway 1.  Half Moon Bay boasts sandy beaches four miles long and is a perfect place for a picnic or relaxation spot. There are also camp grounds there for those who want to linger a little longer.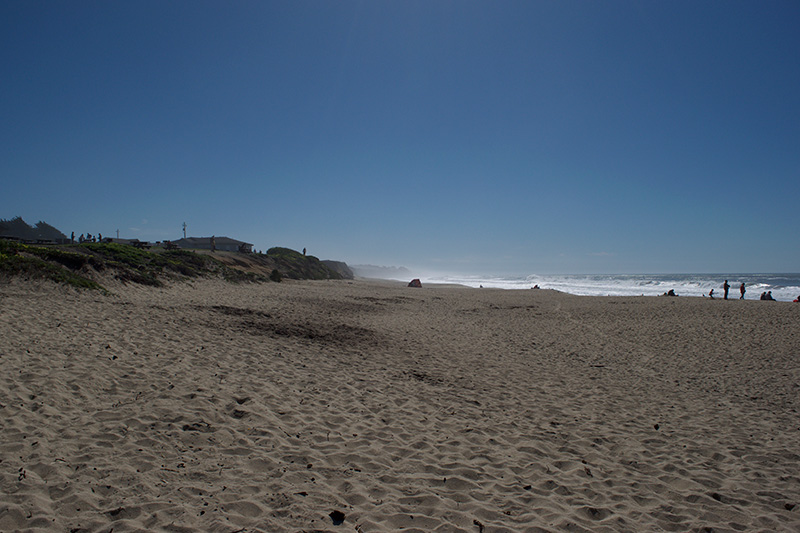 Little M loved the opportunity to roam around on the broad sandy beach and to get out his construction vehicles! Meanwhile The Hubster and I enjoyed the chance to relax and enjoy the sunny weather.
Half Moon Bay State Beach is a great beach for everyone, but especially families, as it's so easily accessible, with good facilities. The beach is just off Highway 1, there is ample parking available and there are plenty of picnic tables, as well as restrooms with running water (flushing toilets and showers!) and drinking water fountains. It's easy to get straight from the car park to the picnic area and then onto the beach.

We also discovered that there is a handy retail park just minutes away from this natural beauty spot! I only say this because we found it useful for picking up some urgently needed supplies on the way – diapers, snacks and drinks! It's just off Highway 1 before you reach the turn off for the state beach.
After playing on the beach at Half Moon Bay we continued south down Highway 1 a short distance, just 10.5 miles, to San Gregorio State Beach.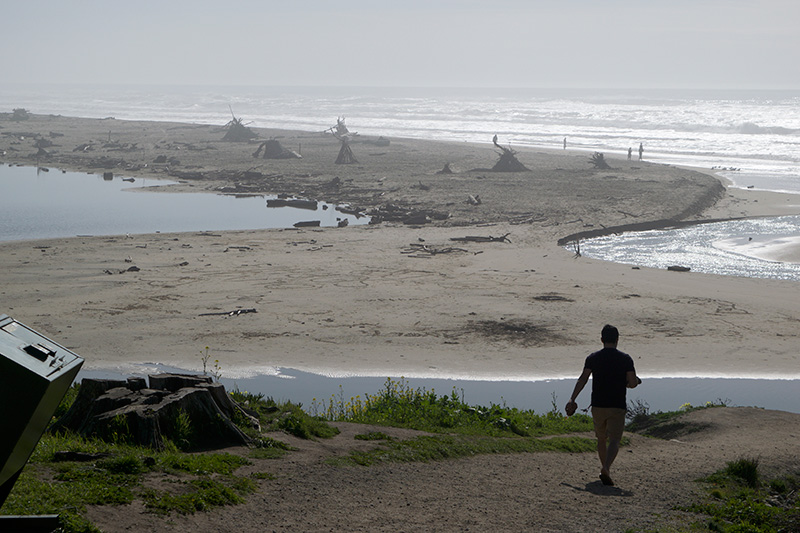 San Gregorio State Beach is a beautiful, quiet and mystical beach – scattered with driftwood and backed by an estuary. Although it's just off the highway it feels so secluded.
It was a gorgeous sunny day when we visited, but with a slight haze in the air and the whole beach had an aura of magic about it. It felt like something out of a story book, with the drift wood dotted over the sand, flocks of birds overhead and the estuary slowly ebbing out to the sea.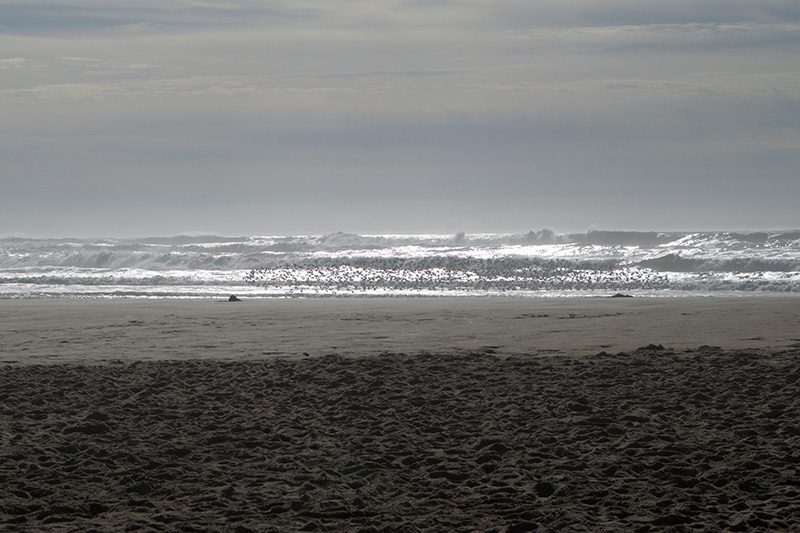 Little M had a whale of a time hopping onto a little 'island' in the estuary, dropping sticks into the water and watching them float past.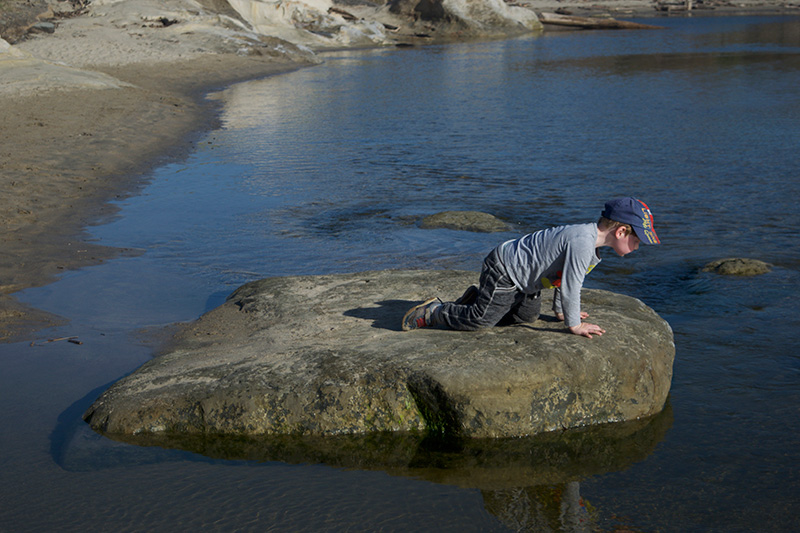 There were plenty of picnic tables in the area above the beach and a path winds down to the beach itself. Still fairly accessible, but would be a bit tricky to take a stroller down – we had Missy in a baby carrier instead. Plenty of parking and restrooms, but no running water – so toilets were rather basic!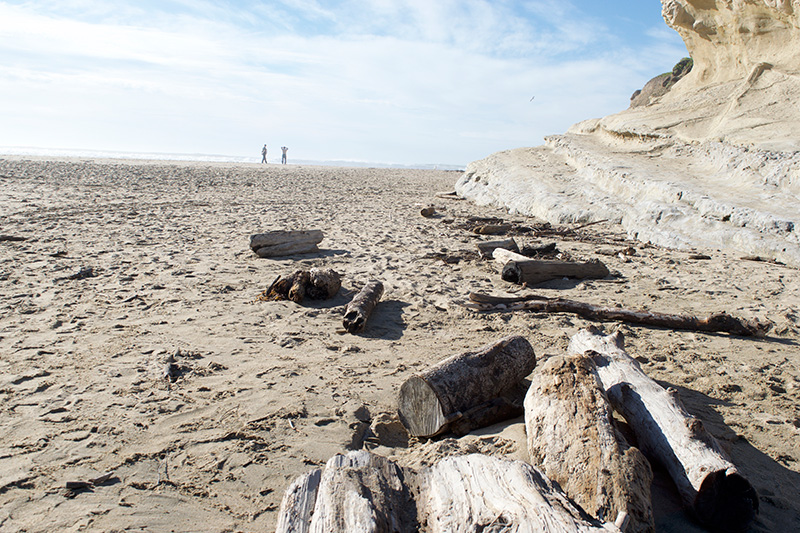 This was such a gorgeous beach though and I would highly recommend a stop if you were driving past or visiting the area.
We had a lovely day trip, enjoying the sun and the sand at Half Moon Bay and San Gregorio. Plus Missy slept for seven hours straight that night – I think the sea air tired her out!
Have you visited Half Moon Bay or San Gregorio beaches? Do you have any other tips or stories to add?