Last week I gave you some tips on running with a stroller and talked about what a great way it is for mummies to exercise. In this post I am going to give you some more detailed tips on what to look for in a running stroller.
Running strollers have lots of features that make them much better and safer to run with than an ordinary stroller – both for you and baby. So what exactly should you look for?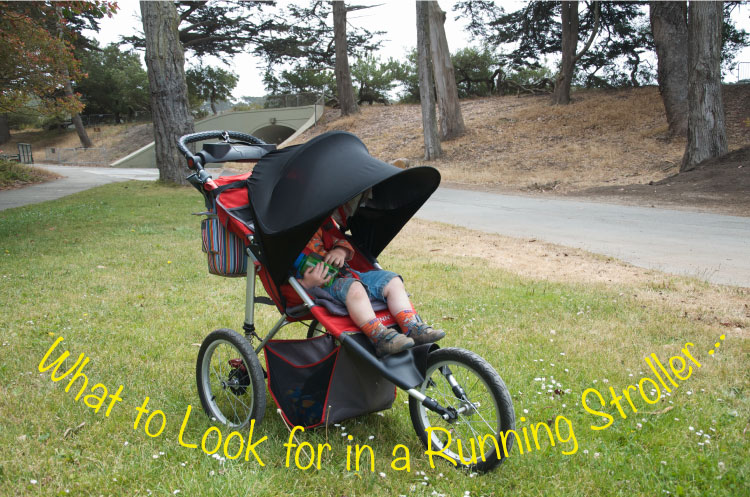 1. Fixed front wheel
Running strollers have very large wheels – two at the back and one at the front. They also have either a fixed front wheel
, or the ability to fix the front wheel
. Running with regular swivelling wheels could cause the stroller to spin out of control, after hitting even a small bump. The fixed front wheel is therefore the most important safety feature – as it gives you good control and enables a safe, smooth ride over any bumps during your run.
Fixed wheel or hybrid wheel?
Fixed wheel running strollers have a front wheel that is fully fixed. They are designed purely with running in mind. The fixed wheel means they run really smoothly and are light and easy to control. The front wheel is larger than on hybrid wheel strollers, which also makes for a smoother ride over any bumps. You do need to lift the front wheel in order to make sharp turns – although you can lightly steer the stroller when out running in open spaces. The fixed wheel joggers tend to be lighter and are generally cheaper to buy than 'hybrid' strollers.
However these strollers can only really be used for running and hiking – due to the fixed wheel they are not easy to manoeuvre around tight corners for things like shopping. Fixed wheel strollers are great if you plan to run a lot with baby, especially if you plan to run long distances, or at higher speeds. Personally I love the fully fixed front wheel, as they run really smoothly. But if you need something that can multitask for running and general use, then read on…
Hybrid wheel running strollers have a front wheel with the ability to either swivel (for round the shops) or be fixed in place (for running). The front wheel is usually smaller than on a fixed wheel stroller – to enable it to adapt well to walking, however is still larger than on a regular stroller. These strollers are popular, as they offer the 'best of both worlds.' With a flick of a switch you can adapt the wheel for running or for general use. The BOB Revolution is one of the most popular strollers in the area where we live. Steering is easy when in 'swivel' mode, but for safety reasons it is important to always fix the wheel for running.
Generally, these strollers are a little heavier and cost more than fixed wheel varieties – that being said, there are budget and high end options of both stroller types. You may decide to buy a hybrid wheel running stroller (often called swivel wheel) if you are short on space, only want to buy one stroller, or only plan to run occasionally with the stroller.
2. Shock absorbers
Shock absorbers absorb the impact of any bumps during your run, ensuring baby doesn't get jostled around and is comfortable. Look for shocks on the back of the stroller as a minimum. Higher end strollers will have shocks on the front and back. Remember – the large wheels and front fixed wheel also help to smooth the ride for baby.
3. A handbrake
All joggers will have a regular foot brake, but a handbrake is a really useful addition. The handbrake will enable you to brake easily during a run – especially when going downhill.
4. A broad sun shade
A good sun shade is important to protect baby from the sun. Look for one that fully extends to provide maximum shade. Some of the shades can even be adjusted to 'follow the sun'. However if you find a stroller that you love, but has a disappointing sunshade, this doesn't have to be a deal breaker – you can always add an inexpensive sun shade extension. I have done this to my running stroller and it works really well to add extra shade. It's also useful to have a 'peekaboo window' so that you can check on baby when the sun shade is down.
5. An adjustable handlebar
This is especially important if you are very tall, or if you and a partner are both going to be using the stroller – as you can adjust to suit your individual height. If the handlebar is not adjustable, this is not necessarily an issue – you simply need to check that the height of the handlebar is right for you before you purchase. With an adjustable handlebar you don't need to worry about it, as you can adjust it as you wish!
6. All running strollers should already have…
They should all have pneumatic (air filled) tyres. The lightest will also have spoked wheels. They should all also have an adjustable seat, with 5 point harness and come with a safety hand strap. Although these are fairly standard features, it's worth double checking!
7. Nice to have…
Finally, here are a few 'nice to have' features that are not essential, but may matter more or less to you personally.
Lightweight – makes for easy running and portability.
Quick and small fold – most running strollers can be folded with one or two hands. They tend to have a large footprint, but some will fold smaller than others.
Large shopping basket – for snacks, supplies, toys etc.
Cup holder and/or snack tray – some strollers will come with these, some may need to be bought separately.
Pockets – because you can never have too many pockets for those bits and pieces!
Rain cover – useful if you plan to run in wet weather, but you may have to purchase separately.
Large seat width, height and head room – to allow plenty of growing room for baby. Take particular note if your baby is tall!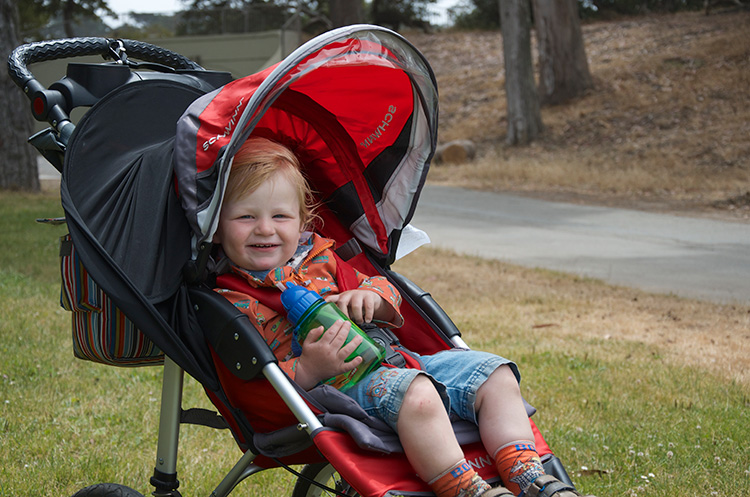 You actually don't have to spend a fortune to get a stroller with all of these features. I have the Schwinn Arrow, which is a fairly inexpensive, no frills stroller – half the price of many of the premium brands – but has all of the features I have listed and is one of the lightest weight joggers on the market.
You could also think about buying a second hand running stroller on ebay or craigslist – especially if you want to try out running with a stroller before deciding whether to buy new.
Does anyone have any other tips to add? Let me know if you have any questions and I will do my best to answer!
Disclosure: This post contains some affiliate links, however all opinions are entirely my own.
[plinker]