Today I've got an adorable painted acorn idea for you – painted acorn people decorations!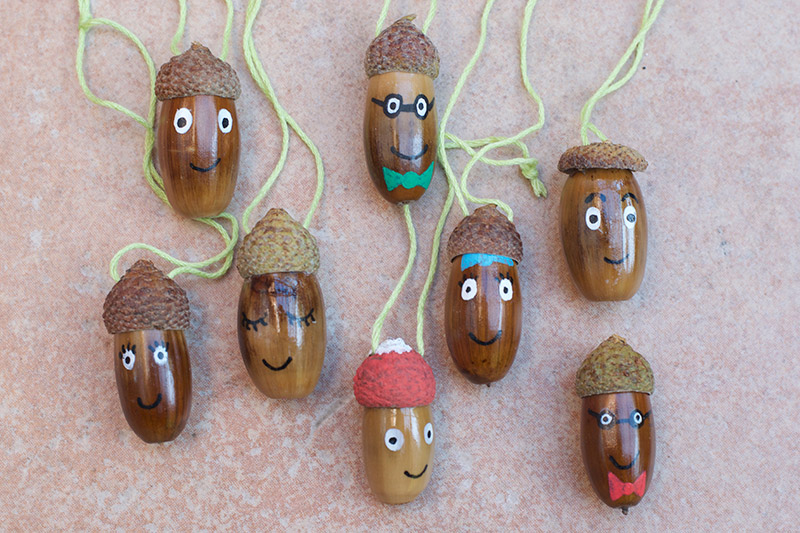 We've had such fun collecting acorns over the last few weeks – it's become one of my daughter's favourite activities! She loves picking up the acorns and collecting them in a basket.
I wondered what to do with all the acorns we had collected and thought they would make really sweet little people decorations!
This activity is perfect for children around 5 and up – older children will especially love painting these. You will need to help with drilling and gluing, however children can paint to their imaginations content!
These painted acorn people decorations are fun to make and also make sweet gifts. They are cute little decorations to hang on a tree for Thanksgiving or Christmas.
Painted Acorn People Decorations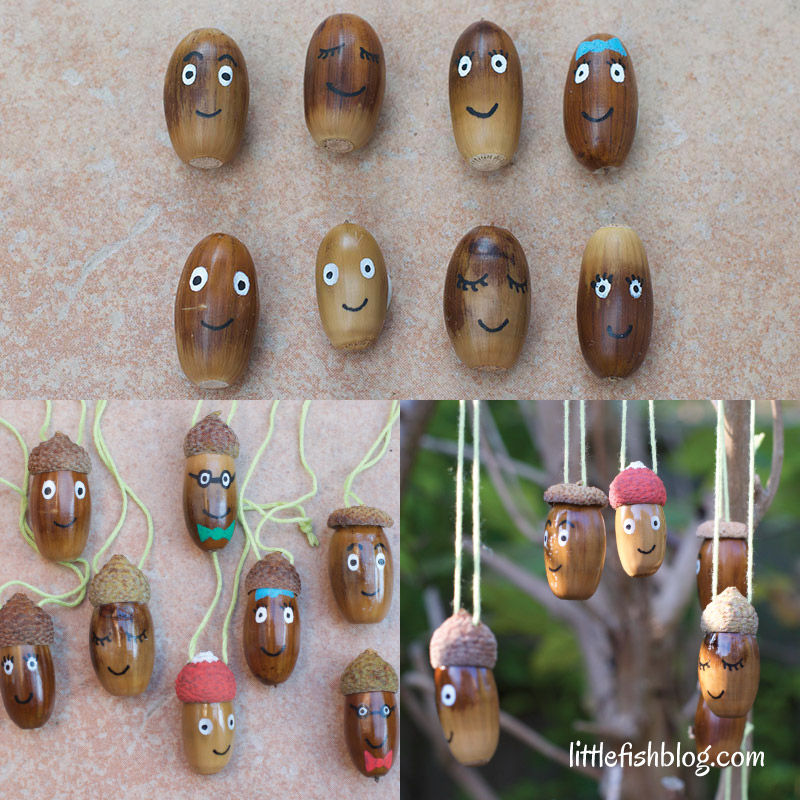 Disclosure: As an Amazon Associate I earn from qualifying purchases.
You'll need: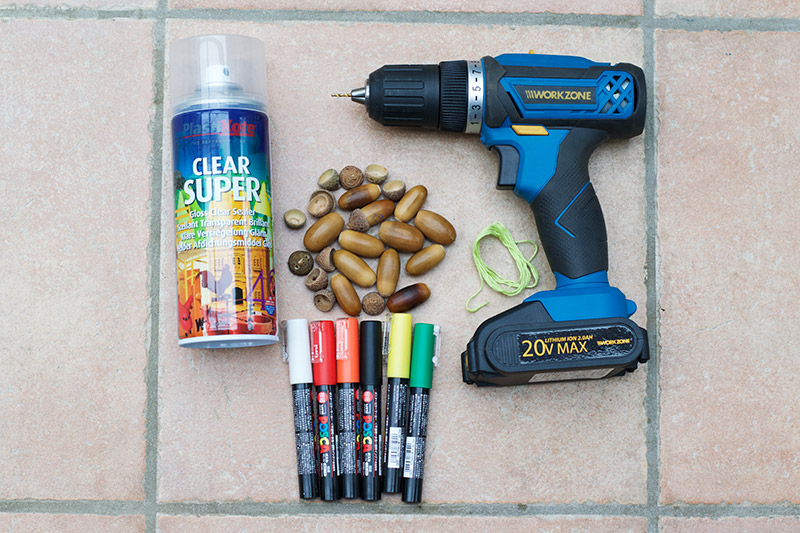 1. You'll need to start by gathering some acorns, if you haven't already. This makes for a fun activity with the kids. Collect plenty so you have lots to choose from, as well as plenty of caps if they are not attached. It's useful to have lots of caps to choose from.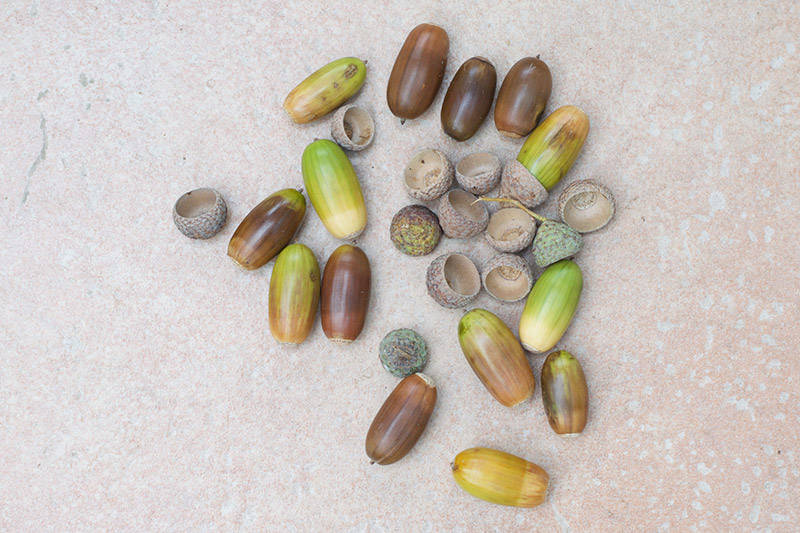 2. When you get home you'll need to wash and prepare the acorns. You'll probably want to plan to paint later on in the day, or the next day. Give the acorns a good rinse to get rid of any dirt. Lay them on a clean towel to dry for around an hour.
3. You'll then need to dry out the acorns in the oven to kill off any bugs that may be hiding inside the acorns. I had forgotten that I would need to do this! After our first acorn gathering I left the acorns in a bucket – when the next day a bug crawled out of one of the acorns! Eek! So make sure you dry out the acorns before crafting, to kill off anything lurking inside.
To dry the acorns – simply lay the acorns and caps onto a foil lined tray and place into an oven heated to around 80 celsius/175 faranheit. This low heat will be just enough to dry out the acorns and kill off any bugs. Leave the acorns for around 2 hours with the oven door ajar, checking on them periodically.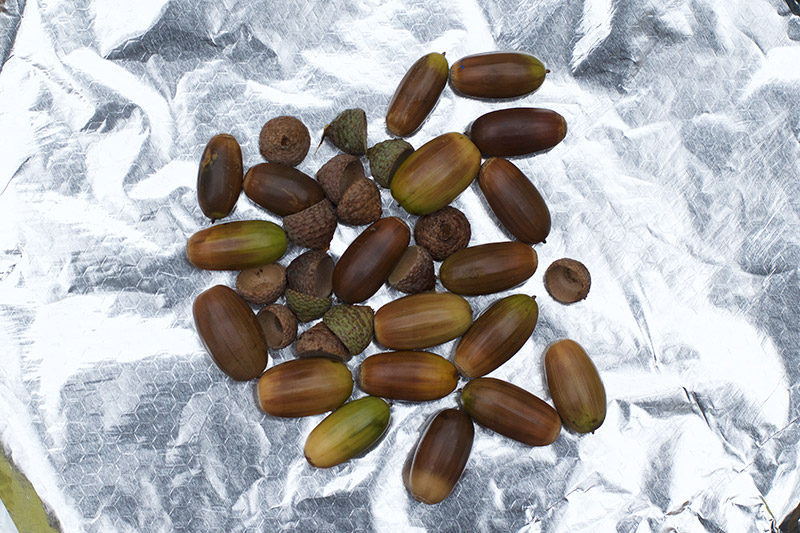 4. Once the acorns are prepared you're ready to paint! This might be a good time to match up some of the acorns with caps that fit. Put the caps to one side and put your acorns on a tray or sheet of plastic on your work surface to paint.
Fine nibbed acrylic paint pens are ideal for this, but you could also just use sharpies. Remember to put aprons on to protect clothes. I used a little bit of blu tac to stick the acorns onto a tray to hold them in place. This makes it easier to allow them to dry too.
Paint little faces and features on the acorns!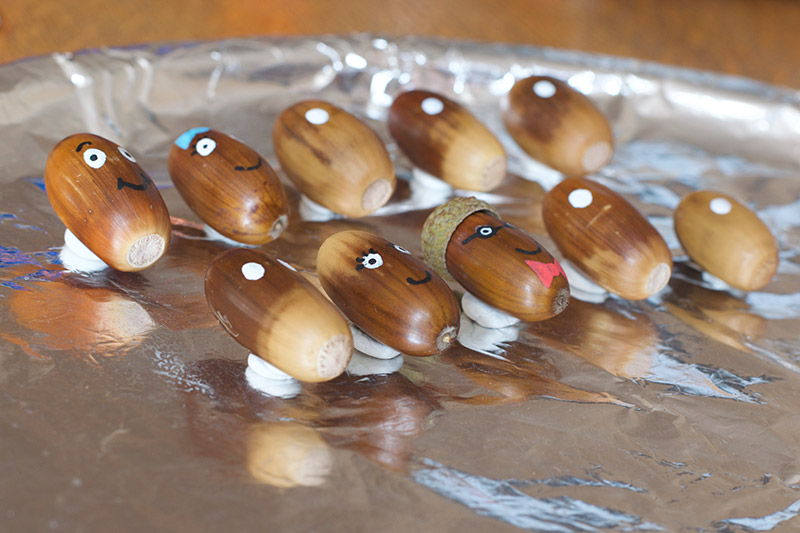 I painted the white of the eyes first and allowed to dry before adding the other features. I liked the natural look of the acorns, but if you wanted you could paint all of the acorns with a colour first, then allow to dry before adding faces.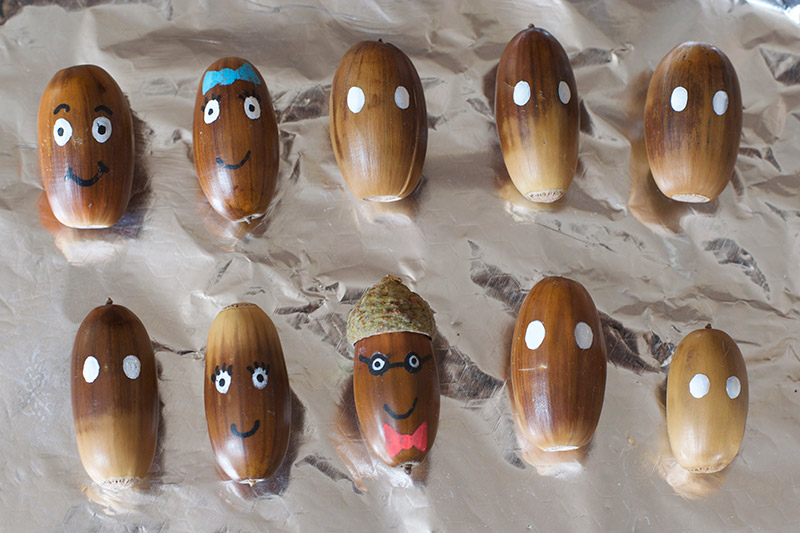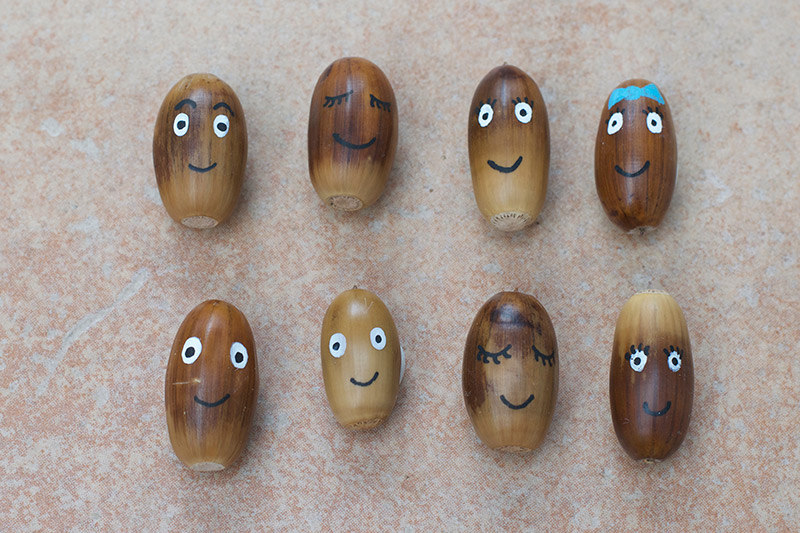 5. Leave the acorns to dry thoroughly. Once dry, if you wish you can spray with a little polyurethane varnish to help seal the paint. I used this Plasti-Kote Spray which worked well. In the states Modge Podge is similar and more readily available. It also comes in a matte finish if you prefer. Follow instructions and spray very lightly. Allow to dry overnight, or until thoroughly dry.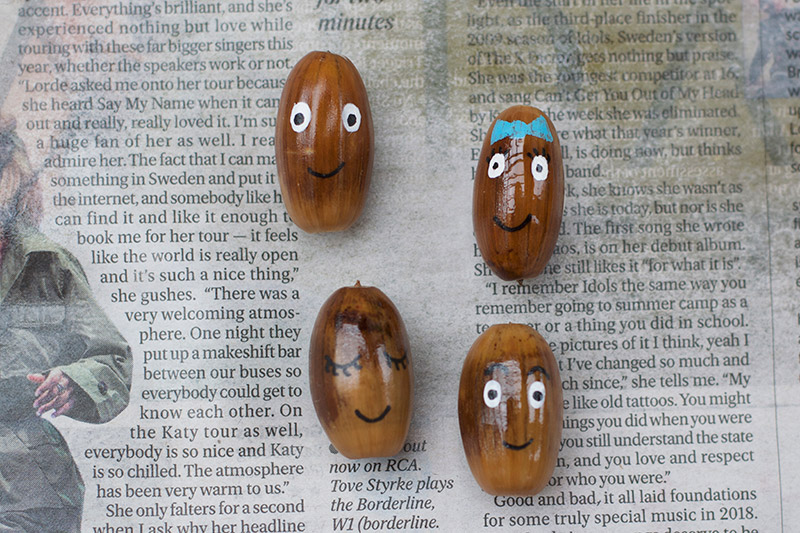 6. Drill two small holes in the top of each acorn cap that you wish to use. Thread a small length of embroidery thread or string through each hole and tie in a knot. Put some super glue or wood glue in one of the caps and stick onto your acorn person. (Remember to do this for your child, we don't want any fingers being glued together!)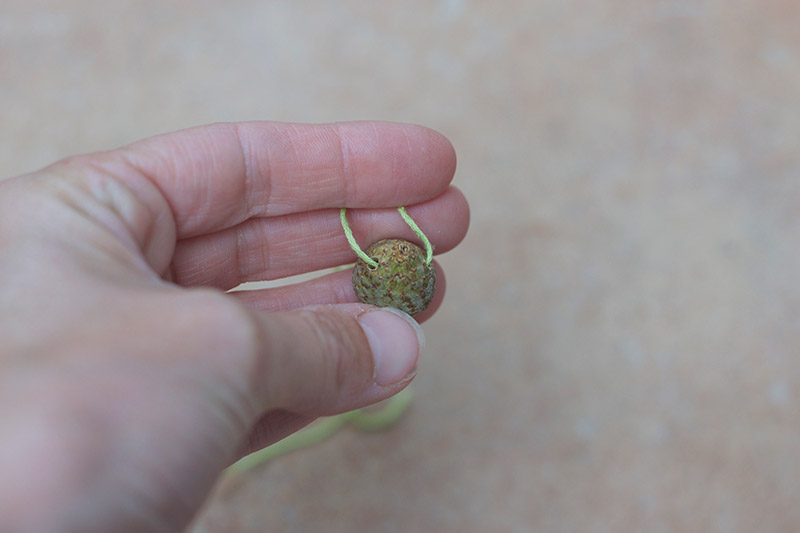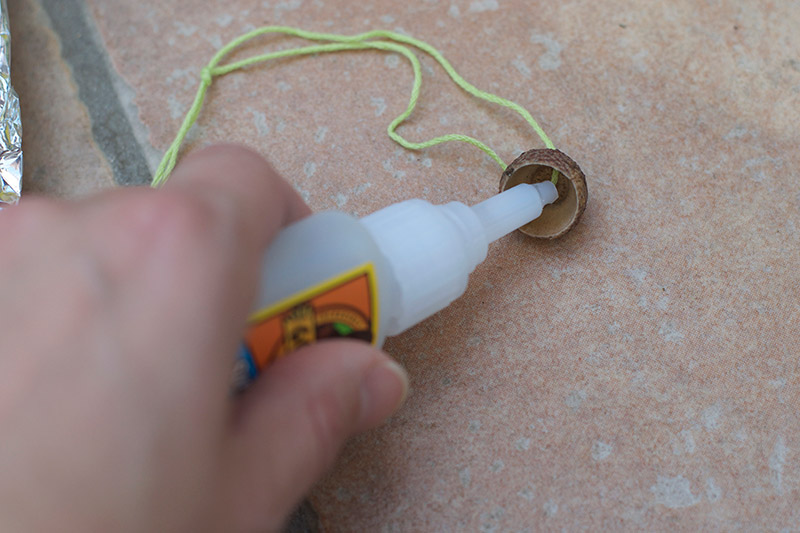 Ta da! You made a painted acorn person!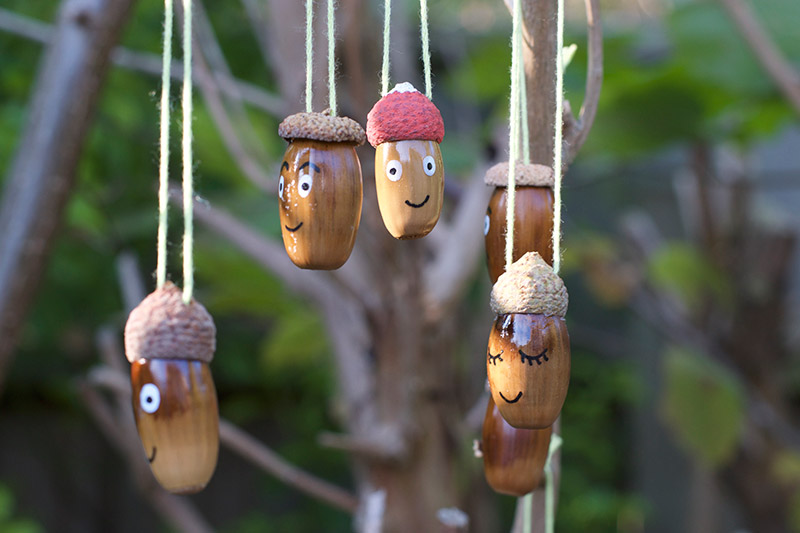 Make as many ornaments as you like, then hang them up! I think these would make really sweet homemade gifts for friends or family. You can hang them up for Thanksgiving or Christmas – or even make them into a necklace. I love the idea of handing them out as little kindness people too. What do you think?
I hope you love this idea!
If you're looking for other acorn crafts you might like this post from fellow blogger Crafts on Sea. Plus, don't forget, I've got Halloween ideas all sorted for you with these Awesome Halloween Activities for Preschoolers – you can adapt most of the activities for older and younger kids too.
Remember to pin this post for later!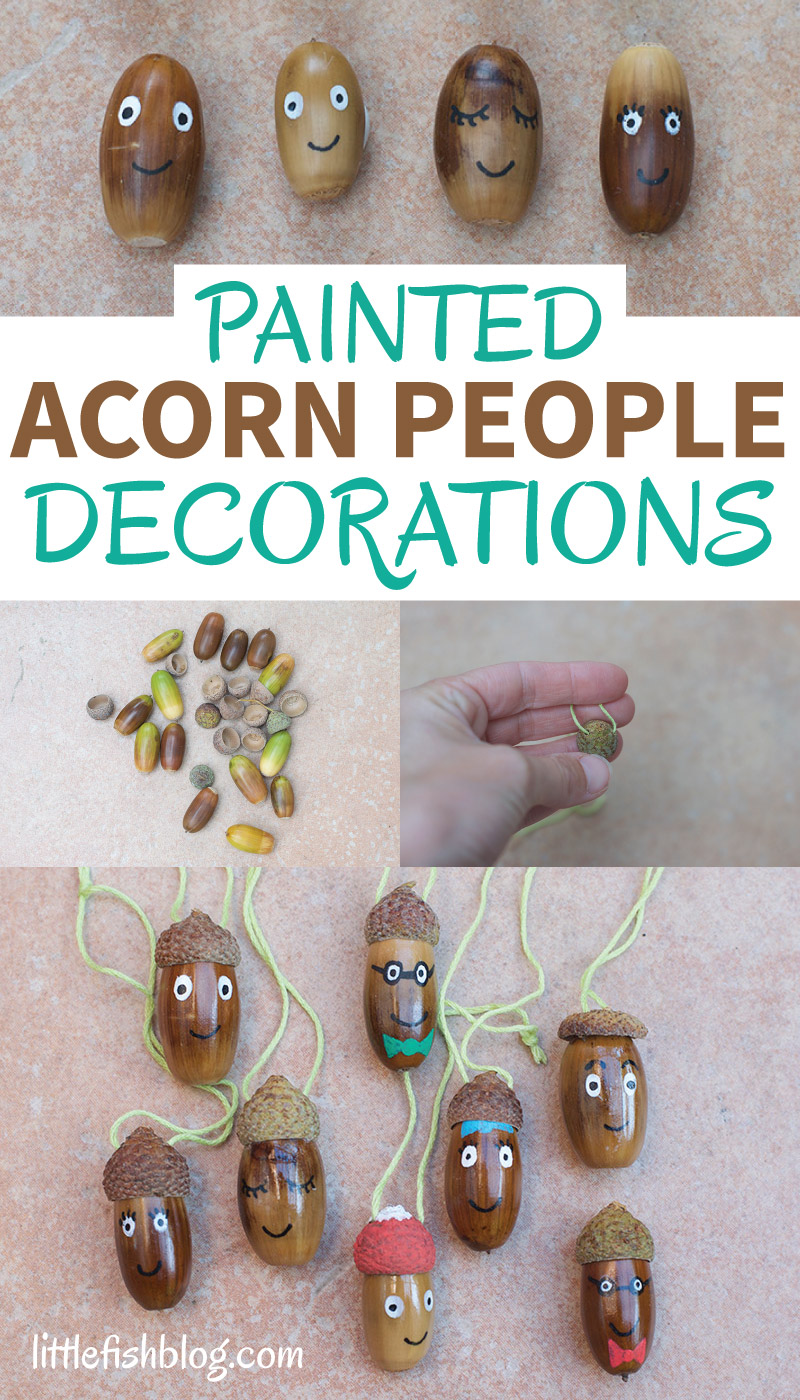 Linking up with Sarah and Make It Monthly.