Children are the masters of their own creativity. Given the time and space, children will think of ideas for play or creative projects that will never fail to surprise you!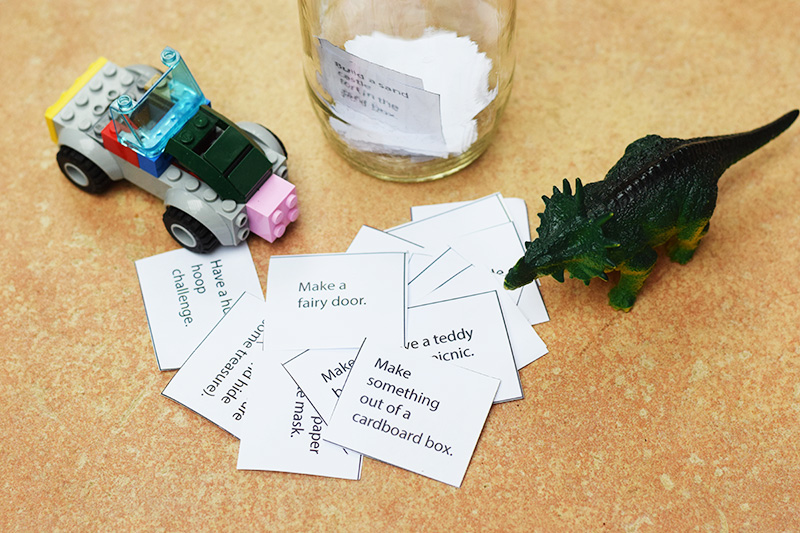 Sometimes though, children do need a little reminder of how creative they can be. We all have those moments when children are "bored" or at a loose end – sometimes my children are like this on rainy days! A little inspiration can go a long way.
Here I have 40 simple ideas to inspire children's creativity.
I've included a printable version of these ideas. You could print and cut up the ideas and put them in a jar or a box – ready to pull out an idea when it's needed. You can set up many of these activities for children to do independently. Some of them may require your support, or you might just want to join in!
Here are all 40 simple ideas to inspire children's creativity!
1. Dig for dinosaurs in the sand.
Hide some plastic dinosaurs in an outdoor sand box, or in kinetic sand. Give children some tools to dig and find the dinosaurs!
2. Make a den.
Such a timeless activity for kids. Make an indoor fort with sheets over a table and fill with pillows. Or build an outdoor den with sticks!
3. Paint Outside.
Painting outside is fun when the weather is warmer – plus if you're worried about mess it's much simpler.
4. Make a treasure map (and hide some treasure).
If you can spare a few minutes the night before, dip some sheets of paper into some cold tea and leave to dry – this gives the treasure map an authentic look! Or you can use any paper of course. Provide pens and pencils to draw details onto the map. Crumple and tear at the edges. Argh! You're ready for a treasure hunt!
5. Decorate cookies.
Shop bought cookies or homemade, both are equally fun to decorate. Give children ready made icing tubes, sprinkles and candies to decorate.
6. Make a small world.
Children get lost in their imaginations in small world play. Provide some lego, play mobil or other figures and some loose parts, such as beads, wooden bricks or similar – appropriate to their age. A tray or box is ideal to set up small world play. You can also get some ideas from this Snail and the Whale Ocean Tray or this Construction Small World. Either set up a small world for your child to play with, or give them the parts to set up their own.
7. Hunt for mini beasts.
Send children off in the garden or yard on a mini beast scavenger hunt! There's fab printable here that you can give children to help focus them on their task. Happy bug hunting!
8. Make a magic wand with a stick.
A stick can be so much more than a stick in creative play! Make a wand with a stick and then encourage making some potions and spells.
9. Make a boat with recycled things.
Empty margarine tubs, or similar make a good base for a recycled boat! Challenge your children to make a boat with recycled things, that will really float!
10. Float your boat in the bath.
Test out your recycled boat in the bath!
11. Build a sand castle fort in the sand box.
A classic activity if you have a sand box – build a fort! Add shells or stones and a moat around the outside.
12. Make a fairy garden.
This is a lovely tutorial on how to make a fairy garden. This is a project that will need adult support to get started. Once created a fairy garden is a wonderful basis for imaginative play.
13. Set up a play shop outside.
"How can I help you?" I used to love setting up play shops when I was little! Give children some tubs and an area to set up shop outside. They can fill their shop with flowers, leaves, sticks – any bits and pieces they can find in the garden.
14. Paint rock stones.
A classic art activity for kids! Collect stones from the garden, or on a walk, clean them, then paint! You might like to read this post on Book Character Painted Rocks to give you some inspiration.
15. Make a fairy potion with water and flower petals.
One of my memories of childhood – making magical fairy potion with water and flower petals.
16. Make a 'mud kitchen' with old pots, pans and spoons.
You don't need anything fancy to make a mud kitchen – old pots and pans on a raised plank of wood or an old pallet, or just on the ground. Children love making mud pies and cakes in a mud kitchen!
17. Have a hula hoop challenge.
See how many you can hula!
18. Make something out of a cardboard box.
Cardboard boxes can be an endless source of creativity! Take a look at these cardboard box activities and ideas to get your kids started!
19. Create a road map with chalk on the ground.
Chalk art! Why not use chalk to create a play road map for your children's cars?
20. Decorate paper bags and fill with treats.
Decorate ordinary paper lunch bags into something special! Paint, collage or colour patterns or shapes onto paper bags. Use this idea of finger paint treat bags for inspiration!
21. Make dinosaur fossils with dinosaurs and play doh.
Use plastic dinosaurs and play doh to make pretend fossils!
22. Create an obstacle course outside.
Challenge your children to set up an obstacle course outside. Give them hoops, balls, bean bags, skipping rope, whatever outside toys you have.
23. Make a fairy door.
You can make a fairy door to put inside the house or outside in the garden. These painted rock fairy houses are a really sweet and easy idea!
24. Decorate cupcakes.
Shop bought or homemade, doesn't matter! Kids love decorating cupcakes with icing and candies!
25. Have a teddy bears picnic.
"If you go down to the woods today…" Gather all your teddies and head to the garden for a picnic!
26. Make a picture with stones or pebbles.
Go hunting for stones in the garden, then create a picture!
27. Make a necklace with flowers from the garden.
String together flowers and leaves to make a necklace.
28. Make a giant board game.
Challenge your children to create a giant board game outside!
29. Create a museum of something that you love.
Imagine a museum of minecraft, or a gallery of teddy bears! Making museums at home used to be one of my favourite things to do as a kid – I even charged my parents an entrance fee!
30. Invent a play (practice it, then perform it).
Get dressed up in costumes, practice a play and get ready to perform it!
31. Start a club (design your stickers and membership cards.
Invent a club based on something you love! Make membership cards, stickers and get ready to invite some members!
32. Make sun catchers.
Sun catchers are a fun craft activity and brighten your windows too. I love this Heart of Te Fiti Sun Catcher – gorgeous!
33. Build a Lego town.
Get building! Build where you live, or build an imaginary world!
34. Build a rocket with recycled materials.
Cardboard boxes are the start to many a creative adventure! Stack them together and create a rocket to blast into space! Take a look at these other recycled cardboard box crafts and ideas for kids.
35. Make a book about your hobby.
If you're trying to encourage your child to write, ask them to write a book about a hobby. A how to, or a beginner's guide to their favourite hobby is a great way to inspire them to get writing!
36. Build a bug hotel.
Check out this tutorial on how to build a simple bug hotel in your garden. A bug hotel is a wonderful opportunity to explore the nature that is on your doorstep.
37. Make a car wash with toy cars and soapy water.
My daughter loves this simple creative play activity. All you need is a bucket of soapy water, a cloth and some toy cars.
38. Make a paper plate mask.
Paper plates are the perfect basis for making a mask – an animal, or a super hero character.
39. Build a tower with stones.
Stack up stones into a tower in the garden, or by the river, or anywhere! When we were little we used to like throwing stones to knock the tower down.
40. Design a poster for a movie night.
Get kids creative and excited about movie night, by designing a poster!
Remember to grab the free printable, with all these ideas in one place. Print, cut and place in a box or a jar ready for when inspiration is needed!
Like this post? Pin this idea for later!