Cardboard boxes! One of the simplest art and craft materials around! Often overlooked, the humble cardboard box can be the beginnings of many an art project or play time adventure!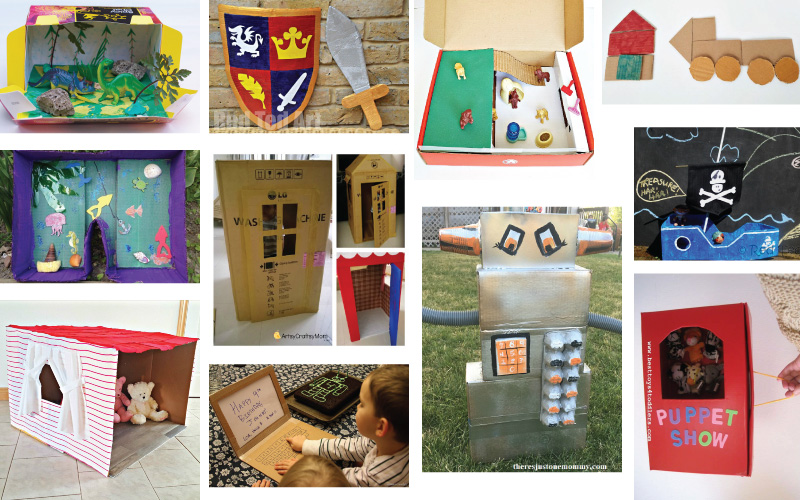 I love that cardboard boxes are something that we all have lying around at one time or another, so are a simple resource to use to encourage creativity in our children. Try saving cardboard boxes of all sizes in your home or school – put them in a bag or box to keep them organised. You'll have instant, free and environmentally friendly materials for both craft and play!
Most children given a cardboard box will come up with any number of ideas on what to do with it. Give children a selection of cardboard boxes, felt pens, craft paper, scissors and glue – and see what they can create!
However, if you are faced with the dreaded "I'm bored.." or are just looking for some ways to get started – here are fifteen simple ideas for cardboard box activities and crafts for kids to make.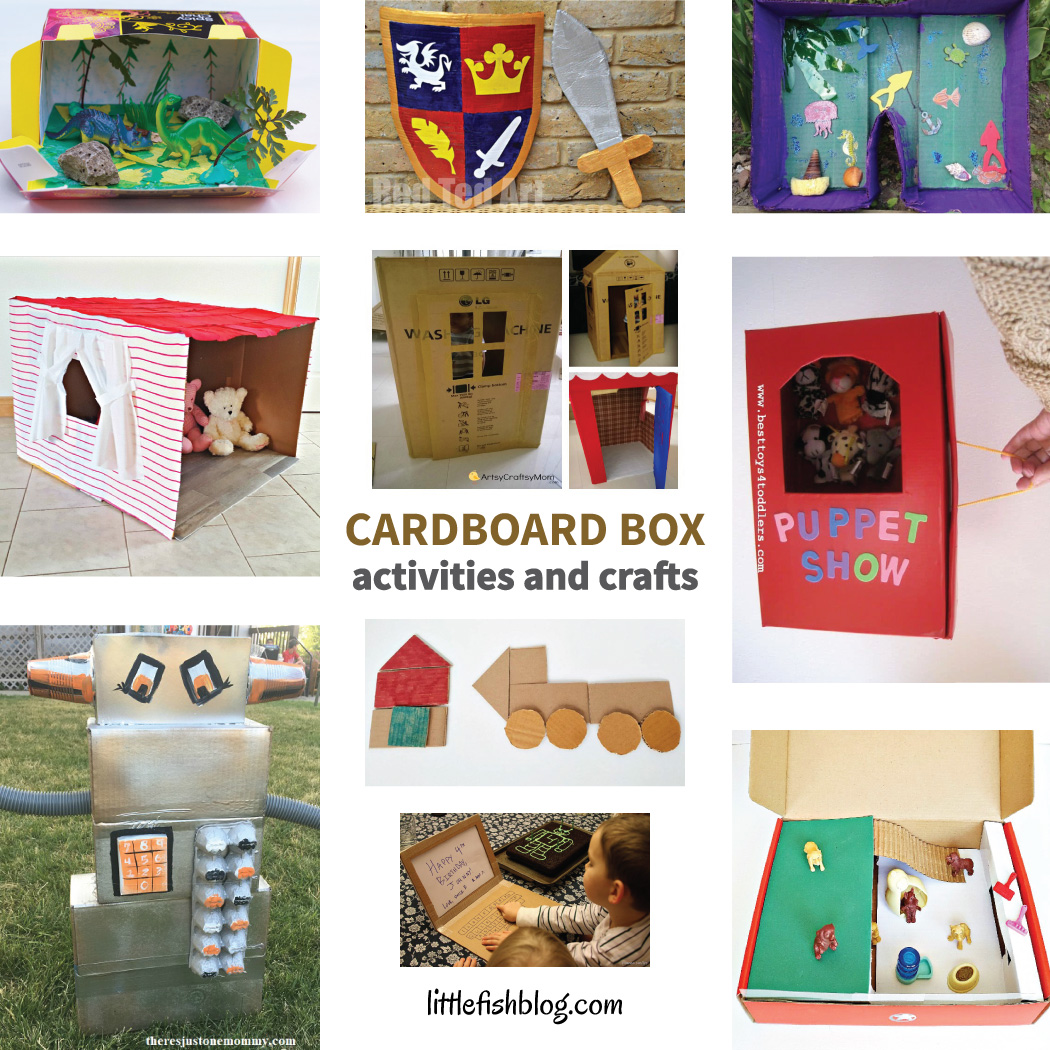 I just LOVE that most of these ideas are open ended and children can take them in their own direction. PLUS many of them start out as an art or craft activity, but can then be used for imaginative play – hooray!
Ahoy there me hearties! Argggh! Sorry, got a bit carried away there… This pirate ship is the ultimate transformation of a cardboard box! Use this tutorial from the ever amazing Red Ted Art to occupy your kids and bring their pirate play to life!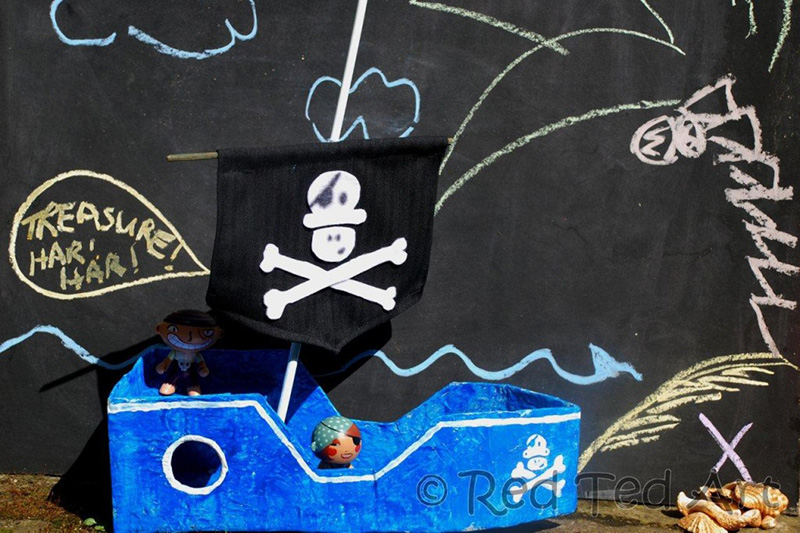 Take Along Finger Puppet Theater Tutorial
This little puppet theater is a fun way to repurpose a cardboard box into a toy. You can make this with only a small cardboard box ready to entertain kids on a trip or outing. Useful as well as fun see?!
Splish, splosh, splash! Oh I am partial to an ocean themed craft! This snorkel mask with sea creatures inside is such a fun way to reuse a cardboard box.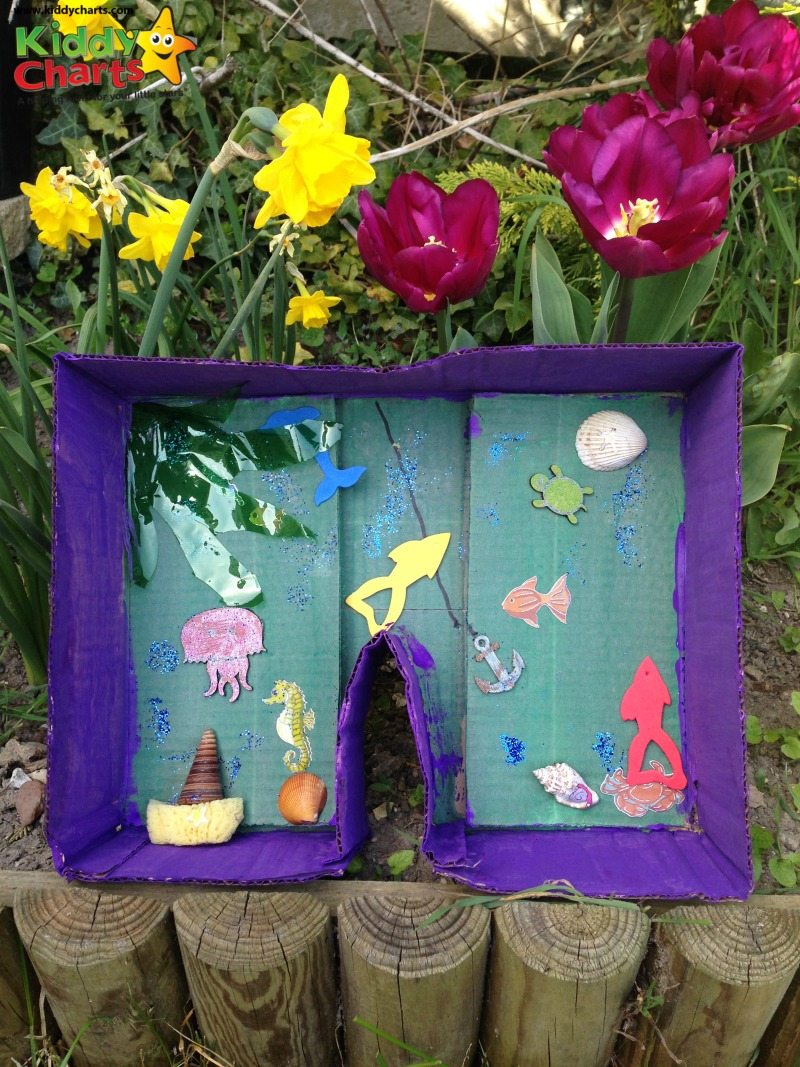 How to Make a Knight's Shield and Sword
Whose children love to re-enact tales of old? Use left over cardboard to make a knight's shield and sword – perfect for imaginative role play.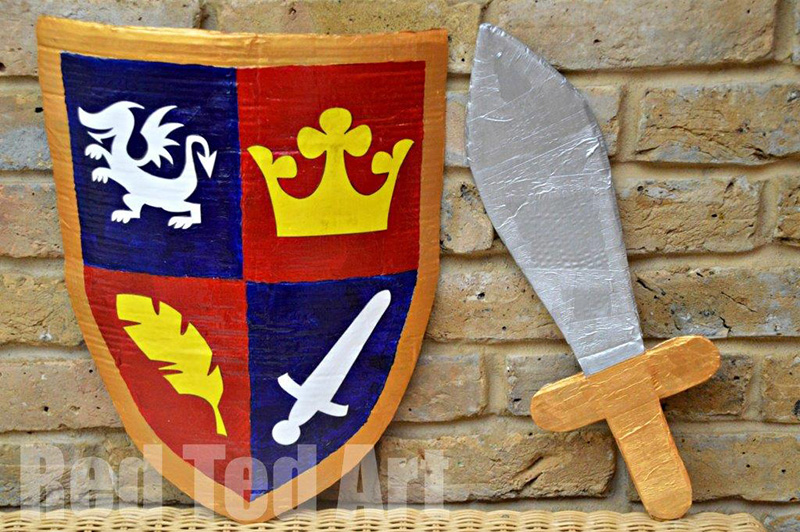 Is it a man? Is it a box? No it's a cardboard box robot! These cardboard box robots are the ultimate simple and inspiring cardboard box activity. Kids will love building and customising their robots in their own unique way.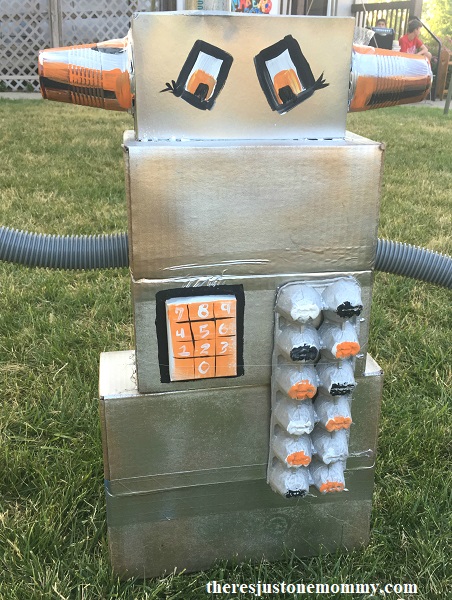 Roar!!! Any dino lovers in your family? I bet there are! This habitat box idea is a fun and open ended activity for any dino fan or for a dinosaur topic at school or home. You can use any size cardboard box for this. Plus use any bits and pieces from your art and craft supply, or around the home. Just add dinosaurs!!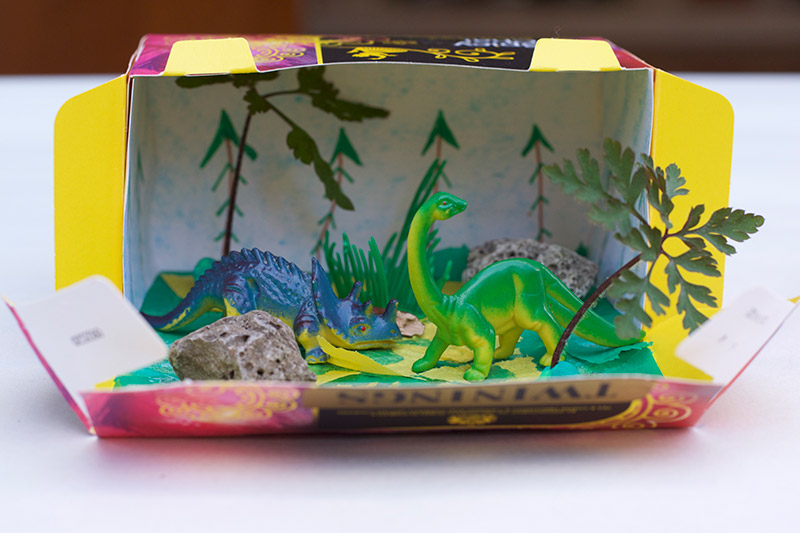 Cardboard Shapes – Easy Toddler Craft Activity
Cardboard shapes! A fun way to learn and play with shapes for toddlers – all whilst using recycled card!
Build Your Own Cardboard Castle Playhouse
Woah! Such a cool playhouse! I think I'd want to live in this cardboard castle. I expect you and your kids would too! Looks simple to make and hours of imaginative play time. Now what can I buy that will come in a box big enough for this…?!
Zoom! Off to space we go! Love this idea of making a DIY space shuttle. It reminds me of the book 'Whatever Next' – if you haven't read it with your kids you should!
Here's one way to deal with any requests for 'screen time' – he he! Seriously though, this is such as sweet idea for children who want to role play 'working' on the laptop like mummy or daddy. Love this, genius idea!
Small World Play with a Cardboard Box
What a cute and open ended cardboard box idea! My daughter currently loves small world play and she'd be all over this! Lots of room for creativity and children's own ideas which of course I LOVE.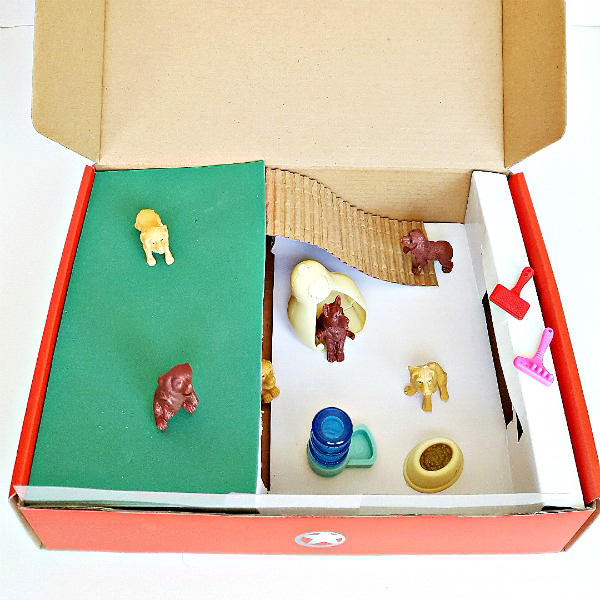 Take that cardboard robot just one step further and you have… a robot costume, ta da! Such a cool idea. Not just a craft, but doubles for role play, or you can use for a costume day!
Peter Rabbit Shape Matching Activity
Any Peter Rabbit fans here? We've had the Peter Rabbit phases in our house! This is such a sweet matching activity for younger children, plus makes use of a cardboard box to make a 'field of carrots'.
If you've never made a cardboard house out of a massive cardboard box, then, well you have been deprived! A must for every child. Pounce on any enormous cardboard box you can get your hands on and you'll have hours of craft and play time fun ahead! There's an even simpler version of a cardboard box playhouse here.
Do you have any other ideas for cardboard box crafts or activities?
Remember to pin this idea for later!