Here I'm sharing my idea for a Snail and the Whale Ocean Tray.
I expect you might have gathered by now that I LOVE everything about the ocean and I think this has rubbed off on my children too! The ocean makes for such a magical and fascinating backdrop for children's games and stories, don't you think?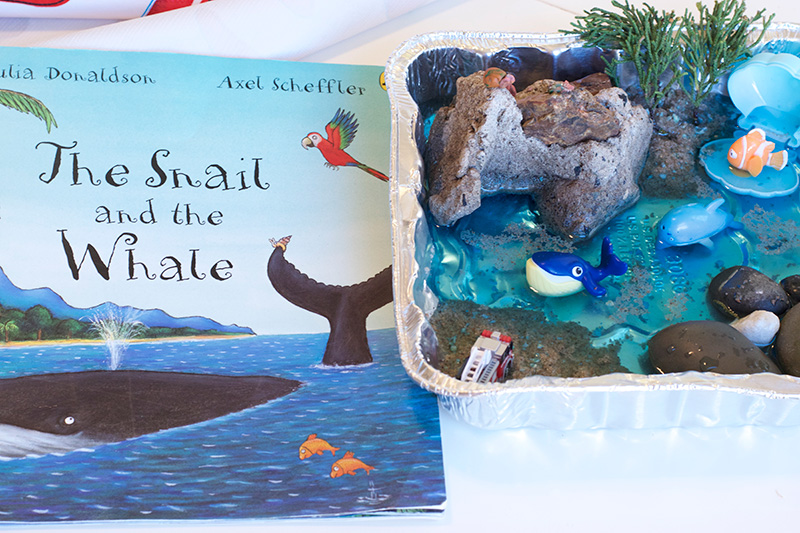 Disclosure: Affiliates links are included. If you choose to buy through one of these links, I make a small commission. The price is the same. All opinions are my own. Thanks for your support!
Recently we've been reading lots of ocean themed books – one of our favourites is The Snail and the Whale. If you haven't read this book with your children already, give it a whirl, you'll love it! It's such a sweet story of how even a tiny creature can make a difference in saving her friend – the whale. This book is one of Little M's favourites at bed time. We love looking at the illustrations and spotting something different every time we read it.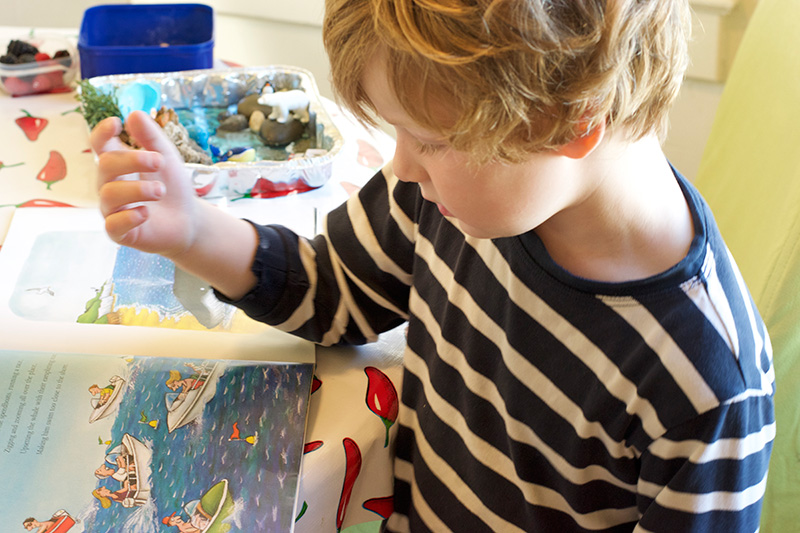 Little M's imaginative play has really exploded recently, so I thought it would be fun to make him a snail and the whale ocean in a tray, as an invitation to play. This was really quick and easy to do, it literally took me about ten minutes!
You can make a similar tray just with toys and bits you already have around the house. Make one as a surprise for your child or involve them in the making. Or set them a challenge to hunt for things to go into the ocean!
I based our tray on the story of The Snail and the Whale, but you can add anything you like to your ocean! You honestly don't need anything fancy. This is more about a simple idea to spark your child's imagination and give them a fun play opportunity.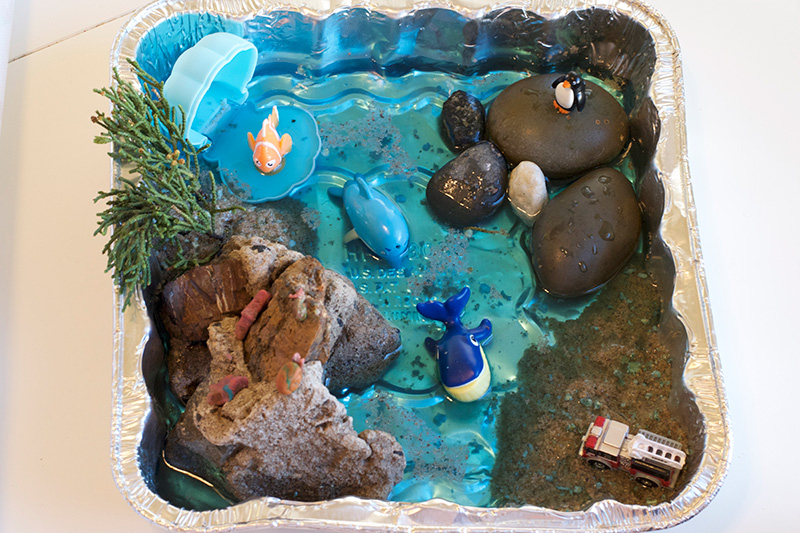 I'll go through the things that I used to create our ocean tray to get you started. You'll come up with a few things of your own to add too!
I used a foil baking tray to put the ocean in – mainly as I had one lying around! I thought the foil would look all shiny and lovely with the water. Feel free to use any other tray, or dish you might have. I put the things into the tray before adding the water.
First I put some sand in to make a beach. I used kinetic sand as it's what we had, but any sand would do fine. Or a few pebbles or rocks – maybe something from the garden or park?
I parked up a tiny fire truck on the beach – as in the story the firemen help to rescue the whale.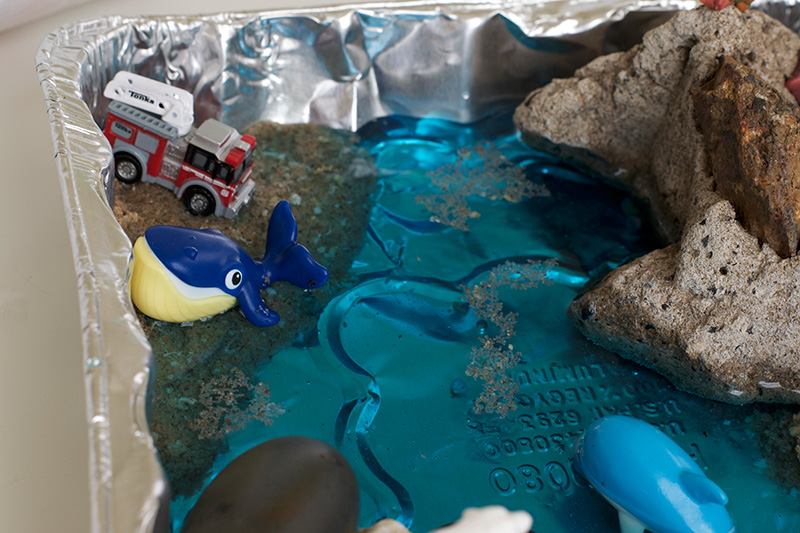 I added a bit of branch which was supposed to be the island in the snail and the whale story. You could add any bit of branch or leaves – or skip that bit altogether!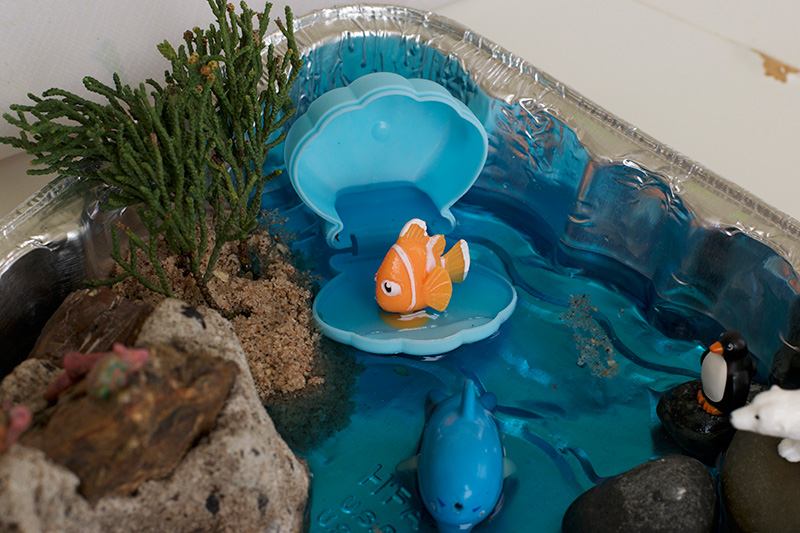 A few rocks and stones made a little Antartica area. We had a lego penguin, so he went in! You could also add some seals if you had them – we didn't! Try raiding the lego, duplo or playmobil boxes, you'll be surprised what you find!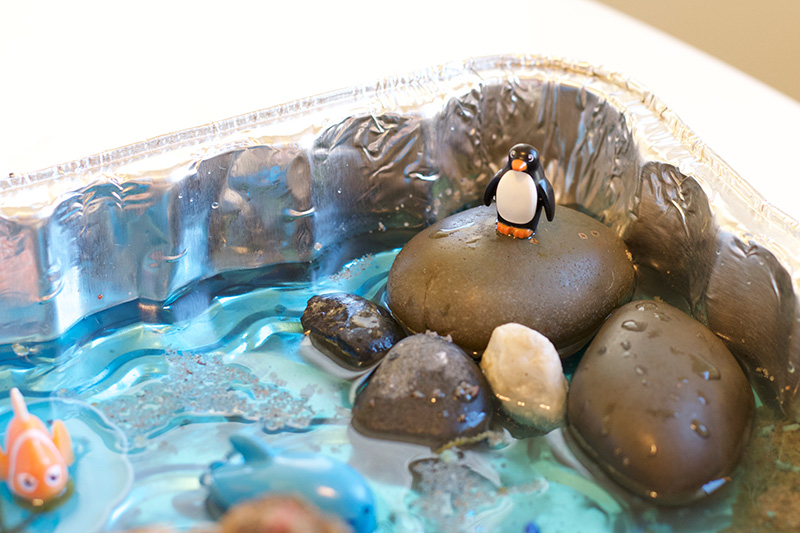 A big piece of rock became the 'rock' that the snails live on in the story. I made some snails and sea stars out of play doh. This perhaps wasn't the best choice, as they didn't last that long in the water! But they lasted long enough to play for a while and we had plenty of play doh! You could use something else – maybe some wire curled up? Or some little sea shells if you have some?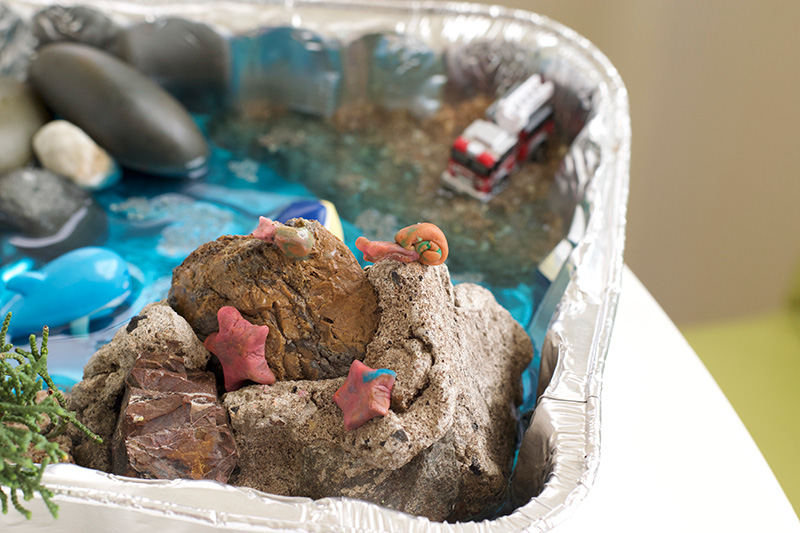 Finally I added a clown fish in a little shell case, a dolphin – and of course a whale. If your child collects little 'surprise toys' from kinder eggs, blind bags and and so on then you will probably have lots of little bits lying around! Or perhaps you have some plastic sea creature figures? They would work great! Challenge your child to see what they can find!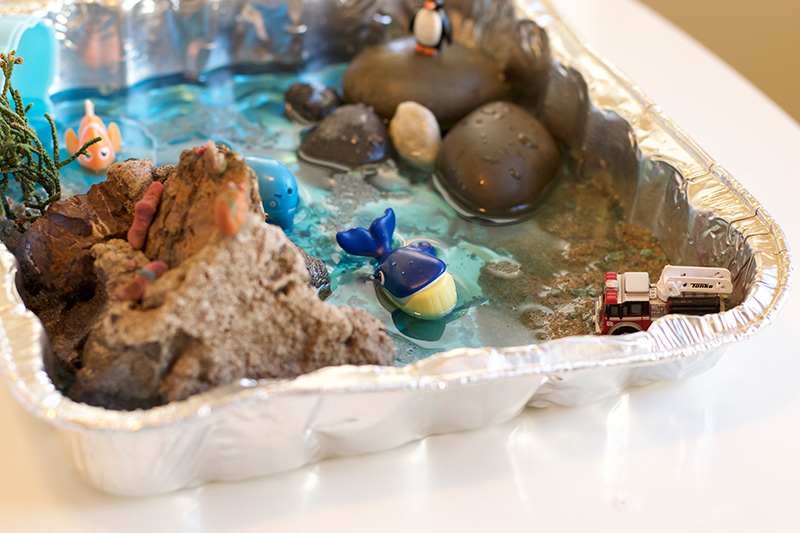 I put some water in a cup, then added a tiny drop of blue food colouring. I carefully poured this into the tray. That was it!
Although I tried to recreate the snail and the whale story, you can really do whatever you like – maybe make a little tide pool, or a deep sea? The possibilities are endless!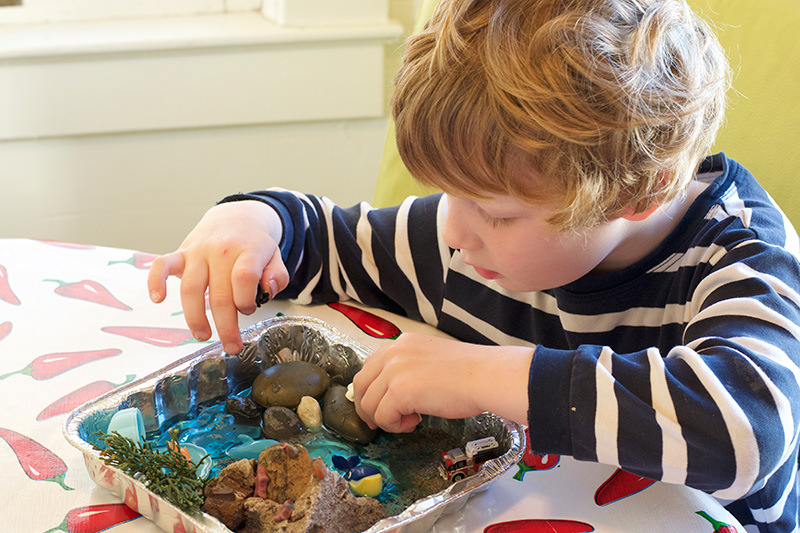 Little M absolutely LOVED his ocean tray. The exact words were "I LOVE it!" He then played with it for about an hour – job done! He tinkered about with the figures and found some other things of his own to add (and of course pointed out all the things I'd forgotten from the story! Ha!)
Will you try this at home? Can you think of anything else you could add to a snail and the whale ocean tray?
Like this post? Pin me!