Mmm, gingerbread house, who could resist a piece?!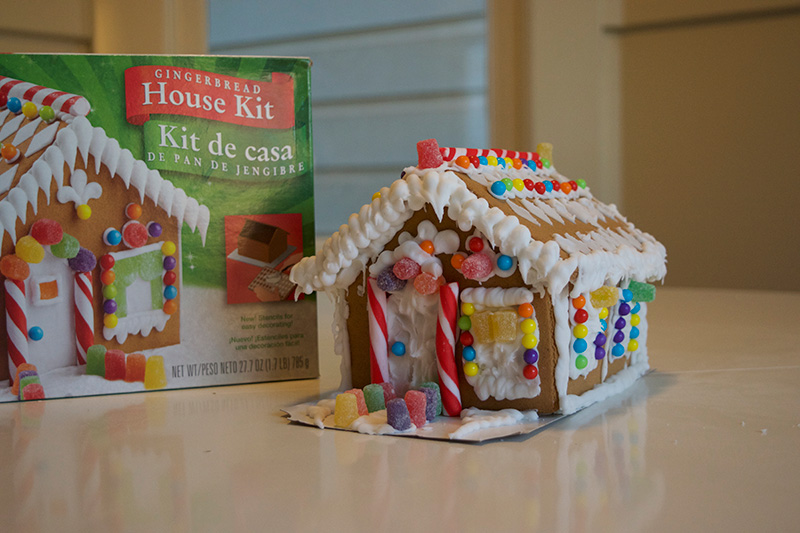 Following our visit to the Fairmont Hotel life-size gingerbread house I thought it would be fun to make a gingerbread house of our own at home. This was also another activity on my list of 5 fun activities to get in the mood for Christmas.
I decided to buy the Wilton Gingerbread House Kit – to make a nice gingerbread house, but also keep things simple (I'm all for making life fun, but also easy on mum!)
It's a great little kit and includes all the supplies you need to build the house: gingerbread panels, fondant icing, icing bag and nozzle, stencils to make patterns and various candies – plus instructions of course.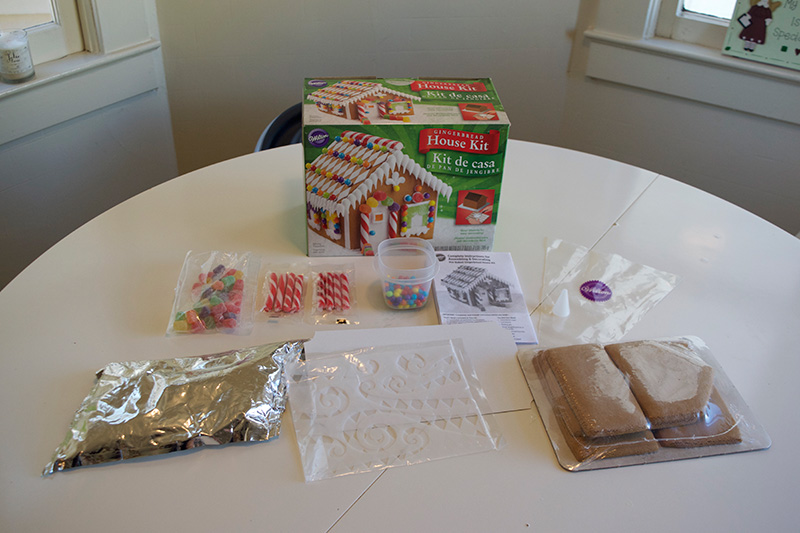 The instructions are really easy to follow and give you lots of ideas on different ways to decorate your house. I love the fact that two stencils were included, as this made it much easier to create patterns on the roof. It was also useful to have the icing bag and nozzle – not all kits include that. There are also some suggestions of extra tools and things you can use if you are going for a more professional look!
I won't go through all the instructions here, they are fairly self explanatory. But ideally you want to really take your time over the house and allow plenty of time for the icing to dry as you go along – especially if you want it to look perfect. After assembling allow time for everything to set before decorating.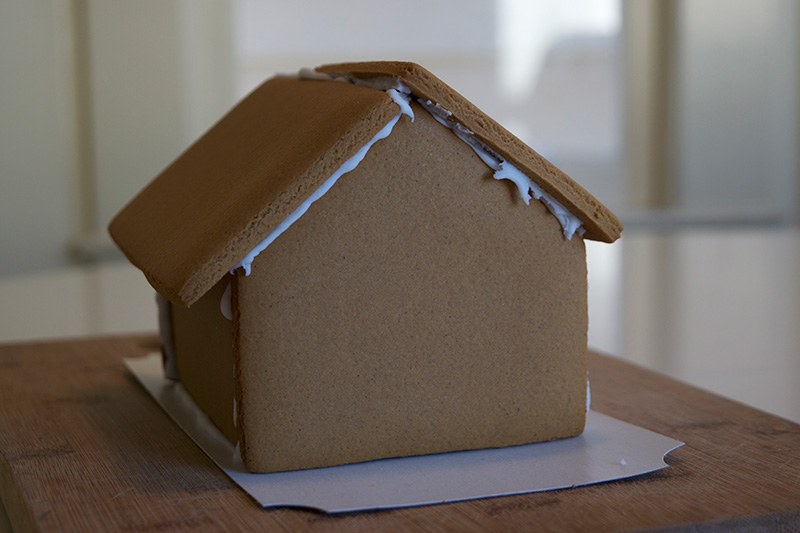 I wasn't worried about the house looking perfect, it was just a chance to have some fun with Little M. He was (ridiculously!) excited about the idea of making a gingerbread house. But I'm afraid the excitement made the activity completely frenzied!
In hindsight I wish I had at least assembled the house first, before involving him in the decorating. Or possibly even making the house as a gift to him and doing a different activity with him instead…
I'll be honest – I would not really recommend attempting to make a gingerbread house with a toddler!!! Unless your toddler has much more self-control than mine, which is apparently zero. This photo just about sums it up…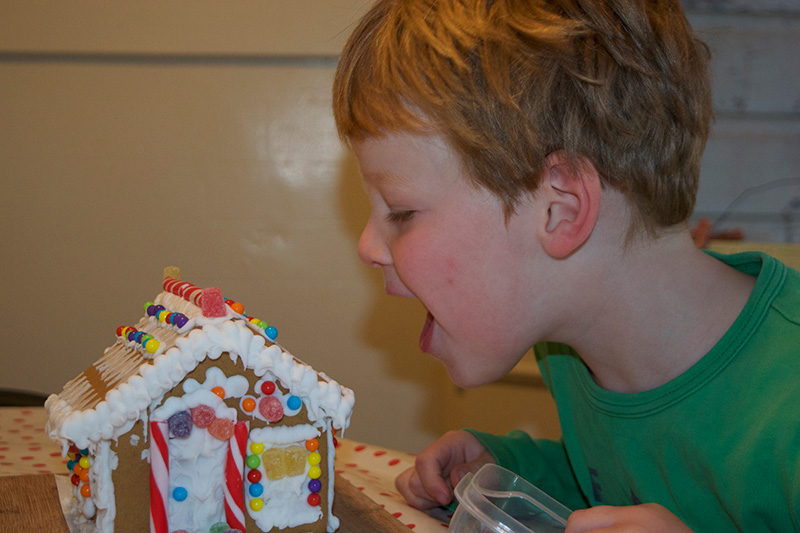 He was, understandably, far more interested in eating the candies, than sticking them on the house! (Although he does have occasional treats, he never really has sweets or candies, so being given a pot of candies was definitely a huge novelty for him!)
You'd have to make your own judgement for your child, but I think this activity is more suited to a much older child, or an adult. For a toddler you could build the house in advance and just have them help stick candies on (if you think they could handle it!) With Little M I ended up finishing the house after he had gone down for his nap!
If you are looking for a gingerbread house kit though, then this one as great, as it had plenty of icing, a variety of candies and easy to follow directions. I would definitely recommend it. All things considered the finished house looks quite good…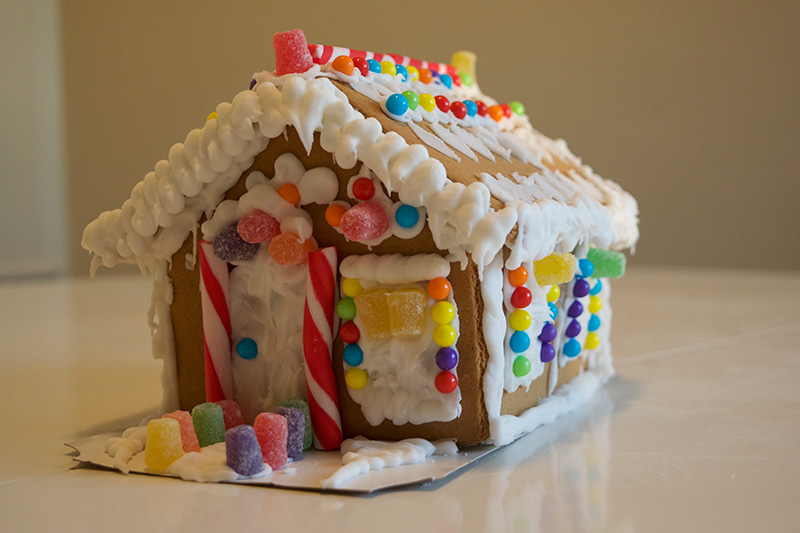 The only thing I would add to the kit – it would be nice if there were a few extra pieces, like gingerbread men or Christmas trees, so that little ones could do their own thing with those and feel involved, whilst still keeping the main house pieces intact! I have seen other kits where they have little people and things to go outside the house.
For a toddler I would be tempted to try a more open ended activity instead, such as building their own small houses, or icing gingerbread men. I love this idea of making miniature houses from crackers or biscuits. That way you could give them all the supplies and just let them get on with it!
That being said I think Little M would still end up eating his house materials before it got built – so we might just hold off until next year!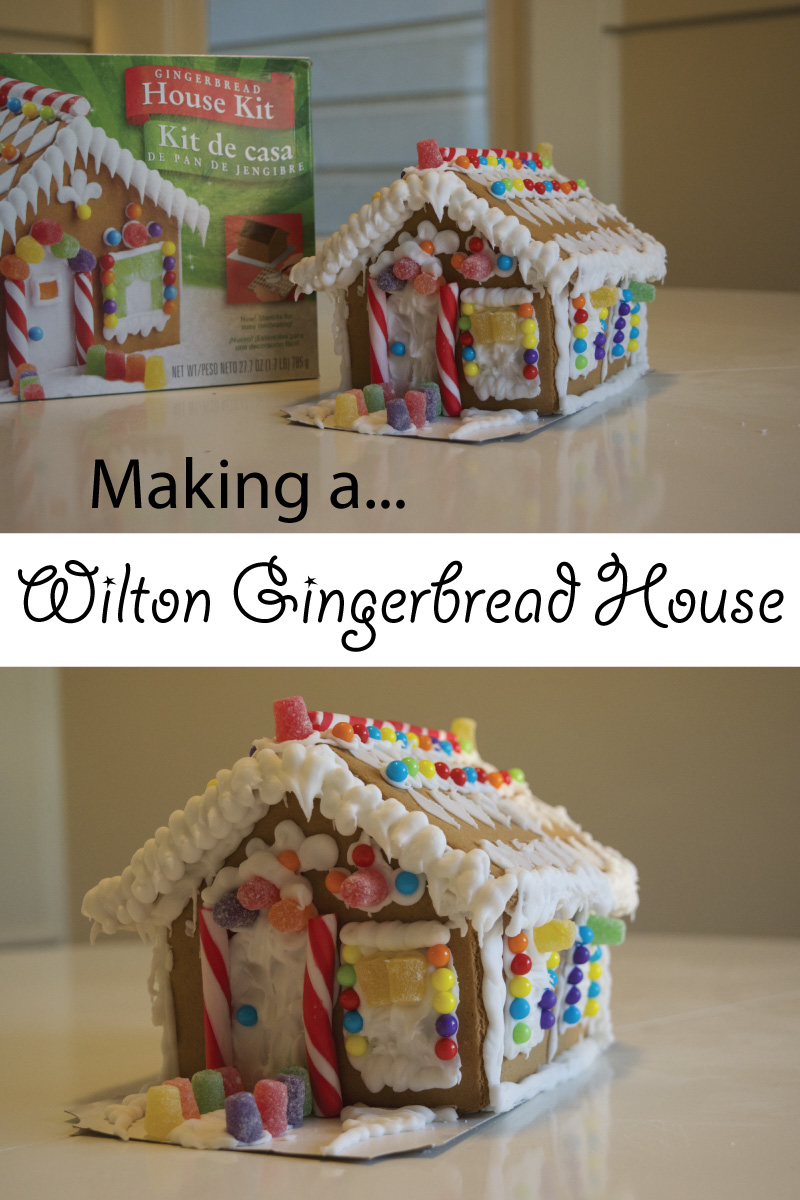 Have you made a gingerbread house with your child? How old were they before they could resist the temptation to just eat their building materials?!