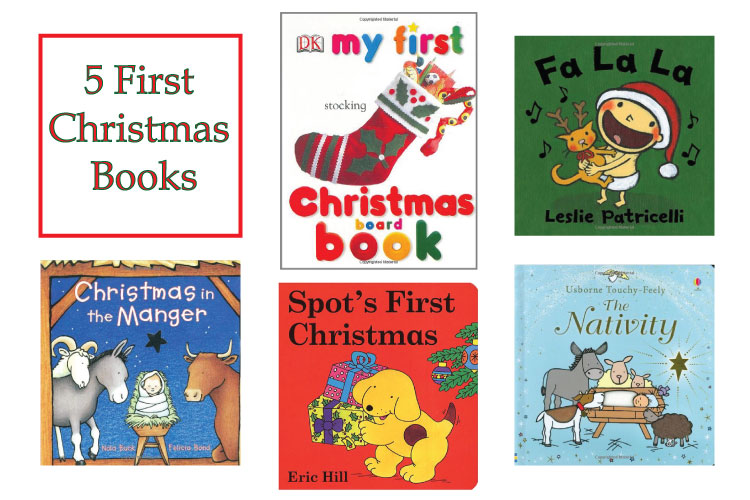 Are you looking for a first Christmas book for your baby or toddler? What better way to introduce the idea of Christmas than with some fun and thoughtful Christmas books?
I love snuggling up with my kids and reading! Here's a selection of our favourite Christmas books. They are all board books (or available as board books), so great for independent and shared reading. All are perfect for both babies and toddlers around 0-3 and are especially great for introducing Christmas. We borrowed most of ours from the library, but they are also very cheap to buy online.
Disclosure: This post contains affiliate links, however all opinions are entirely my own. 
My First Christmas Board Book
You can't beat a good Dorling Kindersley book for explaining new things clearly – complete with eye catching photos and labels. Each double page displays a different aspect of Christmas – from 'The Nativity' to 'Santa Claus' and includes photos and labels or facts about Christmas. 'Christmas counting' pages and 'Matching shapes' activities keep children engaged. Little M is very interested in this book and loves looking at the pictures together – although it's funny how he is immediately drawn to the page about 'Christmas presents'!
Fa La La
'Fa La La' is a fun little board book with cute cartoon pictures that Little M loves. It's all about baby discovering all the ways we celebrate Christmas, with much excitement! The baby picks a Christmas tree and builds a gingerbread house, he visits Santa and sings Christmas songs. And of course he opens his presents on Christmas morning! There's no religious element to the book, but it's a fun book to show the different ways we celebrate at Christmas.
Christmas in the Manger
'Christmas in the Manger' is a gorgeously gentle introduction to the nativity story. With simple illustrations and rhyming poetry, based on The Friendly Beasts, the book presents all of the main characters in the Christmas story – which is really just enough for tiny readers. Little M finds this book very soothing and calming right before bed.
'I am the baby, asleep in the hay, and I am the reason for Christmas Day.'
Spot's First Christmas
Fans of the Spot books
will love this Christmas themed story featuring their favorite puppy. Lift the flaps and join in as Spot discovers Christmas for the first time and helps to get everything ready – wrapping presents, decorating the tree and singing Christmas carols. If your little one hasn't discovered the Spot books yet, (Little M loves them!) this first Christmas book is a great place to start – and will be enjoyed well past the baby years!
The Nativity
All of the Usborne Touchy Feely books
are super for both babies and toddlers – simple stories, with textured pictures to… well, touch and feel! This nativity version is a lovely baby friendly retelling of the Christmas story. Babies and toddlers will love seeing and touching the woolly sheep, shiny stars, glittering angel and baby Jesus asleep in his soft blanket.
Which first Christmas books has your little one enjoyed? Which books would you recommend?