Are you making an activity advent calendar for your children? Looking for some simple and cheap ideas for activities?
Here I'm sharing 50 advent calendar activities for kids, all super fun – yet simple and cheap!
I've been excited about the idea of making an activity advent calendar for a while – but in past years I always left it too late, ended up getting a chocolate calendar, or thought it was just 'another' thing to do. I happened to see a cloth advent calendar in the local charity shop, so thought this would be a perfect excuse to give an activity advent calendar a try!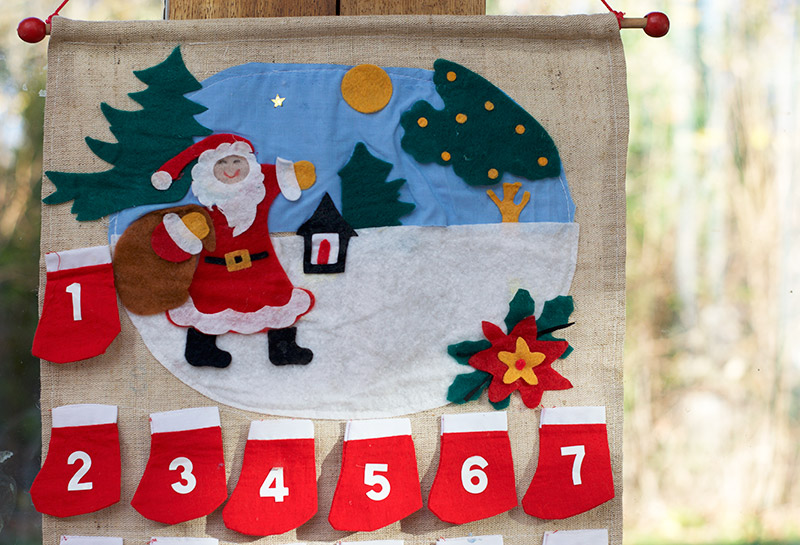 What is an activity advent calendar? (I hear some of you cry!)
Well in my day we just had a card advent calendar where you opened the flap and there was a little picture of a star or a bell inside (or if you were lucky you had a chocolate too!) An activity advent calendar is where you plan an activity for every day during advent. Usually you'll write activities on pieces of paper and put them in a cloth or wooden calendar for children to 'open'. An activity advent calendar is simpler than it sounds!
Once I thought about it, I realised there are lots of really easy, yet fun activities you can incorporate into an activity advent calendar – listening to Christmas music and having a dance for example! Also, you can include things that you might have done at Christmas time anyway, like make Christmas cookies, or read a Christmas book. Having it as part of the advent calendar just makes it more fun somehow!
A plan for a fun Christmas!
I also like that the activity advent calendar will give me a plan of when we are going to do Christmas things in our family. Sometimes I have lots of ideas, but end up feeling overwhelmed and don't do half of them! Anyone else?! This will stop me feeling like I have to do ALL THE THINGS and make ALL THE COOKIES and help me focus on just having simple Christmas fun with my kids.
So whose with me?! Are you going to try an activity advent calendar?
Here is a mega list of 50 advent calendar activities for you and your family! They are all super simple and are either free or cheap to do – hooray!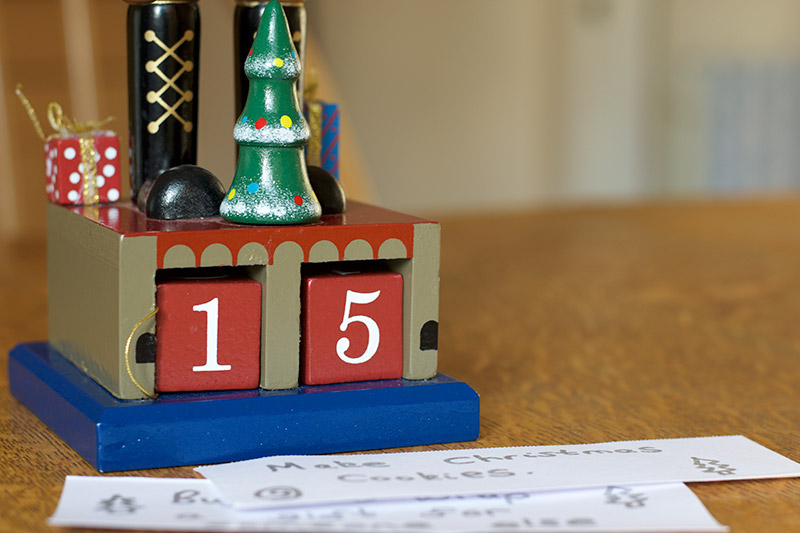 Something for everyone
I've included a real mix, so there is something for everyone. All of these can be adapted for different age kids. You can pick and choose the things you would like to do. There's some craft and food ideas, as well as things to watch or read. There's things to do outside and inside. Things just to get in the festive mood. I've also included some 'pay it forward' activities – to help children remember that Christmas is about giving, as well as receiving. Because I'm a bit of a softie, I'll probably throw in a few chocolates too…
I suggest choosing REALLY easy activities, like drinking a hot chocolate, for days when you already have a busy day planned. Then plan crafty and food activities on the days when you know you'll have more time with the kids. The great thing is you can also tweak the order around if need be – you'll know what the plans are, but your children won't!
This is the ONLY list you need to start your activity advent calendar! Do let me know if you give any of these a try!
Disclosure: Contains affiliate links. Thank you for your support.
50 Advent Calendar Activities

Make Constellation Cards.
Leave out drinks and snacks for the postman or delivery people.
Make Christmas cookies.
Read a Christmas book.
Make Lego Christmas decorations.
Listen to Christmas music – have a dance!
Watch a Christmas movie.
Fill a shoe box for Operation Christmas Child.
Make marzipan fruits.
Take some cans of food to a food bank.
Buy or make a gift for someone else.
Cut out paper snowflakes.
Put up and decorate a Christmas tree.
Make gingerbread men.
Wrap a present for someone else.
Make play dough snowmen.
Dress up in something festive – then go out for a walk!
Deliver candies to your neighbours.
Make paper angels.
Draw, paint or make a nativity scene.
Put Christmas hats on and collect litter in your street.
Make Christmas Pudding Rice Crispy Cakes.
Go ice skating.
Melt chocolate into Christmas molds.
Visit a Christmas market.
Toast marshmallows, or make s'mores.
Make paper streamers, or paper chains.
Eat a Christmas candy – yum!
Go for a walk or a drive to see Christmas lights.
Cut out old Christmas cards to make gift tags.
Paint a long sheet of paper with festive pictures – to make a Christmas table cloth.
Go out and make snow angels, sand angels, or leaf angels!
Make some mince pies.
Drink hot chocolate with marshmallows.
Hang candy canes on your friend's doors.
Put up some twinkly lights.
Take a card or small gift to your teacher.
Hang up mistletoe, or a wreath.
Sing Christmas carols.
Make peppermint creams.
Give a hot drink to a homeless person.
Make little houses using biscuits, icing and candies.
Make some festive Kindness Rocks.
Go to a Christmas church service.
Make a decoration with a pine cone.
Write to or visit Santa.
Wear a Christmas jumper, or badge.
Hang tinsel over picture frames.
Watch The Muppet Christmas Carol
Make some easy Christmas treats.
Are you trying an activity advent calendar? Do you have any other fun suggestions?
Like this post? Pin me for later!