Are you looking for a super easy Christmas treat to make? These Christmas Pudding Rice Crispy Cakes are easy peasy to make, even with the kids! An easy, yet festive treat for parties and holiday fairs, they also taste chocolatey and yummy!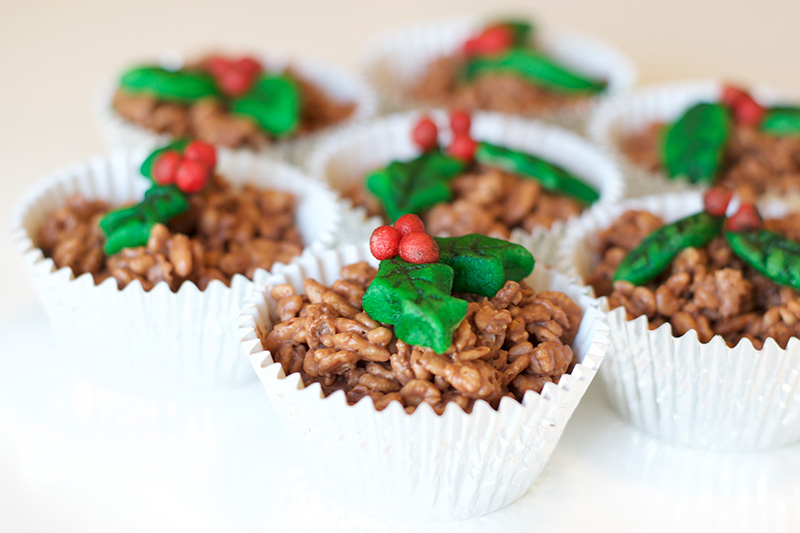 For those American readers who don't know what Christmas Pudding is – it's a traditional English rich fruit pudding served at Christmas. It's called Plum Pudding in the US. This is my Rice Crispy Cake version!
You can add almonds, raisins, or both if you like, or keep them simple with just chocolate. You can vary the type of chocolate – try dark, or even white chocolate!
I love the marzipan decorations and think they are worth the extra bit of effort. Marzipan just seems to complete any festive treat, don't you think? I love it! But if you can't eat nuts, or prefer a simpler option, you can use roll out icing, or use ready made cake decorations.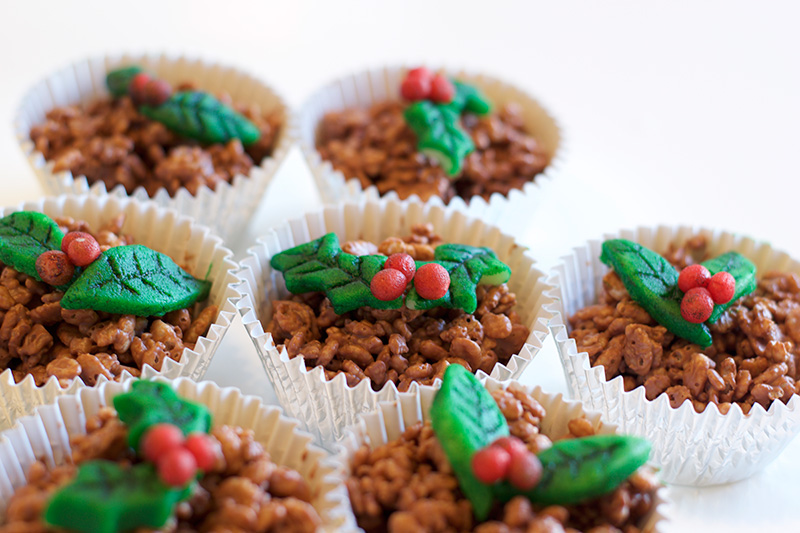 You basically just melt the chocolate and stir in the rice crispies, raisins and almonds. Easy peasy! Divide into the cases and put in the fridge to harden before decorating.
I made the marzipan decorations by doing a quick bit of moulding by hand and using a knife to add any finishing touches. You could also use a mini leaf mold to make this quick and easy. I love the idea of these!
Here's the recipe…
Line a cake tin with 12 cupcake liners.

Melt the chocolate in a heat proof bowl over a saucepan or in the microwave.

Stir in the rice crispies, plus raisins and almonds if using.

Place in the fridge for 20 minutes, or until the chocolate hardens. Remove from fridge and set aside.

Mould marzipan into holly leaves and berries. Place onto a greaseproof lined board. Paint with food colouring and allow to air dry for around an hour.

Place marzipan decorations onto cakes. Gently press to hold in place.
Use a small clean paint brush to colour the marzipan. Make sure it is fully dry before sticking to the cakes.
Do you have any festive recipes planned? What are you going to make?
Like this recipe? Pin me!