I'm so excited to share with you this seahorse hobby horse craft that we have been working on!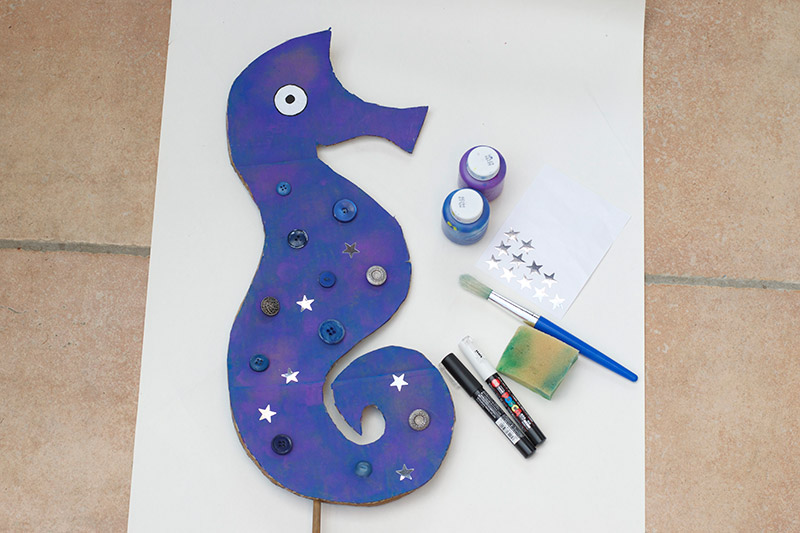 I love crafts that have a purpose – whether it be something to play with, or a gift to give someone. I think projects with a purpose are so much more meaningful, especially for children.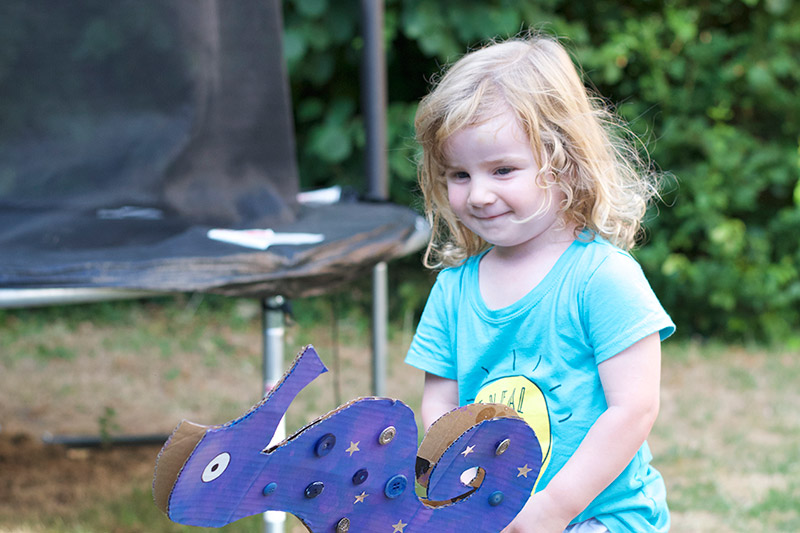 With my love of the sea, I just had to hop onto the seahorse trend! (Apparently seahorses are the new unicorns…)
On trend or not, I just love these magical sea creatures. I used to love looking at the seahorses at the aquarium where I used to work. Did you know there are 40 known species of seahorse? And that seahorses prefer to swim in pairs with their tails linked together?!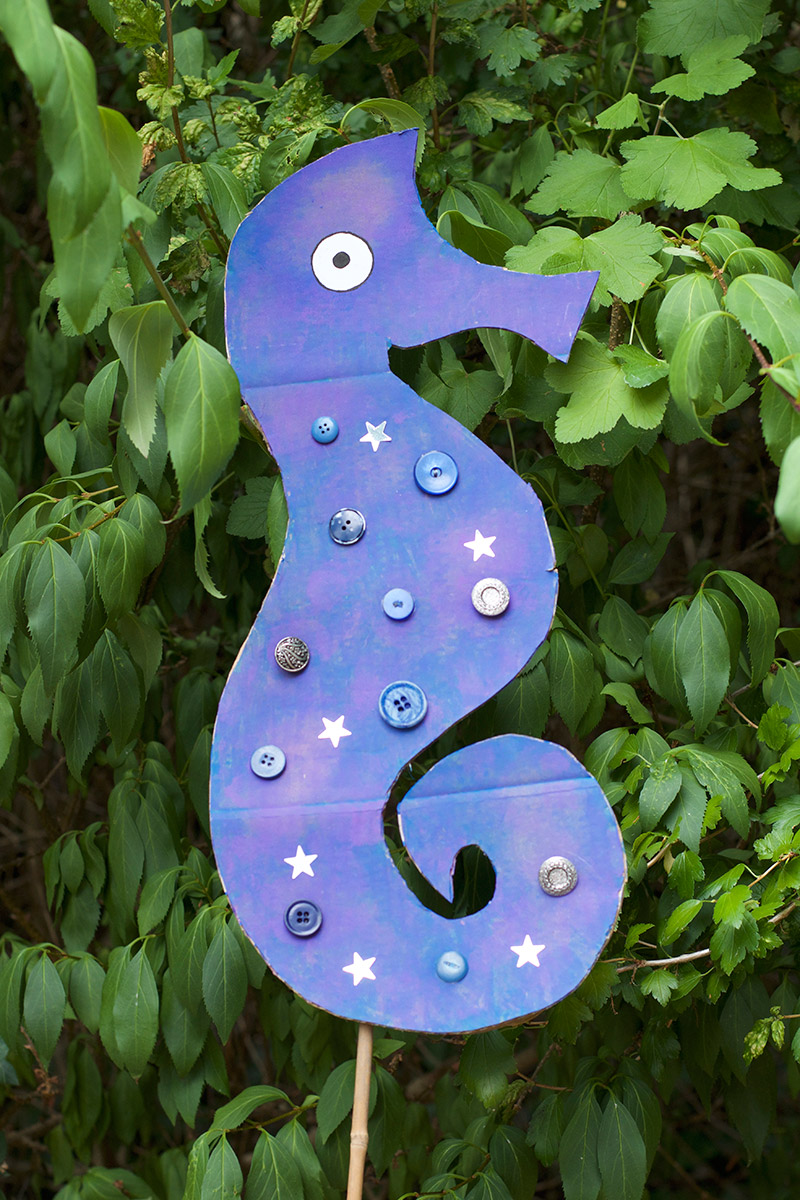 I thought a seahorse would make a wonderful theme for some under the sea creative play. So when my son came back from a party the other day with a hobby horse he had made, I just knew I had to have a go at making my own – but with a sea themed twist!
This seahorse hobby horse is really easy to make with things that you likely already have at home. Plus you can reuse cardboard and repurpose items such as buttons to decorate the sea horse, so it's environmentally friendly too.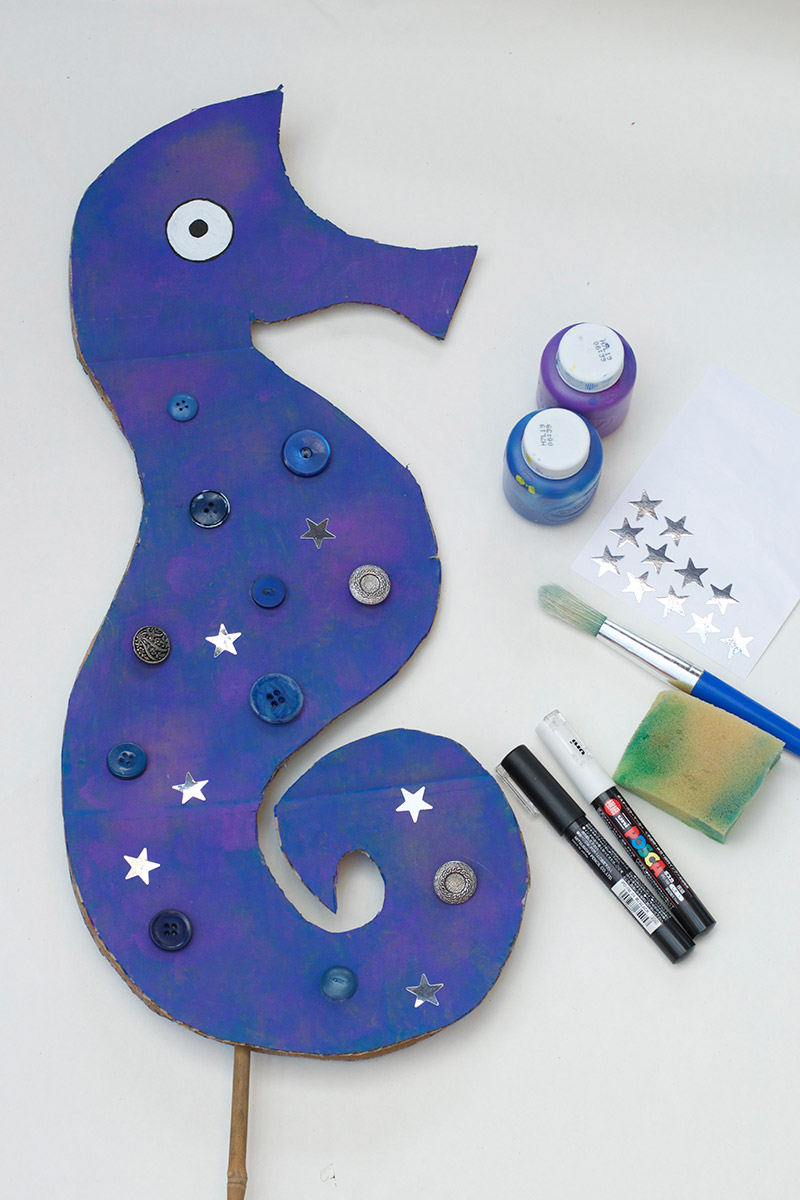 Tips for Making Your Seahorse
This tutorial is really just inspiration for you, so feel free to use it as the basis for your own imaginative project with your kids.
You can involve your children in most of this project – the painting and much of the decorating. You can really let them go to town. We used buttons and sticky stars, but you could also use stickers, pens, sequins, paper, ribbon, bottle tops – whatever you have lying about!
You'll need to help with any gluing required to make the seahorse. Paper items can be stuck on with pva glue, but buttons and bottle tops will need super glue, which must only be applied by an adult.
You might like to ask children to position the buttons where they would like to glue them, then glue the buttons carefully for them. You will also need to glue the cardboard onto the stick for your child, with either super glue, or another strong glue. I used Gorilla Glue Super Glue for this project, which worked really well.
Disclosure: I was provided with samples of Gorilla Glue for the purpose of creating this project. All opinions are my own.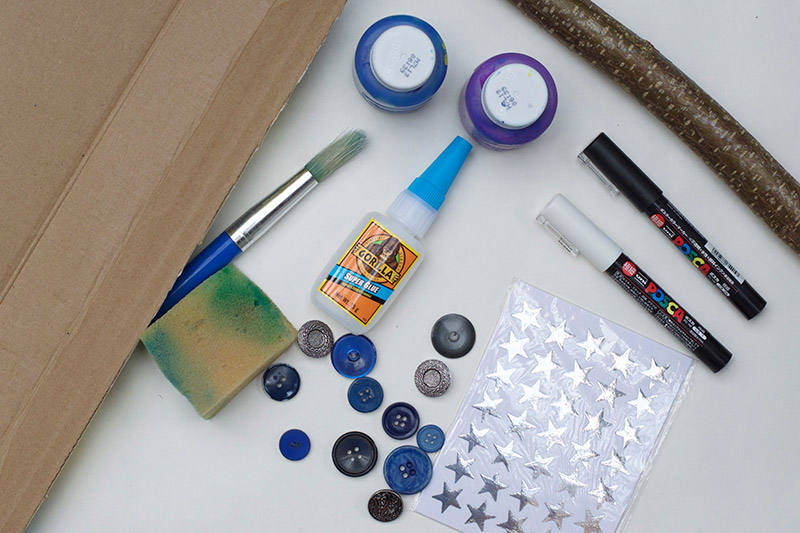 Seahorse Hobby Horse
You will need:
Corrugated Card – a large flattened cardboard box is perfect
Water based paint
Paint brushes and sponges
Buttons or Plastic Bottle Tops
Stars, stickers or sequins
Paint pens
Stick of bamboo, or other long, sturdy stick
Super Glue
Any other decorating materials – ribbon, paper etc
How to make your seahorse:
1. Gather together the materials you will need. It's a good idea to find a stick first, so you can work out how big the seahorse needs to be. You can also adjust this depending on the size of your child!
2. Draw an outline of a seahorse onto one of the pieces of corrugated card. You can copy mine if you like. Cut out.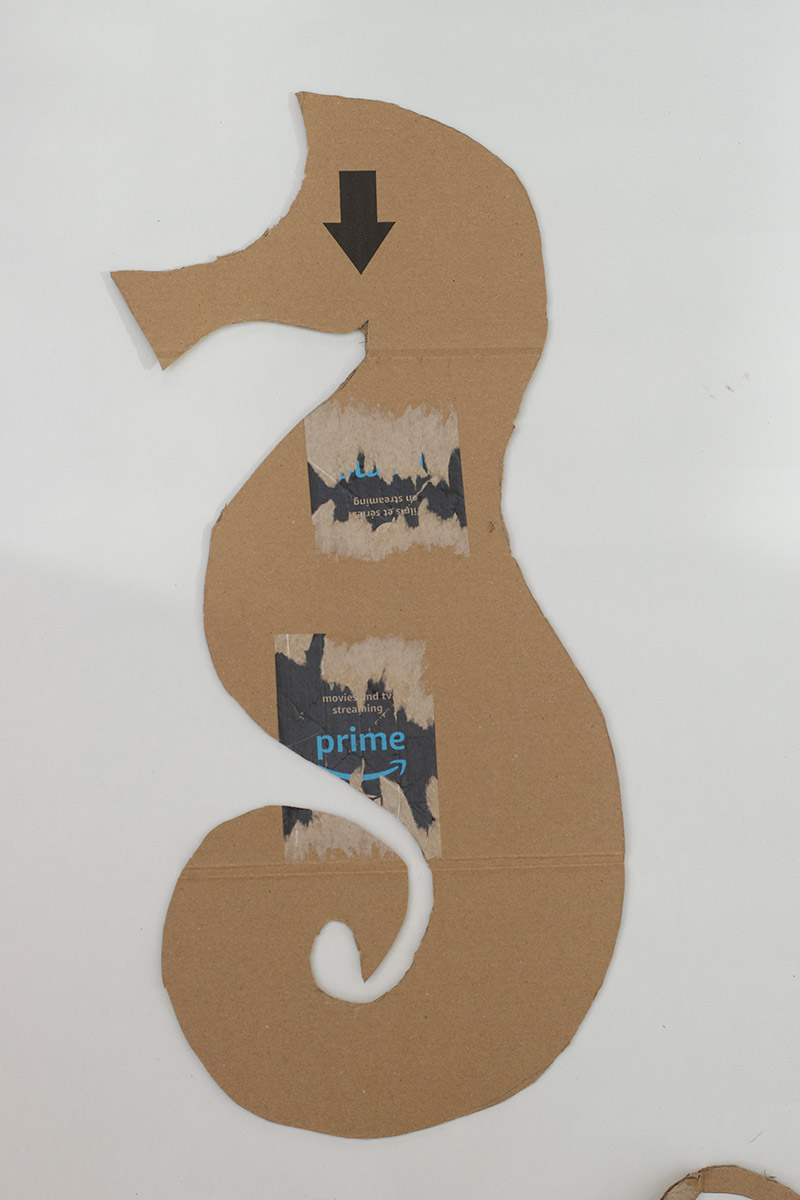 3. Use this sea horse as a template to draw around a second sea horse on the other piece of card. Cut that one out too.
4. Place the two seahorses together back to back to make sure they are roughly the same shape – trim off any pieces where necessary.
5. Place the two seahorses facing each other to paint – remember you will need to decorate the sea horses on opposite sides to ensure they match together. You might like to put a mark on the side to be painted, so no one gets muddled up! This is what they will look like when finished: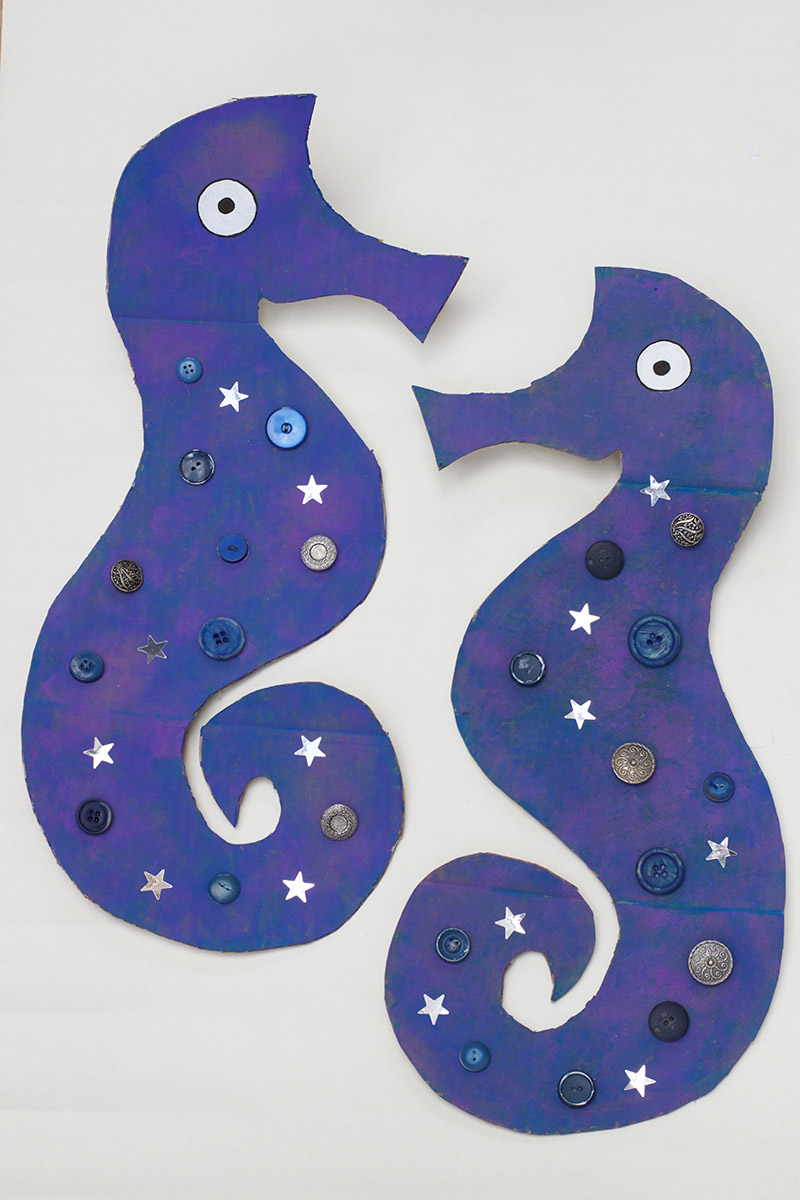 6. Lay out some newspaper, or a plastic mat on the floor or table. Put out the paints, brushes and sponges. Go ahead and let the kids paint the sea horse pieces. We used blue paint, followed by purple paint sponged over the top. But your seahorse can be any color you like!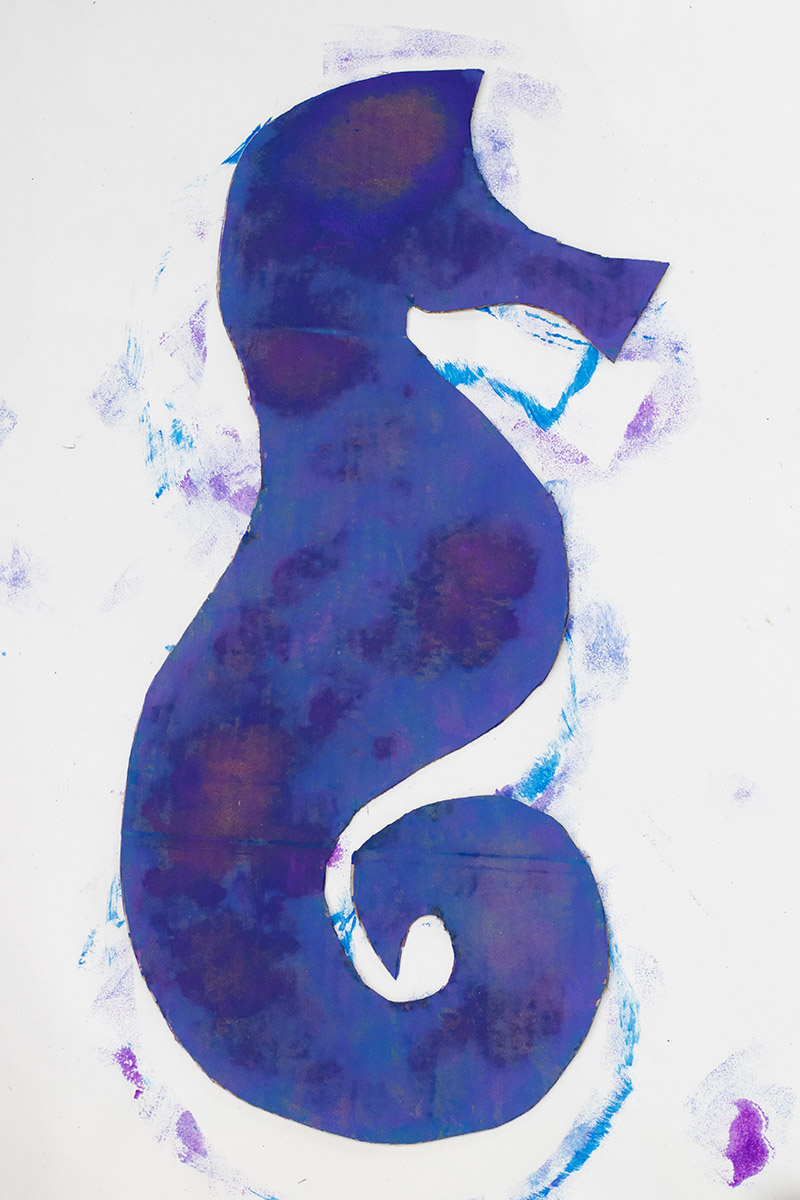 7. Allow to dry. It shouldn't take long, you could go and wash hands and grab a snack while you wait…
8. Lay out the decorating supplies and let kids decorate the seahorse pieces. For anything that needs to be fixed with super glue, like buttons, ask children to place where they would like them to go.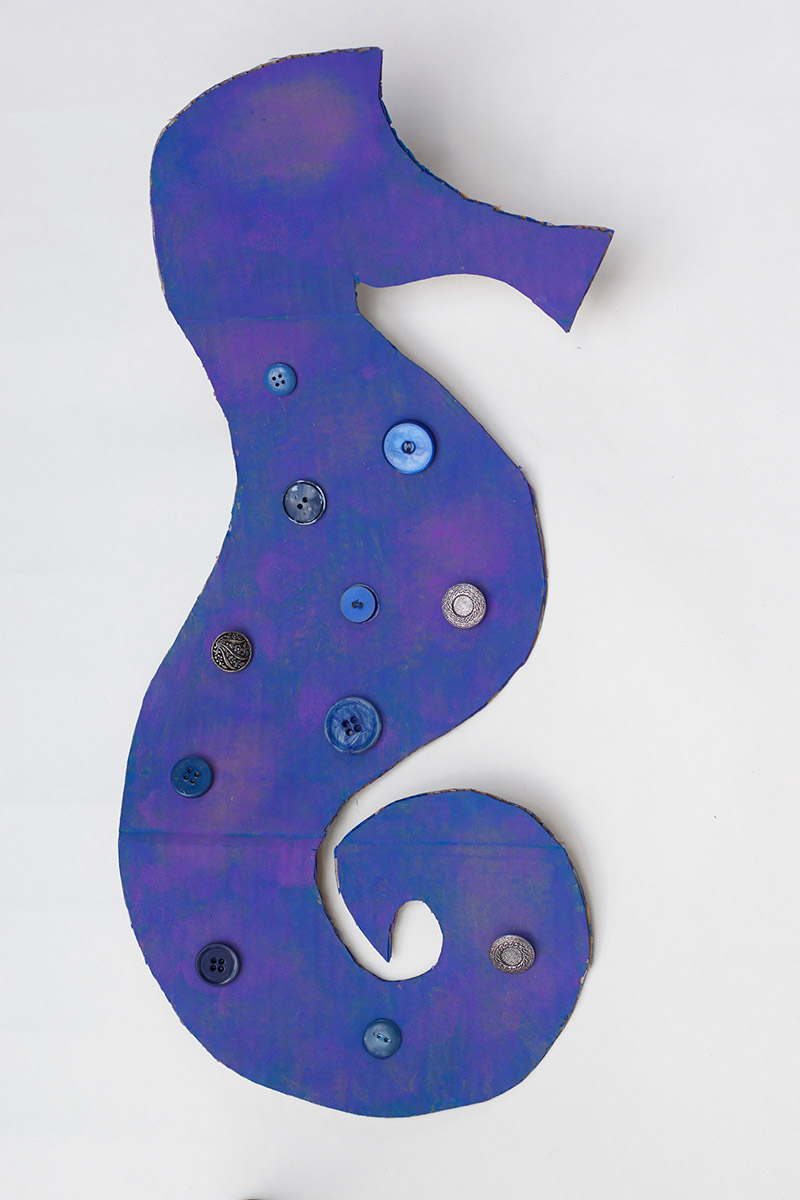 9. Super glue any buttons or other pieces on. Remember to do this for your child, well away from little fingers! I used the Gorilla Glue Super Glue for this, which worked great. Put the seahorses out of reach to dry, which only takes a few minutes.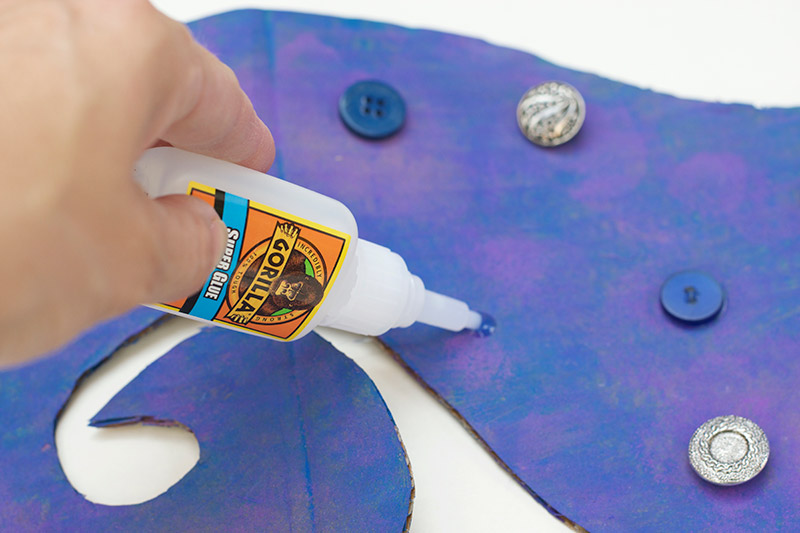 10. Add any other sticky stars, stickers, or other decorations!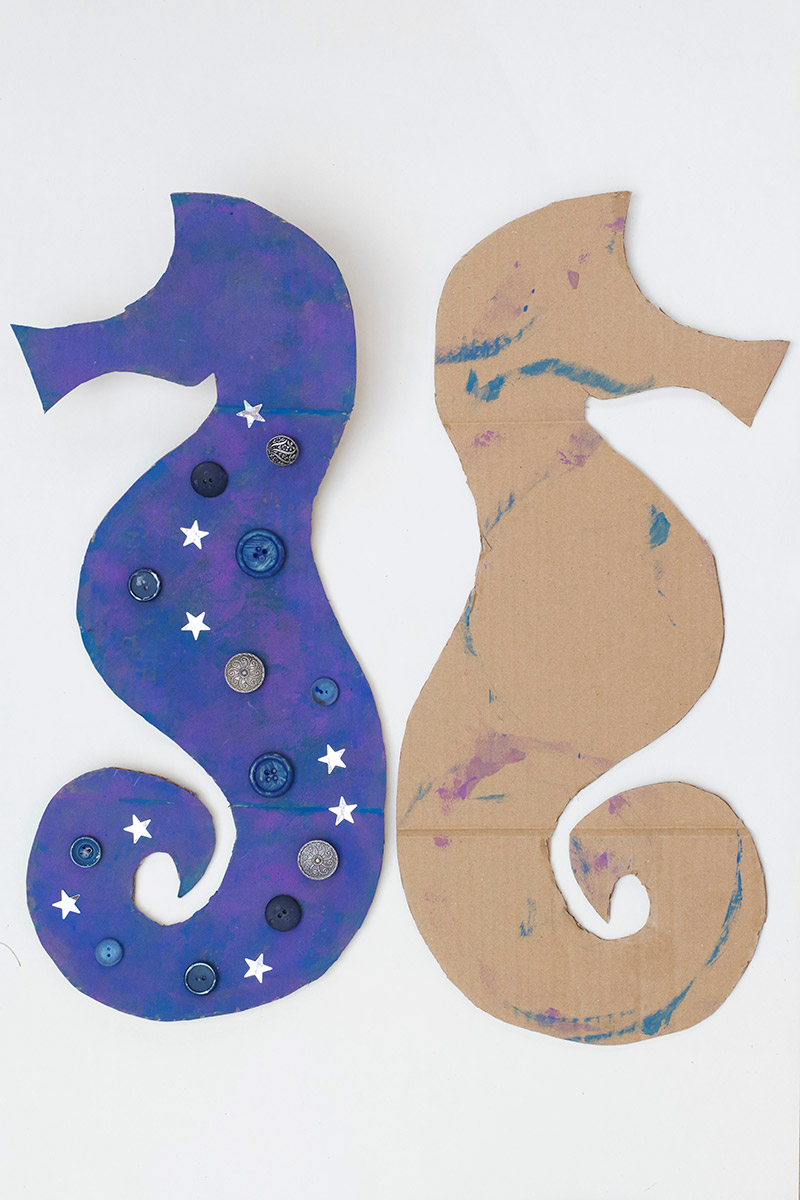 11. Draw an eye on using paint pens, or a paint and brush. Or you could use stickers, or a goggly eye. Allow to dry.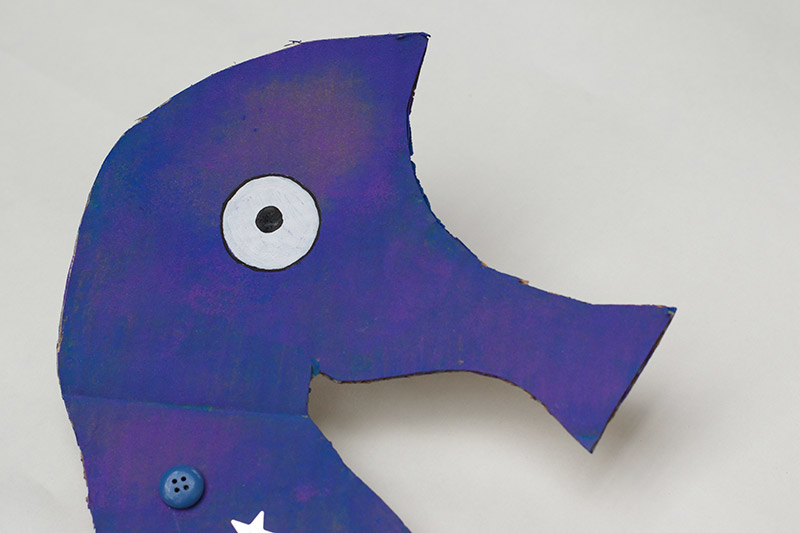 12. Carefully place one of the seahorses onto your stick. Mark with a pencil where you want it to be stuck.
13. Dot super glue onto the stick, then glue the sea horse firmly onto the stick. If you have a hot glue gun, you could use that for this instead, although the super glue actually worked really well. Place something heavy carefully on top of the sea horse for a few minutes whilst it dries.
14. Repeat with the other seahorse on the other side of the stick. Place a box, or heavy book on top. Allow to dry.
Now the seahorse is ready to play!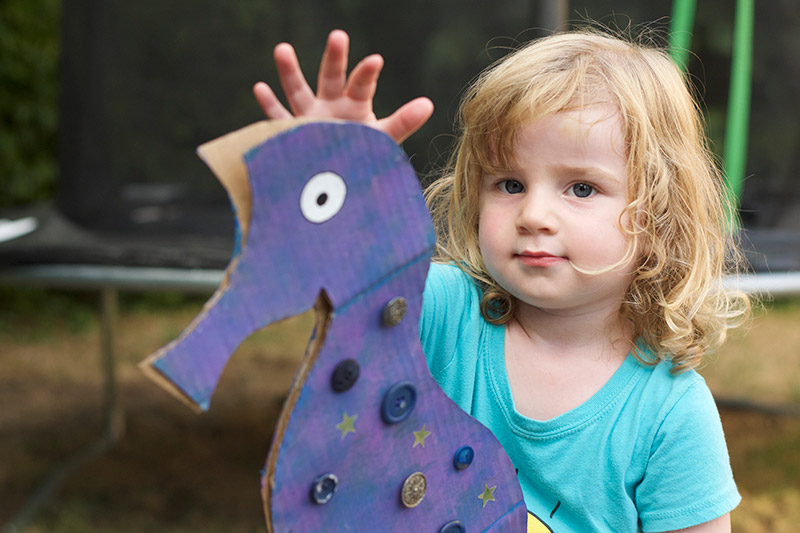 Have you ever made a hobby horse craft? Will you have a go at making a seahorse, or perhaps another sea creature?
Let me know your thoughts in the comments!
If you like this craft you might also like my posts on:
How to Make Easy Stencilled Whale Cards
Make a Snail and the Whale Ocean Tray
20+ Amazing Ocean Themed Creative Play Ideas
Remember to pin this post for later, so you can read today and craft another day!