Here I'm sharing 5 ways to keep babies safe in the sun.
With the summer upon us many of us are enjoying much warmer weather lately. Perhaps you are also planning a family holiday somewhere hot? Lucky you!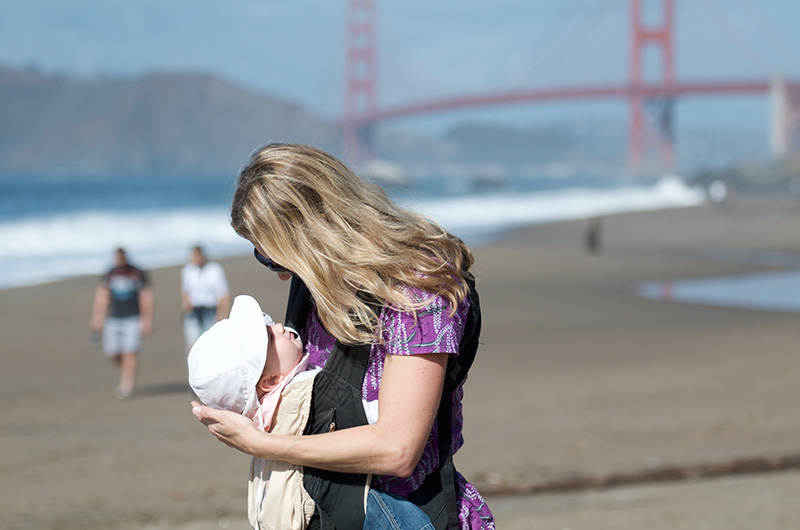 It's important to think about about how to keep babies safe in the sun before you travel or head outside. Babies are particularly vulnerable to the damaging effects of the sun. In California we are lucky to have lots of sunny weather, so I've got a bit obsessed with sun care!
Here are my 5 ways to keep babies safe in the sun and some products that I recommend too.
Disclosure: This post is not sponsored, just genuine recommendations from me! You will find a few amazon affiliate links, in case anything takes your fancy!
1. Cover up
Covering up is always the best sun strategy with babies. Dress your baby in light breathable fabrics that cover as much of their skin as possible – long sleeves and long pants or trousers. Keep babies in the shade as much as possible, their skin is very delicate and easily burned.
2. Hat that covers the face and neck
LP is all about the hats lately! She loves trying them on, taking them off and putting them on again. A hat is one of the best things you can get for baby to protect their skin and eyes from the sun. I love the i play hats for babies, because they have such good coverage and spf 50 too. They also have neck ties – so that bit harder for them to yank it off! The hats with the flap at the back also work really well if you are carrying baby in a baby carrier.
3. Mineral based sun screen
For babies younger than 6 months it's usually recommended to avoid sun screen and cover them up instead. Check with your doctor first if you are unsure.
For babies older than 6 months they will likely be on the move, so sun screen on exposed skin is a must! Go for a mineral based 30+ sunscreen as this forms a barrier on the skin, rather than being absorbed into the blood stream. Mineral based sunscreens usually contain zinc oxide (The stuff in butt paste!) and titanium oxide. These sun screens also don't sting baby's eyes! We love Blue Lizard. It's a fab sunscreen – plus the bottle changes colour in UV light! Cooooool!
4. Use a stroller sun shade
Make sure your stroller or push chair has adequate shade. Surprisingly, some very expensive strollers have sun shades that are not that great – voice of experience…
We love our Thule Urban Glide, as it has an incredible sun shade that is also adjustable to follow the sun. Awesome! If you have a stroller and are continually hanging muslin cloths over it in an effort to create shade (!) – then you might want to check out the Summer Infant Rayshade! It's a stroller sun shade that extends the existing canopy on your stroller.
5. Stay out of the midday sun
Try to plan your excursions to avoid the hottest time of day if you can. The sun is strongest from around 12-3pm. Luckily, this will likely coincide with your baby's afternoon siesta. Phew, so baby can stay lovely and shady!
Remember, in hot weather keep everyone in the shade as much as you can, use high factor sunscreen and stay hydrated. Babies will need extra milk (or water if they are drinking it.) Always check with your doctor if you are unsure. Enjoy your sunny adventures and stay safe!
Do you have any other tips on keeping babies safe in the sun?
Disclaimer: This post is based on my personal recommendations and experiences and is for general help. It does not replace the advice of a medical professional, so please do check with a doctor if you are unsure of anything concerning your baby's care.