Does your stroller have an effective sunshade? This is a review of the Summer Infant Rayshade – a simple sunshade designed to fit onto strollers/pushchairs to extend the sun canopy and fully shield from the sun.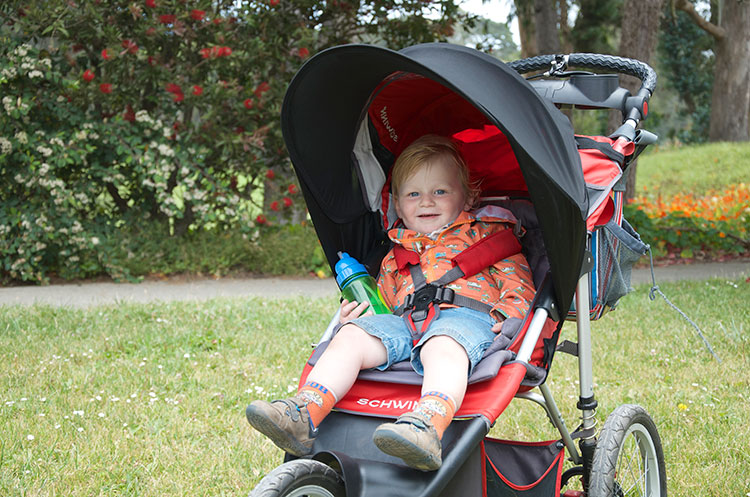 I first stumbled across this little gem of a product when I was looking for a way to shade Little M from the sun in his running stroller. Although the jogger had a sunshade, it wasn't adequate enough to fully shade him, especially when facing the sun head on.
Living in a sunny climate, with a fair skinned baby, I knew I had to come up with a solution. After failing miserably to come up with (what I thought were!) innovative ways to attach cloths and blankets, I turned to the good old web and found the Summer Infant Rayshade.
It is a simple product – essentially a shade made from thin stretchy material, with four Velcro straps, which you use to attach the shade to the stroller. The shade can only be used on strollers/push chairs that already have a sunshade – since it is not sturdy enough to be used alone. If you are looking for a stroller or pram too, you might like to check out this great guide first.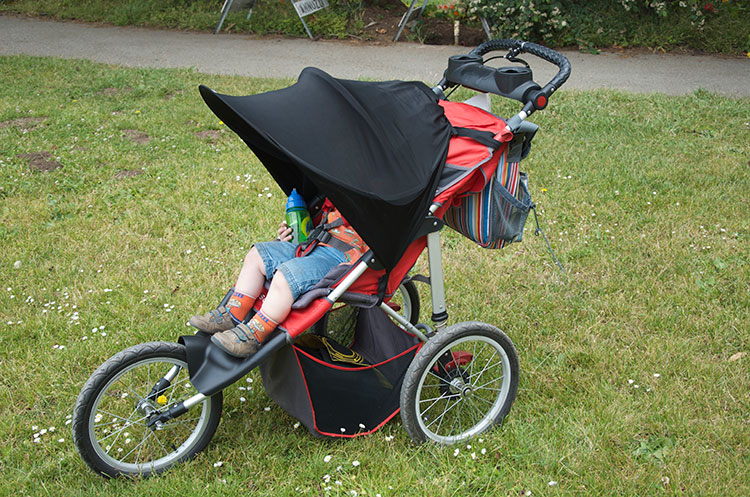 The Velcro straps are adjustable, so should fit any stroller – although it may take some fiddling around to get the fit right. We found it worked best when fitted reasonably tightly – this also stopped it from blowing around in the wind. Once the shade is attached you open the regular sunshade and then pull down the Rayshade the desired amount to provide extra shade from the sun. Bingo! A cool and happy Little M! Check out my before and after photos below – taken at midday, on a very sunny day, with Little M facing into the sun!
Here is the rundown of Pros and Cons:
Pros:
Extends your existing stroller canopy.
Shields child from the sun, at any angle – company claims it will shield 99 percent of sun's rays.
Affordable! – A cheap and effective way of improving stroller sun protection.
Folds up small to be packed away.
Small hidden pocket – useful for small bits and bobs (though don't expect to put more than a bottle or sippy cup in there!)
Child can still see out of the stroller easily.
Water repellent fabric, will keep child dry in very light rain or mist. Note: It does not double as a rain cover – you will still need a waterproof stroller cover for rainy weather.
Stroller folds easily with shade still attached – this may vary depending on your stroller!
Cons:
Can take some fiddling around to attach effectively. May fit some strollers better than others – it's a 'one size fits all' product.
Thin, flimsy material – can blow around a little when windy. Try fitting as tightly as possible (without straining the material).
Overall, Summer Infant Rayshade is an effective sunshade that is highly recommended at Little Fish. For such a cheap product, this is great value and a super option for anyone whose stroller doesn't offer adequate protection from the sun. It may be especially useful if you are planning to use an umbrella stroller whilst on holiday – as typically the sunshades on these tend to not be as effective. But remember there must an existing sunshade on the stroller for this product to work! Stay cool babies!
Disclosure: This post contains some affiliate links, however all opinions are entirely my own. 
[plinker]