A good baby carrier is one of my MUST HAVE baby products – they are fantastic when on the go, especially for younger babies, who just love to be snuggled up close to you – aw! City and apartment dwellers will make particularly good use of a baby carrier, as they are much more convenient to use than a stroller – especially on short trips. When Little M was a small baby we used the baby carrier much more than his posh pram! In fact he went through a phase whereby (it felt like) he was permanently attached to me!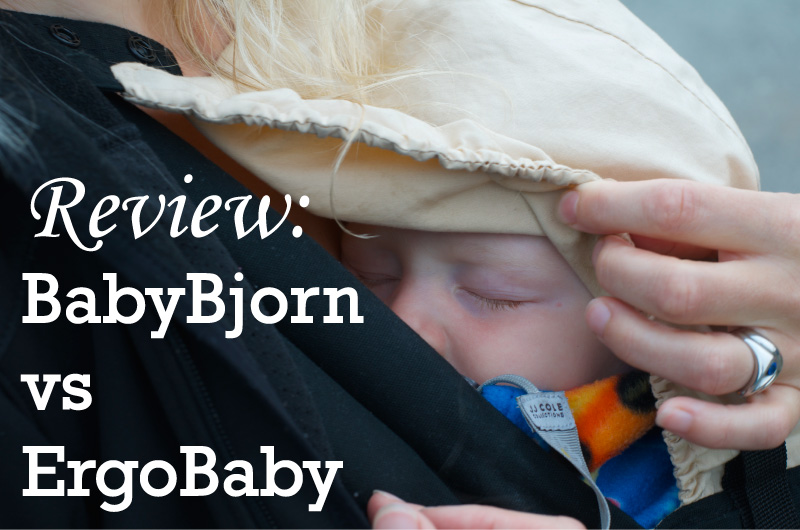 But which carrier to buy? There are so many different baby carriers and slings on the market – with different features and for different budgets. It is worth paying a little bit extra for a good quality carrier with good support for your back. If the carrier is uncomfortable to wear then (unsurprisingly!) you will not want to use it! Most carriers have some sort of back support, but the best ones have a waist belt, so that baby's weight is carried on your hips, rather than your back. This makes them much more comfortable to use – and will therefore get great use and value over time. By all means buy second-hand, but make sure the carrier is in good condition and has a waist belt.
Two popular brands of baby carriers are BabyBjorn and ERGObaby. In this post I will review and compare a similar carrier from each brand – the BabyBjorn Baby Carrier Miracle and the ERGObaby Original Baby Carrier. Both are excellent quality carriers, with waist straps and are similarly priced. So which is best?
The answer is, it depends on exactly what you are looking for! Read on to find out more!
First up – BabyBjorn Baby Carrier Miracle!
This is BabyBjorn's mid-range price baby carrier – a step up from the BabyBjorn Carrier Original, which does not have a waist strap. Baby is supported around the butt, with legs slightly lifted and hanging down. There are claims that this position is not as supportive for baby's hips, compared with a design like the Ergo, where baby's knees are higher than their butt. However the design is developed with and recommended by several pediatricians. Personally we found that Little M seemed very comfortable and well supported in this carrier. You might want to check out more on baby's hip health before deciding which carrier to buy. BabyBjorn says that this is a "Classic baby carrier with an ergonomic design that is suitable from birth. The padded and adjustable waist belt, back support and wide shoulder straps provide excellent support as you carry your child." The carrier can be used for a baby from 8 lb (3.5 kg) to 26 lb (12 kg).
We LOVED this carrier for Little M and used it A TON – from newborn up to around 6 months. The back support in particular made the carrier so comfortable to wear. At around 6 months though, his legs began to bump into my thighs, which was a nuisance. I also became concerned that he looked less comfortable in the carrier. However, Little M is VERY tall and heavy for his age and so this is not typical. (I think Little M is going to turn out to be one of those ironic nicknames!) Most people would find this is a great carrier up to around 10 or 12 months, depending on the size of your baby. (But if you think your baby is going to be TALL too, then take heed!) Here are the PROs and CONs…
PROS:
Comfortable to wear. There is lots of great support for your back through the waist belt and back support. Both The Hubster and I found this very comfy to wear, despite differences in height. It is easy to adjust and everything is very padded and comfortable.
Comfortable for baby. Little M loved to snuggle up in here and was comfy, safe and well supported. The material is nice and soft – main fabric a mix of cotton and polyester, with 100 percent cotton lining. I especially liked how you could adjust the height, so that baby's head was always supported – particularly important from 0-3 months.
Easy to put on! The carrier part removes completely from the straps, making this a doddle to put on and get baby in – even without help!
Durable. Well made, good quality fabrics.
Easy to wash. Simply remove the carrier piece from the straps and both can be machine-washed.
Compact. Folds down small to place in a stroller or bag.
Range of colors. Take your pick!
Suitable for newborns (once at 8 pounds!) and onwards. You don't need any extra inserts. No fiddling about. Feels very secure with a newborn baby inside.
Face in or out. When baby is around 5 months they can face outwards if you wish. A nice feature, which in comparison, the Ergo doesn't have.
CONs:
No sun cover/sleeping hood. I'm ashamed to say Little M got a tiny streak of sunburn on his face when he was a few months old and riding in the Bjorn. Although we thought we had covered him up well with a sunhat, the tiniest chink of sunlight had snuck through onto his face! He is very fair skinned and it was not really the fault of the carrier. But we may have been helped out by a sun cover…
Not so good for big/tall or older babies. This was great for Little M from 0-6 months. After that – at 20 odd pounds and 28 inches tall – his legs kept bumping into mine and I felt that the piece of material he was sitting in felt increasingly strained. This might be an issue if your baby is big for their age and/or an older baby.
No option to ride on your back when baby is older.
Overall, an excellent carrier that is both comfortable and supportive for adult and child. It is easy to use, especially when on your own with a newborn baby. This carrier is especially good for a smaller or younger baby, from around 0-10 months – depending on the size and height of your baby.
Next up – ERGObaby Original Baby Carrier
This is the cheapest carrier in the ERGObaby collection (similar in price to the BabyBjorn Miracle). Baby sits in the carrier with legs wrapped around you, with knees higher than their butt – so no potential concerns about their hip health. ERGObaby says: "The Ergobaby Carrier is designed for optimal hip placement for babies and all-day comfort for you. Padded shoulders and waistband create equal distribution across your body, while your baby sits or sleeps comfortably next to the familiarity of a family member." The carrier can be used with an infant insert for a newborn baby from 7lb (3.2kg) – 12lb (5.5kg) and then for a child up to 45 lb (20 kg).
I LOVE this carrier! We bought this for Little M when the Bjorn was no longer as comfortable for us both. The Ergo is soooo comfortable to wear, easy to adjust and Little M still loves riding in it – although at 18 months and over 30 pounds he mainly rides on my back now!
PROs:
Comfortable to wear. Outer and lining is 100 percent cotton. Padded shoulder straps (more padded than the Bjorn) support for back, waist strap. Good for a range of heights – both The Hubster and I were comfy wearing this.
Comfortable for baby. Soft material and wide 'seat' area. Safe and supportive.
Multiple ways of wearing. Has front, back and side positions.
Sun cover/Sleeping hood. This is a great plus over the Bjorn.
Good for a range of ages – up to 45 pounds! You do need to purchase the infant insert separately for a newborn.
Pretty designs. Comes in a variety of colors and patterns.
Front zipper pocket – very handy for small bits and pieces.
Easy to wash and dry. You can put the whole thing in the machine.
Compact. Folds down easily to travel with or put in the bottom of the stroller.
Durable. Strong and well made.
Cons:
No 'face out' position. This may or may not matter to you. Personally, I don't think it's a big deal. We ended up not using this position as much as I thought we would with the Bjorn. Little M is a nosy parker and was still happy facing inwards! But this might be a feature you would like. (A new ERGO carrier – ERGObaby Four Position 360 Baby Carrier – does have the 'outwards' option, but is more expensive than the original).
A bit tricky to put on. Once you've got the hang if it, it's relatively easy. But took a little more getting used to than the BabyBjorn.
Infant insert needed to use carrier with a newborn baby. I can't comment on the effectiveness of these myself, as we didn't need to use one with a 6 month old Little M. They are mostly well reviewed, although there are complaints that they can be fiddly to use. The insert can be bought separately or in a bundle with carrier.
Overall, this is a fantastic carrier that is very comfortable to wear, supportive for baby and has some great extra features, including a sun hood and the 'back' riding position. It is especially good for bigger or older babies, from 12 lbs onwards.
Summary: So which to buy? You've read the reviews (I hope!) and mulled it all over a bit. So now pick the carrier that suits your needs best! BabyBjorn Baby Carrier Miracle and ERGObaby Original Baby Carrier are both excellent carriers, but for slightly different purposes.
BabyBjorn Baby Carrier Miracle is great for newborns or smaller babies up to around 10 or 12 months. It is comfy and extremely easy to use, especially with a newborn. It has some nice features, such as the 'face out' position.
In comparison, ERGObaby Original Baby Carrier is fantastic for bigger or older babies, from 12lbs onwards. It's comfy and relatively easy to use. It has some handy features, including a sun hood and the 'back' riding position.
Only ever want to buy one baby carrier? ERGObaby Original Baby Carrier has the edge here! It's well made, durable and great value for money, as you can use it for a newborn all the way up to 45 pounds! If you only want to ever buy one carrier, then this is the one to buy! We love it at Little Fish!
Still hesitant? Look around for a used Bjorn or Ergo on craigslist, ebay or at a used clothing store (There is an ace recycled children's clothing store here in the Bay Area)! Try it out with baby before deciding which you prefer and whether to buy new. Win win!
Any mamas out there enjoyed using either of these carriers? Any comments to add?
Disclosure: This post contains some affiliate links, however all opinions are entirely my own. 
Disclaimer: Tips are intended to provide general help, but do not replace the advice of your medical professional.