So Little M is going to end up being one of those ironic nicknames – a bit like Little John in 'Robin Hood', in that Little M is not that little at all. (Well… he's 2, of course he is little, relatively speaking..) But, compared with most other kids his age, he is TALL. He was tall as a baby and is tall as a toddler and I can imagine one day looking up at a 6 foot 5 Little M towering over me. (But not for a long time yet, thank goodness!)
Buying stuff for a tall baby is tricky, because developmentally they still need to use the car seat, the stroller etc, but being tall will outgrow much of the regular gear more quickly than many other kids. I scoured the internet to find the best 'tall' baby gear that I could find when shopping for Little M. The aim was always to find products that were safe and met our needs, whilst also giving plenty of space for a tall baby.
Do you have a tall baby? Or anticipate having a tall baby?!
In a new series (aptly named!) Tall Baby I will be sharing the baby products that I have researched as being the best for tall babies – around 80 percentile and up. (And for babies of all other sizes too. Just especially good for tall-uns!)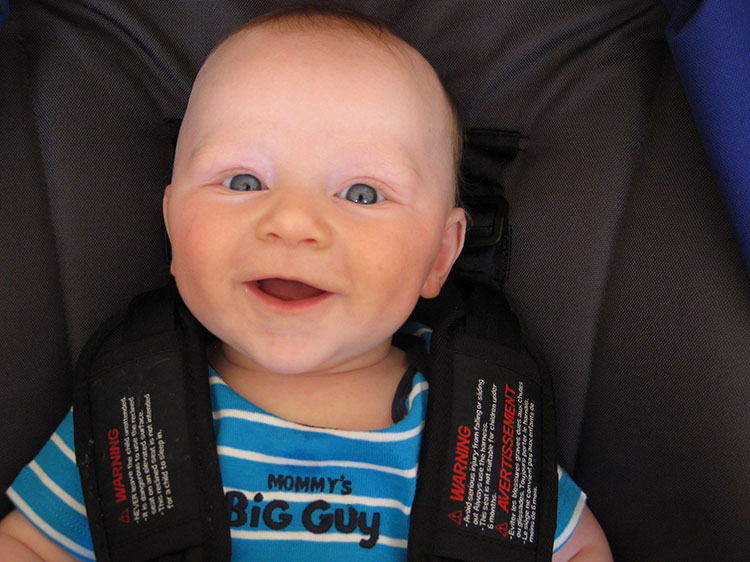 First up: Best 'Tall Baby' Bouncer Chair
Bouncers are designed for young babies, up to around 6-9 months old, or until they can sit up unaided. After that crawling tends to become the activity of choice. They are a fun place for baby to bounce and bat toys, plus give mama a few minutes here and there to get some jobs done. Typically bouncers are quite small, as they are designed for younger babies. But if your baby is very tall they will outgrow it even quicker than you would like, so its worth getting one with a decent amount of head room if you want to get good use out of it. When researching bouncers for Little M I looked for a bouncer that was not only safe, but very LONG in the seat, to allow space for a tall baby.
Hands down, the best bouncer for a tall baby is the BABYBJORN Bouncer. With a seat area 31 inches / 79 cm long, there is plenty of head room here for even the tallest bubs. Plus, the bouncer is excellent quality, has a washable cover and folds up for easy transportation. The bouncer adjusts to 3 different height levels to suit different moods. I especially love the 'upright' position, as it is much more upright than other bouncers – particularly good for babies with reflux, after a feed.
The new version the BABYBJORN Bouncer Balance Soft has a nice cushy crotch bar too. The bouncer comes in lots of designs (looks good in the living room!) and you can buy a separate toy bar to attach. We liked the BabyBjorn Wooden Toy Bar and the Tiny Love Take-Along Arch, which also fits nicely to the seat.
I'm not going to lie, the price point is a bit of a sting. But this is an excellent quality bouncer which is well worth the money, especially if you have a tall baby, or a baby that really likes the bouncer – it can also be used as a toddler chair after 20 lbs / 9 kgs. Also worth it if you are planning to use the bouncer for more than one kid.
We bought this when Little M outgrew the second hand Fisher Price bouncer we had been given, after only 3 months! He enjoyed using the BabyBjorn until around 8 or 9 months, when crawling became more interesting than sitting still! If the price is too steep, its worth trying to get one of these second hand on ebay or the like – just make sure it's in good condition and inspect thoroughly before using with baby.
Here's Little M at 5 months old in his BabyBjorn bouncer. We had the previous model, which was very similar to the Balance Soft and the length of the chair is the same. Little M was around 27 inches tall here and still has a decent amount of head room. It easily lasted him until he was past the bouncy chair phase.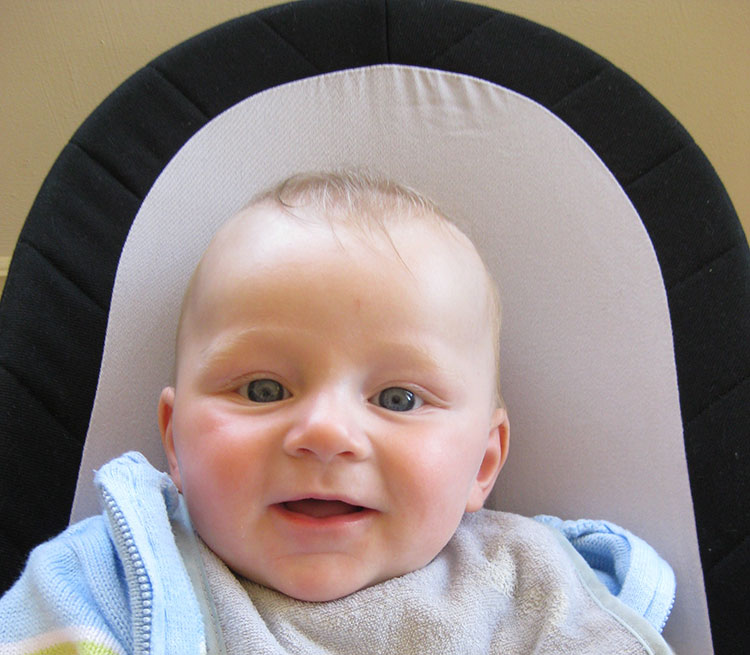 Do you know of any other bouncers that you would recommend for a tall baby? Or any tips on other gear for tall babies?
Please comment below!
Disclosure: This post contains some affiliate links, however all opinions are my own. 
[plinker]