Only a 40 minute drive north of San Francisco, Stinson Beach in Marin County is one of our favourite beaches to visit. I thought I'd share our experiences and why we love Stinson Beach so much. I hope I might inspire you to visit!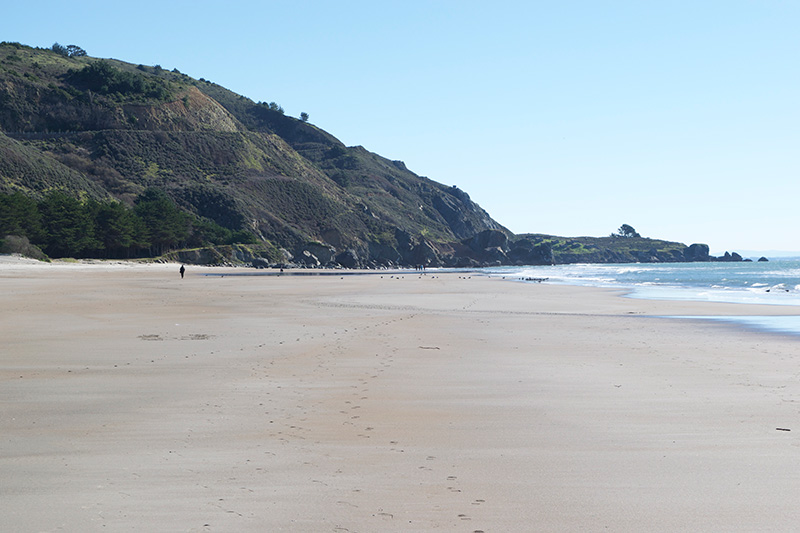 Why you should go
Although it's only a short drive away from San Francisco, visiting Stinson Beach really does feel like you are getting away from it all. It's a little gem of a beach! It's a stunning drive over the Golden Gate Bridge and up the Marin headland. You can easily visit as a day trip from San Francisco, but I can imagine this would also be a wonderful place to stay.
We love Stinson Beach because the beach feels rugged and quiet, but is also accessible. The sand is lovely to play on, but the beach is easy to get to and has great facilities – especially important when you are travelling with kids.
Little M always gets lost in his own little world when we are at Stinson Beach. I love seeing him so at home in nature. Both the kids love playing in the sand and building castles. It's just a lovely quiet little spot, but there is also everything there that you need. Whether you are travelling with or without kids, Stinson Beach is well worth a visit.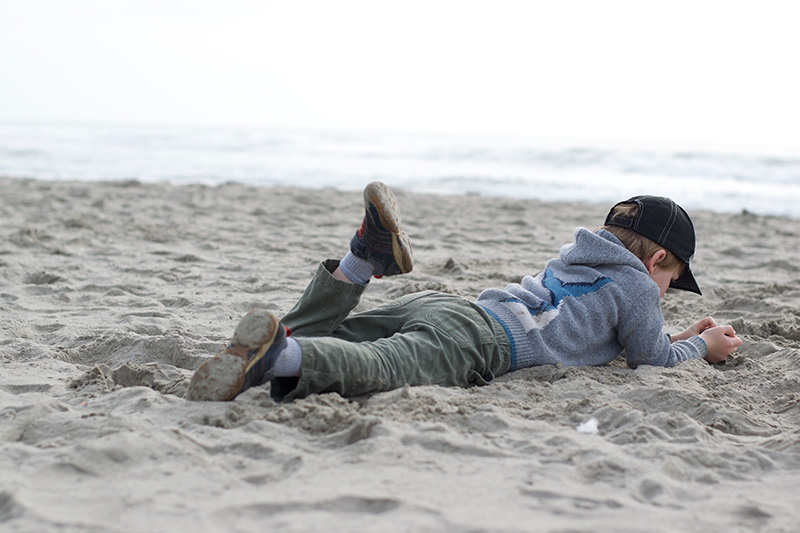 How to get there
You'll need a car to get to Stinson Beach, as it's a bit out of the way and not easily reached by bus. It's an easy drive up the coast from San Francisco though. Check the directions from where you are. There's ample free parking right next to the beach – plus restrooms and water fountains too.
When to go
You can visit Stinson Beach year round, it's just as much fun on the beach when the weather is foggy! The beach can be busier over weekends and holidays, but is usually very quiet during the week. I've never seen it really crowded there, so you should be able to find a quiet spot even on busier days.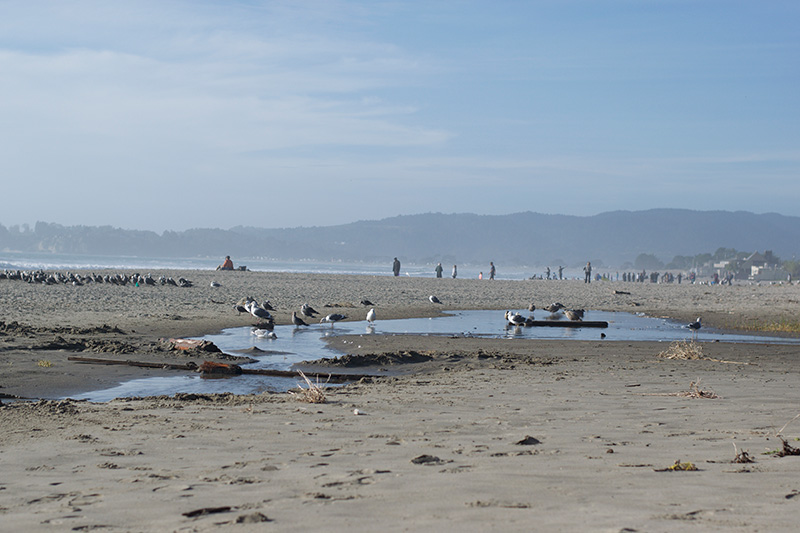 What to do
The beach is stunning and you can while away hours playing in the sand and picking up sticks. Or perhaps just sitting and relaxing with a coffee if you are a grown up! The water is shallow enough to paddle and kids will enjoy just digging and making sand castles with the wet sand. Note it's only recommended to swim from May to September when a life guard is on duty.
Sometimes, if you are lucky, you can see dolphins, seals and even whales from the shore. If you fancy stretching your legs, it's worth walking along the beach a little – we had fun nosing at all the spectacular (and some slightly precarious!) houses that sit right on the beach. You could also have a wander through the little town itself where there a few little cafes and shops – you can just walk from the beach car park.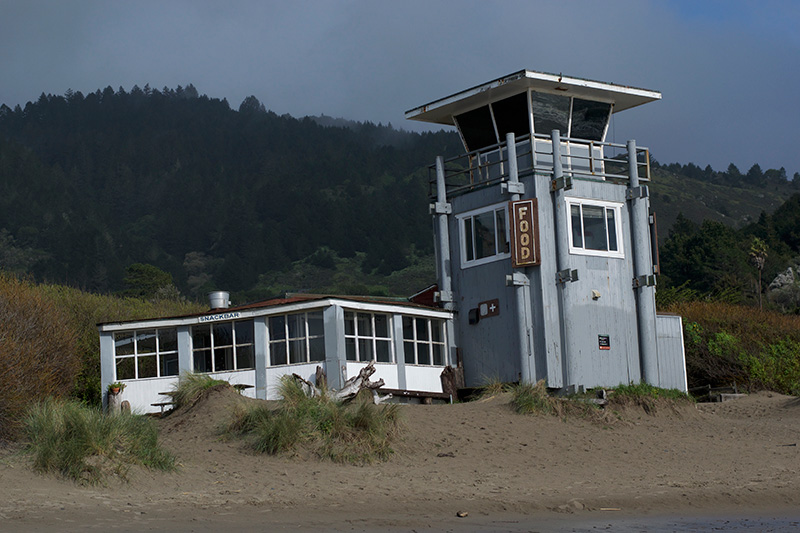 Where to eat
We often pack our own picnic on a trip to Stinson – it's a perfect spot for it. However, there is also a fab little cafe – The Siren Canteen – right on the beach!! It looks like a rugged beach shack on the outside, but inside it's a perfect cosy hideaway. The cafe has a range of yummy Mexican snacks like burritos, tacos and so on, plus the usual tea and coffee. They are usually open at the weekends, but limited days during the week and off season, so do check their website for current opening hours. There are also several eating options in the town itself.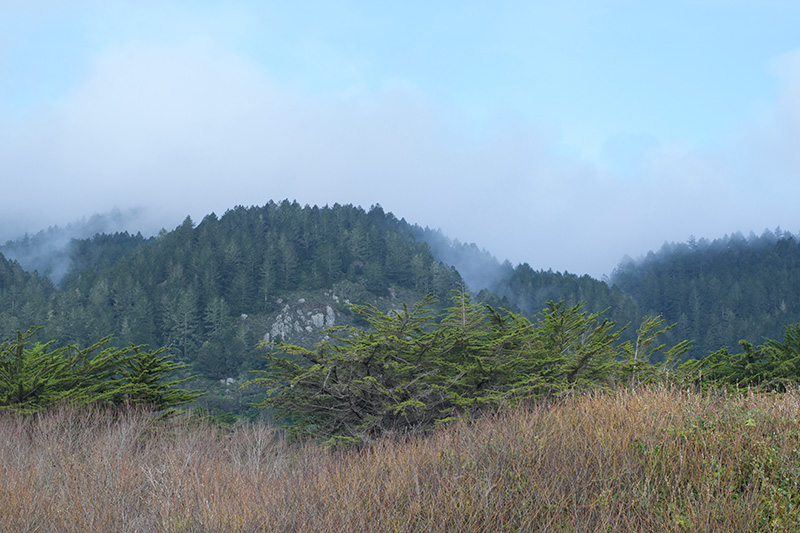 Where next?
A trip to Stinson Beach is usually enough for us, with two little ones! But if you're thirsty for more adventure, there's so many other fab places just a stones throw away. Stinson Beach is right next to Mt Tamalpais State Park. It's also really close to Muir Woods – home of the ancient redwood trees. The whole area is fantastic for hiking – if you're new to hiking you'll love this beginner's guide. Here are some more ideas of places to visit near Stinson Beach.
Are you planning a trip to San Francisco or the Bay Area? Will you visit Stinson Beach?
If you are visiting San Francisco with kids you might also like my post 10 Fun Things to do with Kids in San Francisco.
Like this post? Pin me!