We've lived in San Francisco for nearly 6 years now and have had both of our kids here. We've discovered lots of fun and and unique things to do around the city and accumulated lots of little insider tips along the way! I thought I'd put together a little guide for anyone visiting San Francisco with kids.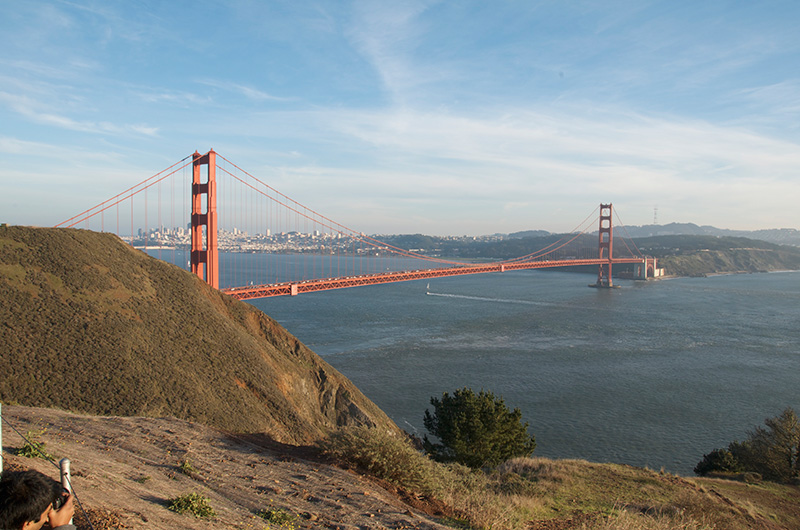 Here are my ten fun things to do with kids in San Francisco (or without kids!) Most of them are simple and easy to do – many are cheap or even free!
Ride on a cable car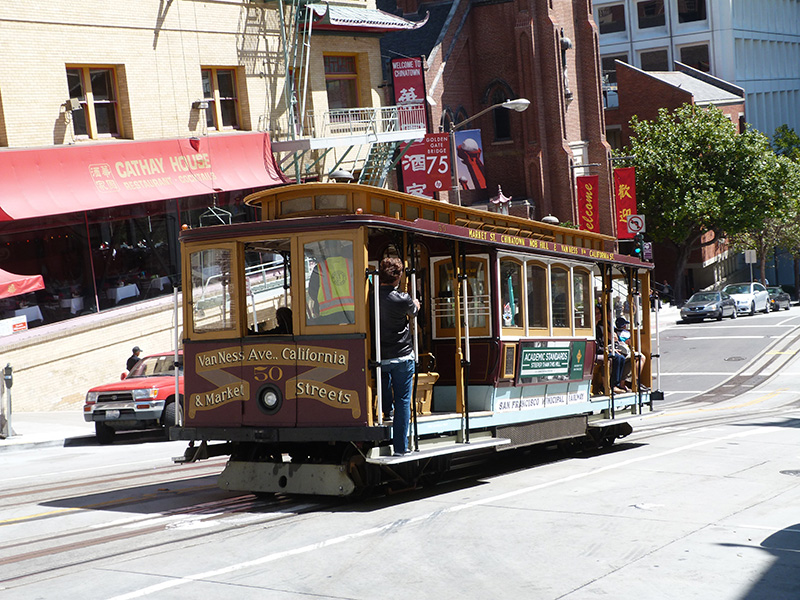 All ages of kids (and grown up kids!) will love taking a ride on one of San Francisco's famous cable cars! There are three different lines you can ride on. We love the California line – it's the quietest and has amazing views. Take a bus to the end of the line at California and Van Ness – you'll avoid the crowds and be the first to hop on! You get a lovely long ride, through the financial district and Chinatown and a great view over the Embarcadero. Visit sfcablecar for more information on routes and tickets.
See the Sea Lions
No trip to San Francisco is complete without a visit to the sea lions at Pier 39. The sea lions have called Pier 39 home for years now and can be seen at the pier almost year round. From the end of July to mid May you can see hundreds of sea lions! In June and July many of the sea lions migrate south to breed, although you may still see a few sea lions who remain at the pier. Visit Pier 39 for more information on the sea lions and other fun things to do at Pier 39.
Take a ferry ride
Surrounded by bay and ocean, San Francisco is the perfect place to take a ferry ride. Kids will love the novelty of riding on a ferry, plus you will get amazing views of the bay and the Golden Gate Bridge! You can go an organised cruise or tour boat. But a fun and much cheaper option is to hop on a regular ferry. Ferries go all over the bay – a lovely and simple ferry ride is on the ferry from San Francisco to Sausalito. Read more about ferry schedules. Alternatively, take a trip across to Alcatraz island and explore the old prison! Note that Alcatraz ferries are run by a separate ferry company.
Visit The Mechanical Museum
Tucked away at Fisherman's Wharf, The Mechanical Museum is a fun place to stop with kids. The collection of antique arcade machines and musical instruments give kids a fun taste of history and entertainment at the same time! What better way to spend your loose change?! When you've finished your trip back in time, take a wander around the bustling Fisherman's Wharf. Grab a snack and watch bread being made in the Boudin Bakery.
Ride over the Golden Gate Bridge
The Golden Gate Bridge is a must for any visitors to San Francisco! If you have older kids and are feeling energetic you could cycle over the bridge – which is an incredible ride. My tip for those with younger kids is to take the number 28 bus right up to the bridge – it runs from Fort Mason to Daly City and stops right by the bridge. You can leisurely stroll over (or halfway over!) the bridge in your own time. Another option is to hire a car for the day, drive over the bridge and explore some of Marin County – we especially love Muir Woods and Stinson Beach.
Walk or drive down the 'crooked street'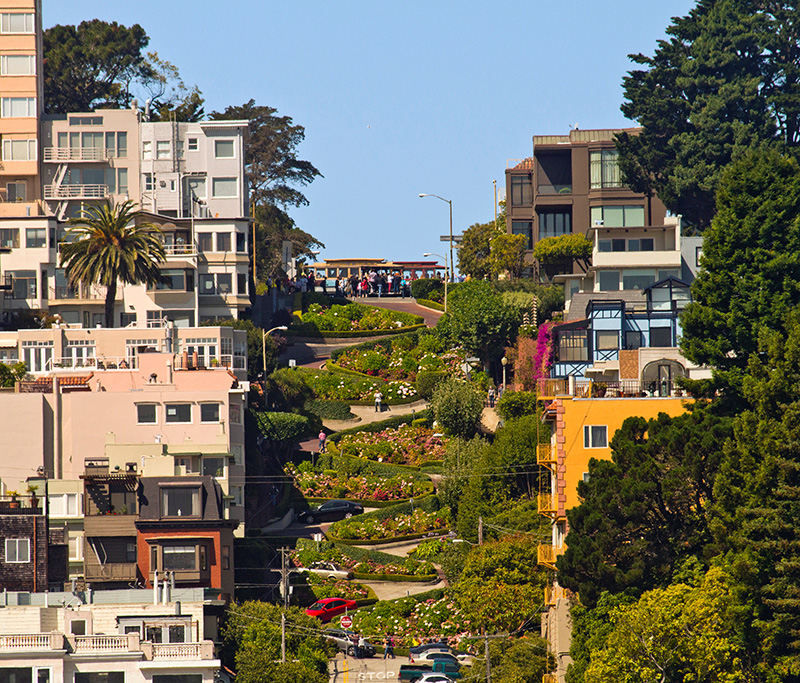 The so called 'crooked street' is Lombard Street. Kids will love this wacky looking street, which winds up and down the steep hill. You can walk or drive down Lombard Street and it is very accessible to other areas of the city. Lombard Street is especially beautiful in the spring and summer when the flowers are in bloom. Read a bit more about Lombard Street and how to get there.
Visit Golden Gate Park
Golden Gate Park is my very favourite place in the whole of San Francisco! So of course it had to make the list! There is so much to do with kids in the park. We spend most of our days here – exploring, picnicking, playing and visiting museums. You could spend your whole visit in Golden Gate Park, so you'll just want to pick one or two things to do. Read more in my post 5 Best Things to do in Golden Gate Park (with Kids!)
Ride the Muni
Everything in San Francisco is very well connected and easy to get to by bus, tram, or train. If your kids are anything like mine, riding on the buses and trains is a fun activity all by itself! For $2.50 you can ride the Muni (the transit system) anywhere you like for 90 minutes – and kids 4 and under ride free! We especially like the old fashioned street car, which runs along the Embarcadero and through downtown. We also like taking buses and trains to the beach. The N Judah train goes all the way from downtown to Ocean Beach. Visit 511.org to plan your trip!
Have a picnic at Chrissy Field
Chrissy Field is a lovely long stretch of green, right by the bay. With stunning views of the Golden Gate Bridge and Bay Bridge – it's the perfect spot to sit and have a picnic. There are beaches and picnic tables, plus you can watch the windsurfers in action. If you have older kids you could walk or bike the trail through Chrissy Field. The trail runs from the Marina to Fort Point, next to the Golden Gate Bridge. Visit the Parks Conservancy for more information on visiting Chrissy Field.
Go to the zoo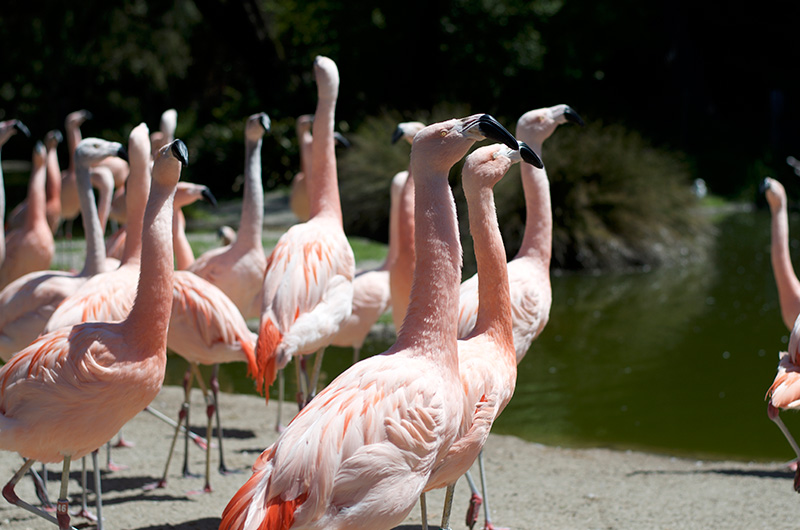 We love San Francisco Zoo! You might think, well I can visit a zoo anywhere! But San Francisco Zoo is well worth a visit and a great place for a relaxed day with kids. Situated right to the beach, it's mostly outdoors and there are lots of lovely spots for picnics by the animals. There is also a mini steam train and an incredible playground!!! San Francisco Zoo is fairly affordable compared with some of the other museums and attractions – plus when you've finished looking at the animals, you can head to the beach! If you are staying downtown the zoo is really easy to get to on the L Muni train. Read more about San Francisco Zoo and plan your visit!
That's it! My ten fun things to do with kids in San Francisco! Have you been to San Francisco? Is there anything you would add to the list? Or are you planning a visit? Was this list helpful?
Like this post? Pin me!