There are so many fun things to do in Golden Gate Park with little ones. Whether you live in San Francisco, or are just visiting – you could easily spend all of your time just in Golden Gate Park – we basically do!
Here are my 5 best things to do in Golden Gate Park (with kids)!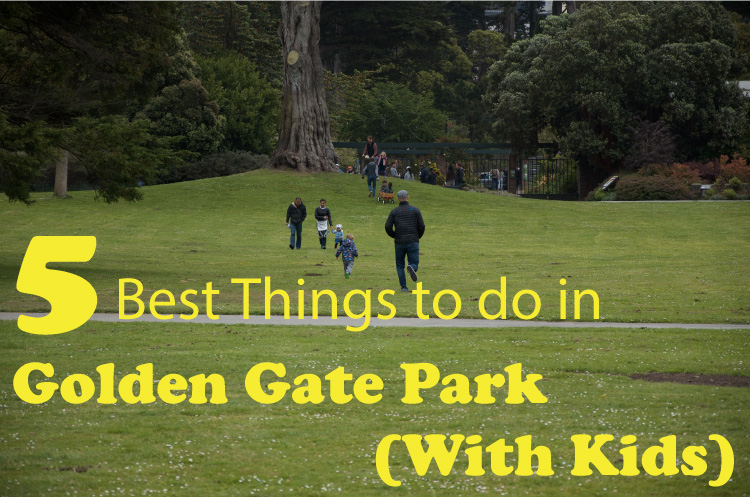 Golden Gate Park is a huge park in the middle of San Francisco. Bigger than Central Park in New York, it's full of green space, bike trails, museums, lakes – you name it. In a city where small apartment living is the norm, it is a blessing to have such a fantastic green space on our doorstep and is easily my favourite place in San Francisco.
The park is easily accessible by car or public transport, although bear in mind that parking can be difficult. There is an (expensive!) parking garage near the museums and limited free parking in the park. Alternatively you can park in the local area, but bear in mind all these areas are busy at weekends and holidays. An easier way to get to the park is by bus or tram, or you could hire a bike. Many of the bus tours also stop off at the park. There is also a free shuttle through the park itself at the weekends.
So what are the best things to do in Golden Gate Park with kids?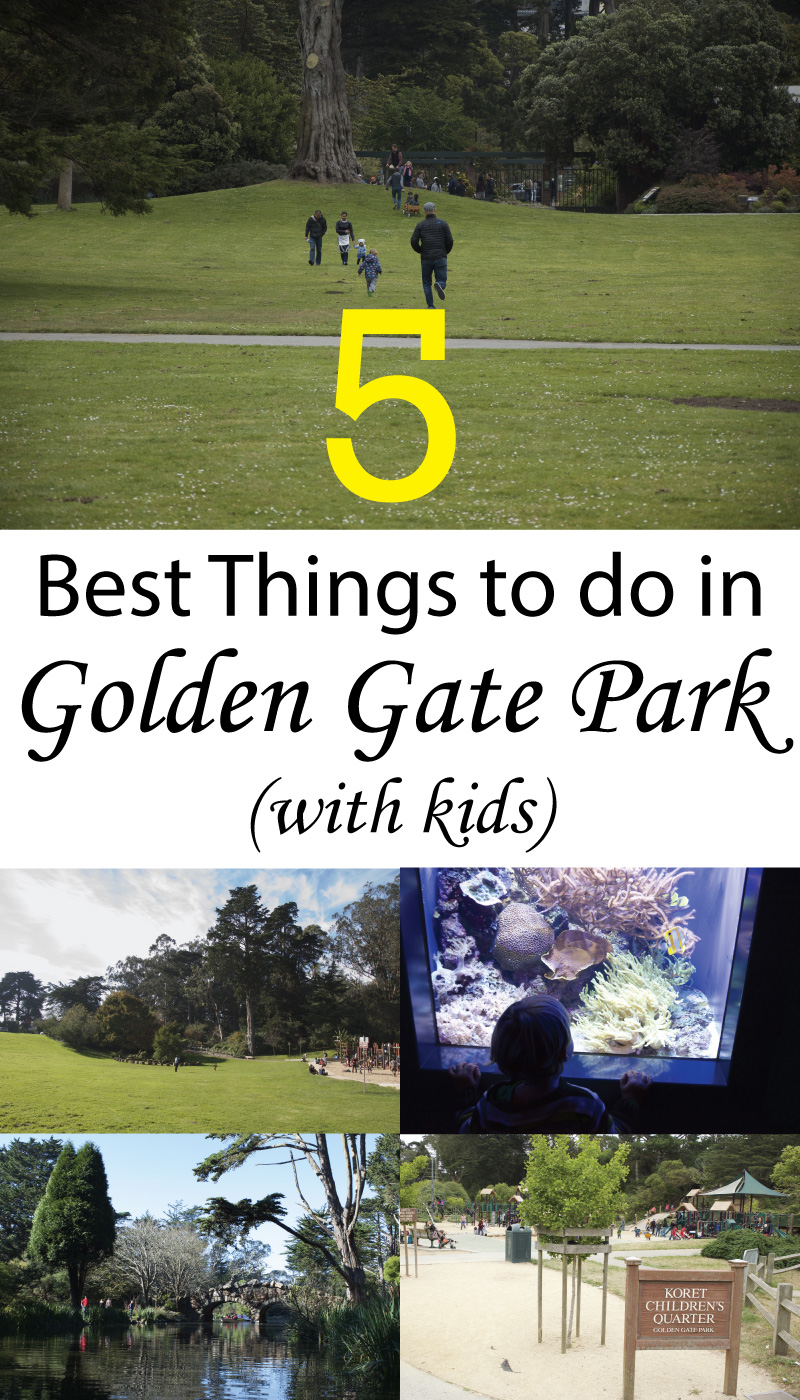 1. Spend time at a playground
Golden Gate Park is full of lots of amazing playgrounds. The biggest and most impressive of these is Koret Children's Quarter, which boasts climbing structures for all ages, huge slides, sand boxes and an old fashioned carousel.
If would prefer to go somewhere smaller and less crowded, take your pick from any of the other playgrounds in the park – we love Mother's Meadow, as it is so quiet and secluded.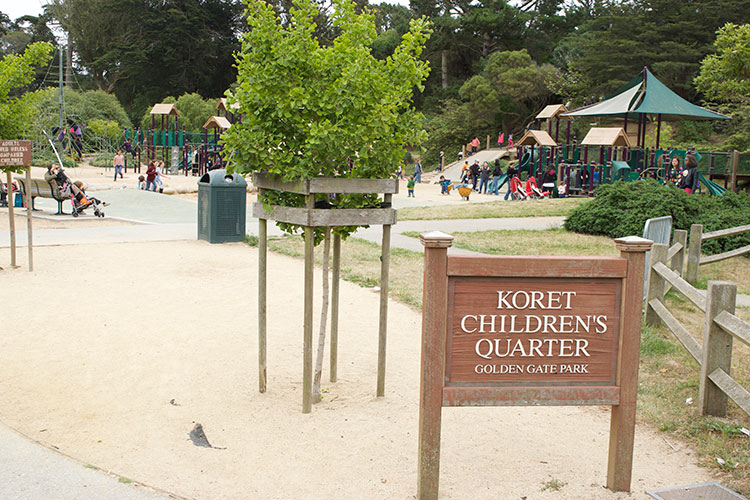 2. Visit a museum
Take your pick from any of the wonderful museums, including the De Young Art Museum, California Academy of Sciences and the Conservatory of Flowers. You may want to take a look at each of the sites to see what they have to offer for your children's age group.
For toddlers and school age kids of all ages you can't beat the California Academy of Sciences – with an aquarium, rainforest, planetarium and natural history museum, there is something for everyone! We love watching the fish and exploring the play space. There are lots of family friendly programs too.
If you are on a budget, the De Young has a few exhibits that you can see for free, as well as the Hamon Observation Tower – which offers amazing views of the city (that all ages will appreciate!)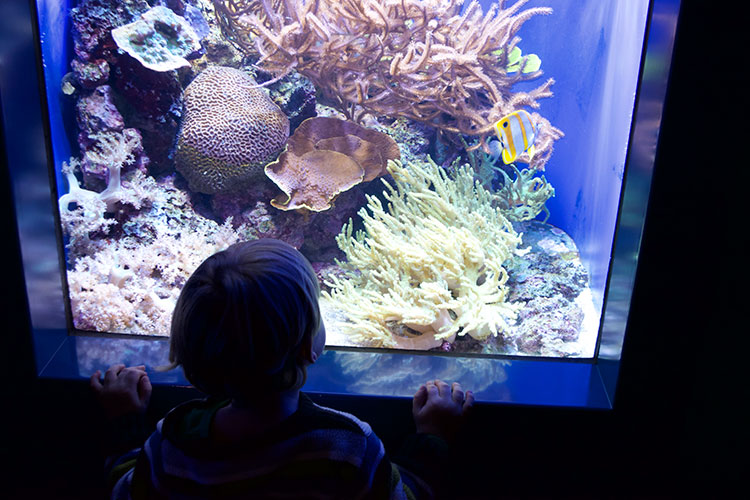 3. Bike, skate, run, walk, dance…
Every Sunday one of the main roads through the park – John F Kennedy Drive – is closed to all traffic. You can skate, bike, do whatever you fancy along the road, which makes for a wonderfully relaxed family atmosphere. There is also a free swing dance lesson off JFK Drive every Sunday at 11am (12 noon for beginners).
4. Pack a picnic
There are so many lovely picnic spots in Golden Gate Park – from small isolated spots to large formal gardens. What better activity to do with your family than have a picnic? Just find a nice little place in the park to enjoy the scenery while the kids run and play. Some of our favourite picnic spots are at the Botanical Gardens, Spreckels Lake, Stow Lake and on the grass at Hellman Hollow. There are plenty of other lovely spots you can easily find in the park just as you are walking along.
If you prefer to buy food, there are some nice restaurants in the museums – you can visit the De Young Cafe and gardens independently of the museum. There is also a nice cafe at the boathouse. Otherwise you are mainly limited to hot dog stands and that sort of thing in the park itself. There are a variety of food stands and trucks in the Music Concourse area. Just outside of the park there are a plethora of cafes and take outs – on Irving Street, 9th Avenue and the surrounding area. At the beach end, Park Chalet and Beach Chalet offer a range of options, from light snacks to full on restaurant meals. Both are very family friendly.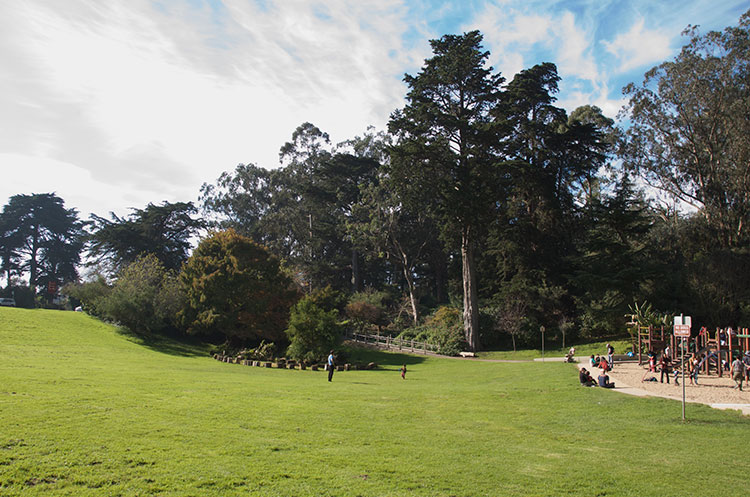 5. Do a planned activity
There are many options for planned activities in the park – some year round and some seasonal. Check here to see what events are going on during your visit.
Year round you can hire a boat at Stow Lake – we did this for Little M's second birthday and it was such fun! The Botanical Gardens offers many family days and story times, free with general admission. With older kids you might like to hire bikes and see a bit more of the park. If you have children 12 and up, you could even do a segway tour!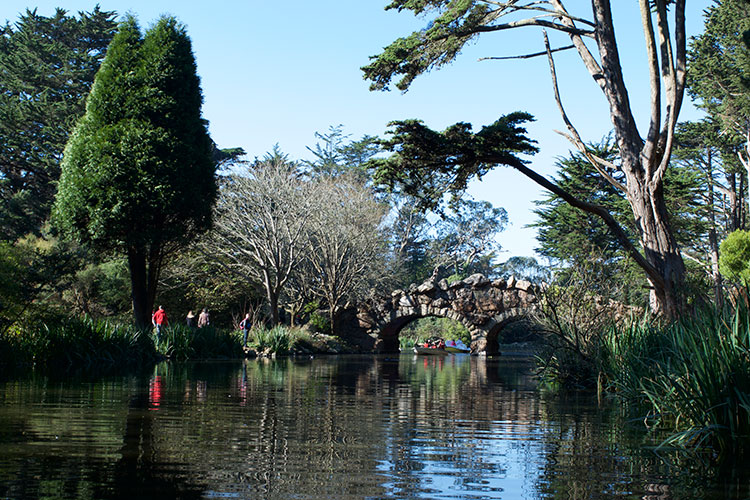 Remember Golden Gate Park is HUGE and there is no way you can experience everything it has to offer in just one day, especially with kids in tow. Just pick a couple of things that appeal to you and your children the most – then explore and enjoy!
Are you planning a visit to Golden Gate Park with kids? Or have you already been? Do you have any more tips to add?