We bought the Schwinn Arrow Running Stroller back when Little M was just a few months old. He's now 3 years old and I have used it a TON – so I thought it was high time I reviewed it on the blog!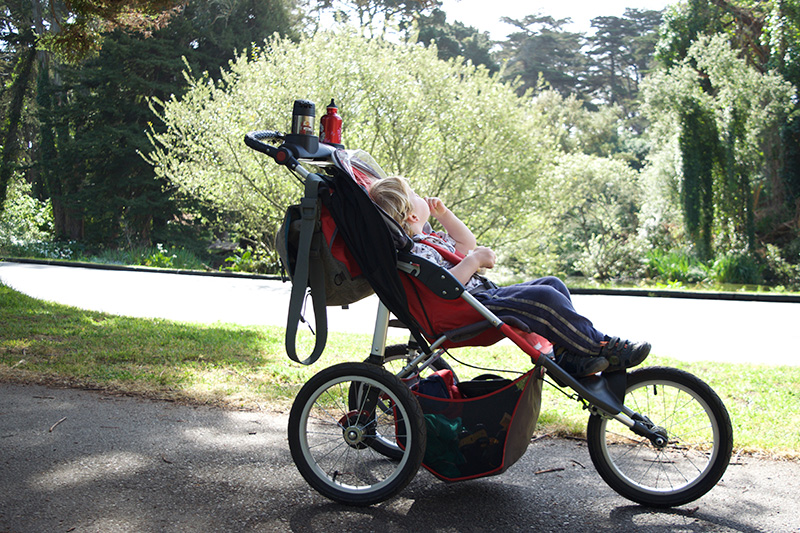 I love this stroller – it's cheap, lightweight and nice to run with. Read on for more details on what I thought of it…
Review: Schwinn Arrow Running Stroller
Fab features!
Fixed wheel
The Schwinn Arrow is a fixed wheel running stroller – which means it's specifically made for running. The fixed wheel makes it run much more smoothly over bumps. The front wheel is also larger than on the swivel wheel joggers – making it perfect for running and hiking.
Although the front wheel is fixed I found there was a little 'give' enabling steering around slight corners. All wheels are 16 inches with pneumatic tyres. If you're not sure whether to get a fixed wheel or a swivel wheel jogger read this post first.
Adjustable handlebar
This is a great feature, as it enables you to adjust the handlebar to the perfect height for you to run with. This is especially useful if there will be two people of different heights using the stroller.
Handbrake
As well as the regular footbrake, this stroller has a handbrake – similar to a bicycle brake – which you can use to slow down and stop while running – really useful, especially when running down hills.
Lightweight and slim
At just over 24 lbs , this is one of the lightest weight joggers on the market, making it much easier to lift. All running strollers are on the heavier side (they are like the SUV's of strollers!) so don't expect super lightweight – but this is one of the lightest joggers out there. The stroller itself is also slimmer than some others, making it that bit more manoeuvrable.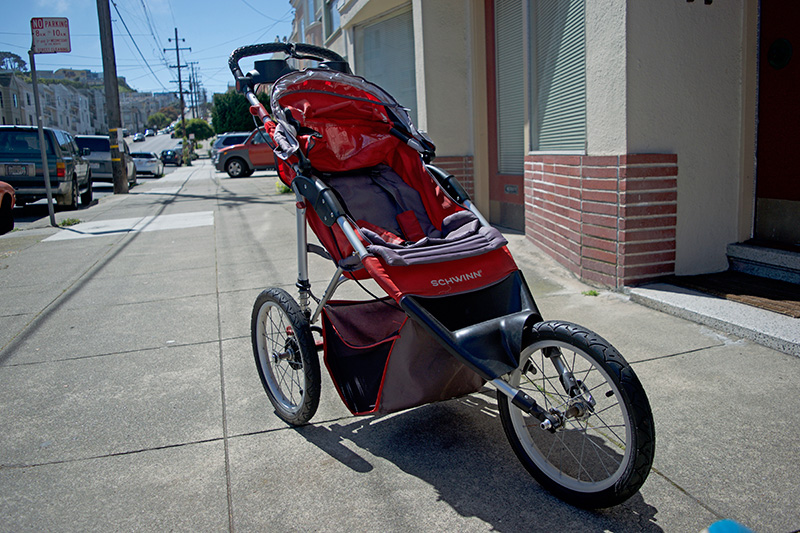 Parent console
One of the only joggers to include built in cup holders and storage tray. The cup holders have rubber grips which are really effective at holding even tall cups.
5 point harness
The harness is nice and padded and adjusts in the shoulder and crotch. The shoulder straps have three different height positions, which means they adjust really well for different age kids, especially for younger babies – although it's not advised to run with baby until 6-8 months, when they have good head control.
Reclining seat
The seat reclines fairly easily with one hand. Like most joggers the seat doesn't go fully upright, but more upright than most. It reclines a long way down, although not all the way flat. The seat is comfortable – Little M has loved riding in the Schwinn!
Budget friendly!
This is one of the cheapest running strollers around, but also runs well, making it good value for money. At half the price of the premium joggers, it's a good option if you don't want to spend too much, but also want a decent running stroller.
Could be improved…
Seat back
The height of the seat back is on the short side compared with some other joggers, which means tall kiddos will outgrow it quicker. That being said the sun canopy is high, so there is decent head room overall. Little M rode in this until very recently – he is a super tall 3 year old – but although he enjoyed riding, he could no longer lean his head against the seat back. Weight limit is up to 50lbs, although most kids will get too tall for it before they reach this.
Two handed fold
Lack of a one-handed fold is disappointing – especially compared with higher end strollers. As well as needing two hands, it's a bit of a clumsy operation folding the stroller, as you have to raise two levers up at the same time. The stroller doesn't fold that small – to be expected for a jogger, although if you take the quick release wheels off it does take up less space.
Foot brake
There are foot brakes on each side of the stroller, so you have to press them both down separately to fully engage the brakes. Not that much of an issue, but not as smooth as having one foot brake.
Alignment
I found this jogger ran really nicely, but occasionally had issues with it pulling to one side. You can adjust the alignment, however it's a bit fiddly to do it.
Sun canopy
Although nice and tall, the sun canopy does not pull very far forward and therefore doesn't give full coverage from the sun. This is a shame, as it probably wouldn't take a lot to rectify this. I added a Summer Infant Rayshade to ours which made a real difference and significantly improved the shade. Not a perfect solution, but cheap and did the job! Here's Little M riding in the Schwinn with the additional shade attached.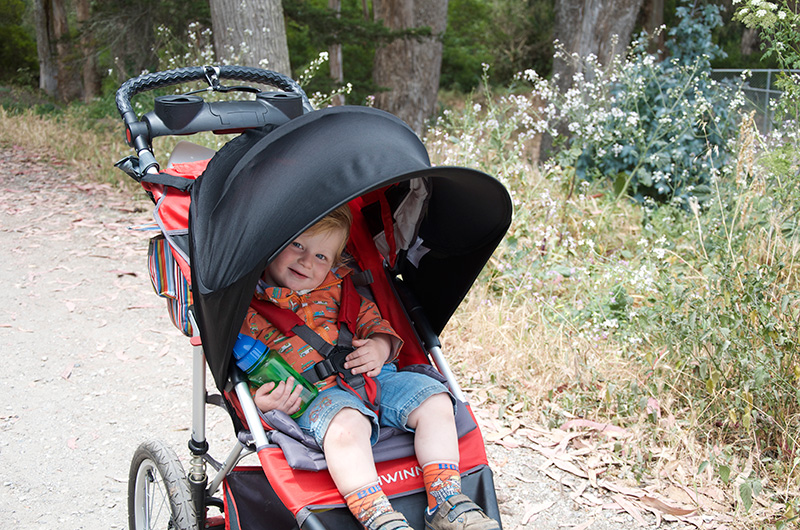 Under seat basket
The under seat basket is huge, but difficult to access, as there is a bar going across the back – so you have to access it from the side. I also found that if over filled the basket dragged on the ground. That being said this is not the stroller that you would take grocery shopping anyway…
Rear shock absorbers
These along with the front fixed wheel enable the stroller to run fairly smoothly over rough ground. However the ride is not quite as smooth as higher priced strollers that have better quality shocks. If you mainly run on roads and pavements anyway, then I'd say this is a non issue. But it's worth mentioning in case you are planning to run or hike off road a lot, especially with a smaller baby who may get more jostled around.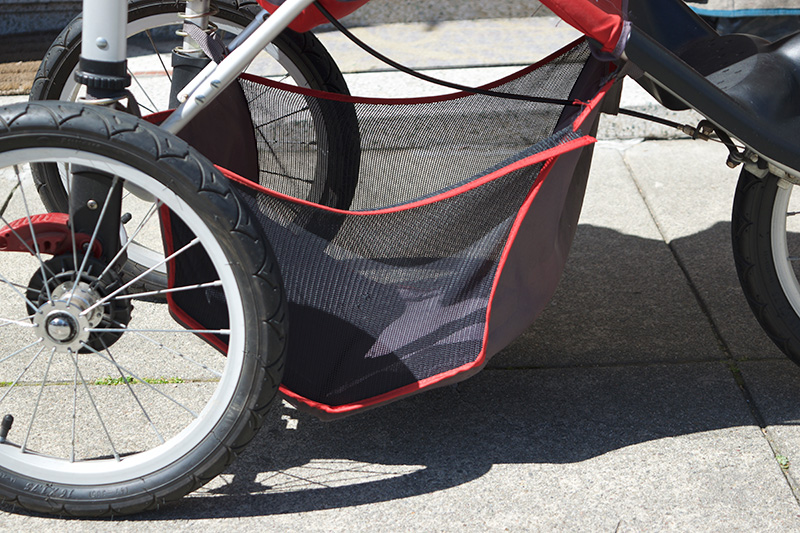 Medium quality fabrics
This is a budget stroller, so you wouldn't expect really high quality fabrics. The fabric is a little more 'plasticky' feeling than more expensive strollers, but for the price it's just fine. However I did find it frustrating that while the build quality of the stroller was good and long lasting, the fabrics were the first thing to start falling apart. A shame, as personally I like to use things as long as possible. That being said I did get 3 years good use out of it, often running several times a week. You can see below some of the wear and tear after 3 years.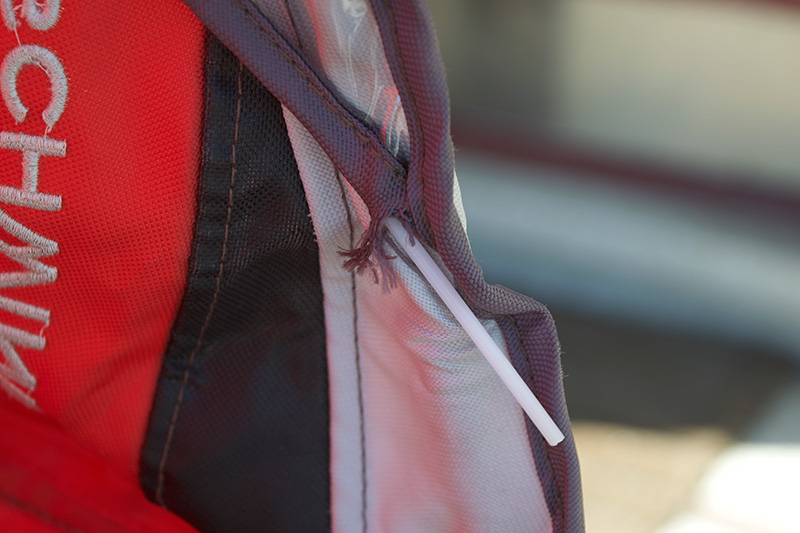 Other things to note:
This is a fixed wheel jogger – in case you missed that part… So only good for running or hiking. You need to lift the wheel to make sharp turns, so you wouldn't want to use this for every day. If you want something for every day use as well as jogging, consider a hybrid stroller instead. Schwinn make a budget hybrid stroller called the Schwinn Turismo, which is very similar to the Arrow, but with a swivel wheel.
Since it's designed for running, there is no car seat adapter on the Arrow. Remember it's advised to wait until 6-8 months to run with baby anyway… The Schwinn Turismo incidentally DOES have the ability to attach a car seat.
Overall thoughts
Overall the Schwinn Arrow is a great budget running stroller. It's just the job if you want something that is cheap, but also runs well. It's ideal if you are just starting out with stroller running, or are on a budget – as it's half the price of many other higher priced joggers. Little M has loved riding in this stroller! It has a few weaknesses, but they are not deal breakers – although I would consider adding an extra sun shade.
Just remember this is a fixed wheel jogger, so only consider this if you want a stroller just for running and hiking. You'll need something more manoeuvrable for around the shops – trust me! If you need something to double up for every day, you might want to look at a hybrid jogger like the Schwinn Turismo, or if you're willing to spend a little more – the Bob Revolution or the Thule Urban Glide.
If you found this post useful, you might also like to read my posts Tips on Running with a Stroller and What to Look for in a Running Stroller.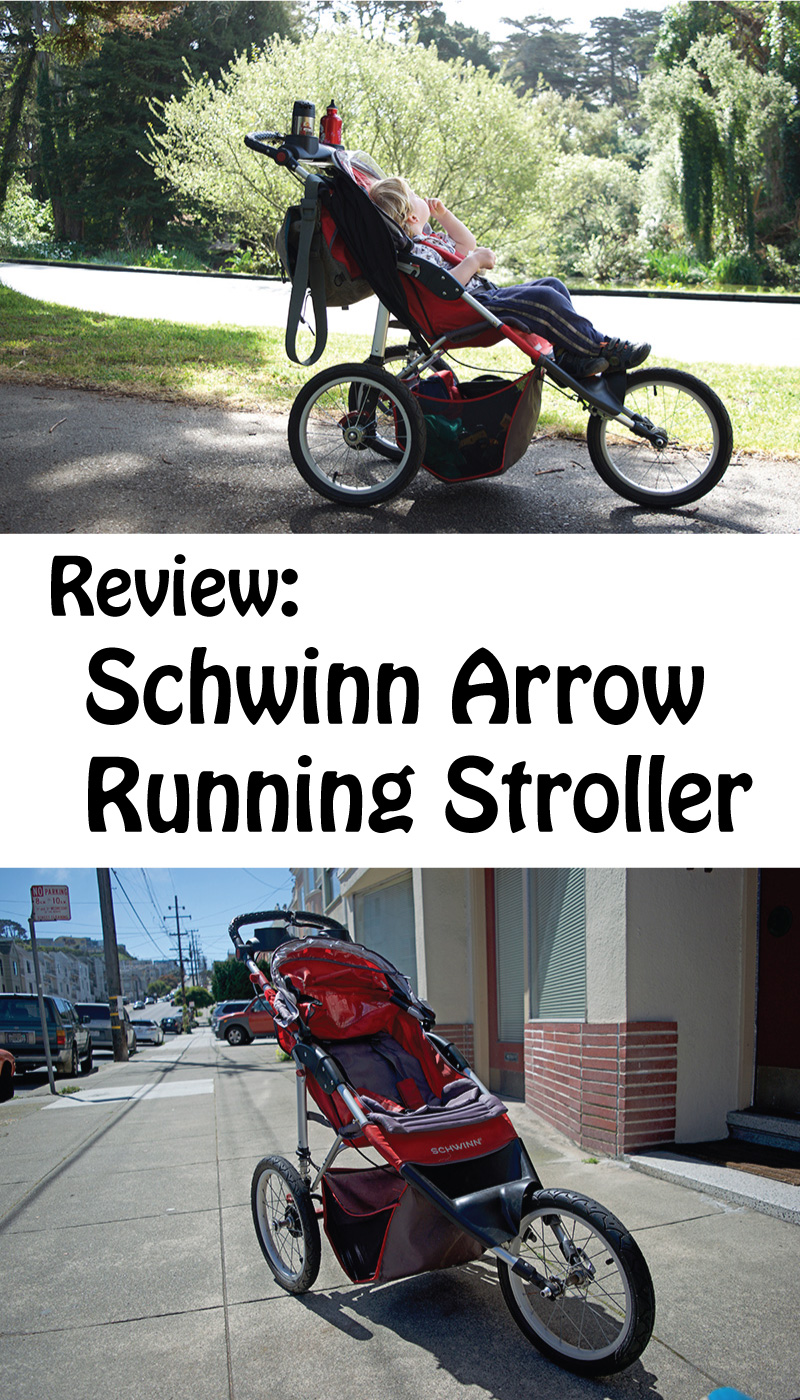 Do you run with a stroller? Do you have any tips on the best strollers to run with?
If you have any questions on the Schwinn Arrow, please do message me, I'll do my best to answer!
Disclosure: This post contains affiliate links, which means if you choose to buy through one of my links, I will receive a small commission. The price is the same, I will just get a helping hand towards keeping the blog running. All opinions are, as always, my own. Thanks for your support!