I thought it would be fun to start getting in the mood for Halloween and so Little M and I decided to make some Halloween Spider Muffins!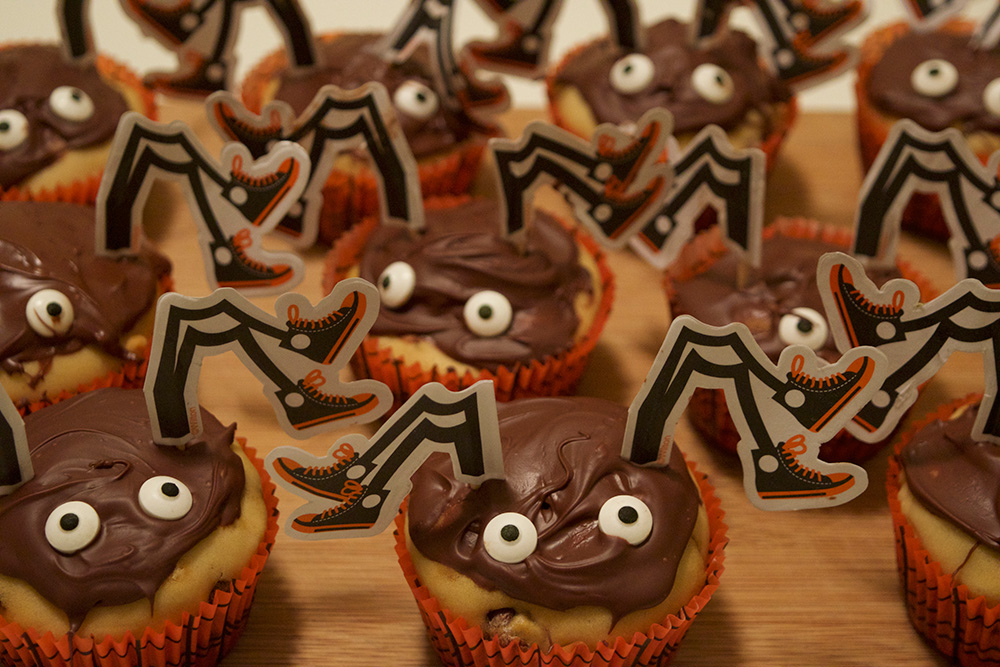 These are super easy to make and FUN for little ones to help with. This was the first baking project we had done together for a long time and it went surprisingly smoothly!
We used a Wilton Spider Cupcake Decorating Kit which made the muffins a breeze to decorate and I would highly recommend as a fun and easy Halloween activity for kids to help with – especially if you are also baking with a toddler!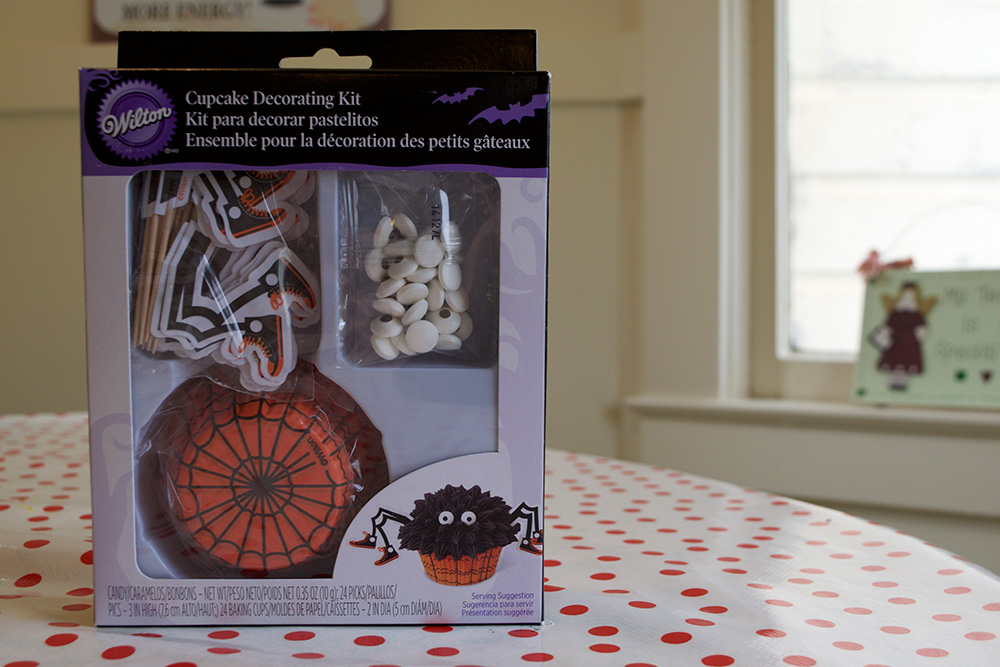 We used a quick muffin recipe from my favourite recipe book Joy of Cooking – but you could just as easily use any other muffin or cupcake recipe. (If you are outside the US and don't normally use measuring cups I recommend getting some – the cup system is such a easy way to cook!)
The picture on the decorating kit has fancy icing on, which would be nice if you were making cupcakes, but for simple and easy muffins I just melted some dark chocolate, which we spread on top before decorating. Easy peasy!
Here's how to make these Easy Halloween Spider Muffins…
You will need:
• 1 Wilton Spider Cupcake Decorating Kit – contains 24 baking cups, candy eyes and spider leg sticks.
• 1 12-muffin or cake pan
• 2 cups all-purpose flour
• 1 tablespoon baking powder
• 2 large eggs
• 1 cup milk or cream
• 2/3 light brown sugar
• 1/2 cup butter (1 stick) or vegetable oil
• 1 teaspoon vanilla
• 3 cups dark chocolate chips
To make the muffins (makes 12):
1. Preheat the oven to 400°F/200°C. Line your muffin or cake pan with 12 of the baking cups.
2. Mix together in a large bowl the flour and baking powder.
3. Melt the butter, if using, in a saucepan over a low heat.
4. Whisk together in another bowl the eggs, milk or cream, sugar, melted butter and vanilla.
5. Add the mixture to the flour mix and mix together with a few quick stirs until just combined.
6. Add 1 cup of the chocolate chips. Save the other 2 cups. Stir until just mixed.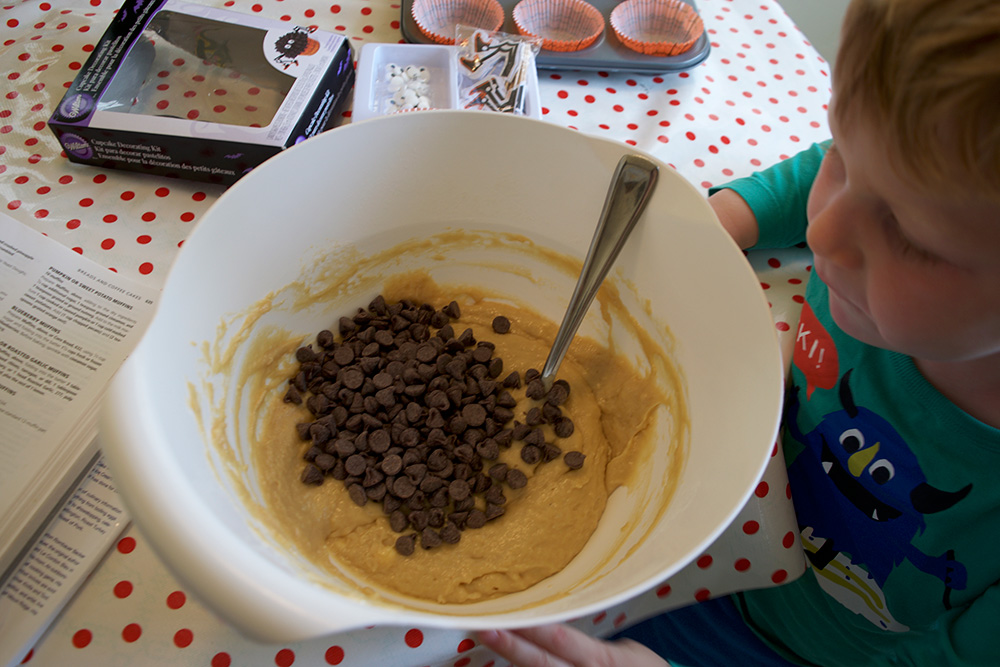 7. Fill the baking cups with mixture – you can fill them 3/4 to full up.
8. Bake in the centre of the oven for around 17 minutes, or until a tooth pick or clean knife comes out clean. They should be slightly golden on top.
9. Leave to cool for a few minutes before removing from pan. Transfer to a cooling rack to cool completely.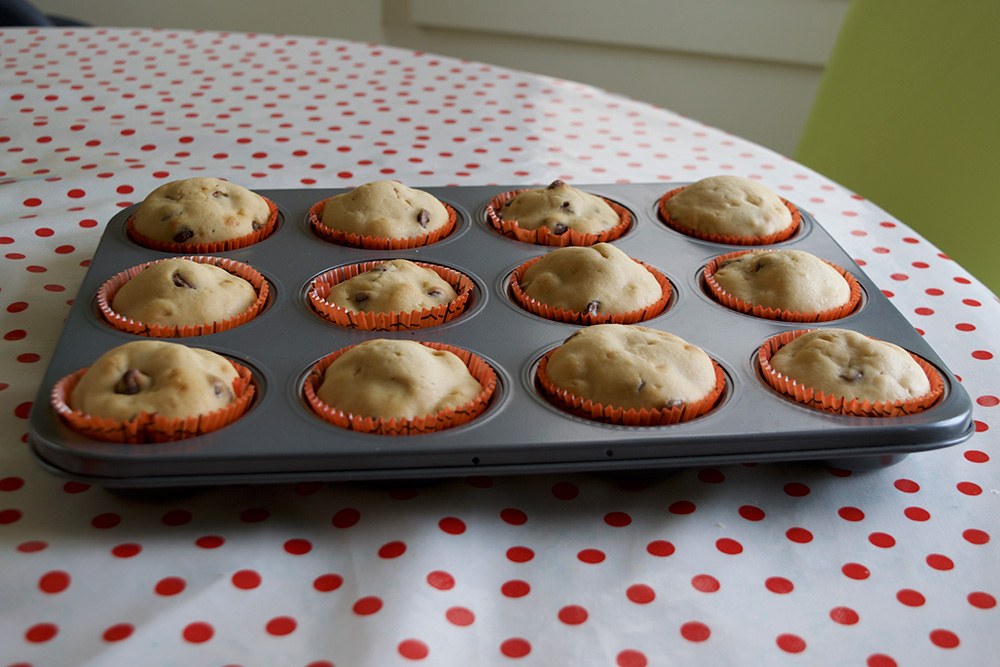 To decorate:
1. Melt the remaining 2 cups of chocolate chips in a heat proof bowl in the microwave or over a saucepan of boiling water.
2. Let the chocolate cool slightly, or transfer to another bowl so that little hands are not touching a very hot bowl. Use a teaspoon to top each of the muffins with chocolate.
3. Allow the chocolate to firm up just a little, then decorate each muffin with 2 candy eyes and 2 spider leg sticks (yes, I know spiders have 8 legs, but there are only enough sticks for 2 per muffin!)
4. Place in the fridge, or in a cool place just until the chocolate has firmed up.
They are ready to eat – yum!
Little M loved making and decorating these muffins. I hope your little ones love them as much as he did! You might also like to take a look at our Halloween Surprise Cauldron Cookies!
Like this post? Remember to pin for later!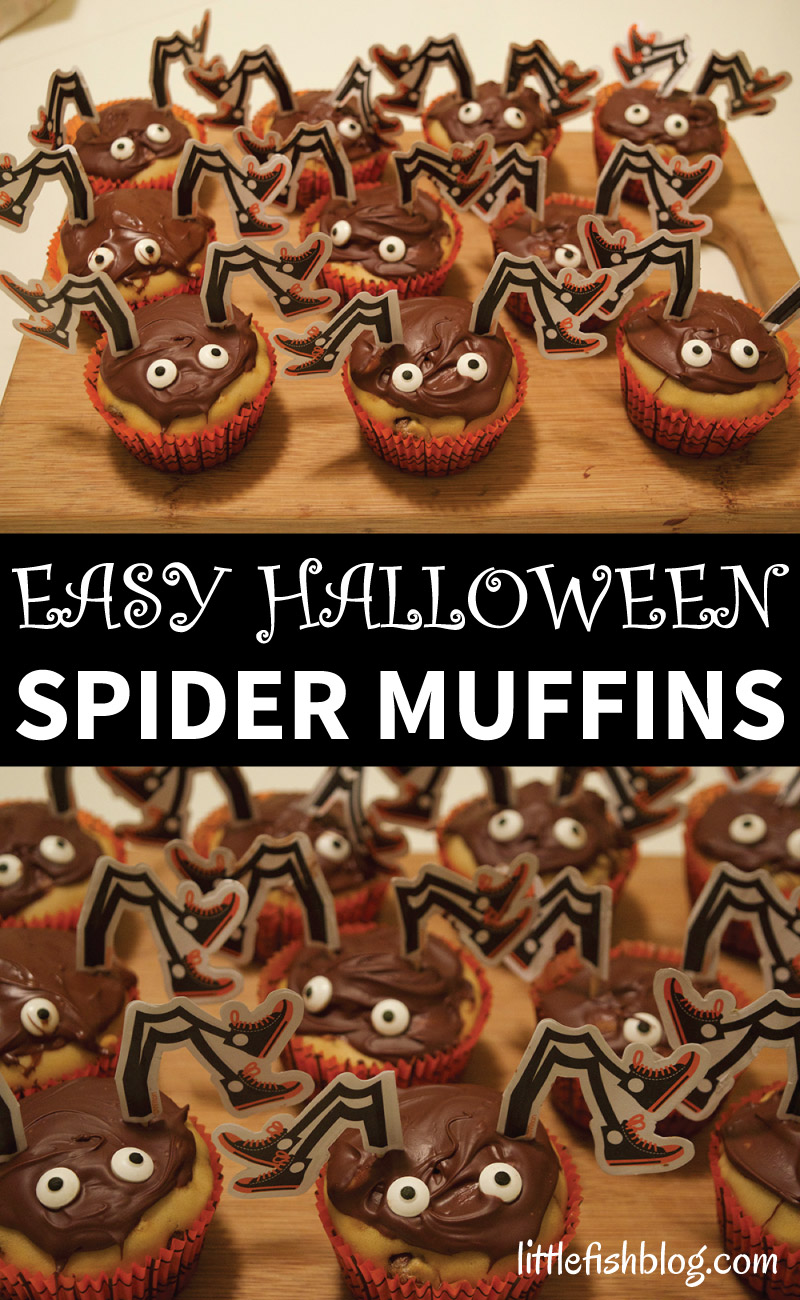 Are you doing any Halloween baking with your little ones?
Disclosure: This post contains affiliate links, however all opinions are entirely my own.