Here I have 15 whale themed arts and crafts for kids – perfect for whale lovers whale projects and to inspire learning about whales.
Whales are without a doubt my favourite animal. They are such fascinating and mysterious animals. My mum and dad were big supporters of Greenpeace when we were children. Back then Greenpeace was very much focused on the plight of whales. I think this helped to encourage my interest in whales and the ocean. I was lucky enough to step foot on the 'Rainbow Warrior' – the Greenpeace ship and still remember that day very proudly.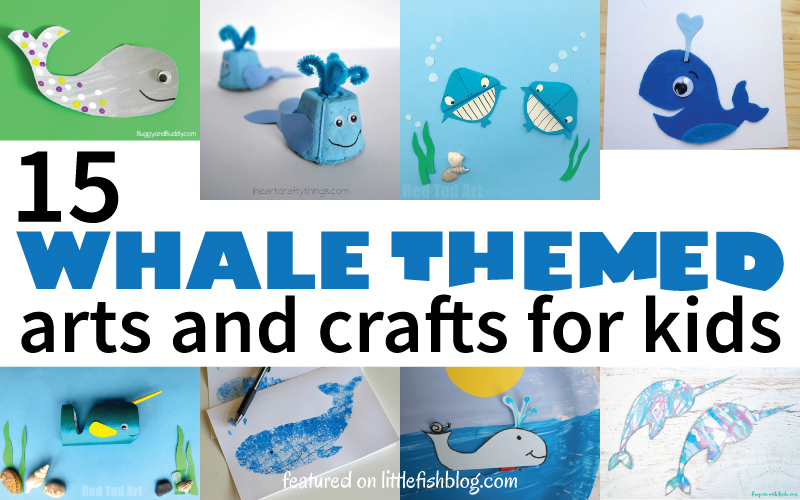 My children have adopted my love and interest in the ocean, especially my son. Thanks to his love of 'The Octonauts' I think he knows more about ocean animals than me! We love finding out more about whales and creating whale themed projects.
I've compiled 15 wonderful whale themed arts and crafts for your children to try. You could use these as inspiration to learn more about whales. There are ideas here for all ages and they can be easily adapted for different ages or abilities. Plus, as always, your children can add their own ideas and make the projects their own.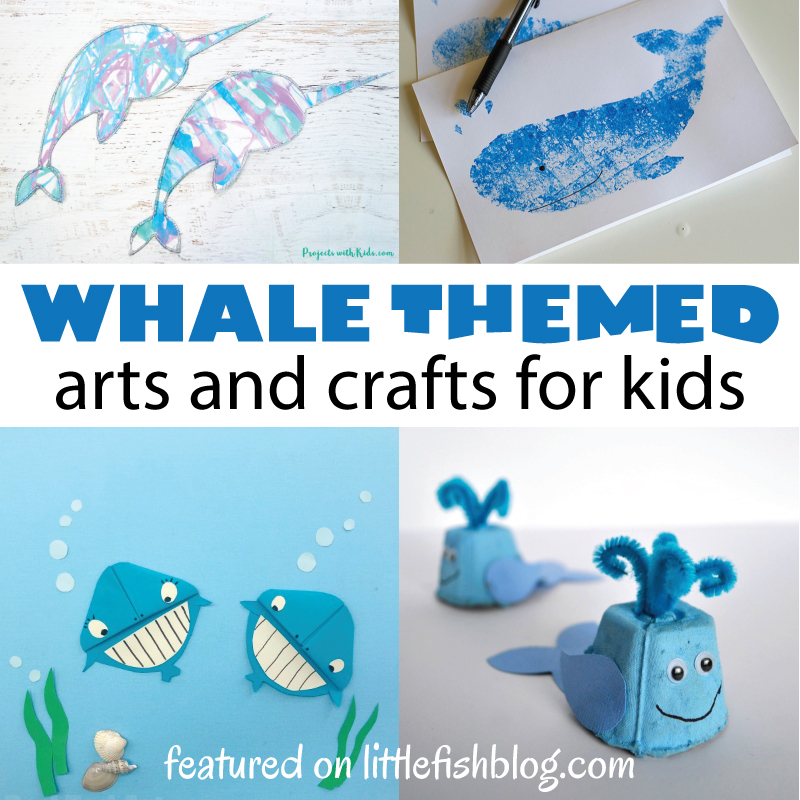 Dive right in and find some whale themed arts and crafts for your children!
15 Whale Themed Arts and Crafts for Kids
Whale Rock Painting Craft for Kids by The Inspiration Edit
How to Make Whale Collage by Blue Bear Wood
The Snail and The Whale Crafts: Movable Paper Plate by Crafts on Sea
Easy Stencilled Whale Cards by Little Fish
Paper Plate Whale by In the Playroom
Toilet Paper Roll Narwhal Craft by Red Ted Art
Easy Whale Bookmark Corner Design by Red Ted Art
Handprint Alphabet – N for Narwhal by Red Ted Art
Tissue Paper Water Color by Mosswood Connections
Whale Craft for Kids by Buggy and Buddy
Winter Scrape Painting with Narwhal Printable by Projects with Kids
Egg Carton Whale Kids Craft by I Heart Crafty Things
Cupcake Liner Whale Craft by I Heart Crafty Things
Rocking Beluga Whale Paper Plate Craft by The Joy of Sharing
I Whaley Love You Father's Day Card by Our Kid Things
I hope your children enjoy exploring these ideas and coming up with some of their own whale arts and crafts. Hopefully, these activities will also spark an interest in learning more about whales and what we can do to protect them.
Here are some facts about whales that you might like to share with your children!
Facts about Whales
Whales are the largest animals to live on the planet.
Whales are mammals. They need to come to the surface of the water in order to breathe.
Whales are part of the group of mammals called 'Cetacea' which includes over 80 species of whales, dolphins and porpoises.
Whales are widely found in all oceans around the world.
Many species of whales migrate long distances every year, between feeding and breeding grounds.
Some whales have teeth and some have baleen. Baleen whales are filter feeders, feeding on the tiny creatures like krill, while toothed whales feed on fish, squid, and other marine mammals.
Many species of whale are endangered. After a long history of being exploited by humans, we now need to do all we can to protect whales.
You might also be interested in some of these books about whales to learn more:
If you like this post you might like our Snail and The Whale Ocean Tray our Finger Paint Aquarium and Our Favourite Ocean Themed Picture Books.
Remember to pin this post for later: