We love ocean themed picture books!
As you know, I love the ocean and encourage my kids to appreciate it too. As well as visits to the beach and the aquarium, we love snuggling up together and reading books all about the ocean and underwater worlds. The ocean makes such a fun setting for picture books and we often learn a little bit about sea creatures too.
Here are some of our favourite ocean themed picture books. There are books here for all ages – from babies to grown up kids! They will have you ocean dreaming in no time!
Disclosure: Affiliate links included. Thanks for your support!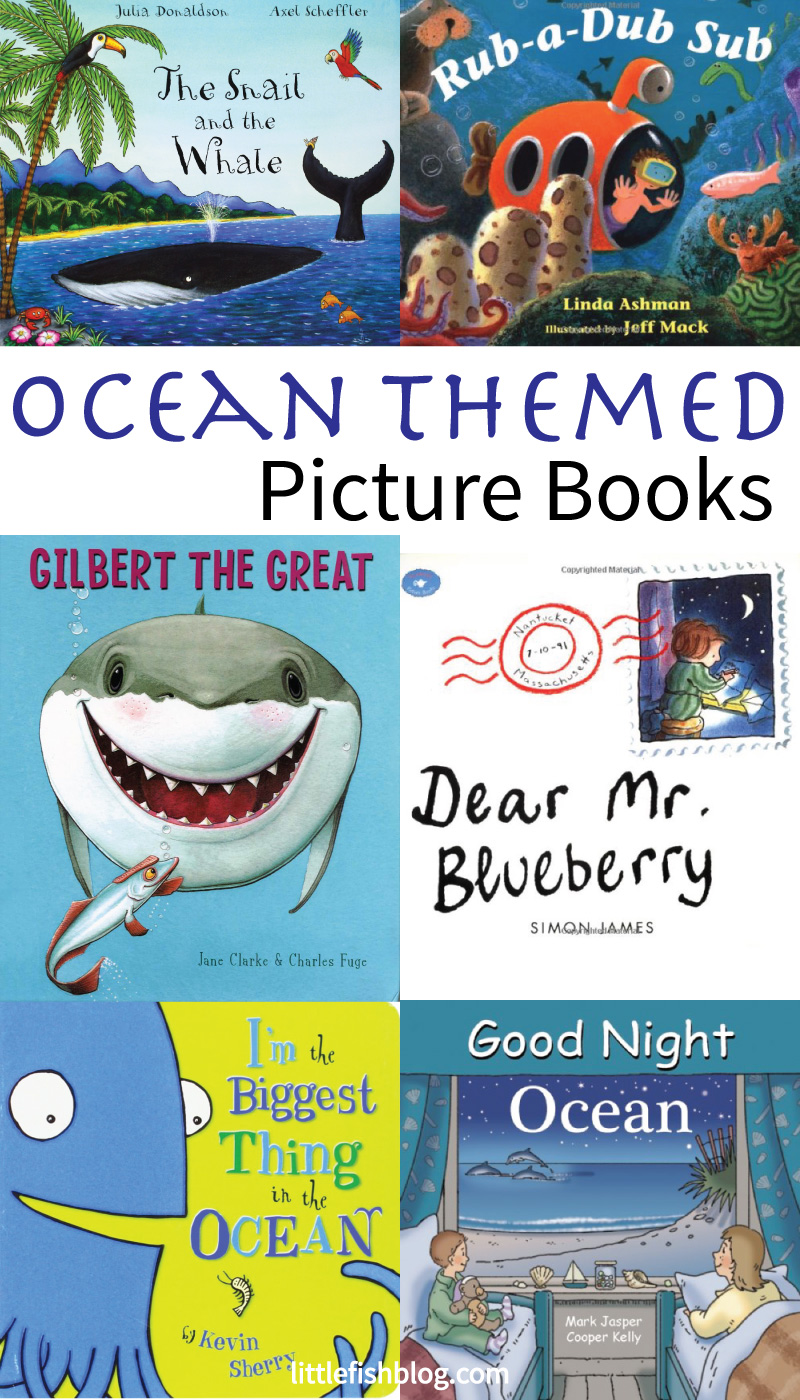 The Snail and the Whale
This one is a real favourite at bedtime! A snail gets bored and restless with life at the dock and so hitches a ride around the world on a humpback whale! Little M loves looking at the pictures in this fabulous book and following the adventures of the snail and the whale on their incredible journey.
Rub-a-Dub Sub
A wonderful underwater tale of a boy exploring in a bright orange submarine! Children will love spotting all of the fascinating ocean animals in the story. Little M especially loves the manta rays!
Dear Mr Blueberry (Dear Greenpeace)
A little girl called Emily writes to her teacher to explain to him that there is a whale living in her pond! Mr Blueberry writes back to tell her that she must have made a mistake, because whales do not live in ponds. The two continue to exchange letters and in doing so have much to learn from each other. A really heart warming story about the power of love, the imagination – and of course, whales. In the UK, the story is called Dear Greenpeace.
Gilbert the Great
This sweet story about a great white shark is far from scary – it's all about friendship! Starting with the sadness of losing a beloved friend, the story ends with the beauty of a new friendship beginning. This touching story also teaches children about sharks and remora fish too!
I'm the Biggest Thing in the Ocean!
A fun book for all ages. A giant squid boasts that he is the biggest thing in the ocean to all the other ocean creatures that he meets, from jellyfish to turtles. Little ones will love the bright illustrations and upbeat text in this story.
Good Night Ocean
This board book from the 'Good Night' series is a perfect introduction to the ocean for babies and toddlers. Little M still likes to read it now! One by one you say good night to the different animals in the ocean, until it is time to go to sleep.
What are your favourite ocean themed picture books? Please share!