These Halloween Surprise Cauldron Cookies are simple to make and fun for Halloween – complete with yummy surprise treats inside!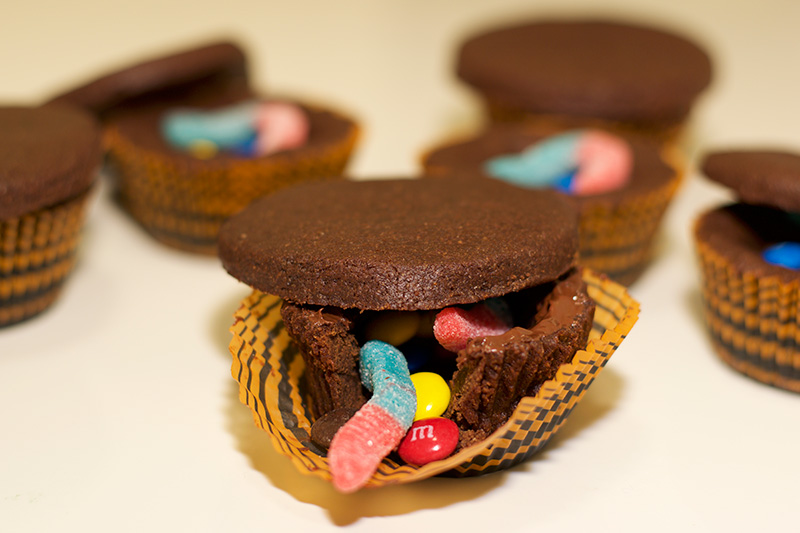 Little M loves opening things and finding surprises, so I came up with these surprise cauldron cookies as a Halloween treat. I hope you enjoy them as much as us!
The 'cauldrons' are made from simple roll out chocolate cookies, which taste just like brownies and have a delicious soft cakey texture. The cauldrons are filled with candies or your choice of treats – making them perfect for Halloween!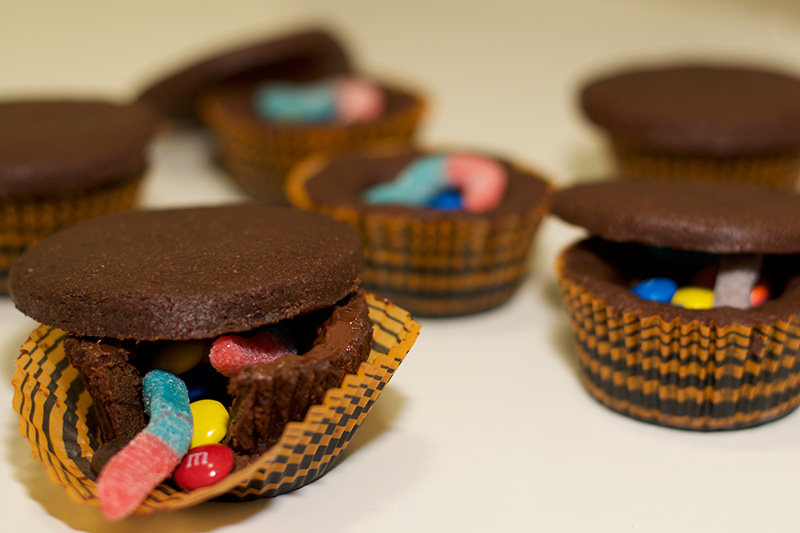 You can make your own variations on the recipe. Replace half of the plain flour with whole wheat flour if you like. You can double the recipe if you'd like to make more (this recipe makes 6 cauldrons). Feel free to pick whatever surprise treats you fancy – we went for M&Ms and sour worms! You could also decorate the cauldrons in any way you like. I decided to keep them nice and simple.
In case you didn't already know, I love the US cup measuring system! But I've also included metric measurements in case you prefer.
You will need:
1 tsp vanilla essence
1 cup (approx) assorted candies/sweeties
1 cup (175g) of dark chocolate chips
You will also need:
2 mixing bowls
Baking sheet
Cupcake tin
Greaseproof paper
1 3.5 inch (90mm) cookie cutter
Rolling pin
Method (makes 6 cauldrons):
Sift together the flour, cocoa powder and baking powder. Set aside.

In a medium sized bowl, cream together the butter and sugar until smooth. Beat in the egg and vanilla essence.
Gradually stir in the sifted ingredients to form a soft dough. Divide into 2 pieces. Flatten and wrap in plastic wrap. Refrigerate for 2 hours.
Preheat the oven to 375 degrees F (190 degrees C). Have ready a rolling pin, some greaseproof paper, a baking sheet and a cupcake tin, lined with 6 baking cups.
On a sheet of greaseproof paper roll the dough out to 1/4 inch in thickness. If the dough is too sticky you can sprinkle a little extra cocoa powder to help with the rolling.
Cut out 6 circles with the 3 inch (75mm) cookie cutter and another 6 circles with the 3.5 inch (90mm) inch cutter.
Place the smaller cookies (the cauldron lids) 1 1/2 inches apart onto a baking sheet lined with greaseproof paper.
Place the larger circles (the cauldrons!) into the baking cups. Push each circle into a cup, pressing in the centre and around the edges of the cup so that each cup is lined with the cookie mixture, leaving a hollow space in the middle of the cup.
Put all of the cookies into the centre of the preheated oven. Bake for 8 to 10 minutes. The cookies will still look soft like brownies, but will continue to cook as they cool. Allow cookies to cool completely before filling.
To assemble the cauldrons:
Remove the cookies from the cupcake tin. Carefully fill each 'cauldron' with candies, such as M&Ms or gummy worms.
Melt the chocolate chips in a glass bowl over a saucepan of boiling water, or in the microwave. Let cool slightly.
Use the back of a spoon to spread chocolate around the top edge of one of the cauldrons and place a lid carefully on top. Repeat for the remainder of the cookies. Allow the chocolate to harden.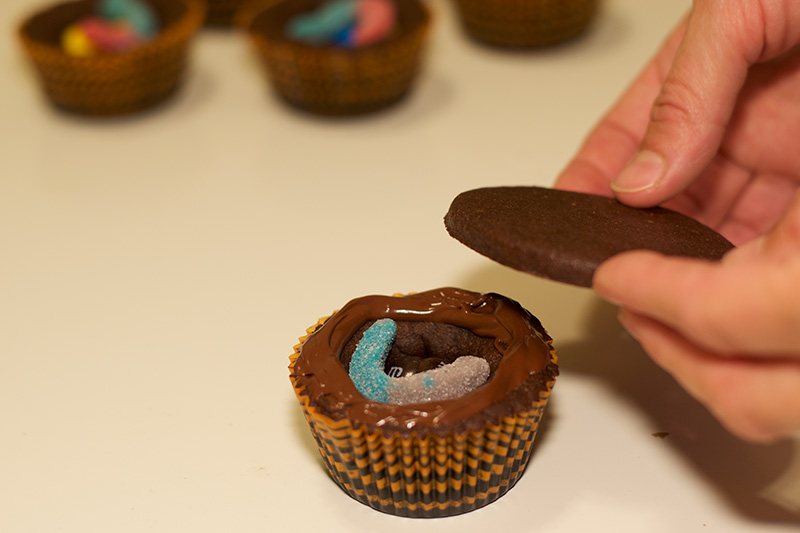 Your Halloween surprise cauldron cookies are ready! Happy Halloween!
Like this recipe idea? Pin me!