It's taken me a while, but I've finally got around to writing LP's birth story – a quick and natural birth, which I never thought I would have.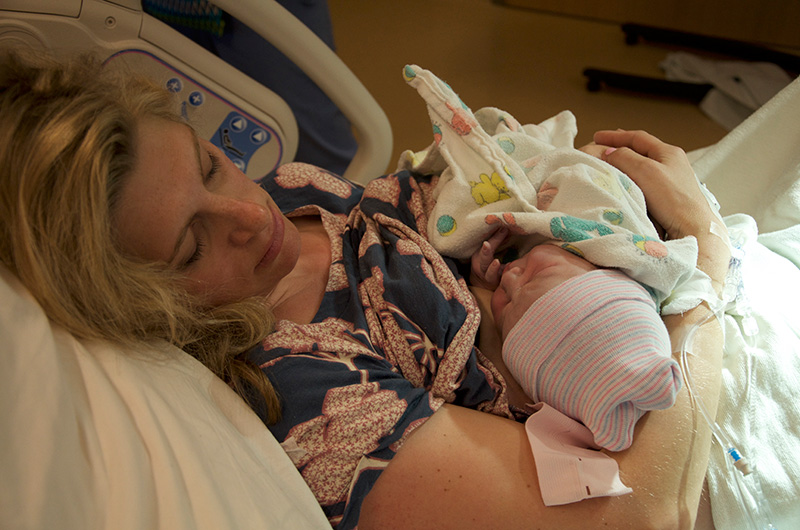 I was never someone who planned on a drug free birth (I have a low pain tolerance!) But on the day of LP's birth I became more proud of myself than I have ever been – and so proud of my amazing LP. I hope my story might be an inspiration for anyone planning a natural birth, or with fears about a natural birth.
I hadn't started the blog when Little M was born, so never wrote about his birth – perhaps I should do it in retrospect before I forget the details! – but I really enjoyed writing about LP's birth. It was a way of recording such an amazing memory with more than just photos and also gave me the opportunity to reflect on the whole birth.
I hope one day when I'm an old lady I'll look back and read it and be able to picture and remember it all.
So here we go… If you like birth stories, or just fancy hearing about my speedy natural birth (!) then read on…
The Story of LP's Birth
To set the scene…
The day LP was born was a gorgeous sunny day in San Francisco.
It was a holiday weekend – for President's Day – and so we were planning a relaxed weekend just pottering about at home and in the park, waiting for LP to make her arrival. She was due Saturday, but my ultrasound said Monday (and let's face it, babies come when they are good and ready!)
Leading up to the weekend I was on tender hooks – Little M had arrived a day early, so I kept expecting something to happen and was worrying that The Hubster was still working all that week…
The week before the due date: Spent the whole week feeling anxious and thinking "When the heck is The Hubster going to be home?!"
Saturday (Due date!): Due date arrived and no sign of LP – but immense relief that The Hubster would finally be around! Everyone says baby comes when you are in a relaxed state of mind and at this stage I was just starting to relax and look forward to a weekend with my boys.
Saturday evening: The 'bloody show' happened! – sounds like a horror film doesn't it? (And I can just imagine any male readers wincing uncomfortably…) but it's not really that dramatic! Let's just say it gave me a feeling that LP would be on her way in the next day or two!
Sunday: Had a lovely day at the park together – well what's the point in sitting around at home eh?
Sunday Evening: Started to feel a little antsy, so decided to go for a swim! Swam 100 lengths and felt like a new woman afterwards! Slightly crazy I know, but the pool wasn't far, so what was the worst that could happen?! Anyway it obviously did the trick – because in the early hours of Monday morning I started to get contractions.
Monday Early Morning: In the wee hours of the morning contractions were fairly weak and just uncomfortable. Managed to sleep. Got up as normal.
Although my second time, I was unsure about the whole timing contractions thing, as with Little M I'd gone to hospital early after my waters had broken. So I diligently followed the advice to time occasionally and watch for contractions to get longer and stronger.
To be honest I put off ringing labour and delivery, thinking I'd just be told to stay at home!
Monday 10AM: Decided to send The Hubster and Little M off to the playground so I could relax. Kept timing contractions. About 5 minutes apart by now, but only lasting about 30 seconds. Rang Labour and Delivery. Told to wait until contractions were around 60-90 seconds long. Kept timing. Watched an episode of 'Underage and Pregnant'!!! Made me feel thankful at least wasn't going through this at age 14!
Monday 12:00PM: The boys were back from the playground! Contractions around 3 – 4 minutes apart and 30 – 60 seconds. Getting much more painful now! Rang hospital and they said to come in when we were ready. No need to rush they said! Rang our friend to come and look after Little M.
Monday 12:30PM: Got Little M ready for his nap. Our friend arrived – phew! Little M was getting worried about his mummy, so tried to keep things casual and normal – including singing 'Twinkle Twinkle Little Star" through contractions!!! How I managed that I will never know!
Monday 1:00PM: Put a teary M down for his nap. Tried not to cry! Told him he'd get to open his special Surprise Box when he woke up! This cheered him up slightly. Hubster rang a cab to get to the hospital. Left a few minutes later.
Monday 1:30PM: Immediately on entering taxi, contractions got stronger and more painful. Taxi driver chatting away about his grandkids, interspersed with shrieks from me, demanding The Hubster to rub my back!
Monday 2PM: To the taxi driver's immense relief, we arrived at the hospital! Wheeled in. Checked over. 5cm dilated! Was moved to the birthing room rather rapidly!
Monday 2:30pm: 8cm dilated! There was lots of rushing about to get my requested epidural ready. Meanwhile my contractions were getting extremely painful. Apparently it was too late to get changed into a hospital robe!
Monday 3PM: It turned out it was too late for an epidural too! I declined the gas and air as it had made me feel sick with Little M. Contractions were causing me to cling onto The Hubster with all my might!
I can absolutely say he was my rock. I kept saying "I can't do it, I can't do it!" and he kept saying "You can do it, you can do it!"
At one stage I felt faint and was given oxygen. Am slightly vague about when that happened. I soon felt the overwhelming urge to push!
Monday 3:32PM: After three big pushes my waters broke in a big whoosh, splattering the junior doctor in the face! (According to The Hubster, ha ha!)
LP arrived!!!!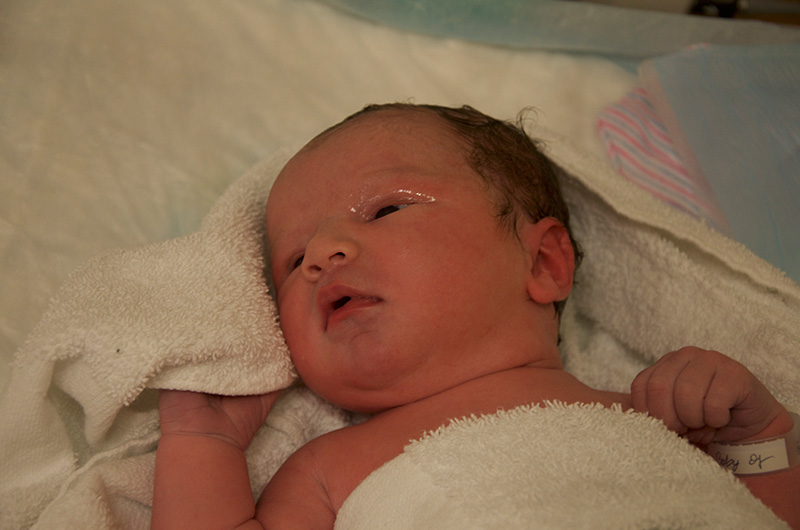 She was, and is, absolutely perfect. I held her in my arms, looked at The Hubster and burst into tears. I did it!
Monday 4:00PM: We facetimed Little M, who had only just woken from his nap and was busily opening the 'Surprise Box' of treats we had left for him!
I may not have originally planned having a natural birth, but I was so immensely proud of myself that day. I am generally the biggest wimp when it comes to pain. But somehow, when the time arose, I developed a surge of strength and bravery. We all do. It's human nature to be strong just at that moment that you need to be.
So for anyone thinking or worrying about a natural birth – if I can do it, then anyone can!
Have you had a natural birth? What was your experience?