Are you looking for an EASY cupcake idea for Halloween?
These Halloween Chocolate and Peppermint Cupcakes are EASY and quick to make – even if you plan to involve little ones with some of the mixing.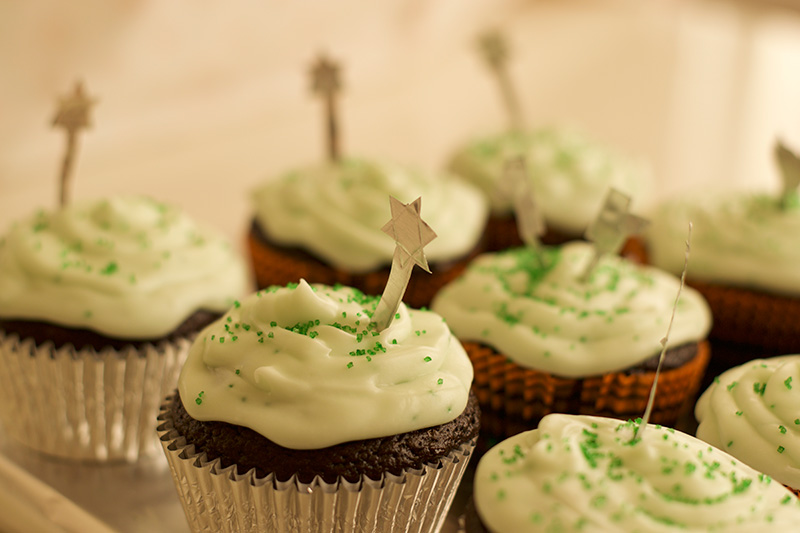 Little M and I have been baking together a lot recently. I love that he's at the age now where he can follow simple instructions in the kitchen – well, most of the time anyway..!
I love baking together, but always go for EASY recipes, so we can have fun and make something yummy quickly. You don't have to be a Masterchef to have fun in the kitchen!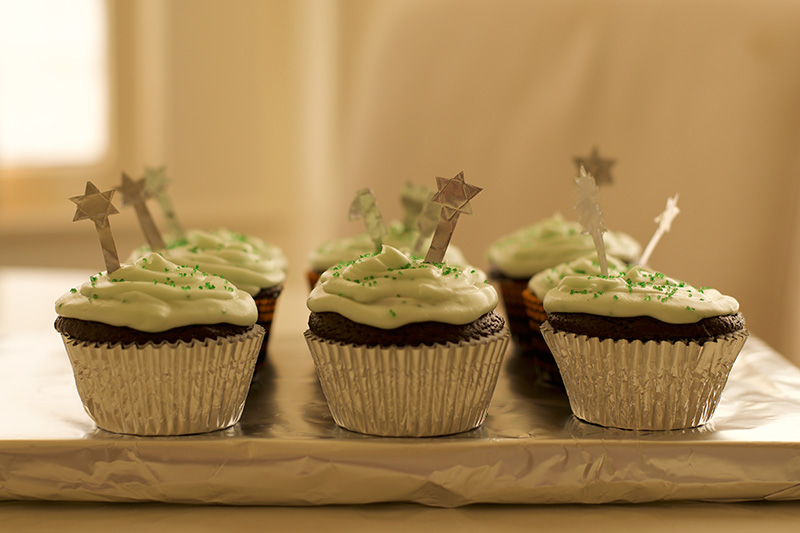 The original recipe for this cupcake mixture came from Add a Pinch and makes the most moist and delicious cupcakes. I omitted the coffee and salt and used brown sugar instead of granulated. The batter is very runny – Little M helped make the mixture, but I poured it into the cake cases to minimise spillage! You can use an electric whisk or blender, or just whisk by hand.
I topped the cakes with a peppermint buttercream icing, to complement the chocolate, adding some green food colouring and green sprinkles to give a bewitching 'Halloween' look. I just snipped a small hole in a food bag, filled with the icing and made a swirl on top of each cupcake – simple! I then added some silver wands and other witchy decorations. I quickly cut these out from a foil cake tray.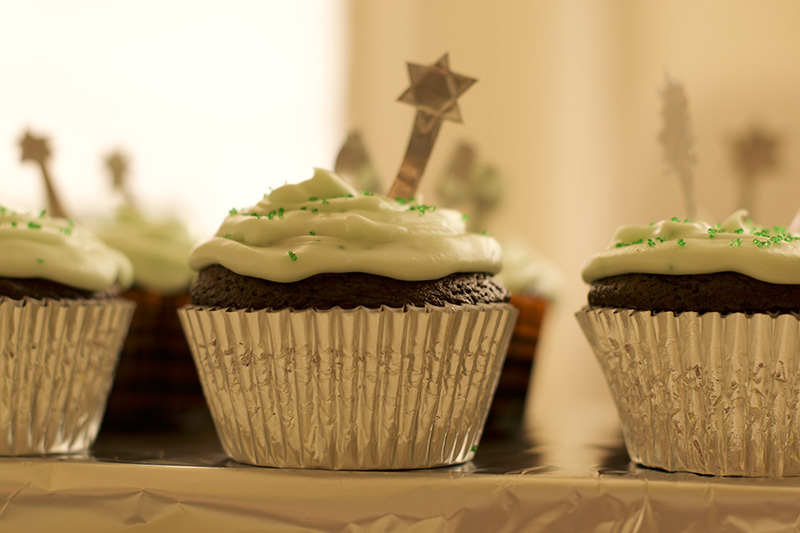 You can play around with the colour of the icing and decorations however you would like. If you don't like the idea of the peppermint icing, you can substitute the peppermint with vanilla essence instead.
These are moist, yummy and fun for Halloween, with a touch of witches charm!
I love the American cup system – so easy to use! But I've included metric measurements too, in case you prefer to weigh.
Cupcake Ingredients (Makes 12)
1 cup (128g) all-purpose flour
1 cup (200g) light brown sugar
½ cup (45g) cocoa
1 teaspoon baking powder
½ teaspoon baking soda
½ cup (120ml) milk
¼ cup (60ml) vegetable oil
1 large egg
½ teaspoon vanilla
½ cup (118ml) boiling water
How to Make Cupcakes
Preheat the oven to 325º F/160º C.
Place 12 cupcake liners in cake tin.
Add flour, sugar, cocoa, baking powder and baking soda to a large bowl and stir until well combined.
Add milk, vegetable oil, eggs, and vanilla to flour mixture and mix together. Whisk on medium speed until well combined.
Reduce speed and carefully add boiling water to the cake batter. Beat on high speed for about 1 minute to add air to the batter.
Fill cupcake liners evenly. Each cupcake liner should be about ¾ full.
Place in the oven and bake about 18 minutes or until a toothpick inserted in the center comes out clean.
Remove from the oven and allow the cupcakes to cool completely before icing.
Icing Ingredients (Makes 3 cups, so plenty to splodge around!)
1/2 cup (110g) butter, softened
1 (16-oz) package (440g) icing/confectioners sugar
1/3 cup (80ml) milk
1/2 teaspoon peppermint essence
Drop of green food colouring
Green sprinkles
How to Make Icing
Beat butter at medium speed with an electric mixer until creamy.
Gradually add icing sugar alternately with milk, beginning and ending with sugar.
Beat at low speed just until blended after each addition.
Stir in peppermint essence, followed by a drop of green food colouring and a good shake of green sprinkles.
Swirl onto cooled cupcakes. Add some witchy decorations!
You're done! Bewitching and yum!
Like this recipe idea? Pin me!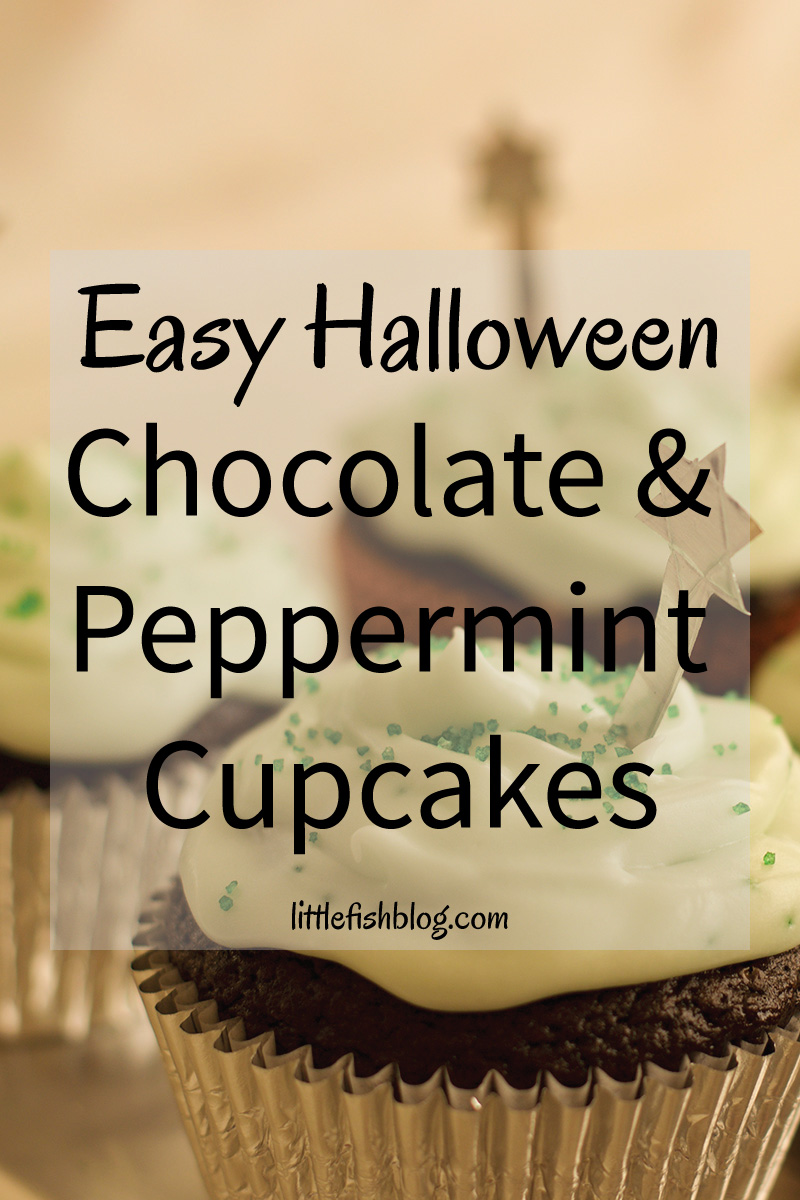 Do you have any baking planned for Halloween? You might also like my Easy Halloween Spider Muffins.