Many of you may currently be preparing for summer trips away with your baby or toddler. Have you packed the kitchen sink yet?! With all the clobber we can end up packing for our children, most of us are trying to reduce our luggage and travel as light as we can. Luckily, most travel cribs around now are incredibly light and compact – some can be carried as a backpack and some will fit in an airplane overhead locker! But how to choose a travel crib?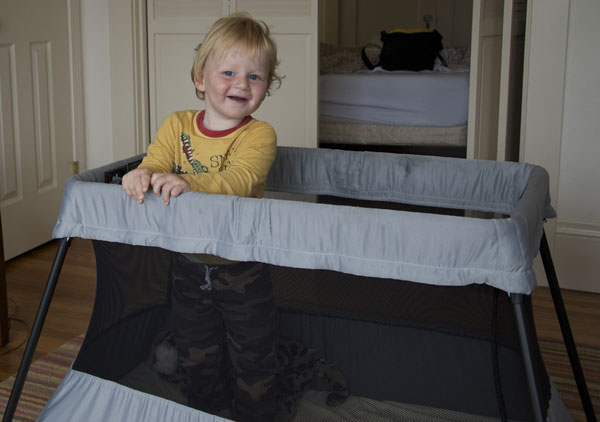 Many hotels offer cribs for rent, but if you are staying with family, camping, or don't want to use a hotel crib, then you may be looking at purchasing a travel crib – and it doesn't have to become another piece of clobber!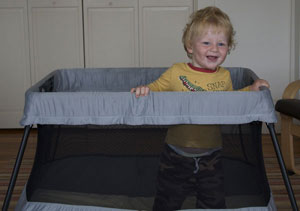 If it's an option, then having a travel crib is fantastic, as you can use it for all kinds of trips with your baby or toddler – even for naps at the grandparents! A travel crib is also a great way to ease the transition to sleeping away from home, as baby can practice sleeping in the crib at home and will then be in a familiar bed when away. There are many types of different travel cribs, but most of them consist of fabric over a sturdy frame, with a folding mattress – which all folds away into a case or bag. But which crib should you choose? In this post I will give you some key tips on how to choose the travel crib that is right for you, along with a mini review of Little M's travel crib – BabyBjorn Travel Crib Light.
When choosing a travel crib, you will need to consider your own individual needs and budget, as well as looking at the features of the crib. However, here are some generally important features to look for…
Light – You don't want to be lugging a huge great thing around with you on your hols, especially if you'll be toting it through airports, or slinging it in and out of cars. This is where the multi use 'pack n plays' fall down, as they are much heavier than travel cribs. Some of the Graco pack n plays weigh in over 30 lbs! In contrast, both the BabyBjorn and Lotus travel cribs are a super light 13 lbs, while the Phil&Teds Traveller is a teeny 7lbs!
Quick and easy to assemble – Think of a travel crib the way you think of a tent – it should be quick and easy to put up when on the go. Unfortunately many tents are in reality a nightmare to assemble (all those metal poles and weird hooks – where do I hammer?!) and some travel cribs are the same. But some of the best travel cribs can be put up in a matter of seconds with barely a glance at the instruction booklet!
Folds small – You want your travel crib to fit easily into your car/luggage/on the airplane – wherever it is you want it to go. It should fold to a small convenient size for your needs – not be big and unwieldy. Here some compromise may be required, as I have found from my research that the travel cribs that fold the smallest, may be more time consuming and fiddly to assemble, whereas the cribs that fold out in seconds generally have a slightly larger folded footprint. For example, the 'Phil and Ted's Traveller' folds to a miniscule 10" by 27" – but reviewers have commented that it can be time consuming to assemble. The 'BabyBjorn Travel Crib Light' in comparison, at 19" by 23.5" is slightly too large to fit in an airplane overhead locker, but can be put up in seconds (even by a DIY incompetent mamma like me!) You may have to decide whether folded size is more important than easy assembly, or other features.
Comfortable – There's no point buying a crib that folds down to the size of a matchbox if it is then uncomfortable for baby! After all the main purpose of the thing is to sleep in it! Travel crib mattresses are thinner than regular crib mattresses – but the best will unfold nicely and be thick enough to be comfortable for baby.
Sturdy and stable – Lightweight does not mean baby should be able to tip it over and crawl right on out! Look for a sturdy, stable design that will not tip over. We love the BabyBjorn Light for this reason, as the sides tilt inwards, making it very stable for even a strong toddler! Make sure that your chosen crib meets current safety standards.
Easy visibility – Most travel cribs now have mesh sides, which extend all the way to the bottom, so that you can rest assured that baby is safe – and peek through easily without disturbing her.
Easy to clean – Look for a crib that has an easily removable, machine washable cover and it will practically wash itself!
Size when assembled – This is especially important if you have a baby or toddler that is tall for their age (like Little M!) or if you want to buy a travel crib that your child will fit in for a long time. The 'pop up' style of travel cribs (think miniature tent!) tend to be much smaller and will not get long usage, especially with a tall baby. Most standard travel cribs on the other hand, are bigger and therefore have a longer life span.
Many travel cribs have other features that are not essential, but may be useful. Some, like the Lotus Travel Crib, have a zippered side, for easy access. Some have separate bassinets for a newborn and even change tables. Many of these features are handy – but I think it is most important to have a crib that is safe, comfortable and easy to use, whilst being small and light to enough to travel with.
Mini Review: BabyBjorn Travel Crib Light
The BabyBjorn travel crib comes at a higher price point than other travel cribs, however, this is reflected in the excellent quality and design of the crib. At around 13lbs it is incredibly light, is a breeze to put up (takes seconds!) and super easy to fold and put away in the case. The sturdy design, with sides that tilt inwards, make it very stable, even for a tall strong toddler. With a 41 by 24 inch mattress, it has a decent sized sleeping space – even for tall kiddos. BabyBjorn say this can be used from 0-3 years, though I think age 3 may be a little ambitious! There is no weight limit – but you must stop usage as soon as your child is able to climb out of the crib. Little M has slept like a dream in this every time we have been away – the mattress is really comfortable. All the fabrics are excellent quality and all removable and washable.
Note: The older version of the crib, BabyBjorn Travel Crib Light 2 (which is the one that we have) does not have mesh all the way to the bottom – it has mesh most of the way down and then a breathable fabric at the bottom of the crib. The new version of the crib has mesh sides that extend all the way to the bottom and new fastenings for the mattress to account for this. These are the only differences between the two models.
The downsides? Well, aside from the high price, the crib does not fold as small as some travel cribs – unfortunately it is slightly too wide to fit in an airplane overhead locker. When folded and in the case, it is the size of a small suitcase. You could place it in a (very!) large suitcase or bag, but you may likely have to check this dude if you are flying. Personally, we did not find this an issue, as we prefer to carry less through the airport anyway, but it is definitely a consideration to make.
Summary: If you are traveling a lot, especially by car, you will get great use and value out of the BabyBjorn Travel Crib Light. If you only need a crib for occasional use or want one that you don't have to check at the airport (or just something cheaper!) then you may want to look at an alternative – like the Lotus Travel Crib or the Phil&Teds Traveller.
At the end of the day the travel crib that is best for your family is the one that fits your situation and your budget the best. Happy traveling and sleep tight babies!
Disclosure: This post contains some affiliate links, however all opinions are entirely my own. 
[plinker]