Recently we went to visit Paradise Wildlife Park in Hertfordshire, for a family day out.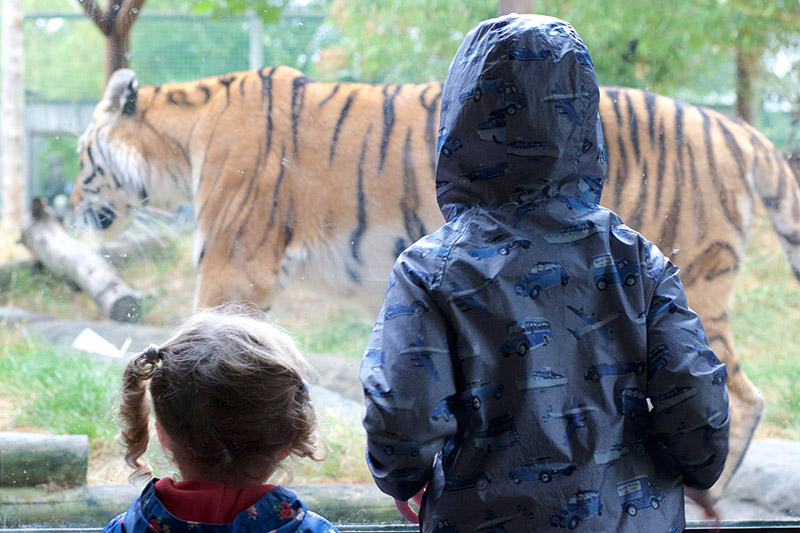 We like to treasure every Sunday as a 'family day' as much as we can. It's a chance to head out somewhere together for a day, or a few hours and have some fun as a family.
Paradise Wildlife Park is set in the stunning surroundings of Broxbourne Woods in the middle of the Hertfordshire Countryside.
Having worked in a world class science museum and aquarium previously and been lucky enough to have seen wild animals in Africa – well, you could say I have high standards when it comes to wildlife encounters!
I also believe that zoos and animal parks need to have a strong conservation and education focus in order to successfully educate the public about endangered animals – and to make a difference to those animals in the wild.

Paradise Wildlife Park was a great day out and exceeded my expectations in many ways, including an unexpected surprise!
Here are the highlights of our visit and some of the things you can expect on a visit to Paradise…
Arriving
Paradise Wildlife Park is based in Broxbourne in Hertfordshire and is very easy to find by car.
There is a lovely little service offered whereby you can be picked up at the local train station. This is offered for an extra small fee – but I think is a great touch and makes the park much more accessible by public transport too.
We drove and easily parked in the car park – the park is only an hour away from where we live. It was a drizzly day, which made the park quieter than usual I expect, but the rain did not put us off!
Maps and signage
Never underestimate the importance of a clear map! The map we were given was clear and colourful and made planning our day so easy. The kids were SO excited.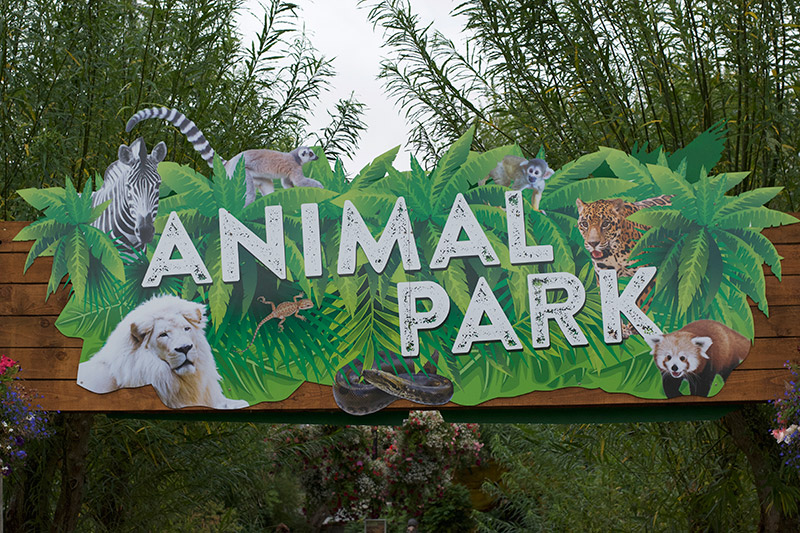 Little M especially wanted to see an 'Abaconda' snake (we need to work on his pronunciation though!) plus the penguins – and a dinosaur! (?!) We planned out a few things we wanted to do. Even when the kids went 'off piste', the map and clear signage made it easy to navigate our way around.
Animal feeds, talks and shows
There were so many animal feeds, talks and shows throughout the day, we were spoilt for choice. With two very excited kids, it was impossible to do everything, so we focused on doing the main things they wanted to see.
We caught a little bit of the bird display, which was impressive – but then the kids were keen to move onto the farmyard area. It was lovely how accessible the farmyard animals were – and a really nice touch that you could feed the animals if you wanted to. A great way to help children safely connect with the animals. (It was an extra fee to buy some animal food to feed the animals.)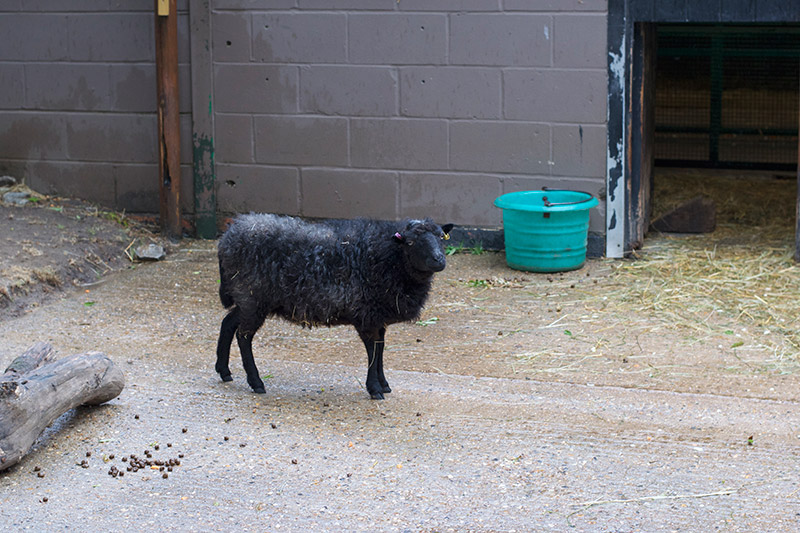 Next we saw the cheetah feeding, which was very exciting! We watched the cheetah devour his lunch and learned some new facts about cheetahs. Cheetahs are vulnerable in the wild, but not currently endangered. Cheetahs are the fastest land animal. But did you know that cheetahs claws do not retract, like in other cats? Their claws literally act like running spikes!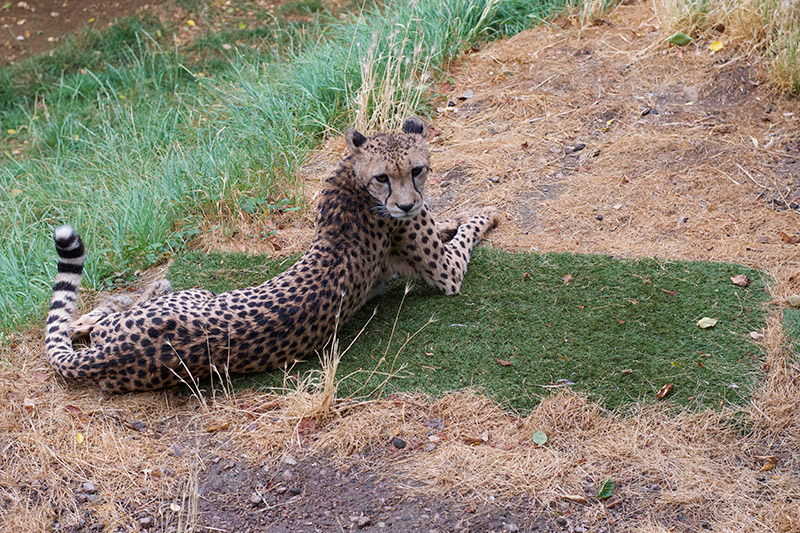 Up close to the animals
One of the biggest highlights for us was getting so up close to the animals! Many of the animal enclosures had tree top platforms and bridges, which enabled you to see the animals from high up, as well as ground level. We especially enjoyed seeing many of the big cats from above!
We loved looking at one of the magnificent lionesses stretched out on her rock.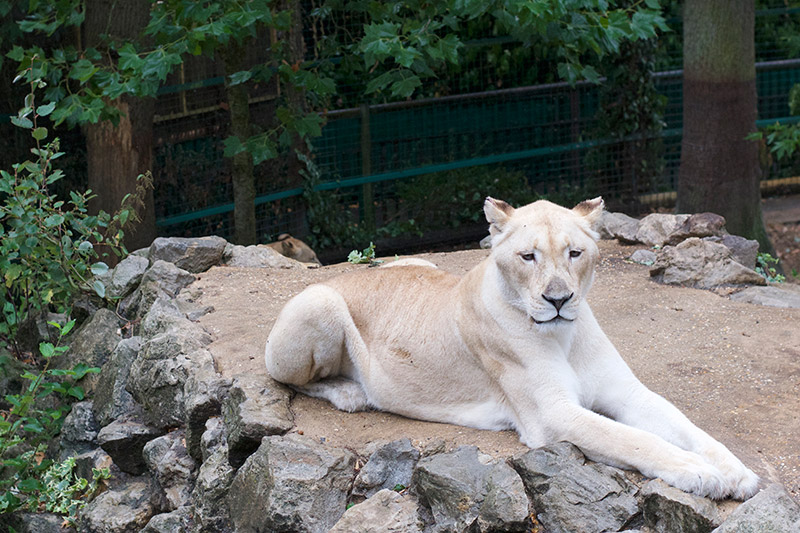 Next up were the tigers!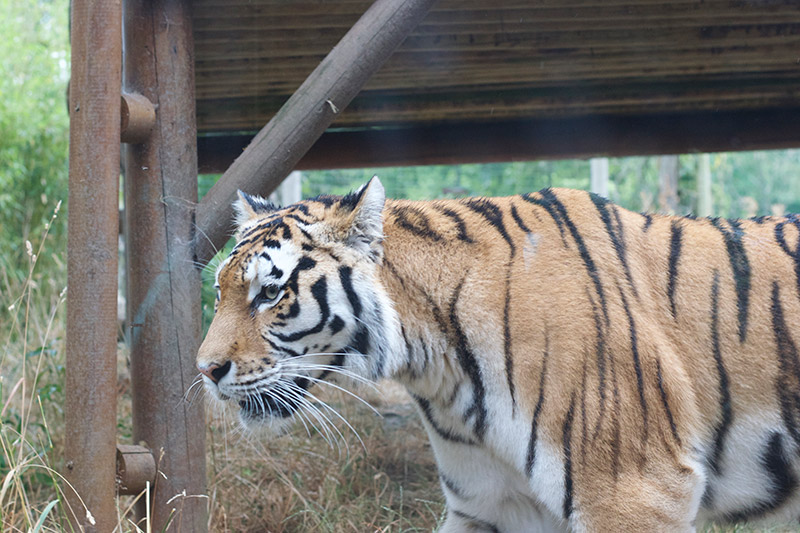 Whilst we stopped to have some snacks underneath one of the bridges, we were treated to some close up views of one of the tigers through the glass. He seemed to be parading just for us – the kids were in awe!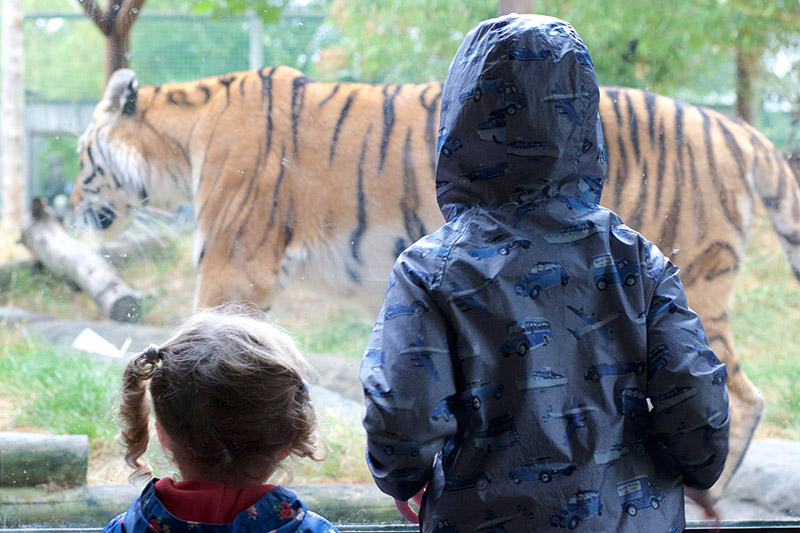 We learned that tigers are critically endangered, which made me so sad. It also made me think about what more we can do as a family to help endangered species.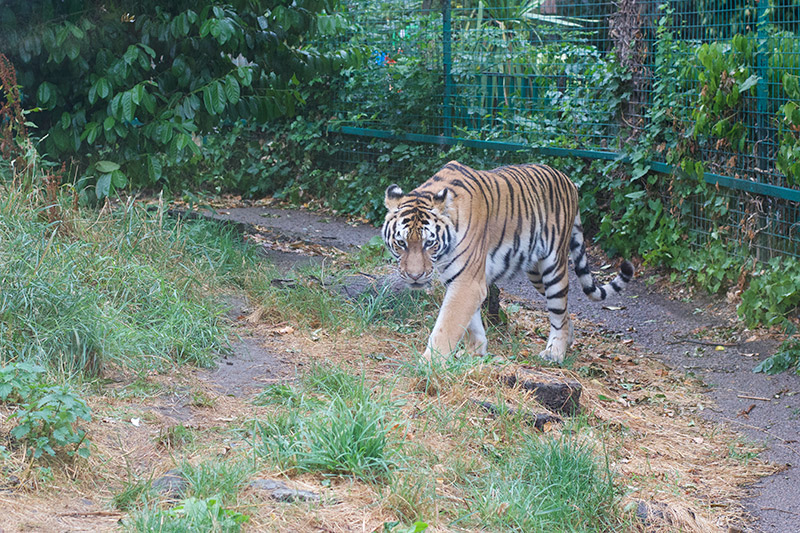 Play areas
No day out is complete without a play area! There were so many different play areas at the wildlife park that we were spoiled for choice – Fantasyland, Adventureland  and Funland to name just a few of them.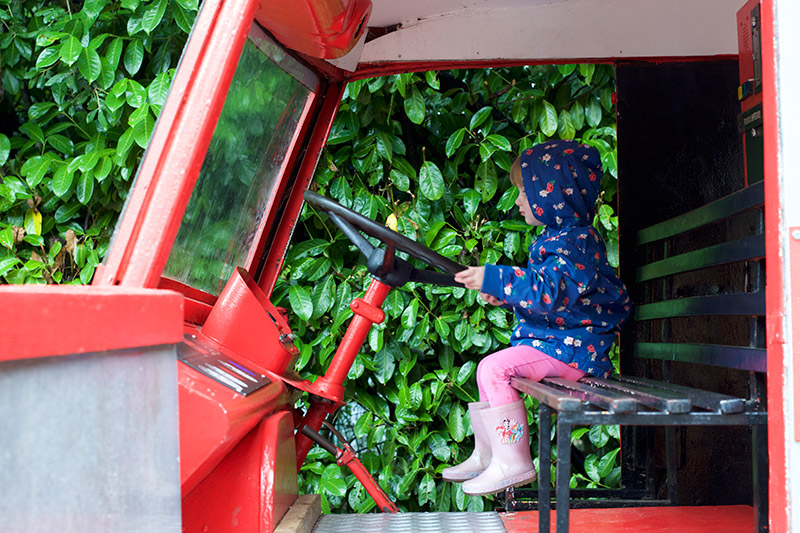 LP especially enjoyed playing in the fire engine and the gypsy caravan!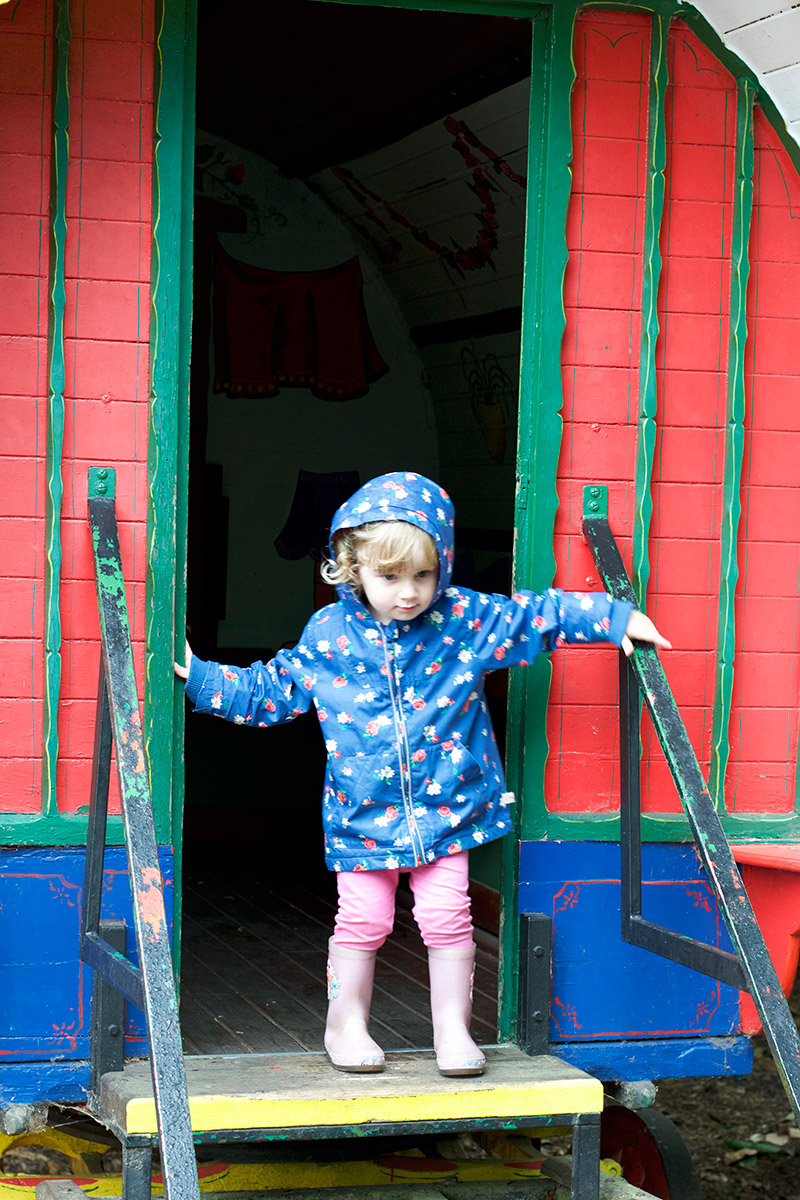 Sadly, it was a little too chilly for the splash pad, but I imagine it would be lovely on a sunny day.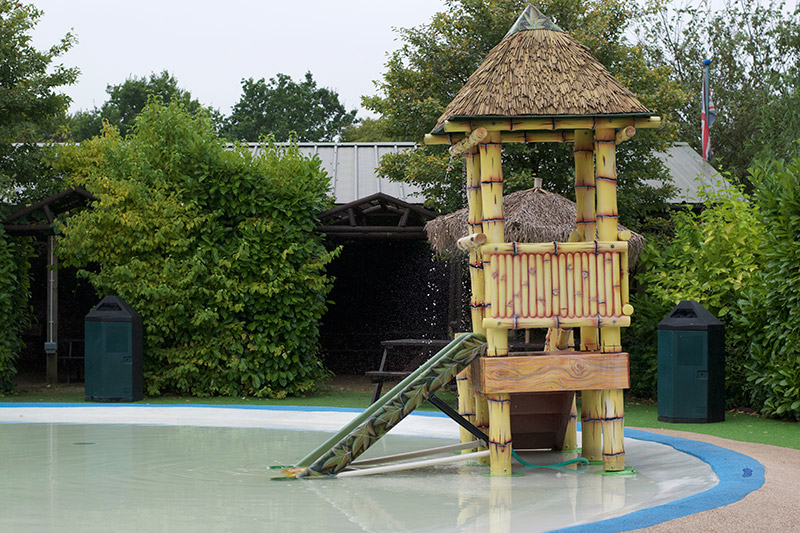 Interactive displays
I absolutely loved the interactive displays at the park. There were lots of opportunities to get close to the animals and learn about the animals, as well as conservation facts.
Little M was very excited about the Tropical Rainforest! Not only did he see an anaconda, he was able to go into a little tunnel and press right up next to the glass to see it up close!
He also enjoyed becoming immersed in the madagascan cockroach display…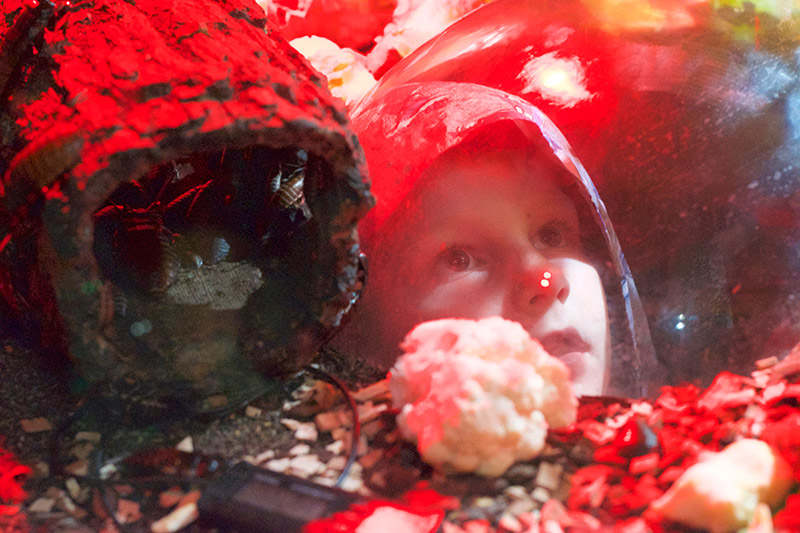 I was very excited to see the African Penguins, as we had the same penguins at the aquarium I used to work at. They are extremely endangered and I think it is so important to spread awareness about their plight.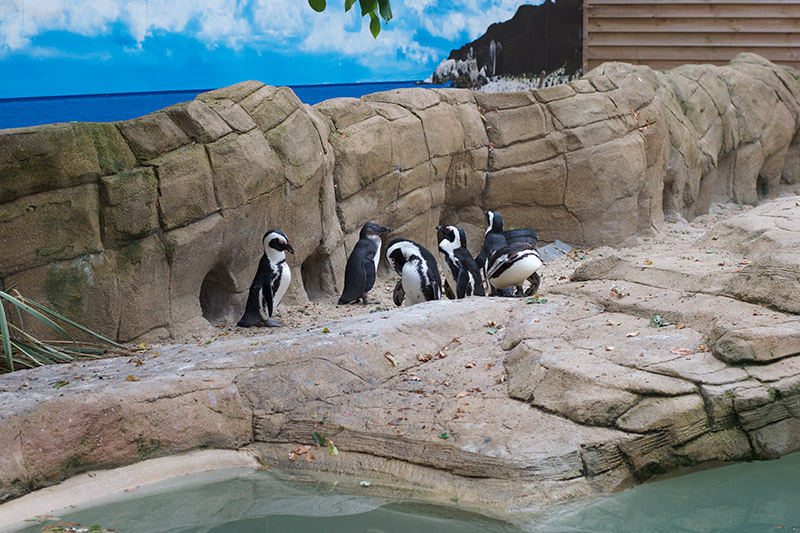 Little M loves penguins, they are one of his (current!) favourite animals, so seeing them up close was very special. The kids enjoyed working out which type of penguin they were the same height as!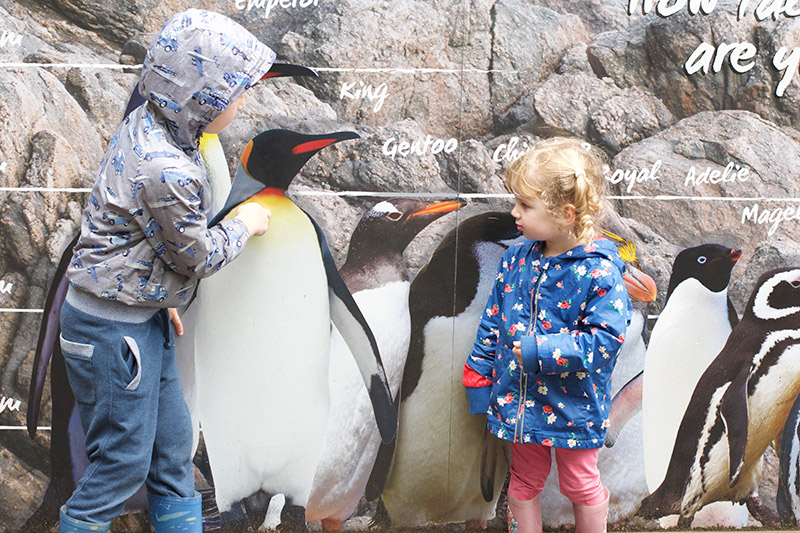 Apparently we have a King Penguin and an Emperor Penguin in our family!!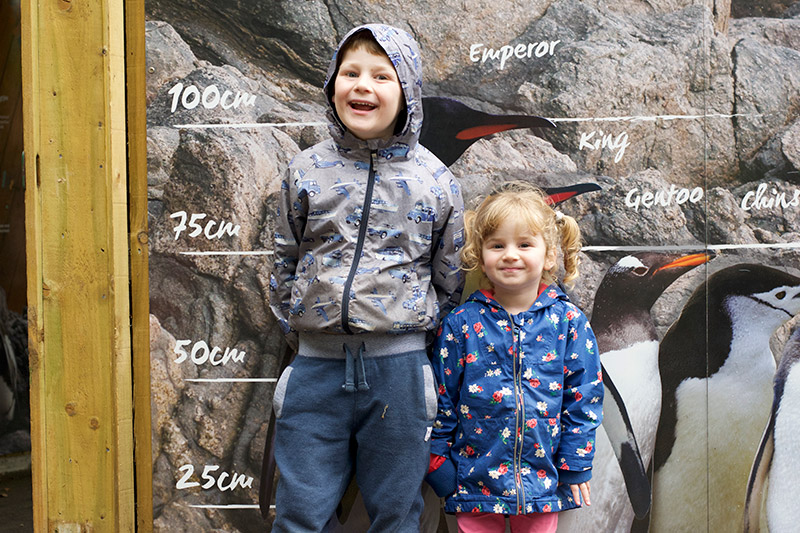 Conservation facts
I liked that each exhibit had information about each animal and how endangered it was in the wild. This made it very easy to learn more about each animal and to talk to the children about them.
It has really made me think about what more we can do as a family to support animal conservation. I think it starts with talking to my children about endangered species, plus thinking about what we can do at home to protect local species. (I sense another blog post coming..!)
We talked about why this magnificent lion sculpture at the park was made from clocks…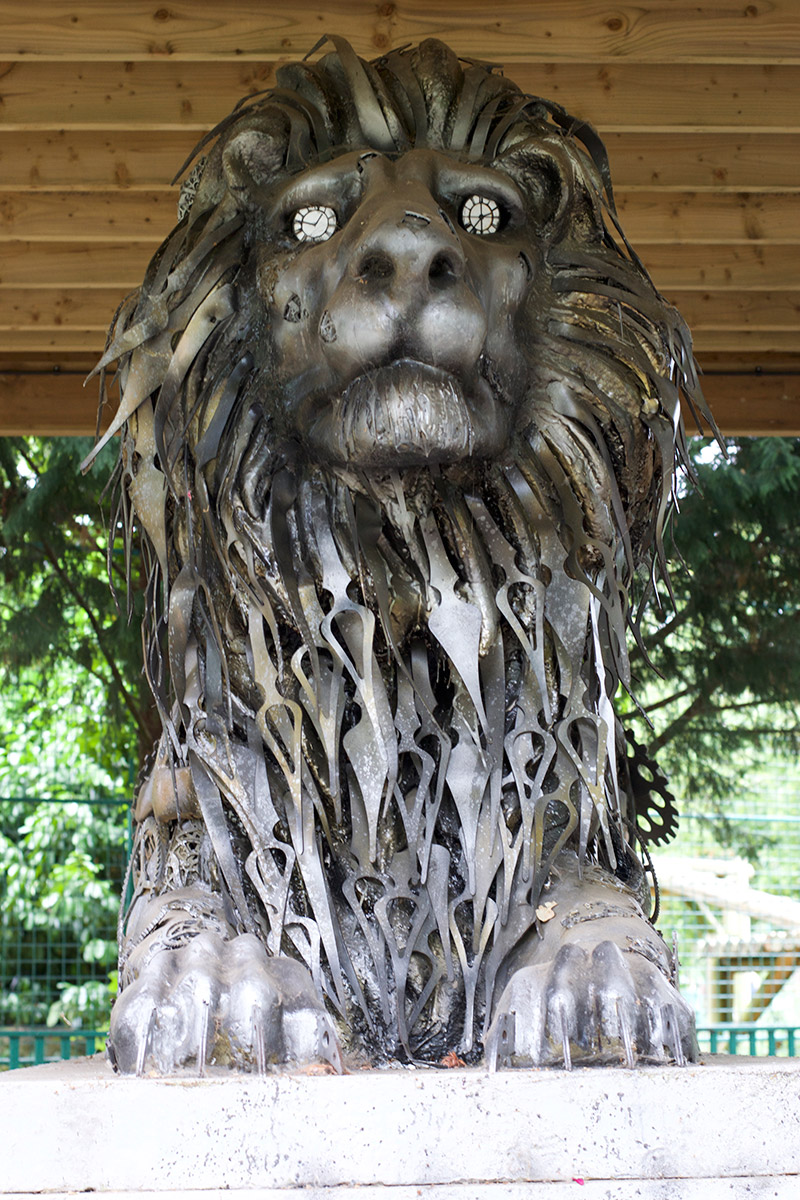 Paradise Wildlife Park is a registered charity (Friends of Paradise Wildlife Park) and supports and helps many conservation projects. I was touched to see that they have recently supported Uganda Wildlife Education Centre, which I visited many years ago whilst living in Uganda! The centre does great work to rescue and rehabilitate animals.
More animals!
Just when we thought we'd seen it all – some camels appeared, as if out of nowhere!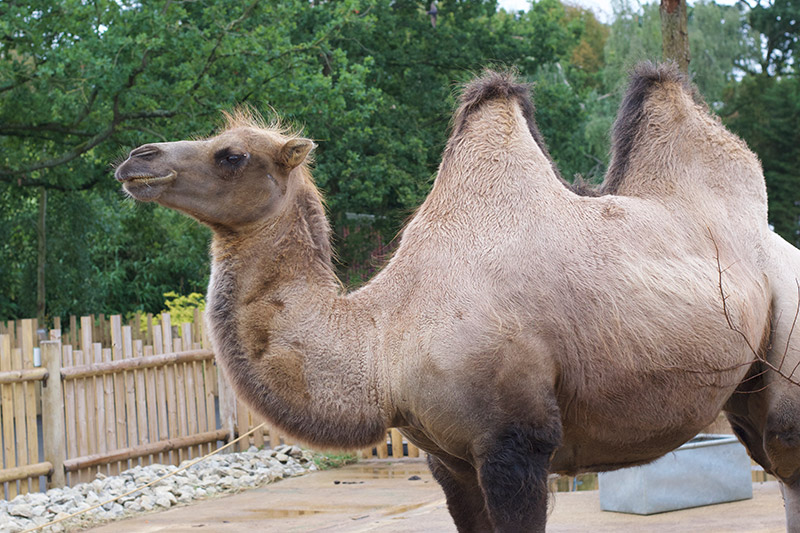 LP, always adventurous in spirit immediately piped up 'Ride on one! Ride on one!' We had to explain that she couldn't ride on the camel (!), but we enjoyed getting up close to say hello!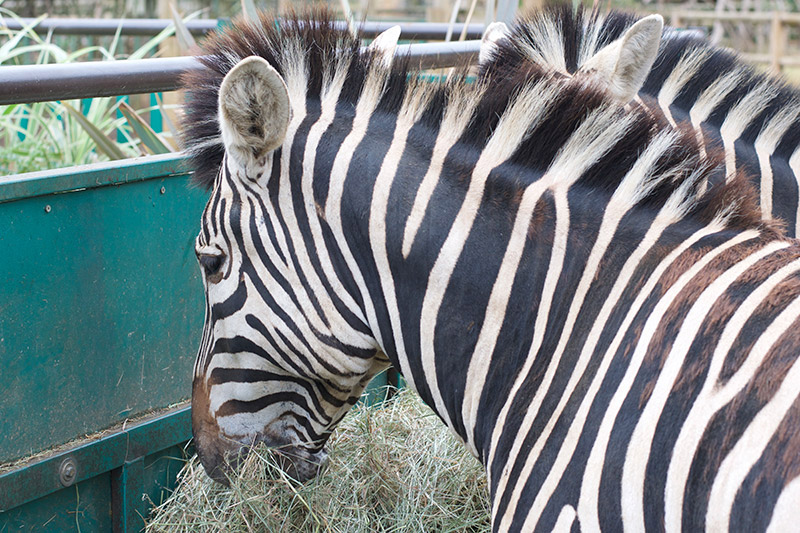 We also met some zebras, wallabies and meerkats, before stopping for a rest.
World of Dinosaurs
Little M was in luck, as at the moment there are dinosaurs at Paradise Wildlife Park!!! What a surprise!!! He fulfilled his dream to meet a dinosaur after all!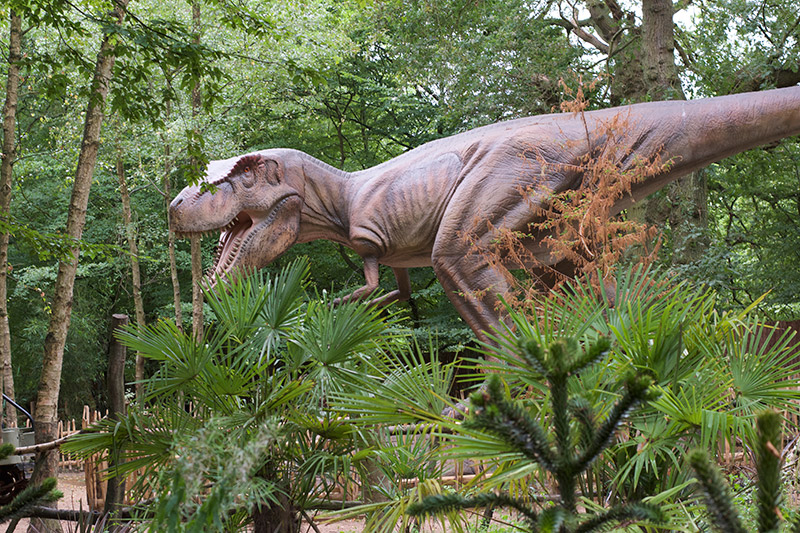 World of Dinosaurs was a massive highlight of our visit. It was literally like we were walking with dinosaurs! (Plus we got to pretend to escape from them too – I did my best Jurassic Park re-enactment!)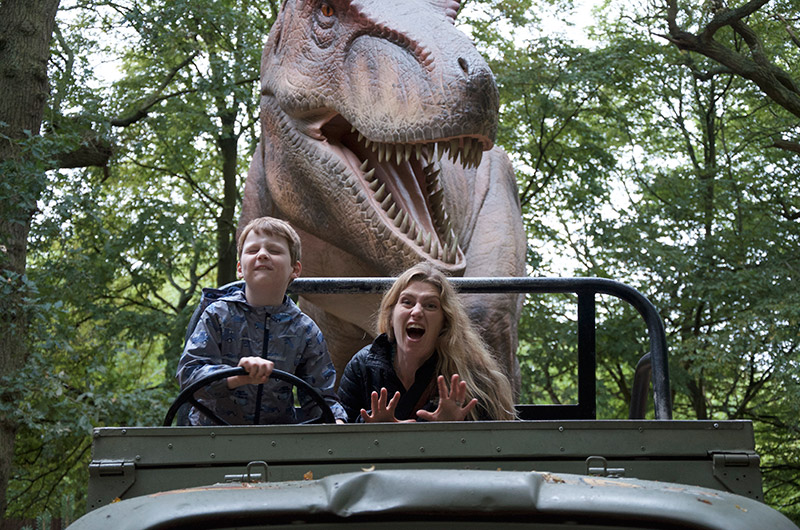 There were 30 life-size, animatronic dinosaurs set in a huge area of natural woodland.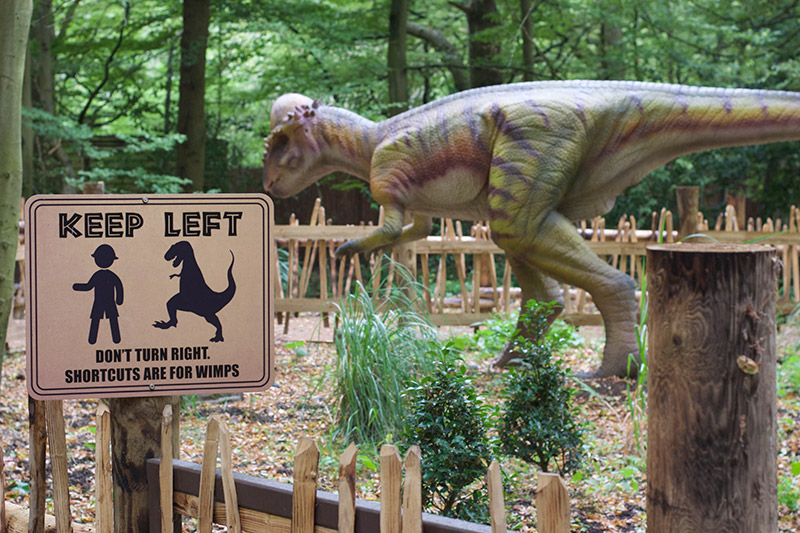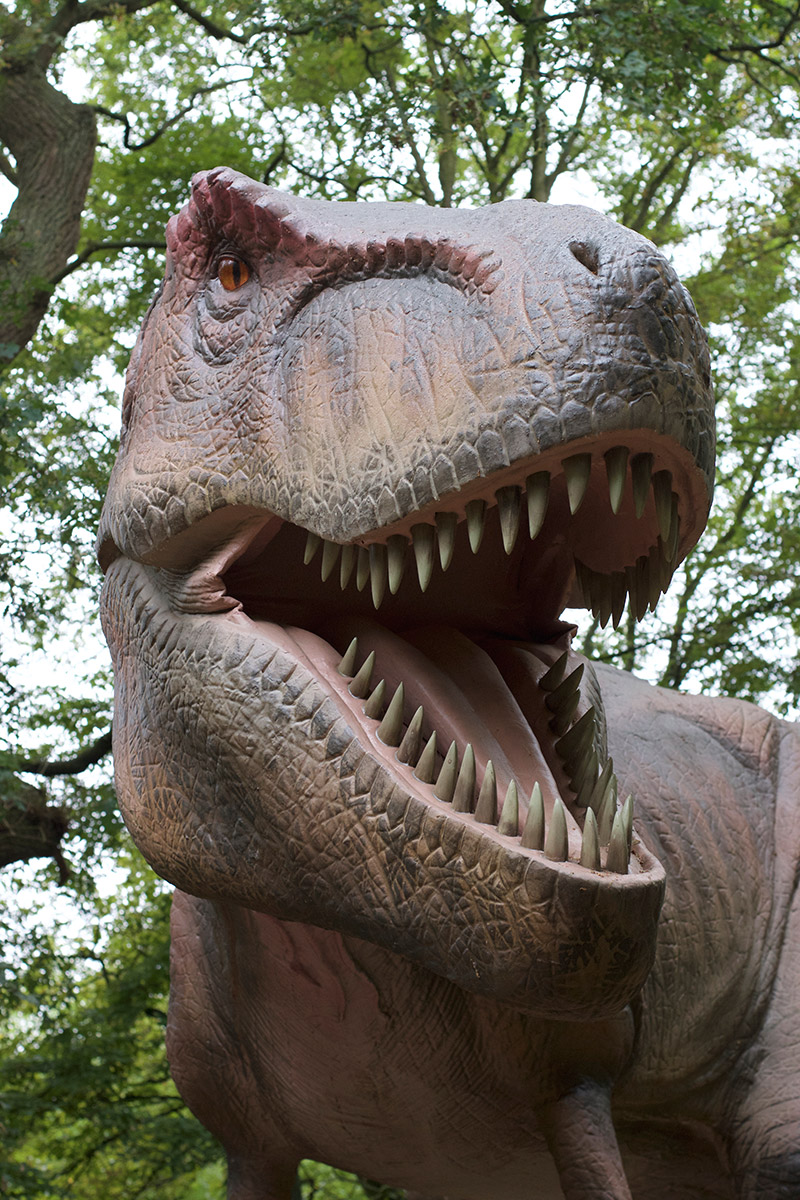 You could take a train ride though the World of Dinosaurs (for an extra fee) or take the walking trail around the woodland. We took the trail and it was fantastic! Here's a little video clip: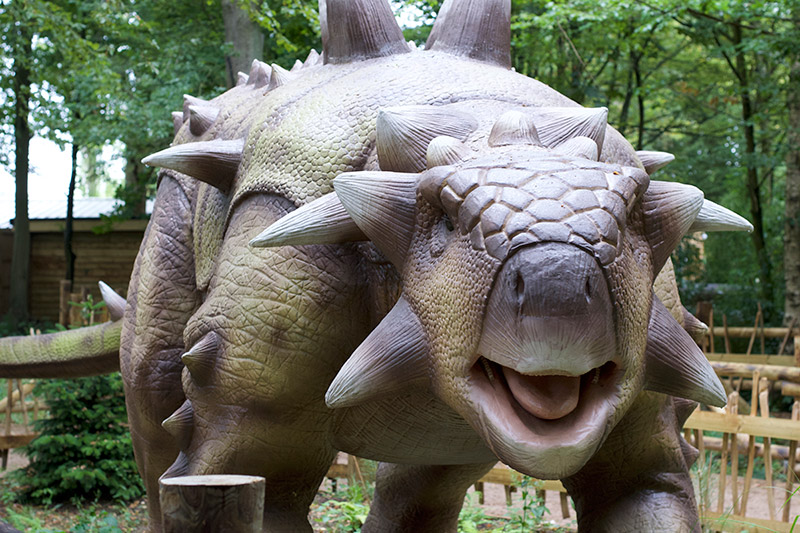 I wasn't sure what to expect, but the dinosaurs were very realistic (though the kids weren't scared!) and it made for a magical experience. We learned lots too – although it turned out Little M knew all of their names already!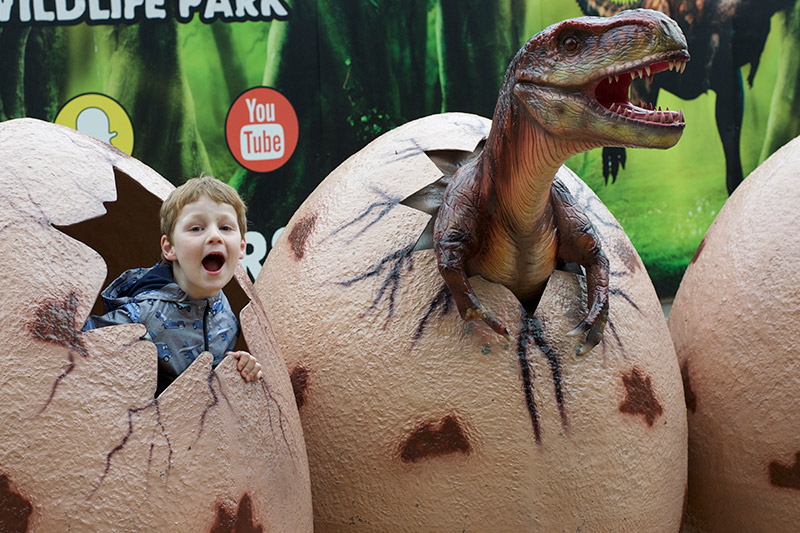 Good facilities
The wildlife park has great facilities – plenty of easy accessible toilets, including baby changing areas.
There were lots of picnic areas and benches to stop for drinks and snacks. Despite the rain, it was easy to find sheltered spots here and there, under bridges and platforms. I wouldn't let the weather stop you visiting! (Perfect weather for otters too!)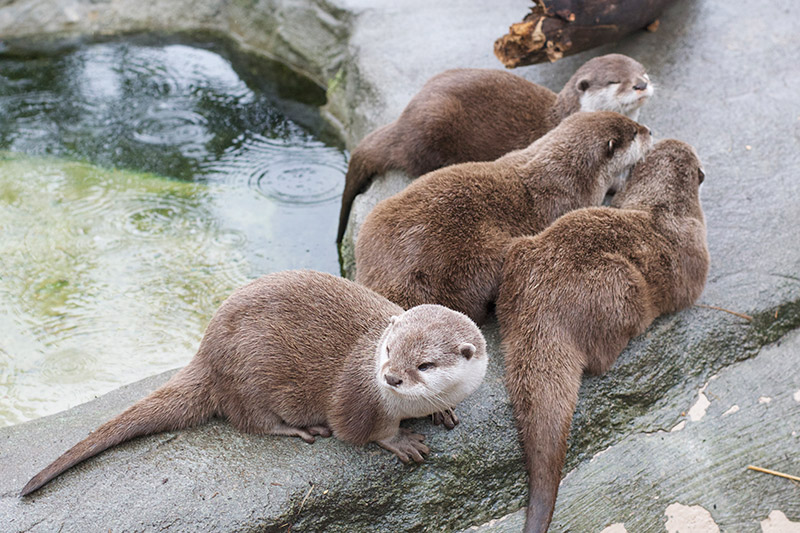 The animals appeared well cared for and managed. They had plenty of outside space, as well as inside space to hide away from visitors. When we were there part of the big cat area was covered to protect the animals from the hot weather that we had recently had (before the rain that day!)
We took our own snacks and lunch, so didn't experience any of the cafes, apart from a quick cup of tea. It seemed like the usual tourist attraction fare – burgers, pizza etc – the prices didn't seem too bad compared with some places. There were a couple of stores – good to know that proceeds from one of the stores go directly to charity work.
Lots included!
At some tourist attractions you can feel a bit swizzed after you have paid to get in and then have to pay extra for everything else. However, at Paradise all of the park, the play areas and the dinosaurs were included. There were a few 'pay extra' things to do, like face painting etc, but not too over the top. It was a shame the train wasn't included in the ticket, we did skip that as it was pricey for 4 of us. Apart from that you wouldn't miss out by not doing the 'extra' things if you didn't want to.
The park does offer other additional experiences for an extra cost – Jungle Sleep Overs, Shadow a Keeper, Feed the Big Cats and Big Cat Night to name but a few. They look fantastic – perhaps for a special occasion. I also like that some of these experiences raise money for animal charitable causes.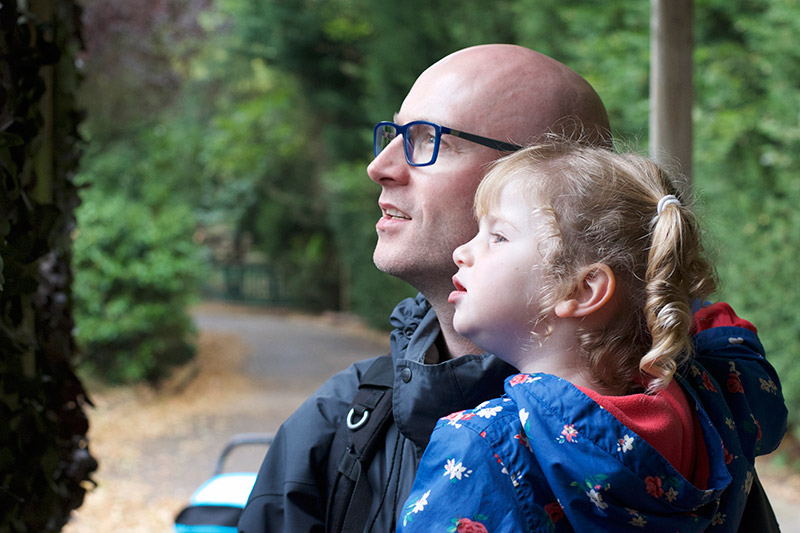 The entry fee for the park is quite high, but similar to other places. Having worked in an aquarium, I know the up keep of animals is expensive. The family tickets are good value and if you lived close by a season ticket or membership would be a really good deal.
We spent around 5 hours at the park – we could have spent longer, as we didn't quite see everything. But it was plenty long enough for our young kids. I loved that there was so much choice to pick the things you were interested in.
The final verdict?
We had an amazing day at Paradise Wildlife Park. We made a connection with so many animals and had a range of fun experiences together. Plus we met dinosaurs!!! We saw and learned a lot and it's made me reflect a lot about animal conservation too.
Overall it was a fantastic day out. I would recommend a visit if you live in the area or are visiting Hertfordshire – especially with kids!
Disclosure: We were given a family ticket to Paradise Wildlife Park for the purposes of this review. However all opinions are honest and my own.