Little M loves watching surprise egg videos on youtube, so this Easter I thought it would be fun to make him some chocolate surprise eggs of my own – to, well, surprise him with!
The eggs are surprisingly cheap and easy to make – plus you can personalise them however you like with your own choice of sweets, treats and decorations.
All of the materials are really easy to collect – the only thing that might take a little forward planning is to buy an easter egg mould, if you don't already have one.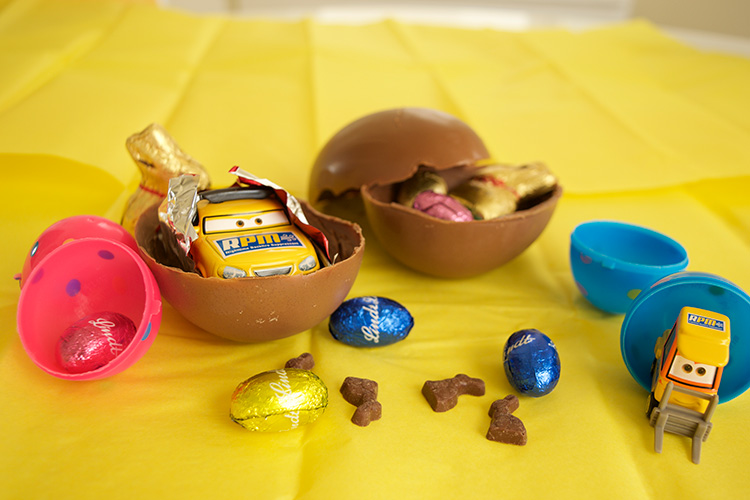 These quantities will make one medium sized egg. You can easily adjust the quantities if your mould is larger or smaller than this, or if you wish to make several eggs!
Disclosure: This post contains affiliate links at no extra cost to you. Thank you for your support!
You will need:
2 medium size Easter egg moulds (2 halves)
125g (4.4oz) good quality milk chocolate (plain or white would work too)
*Assorted Easter treats for inside the egg – such as sweets, small chocolate eggs or small toys
Foil or tissue paper for wrapping
Optional: Sweets to decorate, plus a box and tissue paper to hold egg
*Choose treats based on the age of your child. For children under 4 go for soft chocolate eggs and bunnies, rather than hard shelled eggs that pose a choking hazard. If your child is older, you could place a toy inside, such as a diecast car
or figurine
 – just like a real surprise egg! Just make sure it's age appropriate for your child and is large enough to not pose a choking hazard. Always supervise your child when opening and eating the egg and always ensure that they open the egg first – before biting into it!
Also have ready:
Small spoon, pastry brush or clean paintbrush
Saucepan
Heatproof bowl
Wooden spoon
Foil or greaseproof paper
Chopping board
1. Break the chocolate into pieces and place in a heatproof bowl. Place the heatproof bowl over a pan of simmering water, making sure the bowl doesn't touch the water. Gently melt the chocolate in the bowl.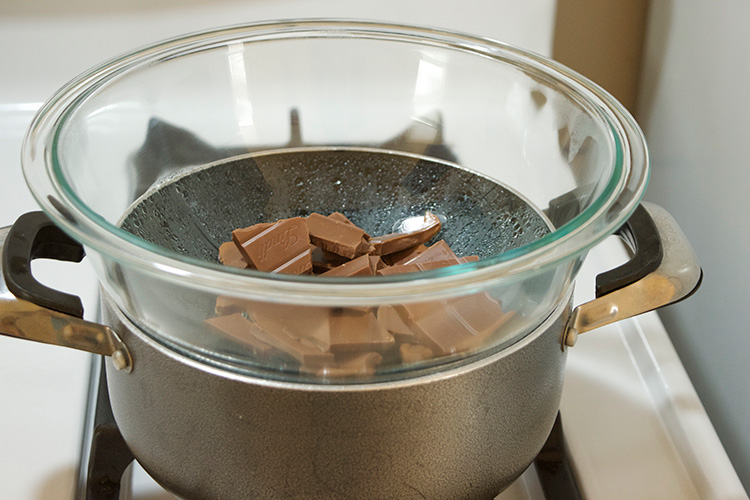 2. Stir until smooth then take off the heat and leave to cool for a few minutes, but so the chocolate is still runny.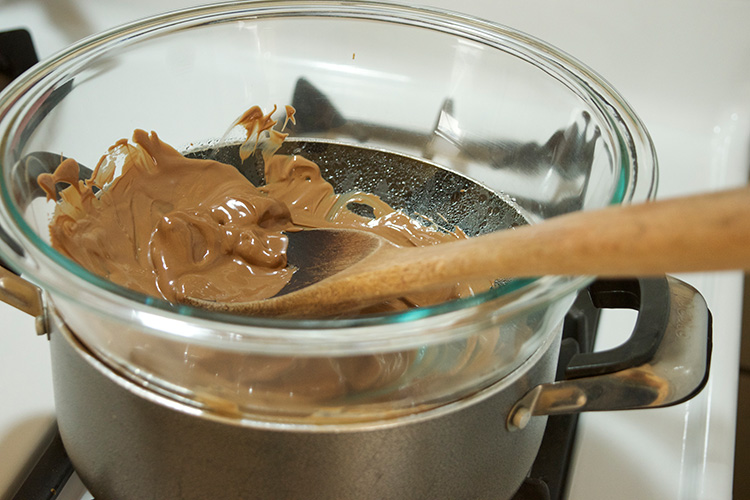 3. Spoon about a quarter of the chocolate into one of the egg moulds and spread thickly over the inside with a pastry brush, clean paintbrush or small spoon. Cover the sides really well, as thicker sides make it easier to join the edges together later on. You can check that the chocolate is even by holding the mould up to the light.
4. Slowly swirl the chocolate round the egg mould to ensure an even coating. Continue to swirl the chocolate for around 10 minutes more until it has begun to set.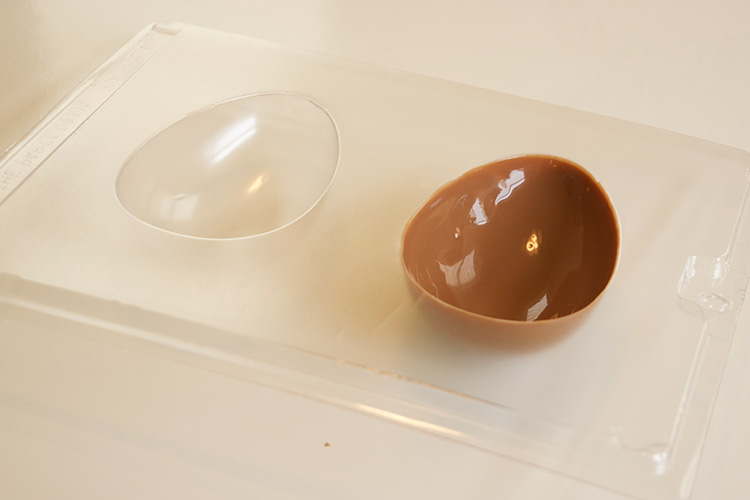 5. Repeat with the other mould.
6. Place the moulds upside down on a tray or chopping board covered with foil or greaseproof paper. Refrigerate for around 30 minutes, or until firm. (Placing upside down ensures the chocolate does not pool in the bottom of the egg.)
7. Re-warm the remaining chocolate and repeat the process for each side of the mould, saving about 1 tbsp of chocolate for later. Use a knife to scrape away any excess around the rim of the mould to give a clean, straight edge.
8. Turn out each half onto a greaseproof paper or foil covered chopping board, carefully pulling away the mould until it releases itself.
9. Place one egg half carefully back in the mould, or in scrunched up foil, to hold it in place while you fill it with treats! (You can wear cotton or latex gloves if you want to avoid finger prints on the chocolate.)
10. Fill the egg half with your chosen treats and the small toy if using. You may wish to wrap the toy in paper or foil to protect it from the chocolate. (For babies or toddlers having their first taste of chocolate (!) you could leave out the treats all together and make a simple hollow egg.)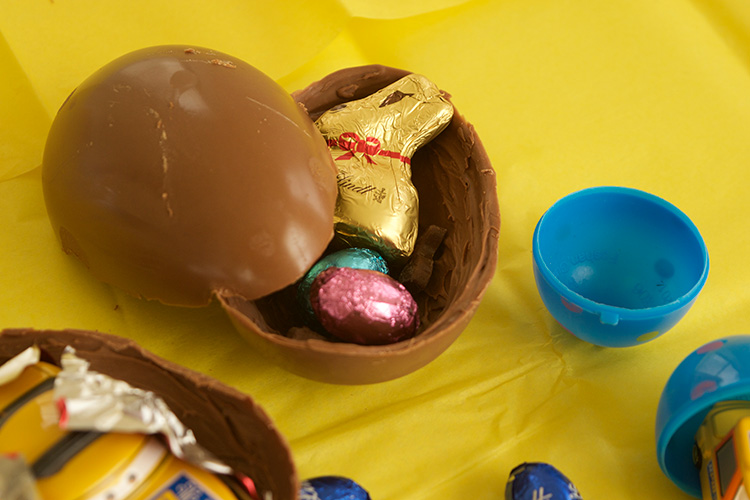 11. Warm the reserved chocolate and brush around the edge of the egg. Place the other half on top and press together. You can seal the join further by brushing with a little more chocolate and filling in any rough edges or holes. Leave in a cool place to set firm.
12. When firm carefully wrap the egg in foil. Or if you prefer you could decorate it and place it in a small tissue paper lined box. To decorate, use the paintbrush to dab a little chocolate onto the backs of sweets or chocolate buttons. Gently press them onto the egg.
Well done you just made a chocolate surprise egg! You can store your egg/s in an airtight container until needed. After a few days some discolouration of the chocolate is normal, as the fats and sugars change with the air temperature. This is harmless and does not affect the taste.
If you have smaller or larger moulds, you can easily adjust the chocolate quantity. You could even make a selection of different eggs for an Easter egg hunt!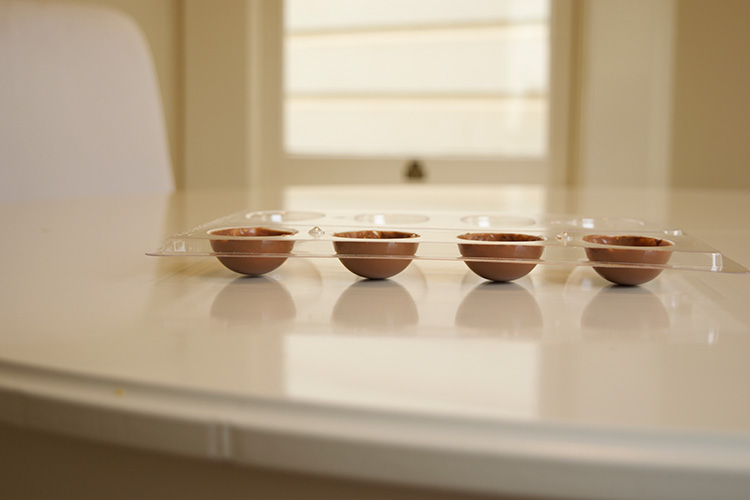 If you want to mix things up (or avoid your little one consuming too much chocolate) you could also fill some plastic eggs
with toys or treats to add variety. With older children you could involve them in the making – perhaps making eggs for their friends or siblings.
Be as simple or as adventurous as you like – have fun!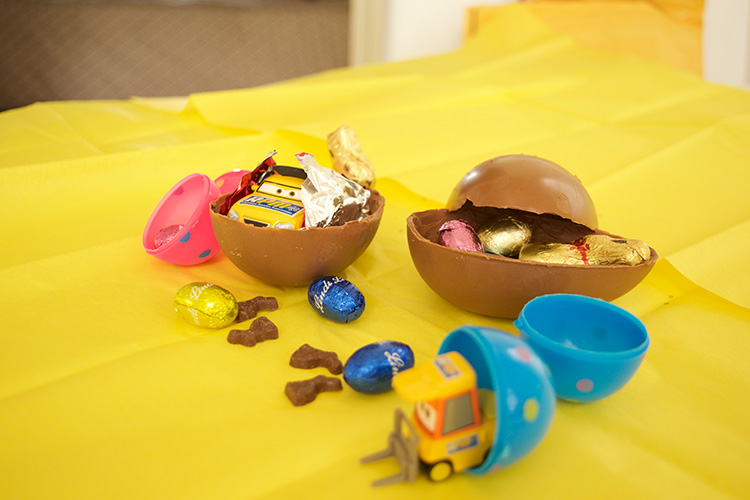 Does your little one like surprise eggs? Do you have any other tips on making Easter eggs for children?
Like this post? Pin me!