Can screen time for kids be beneficial? Do you allow your kids to have screen time?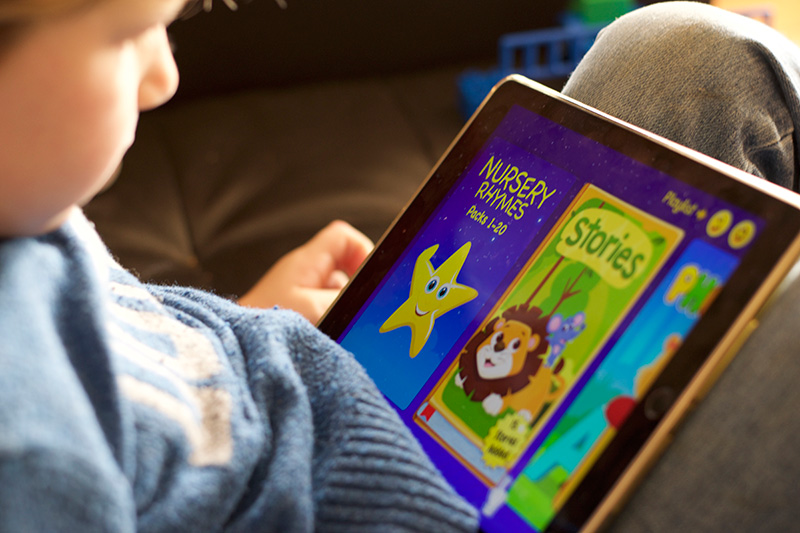 We hear so much about how screen time is bad for us and bad for our kids. As parents we are told we should be limiting kids screen time. We often get guilt tripped for letting our kids watch tv, or for taking the time to check our emails while the kids are around, or dare I say it – our Facebook!
I'm sure I am not just speaking for myself when I say that I often get fed up of all the negativity surrounding many areas of parenting – screen time included. Most of us are caring and concerned parents who do not want our children to spend all of their time glued to screens!
We all want our children to play imaginatively, to make friends, have outdoor fun, become kind and caring… and have an all round wholesome childhood. We all strive to do the best for our kids.
But does that mean that there is not a place for screen time? Can screen time for kids be beneficial?
I believe that like everything in life it is all about balance. Lots of screen time for kids is clearly not a good idea for their well being. I think most of us know that. Too many screens can stop them being active, social little people, who primarily need to PLAY. It is understandable that we receive so many messages in society about screen time for kids. I think it IS important to have a wider awareness regarding screen time. BUT I do think that a SMALL amount of screen time for kids can actually be a positive thing.
Here's why I think some screen time for kids can be beneficial…
It can help them to relax
Watching a good movie or tv show, or playing on a good quality app can be a great way for kids to relax. My son is ridiculously active, always on the go and sometimes finds it hard to unwind. Of course we encourage reading and quiet playing to relax. But sometimes there is a place for a bit of tv or a disney film. Having a little bit of screen time helps him to chill out, especially when he is over tired. All kids need some relaxation time and screen time can be one way to relax and recharge.
It can be educational
Screen time can be educational for kids. Who watched Sesame Street as a kid?! Good quality tv programs and apps can help children with their literacy and numeracy learning, as well as reinforcing important values, such as kindness. Songs and games make learning fun too!
Little M has recently been enjoying an app called Kidloland. A nursery rhyme app for children 5 and under, Kidloland features over 95 nursery rhymes, all with fun music and singing. The lyrics appear underneath each song, so grown ups and kids can sing along!
We really like this app – it's fun and Little M learns a lot too. I love that new rhymes are continually added and that there are little interactive surprises for kids to discover. Little M's favourite song is 'Row, Row, Row Your Boat' – especially all of the extra verses in the song! It's also nice that the songs download onto your tablet or phone, so you can use the app whilst offline too – especially useful while travelling. You can use the app on iOS and android and can download at the apple app store, google play store and amazon app store.
Time for parents
Some times Mama just needs five minutes! When used carefully screen time can be a useful tool when we just need a little bit of time as parents. Perhaps you are struggling with more than one kid at home, or maybe you need to cook dinner, but your child is about to have a melt down! There is a place for screen time.
Now, of course I am not saying children should be stuck in front of a screen to give parents some peace! I'm just saying with some thought and care, screen time can be a helpful tool to give parents a little time when really needed!
It can give them inspiration
A good quality movie or program can sometimes spark inspiration! Little M likes to watch trucks and construction vehicles on youtube – and then recreates the videos himself! Sometimes he gets ideas of things that he wants to build, or crafts he wants to make, from watching a video. A magical movie can be a wonderful experience for children. It can really open up their imaginations. I adore the Japanese Miyazaki films and can't wait to watch one with Little M.
They can learn to regulate
Screens are inevitably part of the lives of the new generation. I do think it is important for kids to be able to learn how to limit and regulate their own use of screens. Kids will quickly pick up computer skills easily. But I think learning to limit their own use of screens is more difficult. When I was a child we didn't have a TV. The trouble was (sorry Mum and Dad!) all I wanted to do when at friend's houses was to watch TV! It was a novelty and an unknown. I do think a small amount of screen time can help kids to learn to set their own limits.
Overall, I think a small amount of screen time for kids can be beneficial – but like all things it must be in careful moderation and in balance with the rest of their lives.
What about you? Do your kids have screen time? Do you think screen time can be beneficial?
Disclosure: We were provided a subscription to the Kidloland app in exchange for an honest review. All opinions are our own!