This is THE high chair to buy for those of you who never want to buy a high chair ever again! As the product title implies, it is not just a high chair, but a seating system – which transforms like a robot into 4 different seats. Told you that you wouldn't need to ever buy another high chair… well, unless you have twins maybe… hmm… everyone else read on!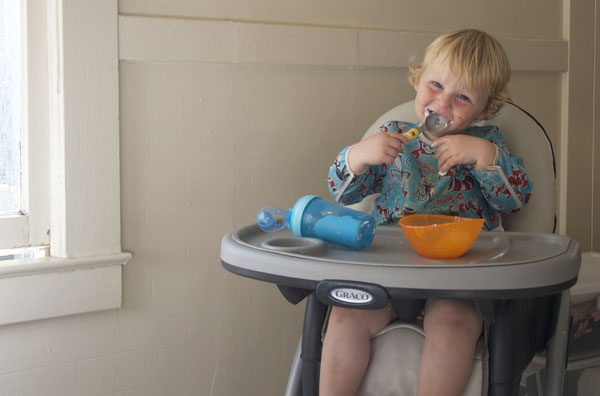 PROS:
4 Seats in 1 High Chair!
The Graco Blossom 4-in-1 Seating System (a bit of a mouthful I know!) is a high chair with 4 different seating modes: high chair, infant feeding booster, toddler booster and youth chair. On first glance I thought the title must be an exaggeration of the chair's potential – but having used it for 18 months so far, I am happy to say it is not! It is great how you can adapt the chair as your child grows. You can also accommodate two children at the same time, as the high chair can be used simultaneously with the toddler booster, whilst the infant feeding booster can be used alongside the youth chair.
The multiple uses for the chair are of course its main appeal – but it also has lots of other useful features…
Adjustable Height
6 height positions and 3 foot rest positions – enables you to fully adjust the high chair to your child's height and to the height of the table that you are sitting at. The height is easily adjusted with the 2 large red buttons underneath the frame on each side. The footrest is a little bit of a pain to adjust – you pull it out and put in the desired slot – but is a tight fit. Luckily, you don't need to adjust it too often.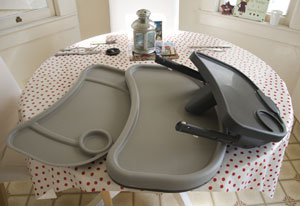 3 Interlocking Trays
I thought this feature was unnecessary when I first saw it – but now I don't know how I'd manage without it! The high chair has a large top tray that peels away to reveal a second large tray, which clicks off to reveal a smaller tray at the very bottom, which attaches to the high chair – awesome! Makes cleaning very easy – often we only have to remove the top layer to wash (dish wash safe) without having to remove the whole tray unit. Also, if one tray gets very messy during the first part of the meal, whisk it off – as if by magic there is a clean tray underneath. I will never stop loving this feature! I also love the fact that the top two trays are so large – much bigger than on many standard high chairs. The whole tray unit removes one handed, by pressing in the 'Graco' symbol on the front – easy to clean, plus you can wheel up to the table and use without the tray unit if you like.
Removable Infant Seat Insert
The infant seat insert gives a smaller baby support – but can be removed when baby gets bigger, leaving the main seat pad underneath. I think the seat pads make the chair much more comfortable for baby, yet they are also easy to keep clean. Both seat pads are removable and machine washable, whilst the main seat pad can also be wiped clean.
3 and 5 Point Harness
5 point harness keeps a smaller baby secure, but can be converted to a 3 point harness when your child gets older. All harnesses can be easily removed for cleaning.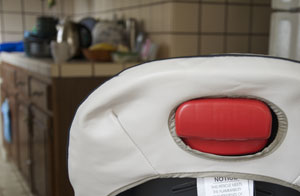 3 Position Recline
This is one of those features that is not essential, but 'nice to have' anyway – especially useful if you are bottle-feeding an infant. Recline is adjusted by lifting the big red lever on the back of the seat.
Front Wheels and Locking Rear Castors
Another great feature which I was not initially looking for – but great to have. Wheel the chair to and from the table, or up to the sink to wipe clean.
Sturdy
This high chair feels safe and sturdy – reassuring if you have a tall and active toddler, like me! However, if you are looking for a lightweight, folding or portable option… this is not for you.
CONS:
Bulky
This is not one of those waif-like, ultra minimalist chairs – it is sturdy and solid. This may be a pro or con, depending on what you are looking for. The chair takes up a reasonable amount of space – a bit bulkier than a regular dining chair – and does not fold away for easy storage or portability. So if space is very tight, this may not be the chair for you. However, if you have reasonable space – don't be put off – it does roll away nicely to any corner of the room you fancy. You could use the infant or toddler booster when traveling, or in restaurants – but there are better options if you are looking for a portable seat.
Crotch Bar Attached to Tray
I have mixed feelings about this. The fact that the crotch bar is attached to the tray gives much more space for bigger children – compared with having the crotch bar attached to the seat, which is more space limiting. However, it does mean you can't always push in the tray as far as you would like – to avoid squashing your child's crotch area! – which can result in a gap for food to drop into the lap. This can be solved with a good 'catch all' bib and I think is less of an issue into the toddler years – but is a point worth mentioning.
Overall:
The Graco Blossom 4-in-1 Seating System is a sturdy, safe high chair that really will adapt to fit your growing child and your growing family. Unless space is very limited, it is a great choice of high chair. The minor drawbacks of the chair are over-ridden by its adaptability, as well as some fantastic extra features – such as 3 interlocking trays. Although it is a little pricey compared with other high chairs, it gives great value for money due to its multi-purpose nature and longevity. You will never have to ever buy a high chair again! (Hopefully!)
Disclosure: This post contains some affiliate links, however all opinions are entirely my own. 
[plinker]