We love creating art and crafts with materials recycled from around us – so thought we'd have a go at some recycled Christmas tree cards!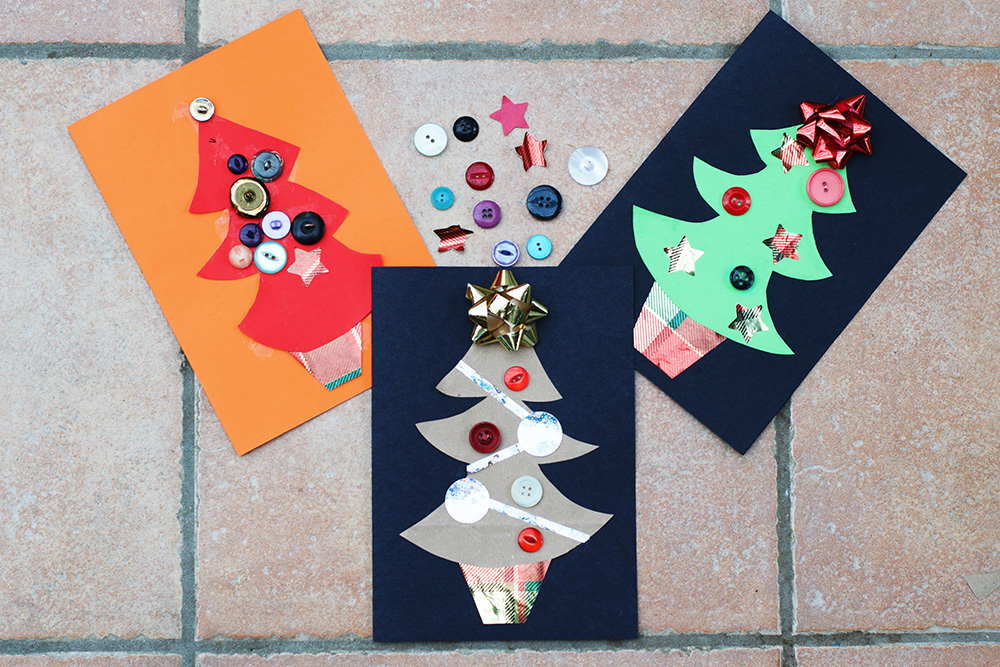 Got a box of buttons lying around?! Have endless scraps of gift wrap that you have saved but never use? This is the perfect craft to make creative use of all those odds and ends we all have.
These cards are really simple to make and fun for all ages from toddlers to ten year olds. The best thing is you can use whatever bits and pieces you like to decorate your trees, there's no right or wrong way to make them!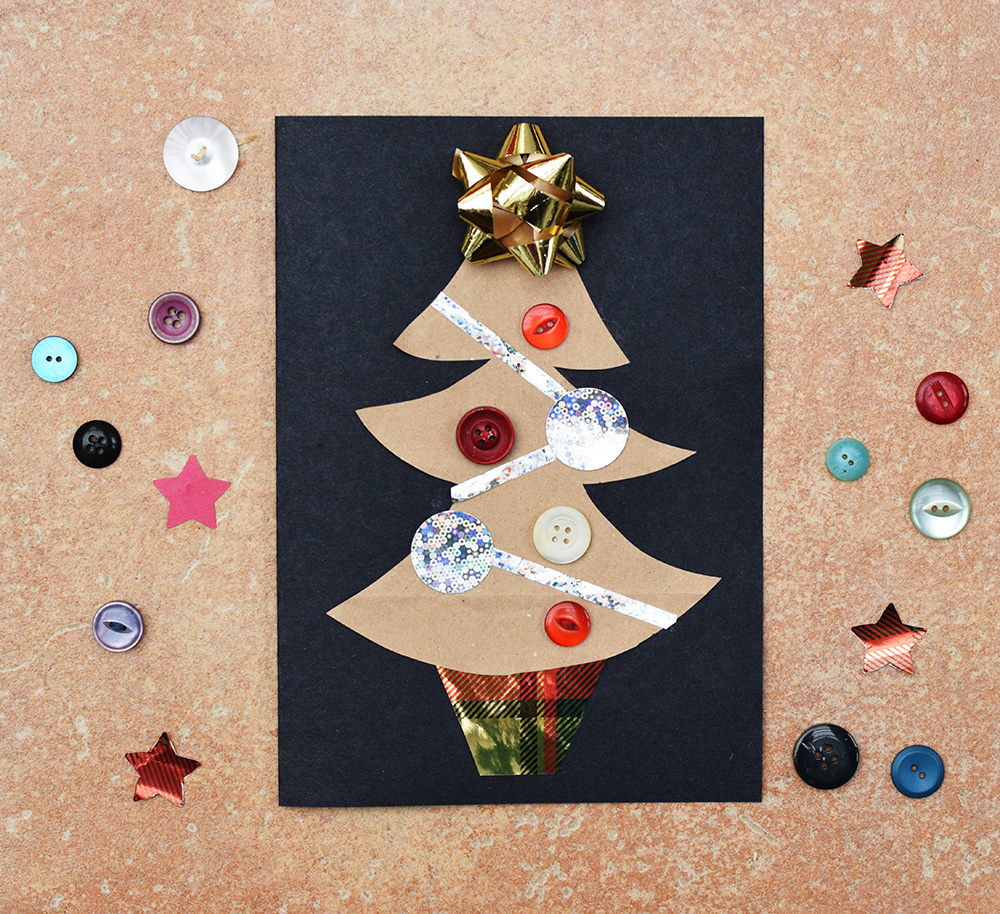 You only need a few simple things from your craft supplies, or from around the house.
The following are just ideas to get you started…
Disclosure: Contains affiliate links.
You'll need:
Brown parcel paper
Buttons
Scraps of wrapping paper
Bits of ribbon
Left over stars or wrapping decorations
Scissors
Glue
Star shaped punch (or any other shape!)
How to make:
Start by gathering your materials.
You'll need a piece of 'best' card to stick everything on – but everything else can be recycled materials. You can use buttons, scraps of wrapping paper, left over bits of ribbon, scrap paper. Or you could add a 'natural' theme and collect leaves to punch holes in.
Fold your piece of black or colored card in half and put to one side.
Draw the shape of a Christmas tree on the brown parcel paper. Or you can use any other left over gift wrap or card. Make sure it will fit on the folded card.
Cut out the tree and stick onto the card.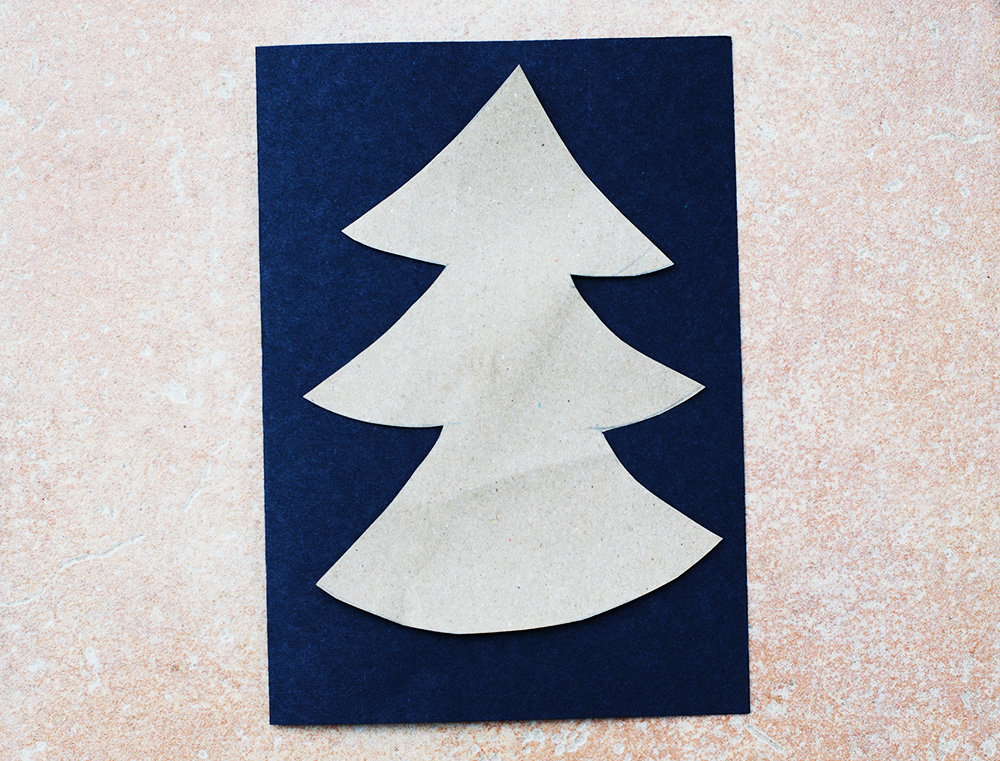 Start by placing buttons and other decorations onto the tree. You can use scraps of ribbon or shiny tape for tinsel.
Use a puncher to create shapes out of the gift wrap to create more decorations for the tree. You could also use leaves at this point, if you wanted to incorporate a nature theme. You can use recycled shiny paper or foil to add some sparkle!
Cut out a pot for the tree from some gift wrap.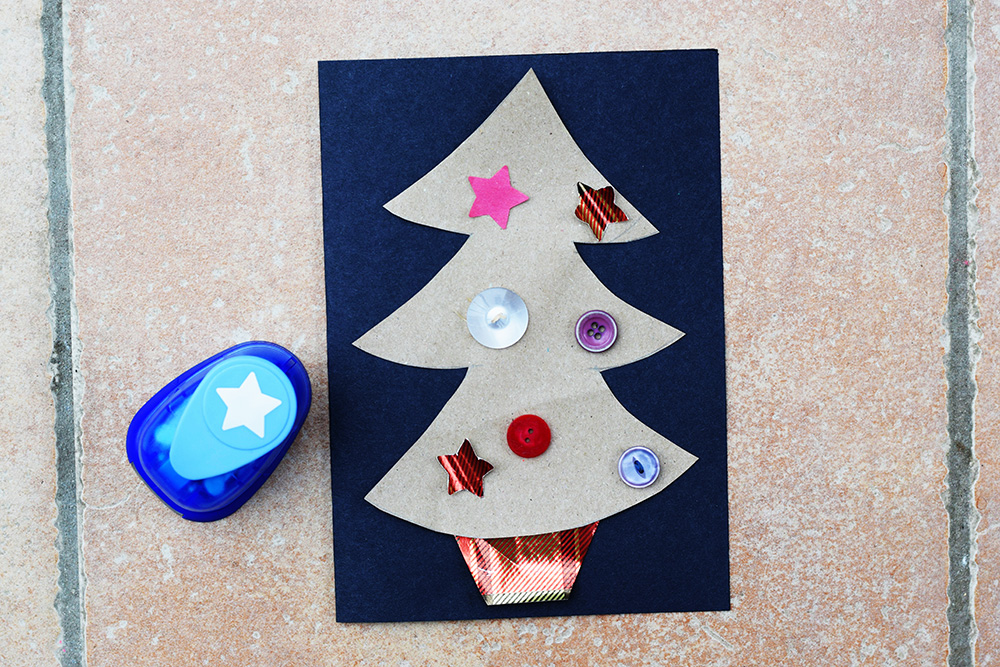 When you are happy with the look of the tree you can glue everything in place.
We used a regular glue stick to stick the buttons and it worked just fine. If you'd like them to be super secure, you can stick them for your children with hot glue or super glue instead.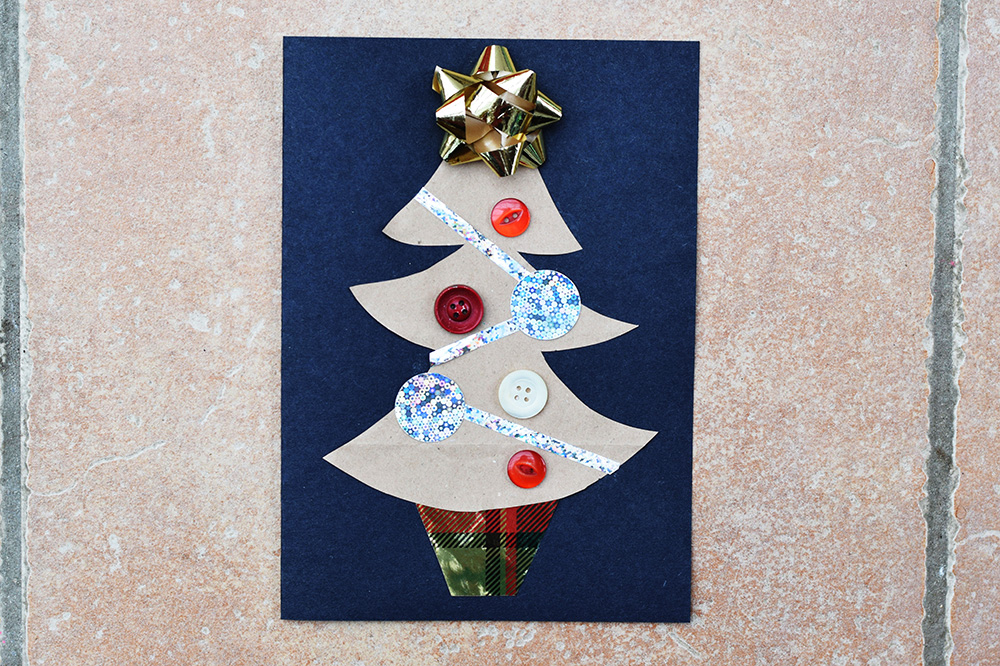 That's it! So there you go – you can have a sparkly Christmas card without using glitter!
Write inside your card with a silver or gold pen for some extra sparkle!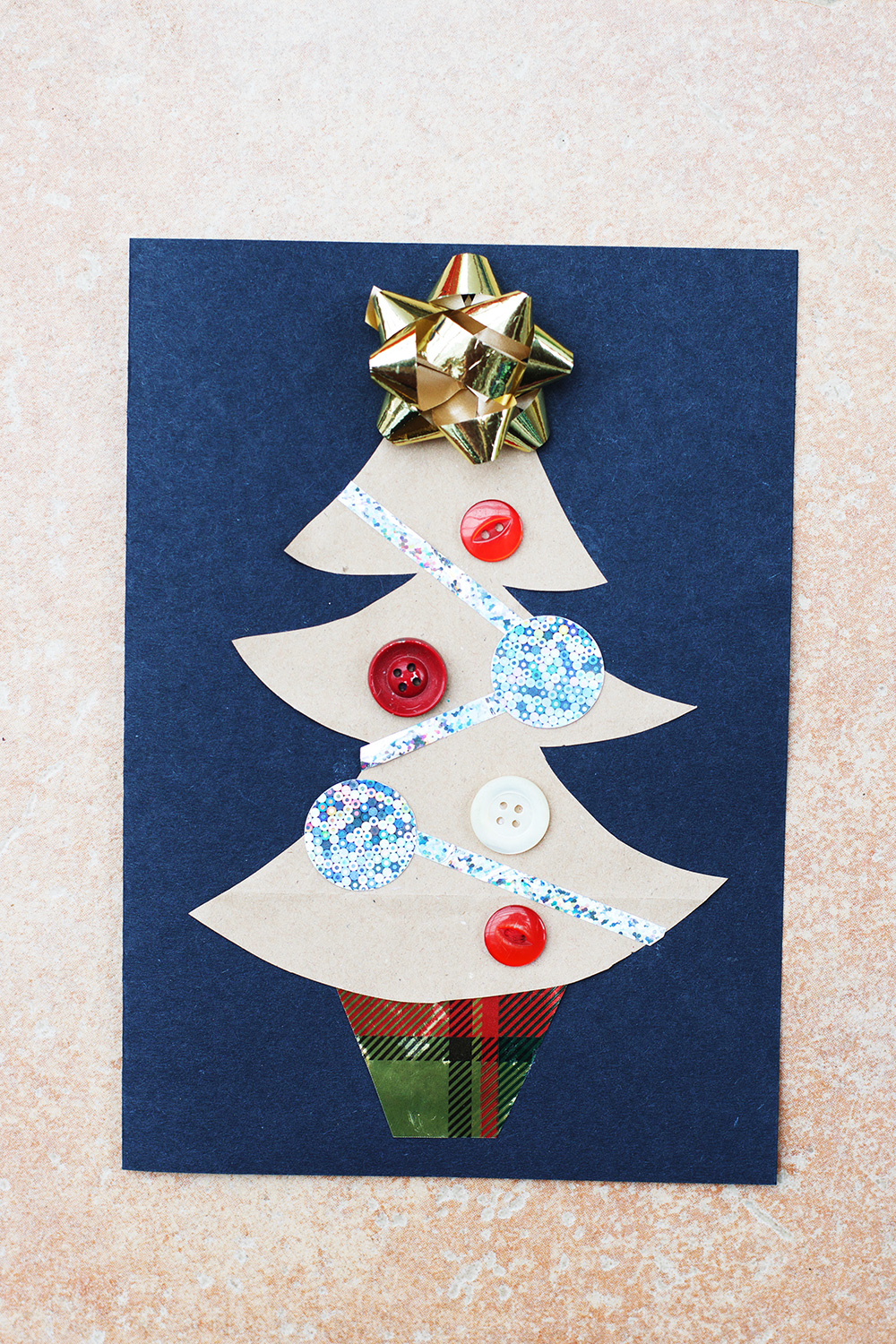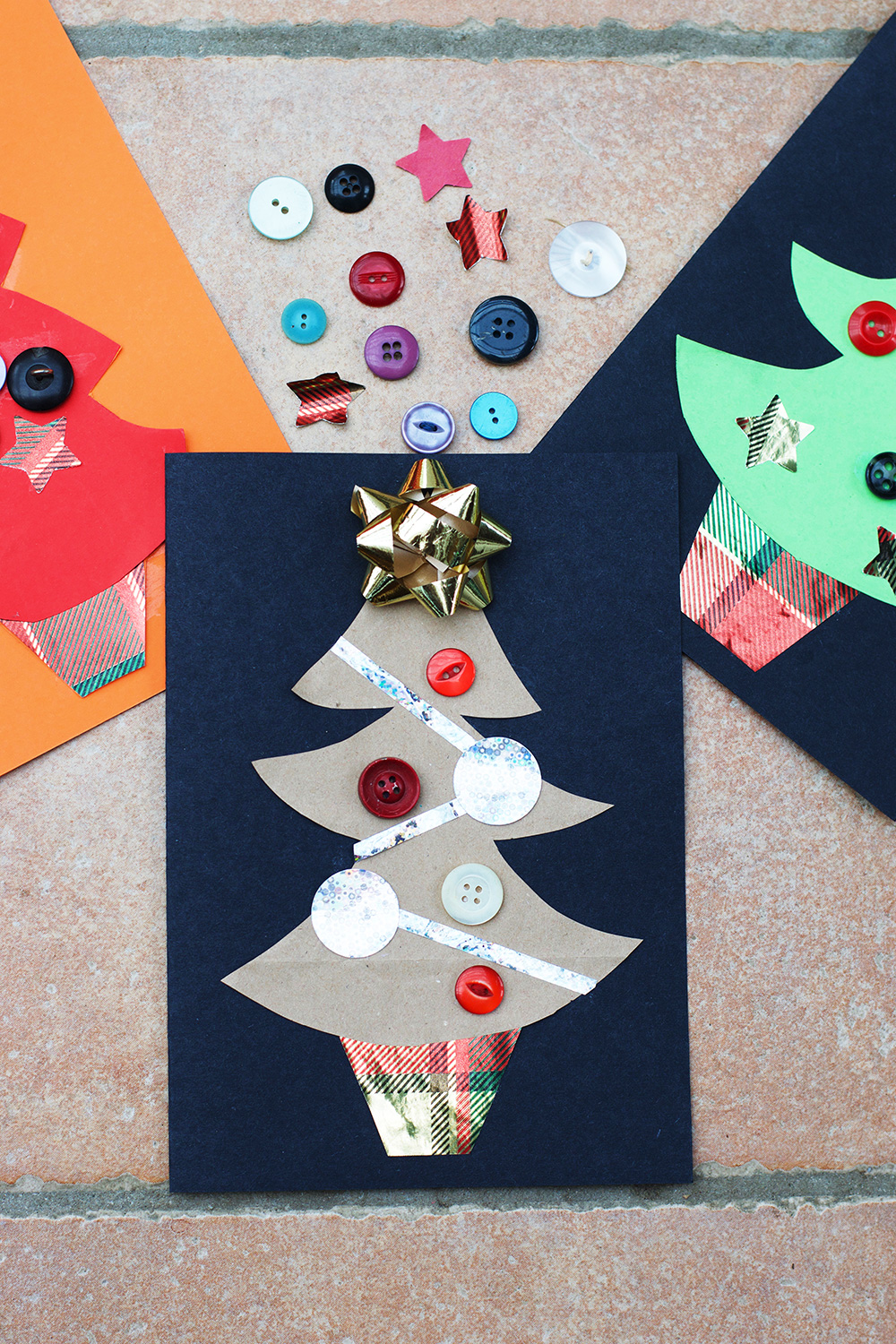 What will you decorate your recycled Christmas tree card with?
If you like this idea you might also like to have a go at making some Homemade Christmas Gift Wrap.