Since I was a child I have loved Christmas time. We had so many traditions in our family and I'm enjoying continuing them with our own children – as well as starting a few of our own! Thanks for the tag Dilan and Me. Here's my thoughts on Christmas…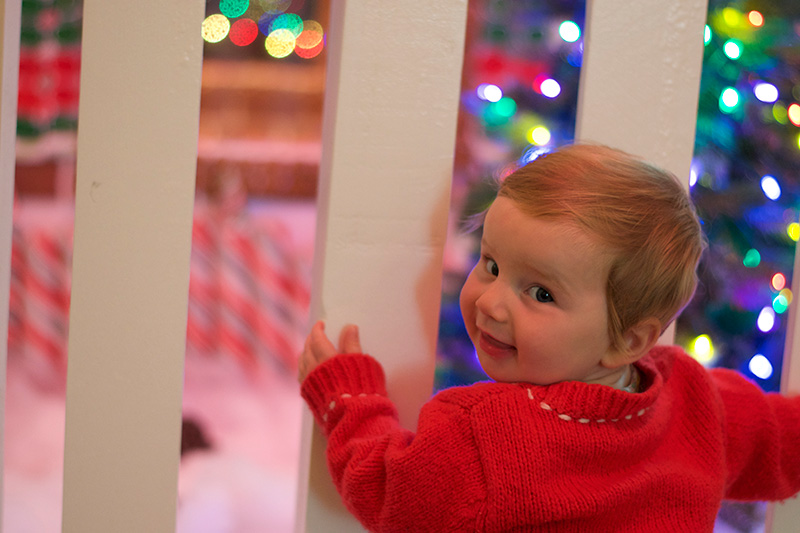 What's your favourite Christmas movie?
A tough one, there's so many classics! Am I allowed two?! Miracle on 34th Street is one of my all time favourites- it's so magical. Plus I was once lucky enough to give Father Christmas himself a hug and a kiss! You also can't beat Love Actually – it will always have a place in my heart as my waters broke watching it 4 Christmases ago!
Have you ever had a white Christmas?
Hmm, not that I remember, though it's possible I did as a child… No chance of one here in San Francisco though!
Where do you usually spend your holiday?
At home with family. We've not been with our extended family for a while, since we moved to the US. But we've always been together as a little family. This year is LP's first Christmas and I can't wait!
What is your favourite Christmas song?
Aargh, also so many! Will be predictable and say Mariah Carey!
Do you open any presents on Christmas Eve?
We were always allowed to open one when we were kids. We've carried the tradition on!
Can you name all of Santa's reindeer?
Ha ha – no! Let me see… Rudolph, Prancer, Vixen, Dancer.. .that's it, sorry!
Is your Christmas tree real or fake?
Real! We always had a real one when we were kids and have now started our own tradition of buying a real tree. You can't beat the smell!
What is your all time favourite holiday treat/food/sweet?
Anything with marzipan! I love my mum's Christmas cake.
Be honest, do you like giving or receiving gifts better?
I love giving gifts, there's nothing like that tingle inside when you give something thoughtful to someone else. But of course it's lovely to be made to feel special too.
What is the best Christmas present you ever received?
Can I be cheesy and say my son?! He arrived just after Christmas 4 years ago and he honestly was the best Christmas present ever!
What would be your dream place to visit for the holiday season?
Really, just to be back in England with my family. But visiting the North Pole would be pretty awesome too…
Are you a pro present wrapper or do you fail miserably?
I start off quite pro, but as time goes on I get weary and the standards slip!
Most memorable Christmas moment?
I used to love sitting by the Christmas tree with my sister, just staring at the decorations and the presents! I remember it so fondly and can imagine my kids doing the same. This year I loved visiting the life size gingerbread house in San Francisco.
What made you realise the truth about Santa?
Hmm, I think it just slowly dawned on me. I do remember one day seeing some 'Santa' wrapping paper in my parents wardrobe and a penny dropped. But I loved the whole magical feeling of it all so much and kept believing anyway – because I wanted to!
What makes the holidays special for you?
Spending time with family and having the excuse to relax and eat lots!
As it's the night before Christmas I will end there and wish you all a very Happy Christmas and a Peaceful New Year.
Thank you for reading. I hope that Santa is good to you!
Rosie