I would like to say a big thank you to Battle Mum and Mrs Puddleducky for nominating me for the One Lovely Blog Award. It's always nice to know that people are actually reading and enjoying your blog – other than your dad and your sister (appreciate you guys too though!) – so this was a really pleasant surprise and much appreciated. Thank you.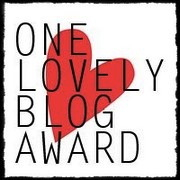 I googled the origins of this award and couldn't find out any information about who started it, or when it began. But it seems like a lovely way to show some appreciation for fellow bloggers that you admire – which can only be a good thing!
In accepting the award I will…
Reveal 7 things about myself
Nominate 5 blogs that I LOVE for the award
So here are 7 things about me – that you might not already know…
1. As a child my feet were so wide my parents had to buy me handmade shoes.
2. I like to know the sea is nearby – even if I can't see it I can sense it! I feel claustrophobic after living somewhere land locked for too long.
3. I met my now husband at the same university where my parents met (they even got married on the campus!)
4.  I once worked in a muesli factory – it inspired me to find a different career, so I never had to work in a muesli factory ever again.
5. As a child I wanted to be a children's writer and illustrator when I grew up – I still do really! But I also love doing fun activities with children – and blogging of course.
6. I always fancied working in an aquarium – so when we moved to San Francisco I got a job at one!
7. I once travelled alone on a bus from Tanzania to Uganda. We passed herds of zebra on the way – a moment I will never forget.
Here are my nominations for the award. I could have chosen so many, but picked these blogs because they have inspired me so much on my journey as a new blogger.
Please don't feel obliged to accept the award – you may have already been nominated before, or may decide that this is just not something that fits with your blog. No worries. I simply saw this as a bit of fun and an opportunity to let people know that I think their blogs are lovely (more than lovely – awesome actually!) So I have chosen my list entirely from the heart…
Snowing Indoors
If you haven't already discovered any of these blogs – please go check them out, they are awesome!