Earth Day is a great opportunity to begin teaching our little ones how and why we need to look after our amazing world. These books are the perfect fun introduction for toddlers and preschoolers on the importance of being green and how to protect our earth for the future. They are all fun to read too! Little M and I found all these in the local library and loved them all – we hope you do too!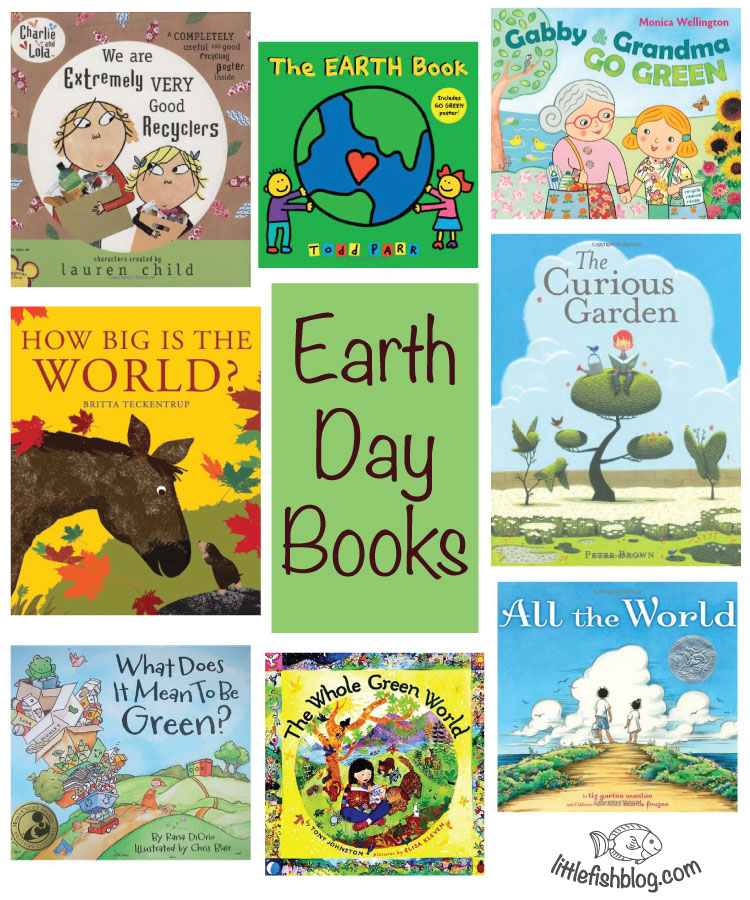 We Are Extremely Very Good Recyclers
Another fab Charlie and Lola book from author Lauren Child. Charlie persuades Lola to recycle her old toys instead of throwing them away. Along the way she discovers a recycling competition – if she can recycle one hundred plastic, metal, and paper things, she will get a real live tree to plant. With only two weeks to complete the challenge, Lola asks her school friends to help her out… great tips on recycling in the context of a fun story.
The Earth Book
Cute and colourful illustrations light up this fun book. Told from a child's perspective, the simple text explains how we can look after our earth and the effects our actions have on all of us – people, animals, the earth and everyone! A lovely book that shows children how even small actions can have positive consequences – and the importance of taking care of our earth.
Gabby and Grandma Go Green
A gentle story about a little girl called Gabby who spends a GREEN day with her Grandma. Follow Gabby as she sews her own cloth bag, shops for food and visits the park and the library. Uplifting illustrations and a story that will inspire you and your little ones to plan your own GREEN projects. Includes instructions on how to make your own cloth bag and lots of green tips.
How Big Is the World
One day Little Mole wakes up and asks his papa "How big is the world?" When Papa suggests he finds out for himself, Little Mole sets off on a journey across the world – meeting new friends and seeing new places long the way. A gorgeous story of a journey of discovery, accompanied with beautiful collage style illustrations. This is a lovely one for bed time.
The Curious Garden
This thought provoking story opens in a dreary city with no gardens or trees. But one day a little boy discovers a small patch of plants and begins to tend to his garden. As time goes by the garden begins to grow and transform the city into a wonderful colourful place… This story of how one boy can change his world is sure to enchant your little ones.
What Does It Mean To Be Green?
Quirky and fun pictures bring to live this book that asks the question, what does it mean to be green? Tips that that are relevant to young children – like eating ice-cream in a cone, instead of a cup! – make this a fun and inspiring book for little children.
The Whole Green World
Whimsical illustrations along with fun rhyming poetry brings alive this book about a young girl exploring the world. Young readers will love seeing what wonderful things in the world they can spot in each detailed picture.
All the World
With stunning pictures and simple rhyming words, this is a book that will help even the littlest readers make sense of the amazing world that they live in – from the shell they find on the beach to the roaring fire at the end of the day. Little ones learn that the world is all we hear and see, each and every one of us.
Read more about Earth Day at earthday.org.
Can you recommend any other good Earth Day books? Or ways to help our children care for our planet?