Today on the blog I am sharing these Disney inspired Lightning McQueen cupcakes.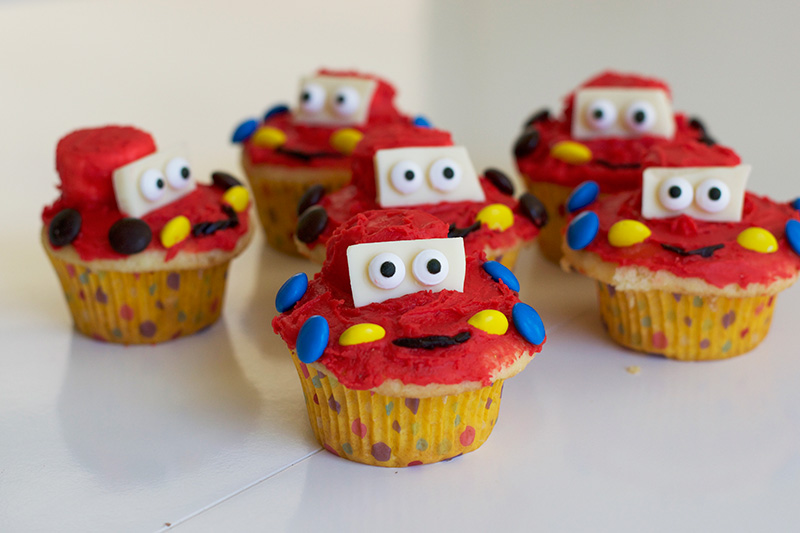 Little M loves the characters from the Disney Cars movies. He got to know the characters long before he actually watched the first movie! His daddy got him a box of second hand cars from the movie when he was just 2 – since then he has loved playing and role playing with them. Of course when he eventually saw the movie, he was so excited that he knew all of the characters already!
Disclosure: Amazon affiliate links included. All opinions are my own.
Cars was the first movie we watched together as a family, so it will always be special. We made a big deal of having a 'movie night' – complete with snacks of course!
The newest movie Cars 3 comes out soon and we are now planning to take Little M for his first cinema visit.
To celebrate the release of the new movie I thought it would be fun to make some Disney inspired Lightning McQueen cupcakes! Everyone loves Lightning McQueen!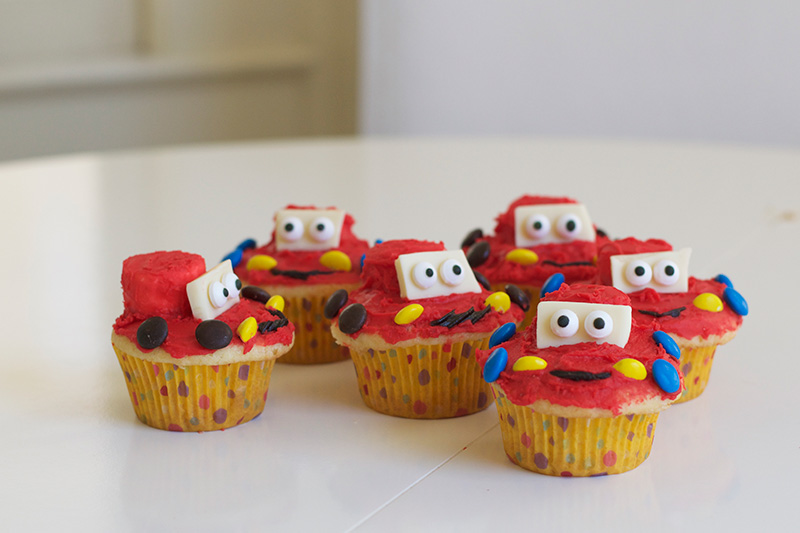 These cupcakes are super easy to make and would would be great for a Cars themed party. Or just for fun to have at home. You can make them with the kids, or surprise them!
You can use any cupcake recipe you like for these, or even use ready made cupcakes for a simple kids activity – just decorate. I've included the recipe we used for the cakes as they were so yummy! The Joy of Cooking is my favourite recipe book – the mixture is adapted from there.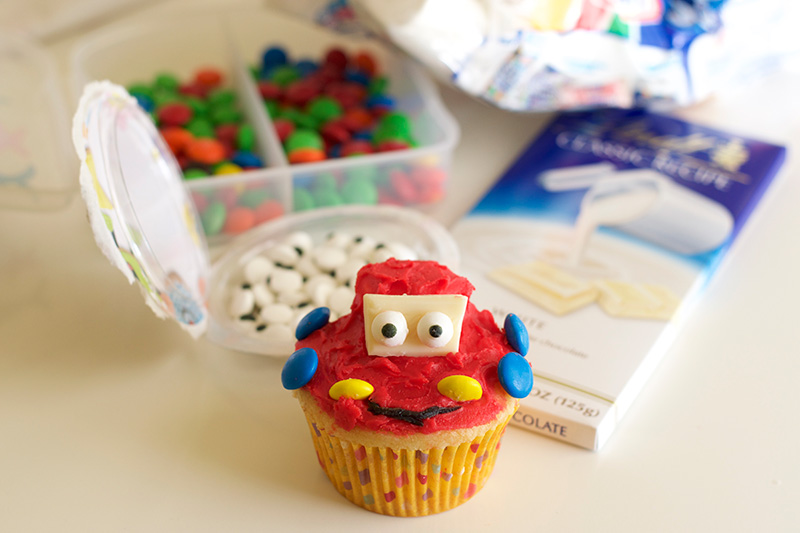 Decorating the cakes is so quick and easy. I really don't do complicated in the kitchen – do you?! I like to keep things as simple as possible, whilst also having a bit of fun. You can decorate these cakes really easily on your own, or with the kids and they still look fun and effective (and hopefully a bit like Lightning McQueen!)
We used ready made icing for ease of use, but of course feel free to make your own. We used candy eyes, but you could also use chocolate chips.
You can substitute any of the decorations with alternatives. Or give the kids a handful and let them come up with their own design.
If you don't have American style measuring cups, you should give them a try! So easy!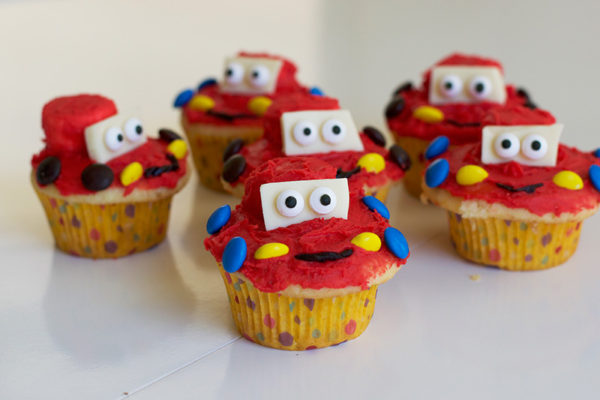 | | |
| --- | --- |
| | |
Have all of the ingredients at room temperature. Preheat the oven to 350°F / 180°C. Line a muffin or cupcake tin with 12 cupcake liners.

Cream together the butter and sugar in a large bowl, until thoroughly blended.

Add the eggs to the butter and sugar mixture and combine.

Whisk together the flour and baking powder in another bowl.

Gradually add the flour and the milk to the mixture, bit by bit. Whisk by hand or with an electric whisk for 1 1/2 minutes until thoroughly mixed.

Stir well. Add the vanilla and stir again.

Fill each of the cupcake liners around 3/4 full. This easily makes 12 cupcakes, or up to 16 if you fill them a little shallower.

Bake for around 20 minutes, or until a tooth pick comes out of a cupcake clean.

Cook in the tin for 10 minutes. Finish cooling on a cooling rack. Allow to cool completely before icing.
Cut a marshmallow in half. Place one half of a marshmallow on top of a cupcake, just off the centre. Press gently.

Cover in red icing. I just spread it on with a spoon - quick and easy!

Melt a few pieces of white chocolate in the microwave or in a glass bowl over a pan of boiling water. This is to stick the eyes on. Put the other rectangles of chocolate to one side.

Dab a little melted white chocolate onto the back of two candy eyes using a small spoon. Stick the eyes onto one rectangle of white chocolate to make the 'windscreen'. Stick onto the cake in front of the marshmallow.

Use the m and m's to add wheels and head lights. I cut yellow m and m's in half for the headlights.

Add a smile using a small piece of string liquorice or some black icing.
Go ahead and substitute any of the candies with your own ideas!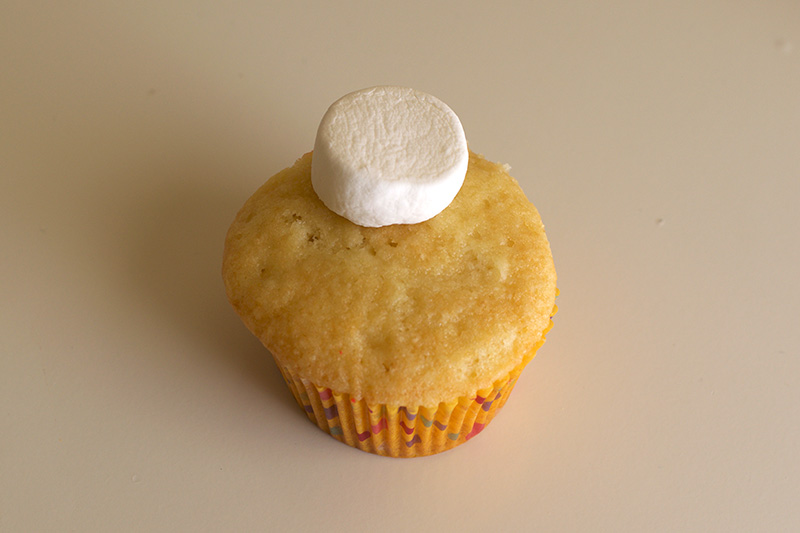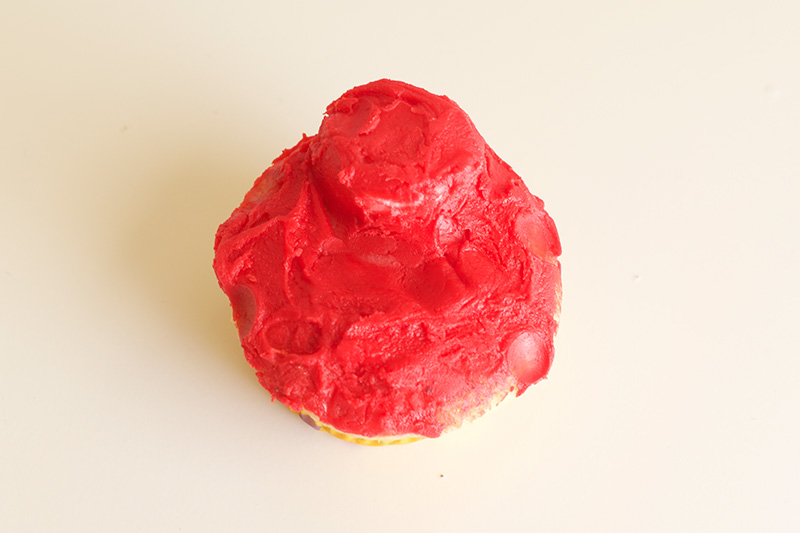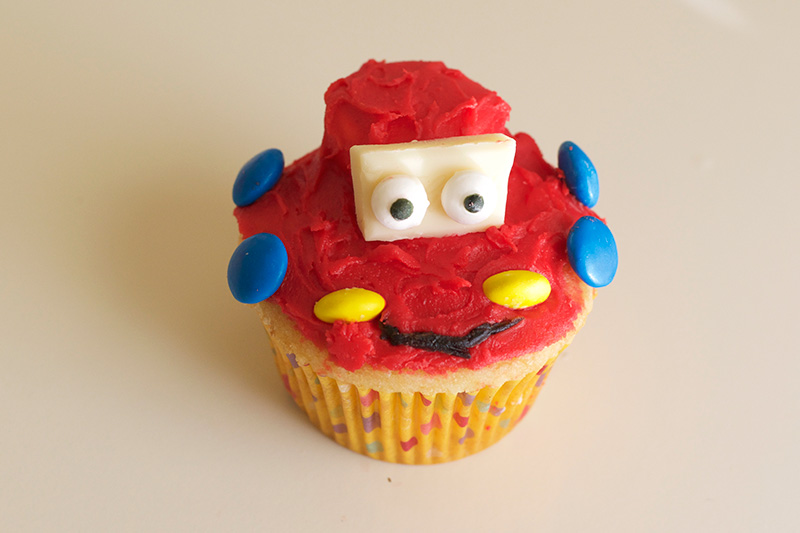 Little M loved the cupcakes! I surprised him with them and he had a go at making one of his own too. Now we are excited to see the movie!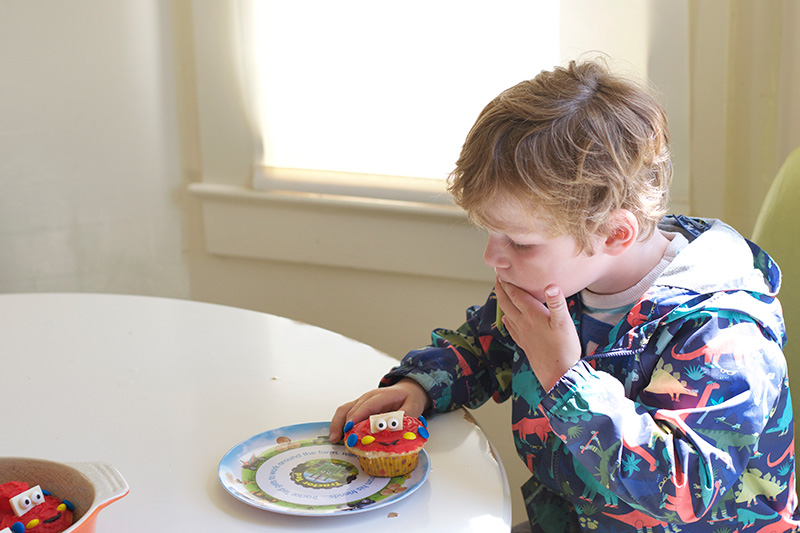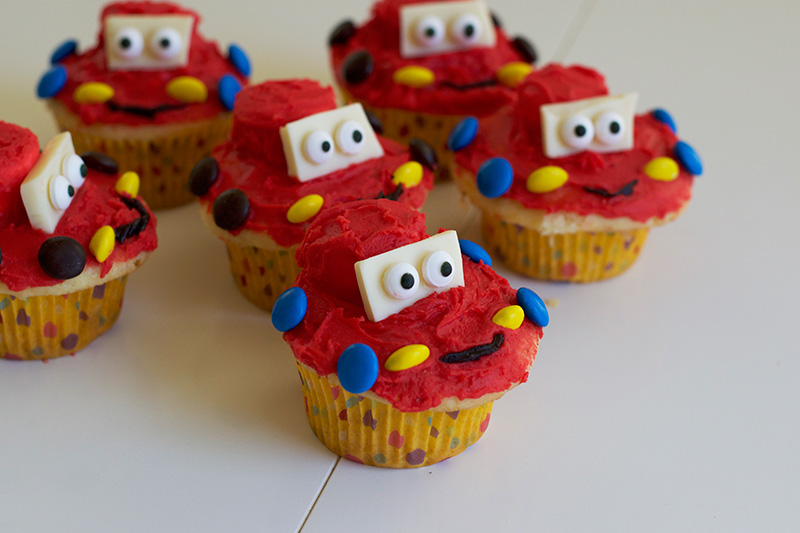 I hope you like these Disney inspired Lightning McQueen cupcakes. If you like these you might like to check out some of my other easy recipe ideas.
Are you going to see the Cars 3 movie? Will you give these cupcakes a try?
Like this recipe idea? Pin me!